Kicking off just before Black Friday, and with the final only seven days before Christmas, the World Cup 2022 in Qatar presents both a challenge and a unique opportunity for marketers.
Never before has the tournament — one of the biggest sporting events on the planet in terms of viewers — landed in the middle of the busiest period in the marketing calendar. Audiences will be large, highly engaged, and primed to shop — but it will likely be harder, and more costly, for advertisers to make an impact at what's already an intensely competitive time of year.
Understanding where fans are, how they engage with content, and who they listen to will be key to cutting through. Below, we've highlighted three significant viewer trends, with creative best practices to meet your goals — while the world's top players are scoring them on the pitch.
1. Demand for "crunch time" is growing
Viewers are consuming more football content than ever on YouTube. Since Euro 2020, we've seen Football related searches on YouTube increase 80%.1 Fans are tuning in for everything, from pre-match predictions and post-match tears to watch-alongs and a £10,000 homemade fan zone.
However, that doesn't necessarily mean they'll be watching every game this World Cup. A study released by PwC coined the term "crunch timer" for "fans who tune in for just the big moments, not everything". This term is applicable to 37% of Gen Z and 20% of all adults who watch sport. We've seen this reflected on YouTube, with the appetite for "highlights" in the U.K. growing 40% since pre-pandemic and far outpacing other Football-hungry nations in Europe.2
Search interest for "Highlights"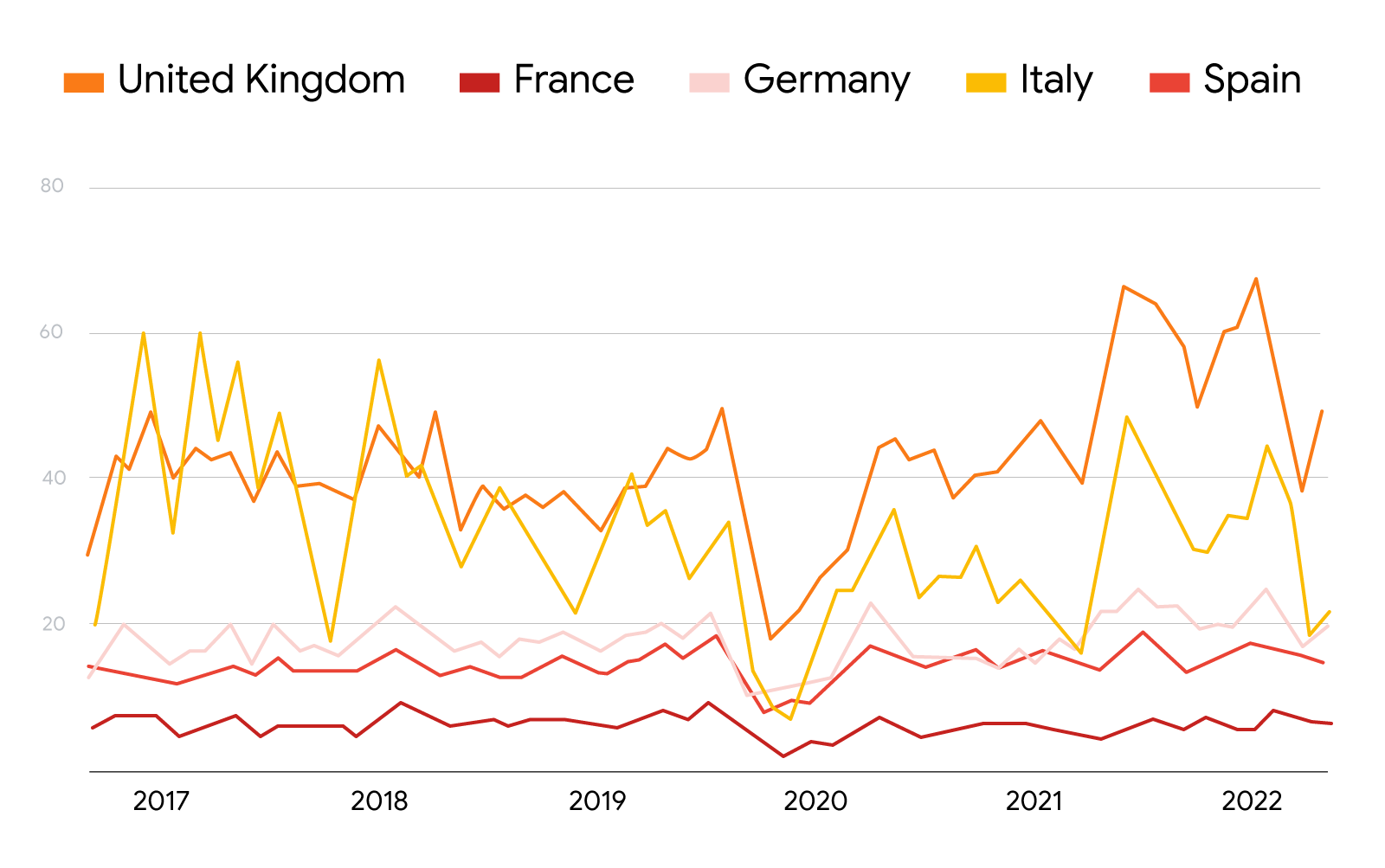 But even highlights are changing and diversifying, most notably with the rise of short form content. Less than two years after launching, YouTube Shorts are watched by over 1.5 billion logged-in users every month and uploads of ''Sports'' related content under one-minute have grown 160% year over year.3 Major sports organisations are rethinking their storytelling in response, often dialling up the humour and adapting their visual language to reach and engage new audiences.
Tip for marketers: Appeal to the broader fan
The appeal of the World Cup goes well beyond core football fans. For example, in a survey, 33% of people said they watch and follow Premier League football, while more people (52%) said they watched the World Cup in 2018.4 With that in mind, consider developing creative that speaks to a broad audience to stand out. Take inspiration from Heineken's 'The Dilemma' campaign, where they celebrated the festival culture of the tournament:
2. Diverse voices are making their mark
Gone are the days when the only opinions to be heard on football and the World Cup came from ex-professionals sitting on a sofa in a TV studio. Fans are increasingly seeking out voices that better represent them — and they're finding them on YouTube.
In a survey for the 2022 YouTube Culture & Trends Report, 78% of people said that they use the platform because it serves them with content that's personally relevant to them5 — a figure driven in part by constant improvements to the technology powering its recommendation system.
As fans opt for a more personal experience, creator watchtime on sport-related content on YouTube has soared over the past three years. YouTube is the only platform where the "creator ecosystem" outperforms traditional media, such as major broadcasters, in views and engagement (likes, comments, shares etc).6
It's a trend we can expect to continue this World Cup, as fans look to the likes of StuntPegg, a prolific female football creator, and Jeremy Lynch, a football freestyler turned prankster and daredevil, for diverse opinions and a different take on the tournament. Think commentary coming direct from the stands — or on the roof of the stands, in Lynch's case.
For marketers wanting to make an impact in what is set to be an intensely competitive period, it's rich territory, where viewers are highly engaged and ready to hear from brands that show up with relevant content — or collaborate with talent and allow them to keep their voice.
Tip for marketers: Connect with creators
Place creators at the heart of your creative to develop campaigns that feel native to the platform. Keep it authentic by allowing these influencers to do what they do best — just like Pro Direct Soccer, which brought creator Amelia Dimoldenberg's deadpan questioning to its YouTube campaigns and saw view counts (and Spurs' Son Heung-min's eyes) roll.
3. All the action, across different screens
The modern football fan, just like many shoppers, is happy to jump from device to device to find information and meet their needs. But with many people, especially in younger demographics, getting their sporting fix online, it's perhaps no surprise that campaigns combining TV and YouTube can help yield the best results for advertisers. For example, Google's Reach Planner tool shows that even a 9:1 mix of TV and YouTube can yield an additional 33% of reach compared with just TV alone.7
Connected TV (CTV) is changing this picture further, giving more brands the chance to get on the big screen in homes during major tournaments — especially during the peak shopping season. The TV screen is the fastest growing screen for YouTube watchtime — in fact, we've seen 60% year over year growth of people watching football content on the platform via their TVs.8
We know that CTV can provide a more immersive and often more communal experience for viewers. For brands, that means an opportunity to connect with highly engaged fans watching at home, at a time when they're also in the market for buying gifts and making new purchases.
Tip for marketers: Maximise cross device impact with the YouTube ABCDs
Develop a campaign that can perform across all screens by following our YouTube ABCD framework. Nielsen identified a 30% increase in sales lift associated with following the general ABCDs, but fewer than 30% of all YouTube assets are actually aligned with these principles9 – there's a competitive advantage in adopting them. Take a steer from Pepsi's ad, a great example that combines both sport and the changemakers in the beautiful game:
3 ways to cut through on YouTube this winter World Cup

Being brave with creative and following these three best practices, marketers can ensure the first ever winter World Cup is an opportunity to connect with valuable shoppers:
Appeal to the broader fan by celebrating the culture around the tournament.
Connect with creators to develop campaigns that feel native to the platform.
Build for multiple devices and use YouTube's ABCD framework to help engage viewers wherever they're watching.