User experience is everything — particularly on mobile. Andrew Birgiolas, Sephora's Director of UX, Product Design, and Research, shares three principles the prestige beauty retailer follows to create exceptional mobile experiences and drive business results.
A great user experience is key to earning our customers' business at Sephora. Loyal customers download our app to try new styles, browse for new products, or quickly reorder their skin care favorites. And as their day-to-day reliance on mobile increases, so do their expectations. Ultimately, our customers want us to deliver personalized experiences that also make it easy for them to discover products and find what they need.
My team, which sits at the intersection of product design, UX, and research, is always hunting for ways to meet those expectations by delivering frictionless, delightful user experiences.
In 2019, we conducted dozens of usability studies and were surprised to find out that our app wasn't giving users a great experience, due in part to an outdated navigation. We took that insight seriously and began to rethink our app experience from the ground up. We didn't treat any feature as sacred — our mission was to redesign the app to put our loyal customers first.
1. Build a culture of testing. Prepare to be humbled
Most companies strive to put the customer first. Our secret weapon to ensure user centricity is usability testing, which has quickly become a part of Sephora's culture. For this project alone, we collected more than 300 hours of remote, unmoderated user feedback and conducted over 40 user interviews. Nothing is more humbling — or more persuasive — than suffering through a video or live session of a customer struggling to use your product.
You wouldn't believe the things customers struggle with that internal teams assume will be intuitive, or the ways customers will use features that you don't anticipate.
For example, the Sephora digital ecosystem has many components: account, orders, store purchases, subscriptions, ColorIQ number, Sephora credit card account, and more. We learned that despite these features being scattered in various places throughout the app, our users consistently expected them to live together in one huge category, so we listened and created a "Me" section to house everything related to the user.
Finding these insights doesn't have to be complicated. One hugely beneficial study we conducted was simple card sorting. We invited real users to use index cards to organize the content they wanted to engage with, as if they were designing their own beauty app.
The more your users look to mobile, the more important it is to continuously test how they interact with your app so you can identify and address any pain points.
2. New feature? Don't just cram it in. Think holistically
A core principle of our app redesign was to accept that our navigation, which included a "hamburger-style" menu that offered too many options, was broken. With five to 10 new features being crammed in every year, the app was quickly becoming unusable. In fact, our usability testing confirmed that users were consistently missing some of our app's best features.
So we moved to a clean bottom navigation bar that lets customers see the main parts of our app and easily jump from looking up product details to editing their shopping basket without losing their place.
But not surprisingly, changing an entire navigation isn't easy. We had to get Product, Dev, and Design all on the same page. So we researched the reachable area on phones to demonstrate the ergonomic challenges a hamburger menu presents.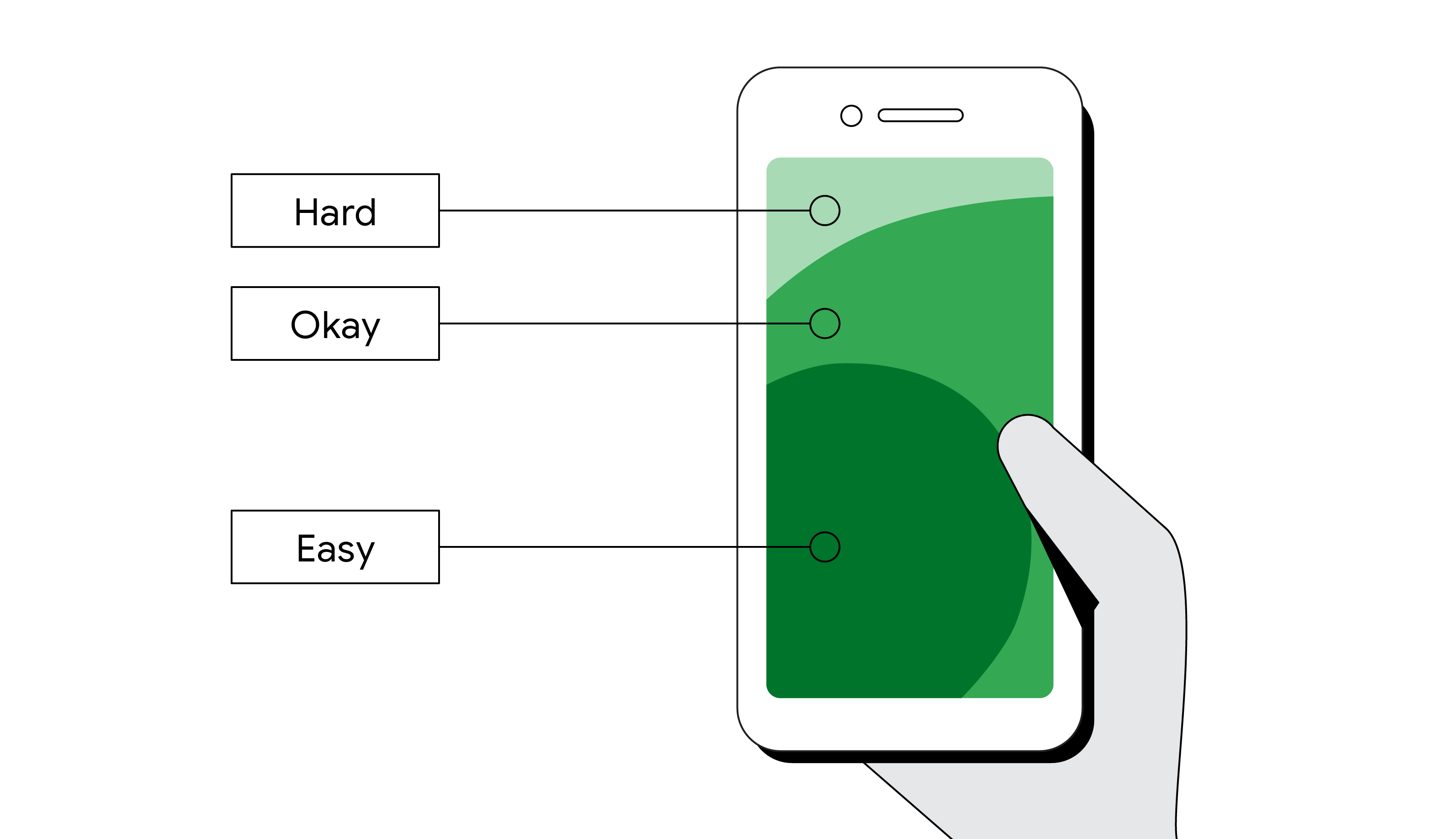 We also discovered that a bottom navigation helps users quickly orient themselves in the app and allows them to multitask.
The changes we made were good for our users — and for our business. We saw immediate improvements in app engagement, satisfaction, and perception of speed, which ultimately led to increases in conversion and revenue that surpassed our expectations.
3. Knock down the silos. Include everyone in the process
At Sephora, we make sure to involve all parties in the design process from day one. We rarely make design decisions without our researchers in the room, and everyone is encouraged to submit ideas for testing.
During the app redesign, our team used a series of weekly working groups that included researchers, product managers, and developers to create and refine concepts.
These working groups were essential for reimagining the app experience, because they let us validate, in hours instead of days, which of our design ideas improved the experience and which should be shelved. Once our product and development teams "got it," we could focus on the right things and make sure that what dev built was what design had in mind.
App design is a team sport
The principles above enabled us to deliver on all our customers' needs. But I think the biggest factor was our ability to bring everyone — including engineers, business partners, marketing, and product management — into the process. Being as transparent and collaborative as possible helped build the necessary support across the organization to get the final product right.
When the COVID-19 crisis hit, we braced for the unexpected. But we've been pleased to discover that users of all kinds are now opening the app daily to see what's new and hot. Our updated home screen is proving to be a perfect portal for both loyal customers and newcomers.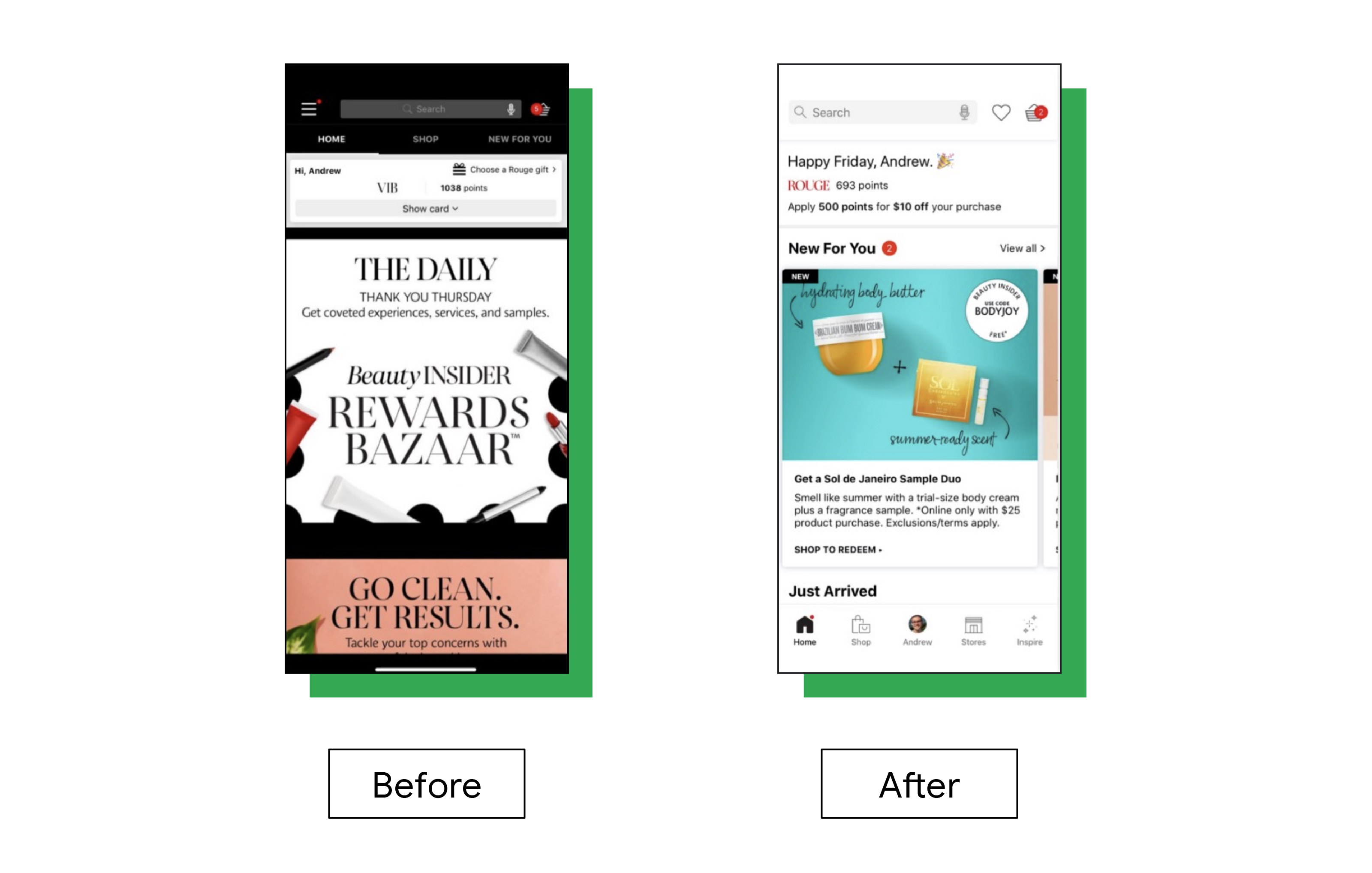 We also created the New For You carousel of personalized promotions along with some surprise-and-delight greetings. It might seem small, but it's something millions of users see each month and, hopefully, a nice way to make a customer smile.
Thanks in large part to the three principles that guided our redesign, widespread social distancing and lockdowns haven't disrupted our relationship with users. Instead, we've been able to forge even closer relationships with both our loyal customers and newcomers alike.
Try it out
The Sephora App is available in the Google Play Store and Apple App Store. Try it for yourself, and let me know what you think: @heybirgi on Twitter.
To learn even more about our app redesign, check out my latest talk at Google's Conversions Summit in New York City.