Brands win micro-moments by being there, being useful, and being quick. Make sure your marketing strategy is up for the challenge by reframing how you measure and breaking down silos. Here's how to get started.
Mobile has become the connective tissue between the online and offline worlds, driving store visits and phone calls that can directly impact your bottom line.
Consider this: When people use mobile search to help make a decision, they are:
57% more likely to visit a store
39% more likely to call a business
51% more likely to make a purchase1
And it doesn't stop there. When in stores, 82% of smartphone users turn to their devices to help them make a product decision.2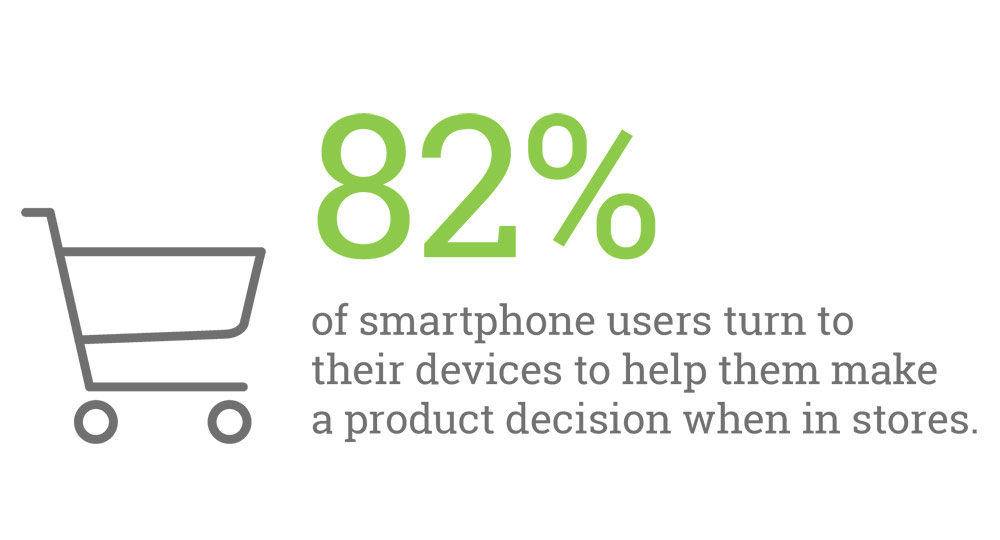 What they find online can influence their decisions right down to the last minute before a purchase. After reading something on a smartphone, nearly one in four shoppers has changed his or her mind about buying something while in the checkout line.3
As micro-moments (especially on mobile) fragment the consumer journey and create new forms of engagement, they also challenge assumptions about the value of "touchpoints" across media. For instance, it may no longer make sense to plan your media strategy channel-by-channel for TV, radio, and digital. And within digital, it no longer makes sense to think about mobile and desktop separately.
You have to account for new conversion types and think about measurement in a way that connects the dots between screens and channels. And organizing your teams around this new way of thinking is a must too.
You don't have mobile customers and desktop customers. You just have customers.
Here's how you can connect the dots in three ways: across screens, channels, and teams.
Connecting the Dots Across Screens
Many businesses still measure conversions and cost per acquisition for mobile devices and desktop separately. A full 40% of enterprises still go by the first-touch/last-touch attribution measuring marketing and media performance.4 When viewed in isolation, these metrics won't show you the larger role mobile plays in your business. In other words, they're not accounting for micro-moments that happen on numerous screens in a consumer's path to purchase.
Don't let traditional digital metrics distract you from what's really important: sales, revenues, and the bottom line. Your KPIs should measure the sum of all of your digital marketing inputs against profit contribution. For example, if you test an increase in your mobile bids, look at how your account performs overall as a result of this change. The point is, you don't have mobile customers and desktop customers. You just have customers.
Here are four ways to help you start connecting the dots between screens.
1) Look beyond mobile sales. Even if the sale itself doesn't happen on a mobile device, that doesn't mean mobile didn't play a role. Think about all the ways consumers are using mobile to connect with your brand. They tend to look for prices, sizes, or reviews. Or they look to get store directions, download an app, or call a business directly.
These are critical micro-moments to measure—and win—because they can ultimately contribute to a consumer's decision to buy. Almost one trillion dollars in U.S. retail sales were influenced by mobile last year alone.5
To begin measuring more types of mobile conversions, start with your Estimated Total Conversions report in AdWords. It helps you measure the full impact of your digital spend across mobile and desktop, on sites, and in apps, and even in stores.
2) Account for multi-device behavior. Today, 90% of people say they use multiple screens for everyday activities, such as booking a hotel or shopping for electronics.6 And 40% of people who research on a smartphone go on to purchase on a desktop.7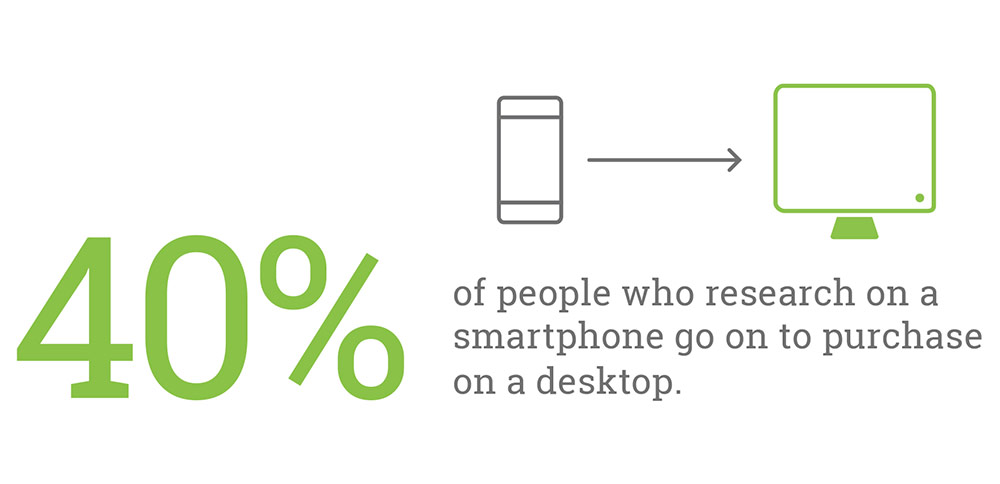 It's critical to include this multi-device behavior in your attribution strategy. If you don't, you risk overinvesting in the device where the final conversion occurred or missing out on opportunities to win the sale. Take Shutterfly, for example. By measuring cross-device conversions in AdWords, the company learned how often mobile played a part in its customers' buying behaviors. That led the company to enable 100% of its keywords for mobile. This first round of optimization boosted overall digital conversions by 15% in under a year.
Advertisers around the world have seen conversion uplifts when they pay attention to cross-device results. In the U.S. retail industry specifically, retail marketers see 16% more search ad conversions when cross-device data is included.
Rise in search ad conversions when cross-device data is included (by industry)
3) Don't leave out mobile phone calls. By 2018, BIA/Kelsey estimates that mobile search will generate 73 billion calls to businesses in 2018, up from 30 billion in 2013. Mobile phone calls typically convert at higher rates than website visits, especially for businesses with complex products, such as insurance or credit cards.
Make sure that mobile gets full or partial credit for call conversions. (That includes those from clicks that led the customer to your website and then on to a call from a mobile phone.) Simply put, a mobile call is a mobile conversion.
And when these mobile customers call your business, it's important to connect them to the right people based on where they are in the purchase cycle (for example, customer service vs. sales). Take Progrexion, for example. The company found that its call center was missing sales because mobile callers were still early in the sales funnel and needed more information to feel ready to buy. By rerouting mobile calls to salespeople who were experts at educating potential customers on the complexities of credit repair, Progrexion saw mobile sales grow 221% in one year, and today, mobile's average value per order is equal to that from desktop leads.
4) Measure more than just app installs. Even if their purchases don't happen on your app, your brand's app users are high-value customers, so treat them that way. Don't just count installs and pat yourself on the back. Ask yourself how you can provide useful content and functionality to engage this user base to drive incremental transactions and sales.
Don't just count installs and pat yourself on the back.
Here's how Walgreens enhanced their app experience.
Walgreens Revamps Their App
When Walgreens saw that almost 50% of people with the Walgreens app used it while shopping in-store, it jumped on the opportunity to elevate the experience.
It enhanced the Walgreens app to let customers refill prescriptions via SMS or a barcode scan, and launched a "web pick-up" feature that let people order on their phones and pick up in-store. Between 2011 and 2012, Walgreens doubled mobile app downloads and saw 52% of digital refills come from mobile phones (a rate of one mobile refill per second). Walgreens discovered that shoppers who use the app spend six times more than shoppers who don't.
Connecting the Dots Across Channels
Foot traffic in retail stores continues to decline. This past year alone it has decreased by 7%. Yet during that same period, retailers have seen more in-store purchases.8 Why? Consumers visited less, but they knew more about what they wanted when entering the store.
Measuring how digital influences offline behaviors can reveal insights about your valuable customers and how they purchase. AdWords Store Visits Reporting offers insights to help you measure and optimize how online channels draw shoppers into your store. For instance, Sprint discovered that for every online sale generated by paid search ads, it drives five in-store sales. And PetSmart found that 10–18% of all clicks on its search ads resulted in an in-store visit within 30 days.
Check out how Sears approached a multi-channel strategy and provided mobile shoppers with relevant, local information to drive them in stores.
Sears Gets Mobile Users In-Store
Sears Hometown and Outlet Stores have more than 12,000 physical locations, as well as an online store. "Not everything sold in a store is available for purchase online," explained CMO David Buckley, which is why its digital strategy aims to drive in-store sales.
When mobile users search for a product, Sears uses Local Inventory ads to show exactly how far they are from the nearest store that carries it. Store visit data shows that dollar for dollar, Local Inventory ads create five times more in-store sales than TV advertising.
"Consumers looking for products on mobile are more likely to be looking locally than when doing basic product research on a desktop," Buckley said. "Local Inventory ads get mobile users that information faster."
Bring Your Teams Together
Does your company have a digital team, a call-center team, a brand team, and local and store merchandising teams, each with different incentives? For many companies, the answer is, "Yes." And that means they're not approaching the world as their consumers do.
Micro-moments can't be relegated to any one department in your organization, because truthfully, they span all of them.
Micro-moments aren't strictly mobile. Or desktop. Or performance marketing-related. Or brand marketing-related. They're simply the moments when a consumer acts on a need with intent, context, and immediacy. Therefore, micro-moments can't be relegated to any one department in your organization, because truthfully, they span all of them.
Your brand team is probably incentivized by brand lift and favorability. Your performance team is obsessed with clicks and conversions. Many businesses also have the challenge of having separate online and in-store marketing teams. Creating closer collaboration can require rethinking how your teams are organized, where they sit, and how they interact.
To make your marketing effective in today's mobile world, you have to nix the silos and give united incentives. This will make measuring the whole consumer journey much easier.
Take Macy's, who recently streamlined its marketing teams.
Macy's Comes Together for Its Customers
What would you do if you learned that your multichannel customers were worth 8X more than those who shop in just one channel? That's what Macy's learned recently, and its leadership decided to bring online and in-store marketing together.
Macy's began with a pilot test in its social dresses category, combining the online and offline silos into a unified team with one goal: to win sales. "We put their stock ledgers together; we put their on-order files together, so they had complete clarity of vision and a single view of the inventory. And then told them, 'Go forth and run your business,'" said R.B. Harrison, Chief Omnichannel Officer for Macy's. "And we got incredible results."
The results were so good that in 2015, Macy's announced a formal reorganization of all its categories and of its marketing and merchandising teams. "With the digital and offline teams united behind one goal, they could stop fighting over the customer and start fighting for the customer's needs," said Harrison.
Key Questions:
Are you ready to connect the dots of micro-moments and rethink how you measure? Ask your team these questions:
Are you measuring your success in digital by clicks and sessions or are you measuring for the real bottom line: profits?
Are you accounting for all types of mobile-driven conversions, including those that happen in your store, app, and call center?
Do your teams talk to each other? Do they talk about both goals and results? What can your organization do to break down silos and keep them talking?