Dominique Schurman, CEO of Schurman Retail Group — whose flagship brand is greeting card company Papyrus — shares why a brand that sells traditional products is using technology to nurture customer relationships and drive growth in today's competitive market.
As a brand, we're in the business of building relationships and empowering connections between people. When you give someone a handwritten greeting card, you're showing the depth of your connection to that person. It's a thoughtful and personal gesture.
But a while back, we started to notice that handwritten greeting cards didn't fit naturally into consumers' increasingly digital lives. People were losing sight of how powerful the action of giving a card can be. We quickly realized that if we wanted to survive as a brand, we needed to adapt to this new digital-first social fabric.
Digital technology plays a critical role in the lives of our customers. Just like our handwritten greeting cards help people cultivate relationships with friends and family, digital helps us understand our customers and nurture the relationships we have with them. This digital-first, customer-first approach is key to delivering strong growth now and in the future. And the best people to drive this growth are marketers, because they can understand and deliver against rapidly changing consumer behaviors better than anyone else in business today.
So, while we might sell "traditional" products, our approach to driving growth is anything but. Here's how we're rewriting the script in the greeting card industry.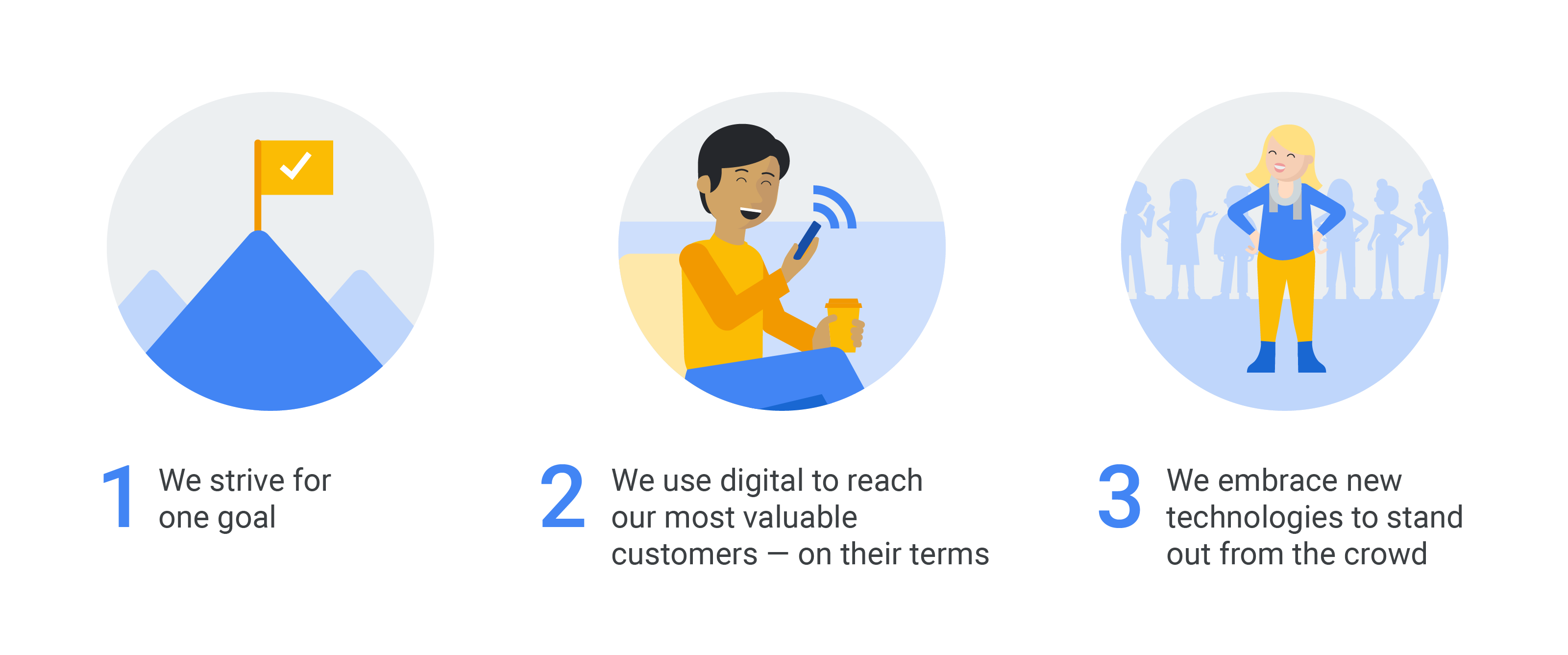 1. We strive for one goal
Today, more than ever, it's critical to look at your organization collectively. You need to make sure everyone in your business is heading for the same target — driving growth — rather than trying to hit channel-specific KPIs.
We look at every decision from this singular mindset, and we don't isolate goals for different teams. If our offline business is booming, for example, but we've got nothing happening online, that means we're all underperforming. And we fix it as one team.
An example of how we're achieving this is through the implementation of cross-functional planning sessions. In these weekly meetings, the online and offline leaders connect to discuss key promotional strategies. Together, we align strategies, then take action with a consistent voice.
One outcome of this process was our decision to collaborate with our digital agency, Wpromote, to plan our holiday promotional strategies with our head of store operations. Together, we were able to look at things through all lenses and consider the online, offline, and POS implications of the offers we wanted to give our customers. This organizational mindset shift has made us a stronger, more focused greeting card company.
2. We use digital to reach our most valuable customers — on their terms
The greeting card industry is relatively flat, and driving growth within the current market is a challenge. We knew we needed to focus our efforts on nurturing relationships with our most valuable customers. And we saw an opportunity to do that in increasingly meaningful and relevant ways through digital.
Consider our "Perks" loyalty membership program. We partnered with our Google team and Wpromote to run analyses of our customers and found that Perks members shop with us more often and spend more every time they buy. In fact, this group has a 66% higher lifetime value to us than other customers. Right away, we knew those relationships were critical to our business. This comes back to my earlier point: It's critical to build a team that thinks collectively about the business and won't risk losing the trust of our most valuable customers for short-term gains or vanity metric wins.
Based on this learning, we increased our online bids with Perks customers, which meant more opportunities to win engagements, and test messaging and Google Search product concepts. In further research, we found that online customized products were something customers responded well to, so we're now working to grow these with offerings such as customized wedding invitations or baby announcements.
And this approach has worked. We're now able to deliver more relevant content to these customers, leading us to increase the rate at which we acquire Perks members online and improving our ability to deliver on our promise of enhanced special offers and events for our most valued customers.
3. We embrace new technologies to stand out from the crowd
People are often surprised that we've so eagerly embraced new technologies. When I say "handwritten greeting card," new technology isn't the first thing that springs to mind, is it?
But technology is a great complement to our business because of the power it offers — it's an opportunity to make ourselves stand out. We're committed to going that extra mile to adopt cutting-edge ways that will reach and engage our customers to stimulate growth.
We were one of the early companies to experiment with Google's beacon technology. This helped us improve the accuracy of measuring the effectiveness of search in driving in-store traffic and, ultimately, meant we could be more confident that our messaging was tailored to customer needs in the moment. For example, around holiday dates, we learned that adjusting messaging from "shop now" to "find a store near you" helped customers ensure they got that last-minute gift when they needed it most, and, therefore, delivered greater value to them and our brand.
Closing the online and offline loop allowed us to focus on the greater outcomes of campaigns and better achieve our overall business objectives.
We've worked hard to keep alive our traditional brand ethos of empowering connections between people, while also embracing cutting-edge ways to drive growth.
Structuring our business around a single goal, rethinking strategies to optimize for business outcomes, and applying technology to reach and engage customers has helped us do just that. We saw our profits from media grow 10X in just three months.
And that's something worth writing home about.