It's not easy to win today's always-connected consumers — especially if you're in the business of helping them stay connected. In the telecom industry, the latest phones and network coverage capture attention. But a great brand experience and assistance at the right time can mean a new customer.
"We think of digital as one of our biggest stores," said Rob Roy, chief digital officer at Sprint. "But it doesn't matter if someone ultimately converts online or offline. What matters is that our customers have a great, consistent experience regardless of where they engage with our ads."
To keep up in this competitive space, the digital team at Sprint needed to change their thinking.
"To be a digital-first company, we needed to think about things differently," said Roy. "We felt like the best way to really infuse a new culture and new way of thinking into everything we do was to bring our ad technology in-house."
This approach also allowed Sprint to change how it worked with its agencies, opening the door to collaborate in new ways and on more strategic initiatives than before.
This was a big change for the company. But for Sprint, the choice to take control of its marketing technology led to three important breakthroughs.
Breakthroughs after bringing ad technology in-house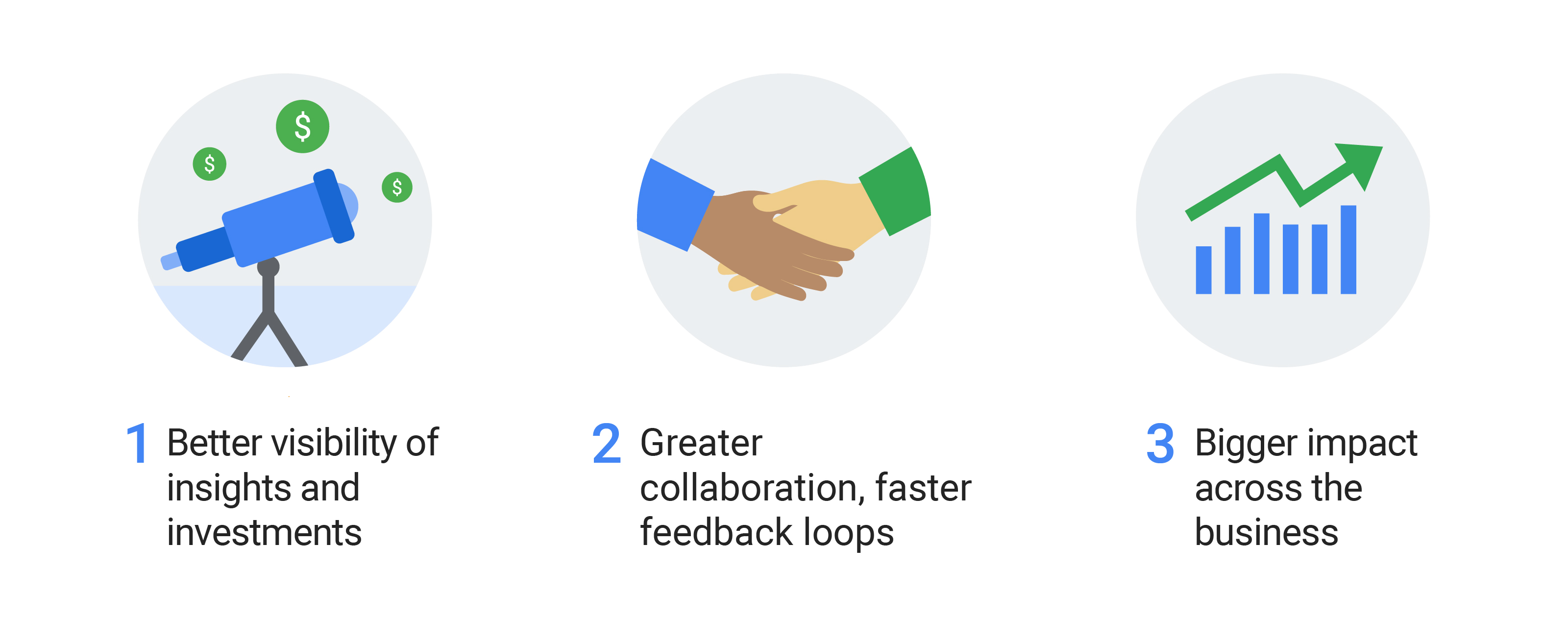 Better visibility of insights and marketing investments
Sprint had long worked with outside vendors to manage the technology platforms that enabled its media planning, buying, and creative. While the digital team had access to campaign information and insights, it wasn't at their fingertips.
"We felt that having all of our assets in-house, working together side-by-side, would let us be faster to market and help us increase our performance — from bidding to the creative to execution," said Roy.
Because Sprint now directly manages its ads and marketing technology, the digital team can join more proprietary information sources to uncover greater data insights. "Now we can tie point-of-sale system information, call information, and our bidding strategy together within one platform to create new and exciting insights," Roy said. "We have visibility of online and offline activity that we can merge together and really start to better understand our customers. That means we can think about how we market within our stores, based on campaigns that we're bidding on online."
"We have two great web channels," added Charlie Florio, director of digital marketing for Sprint and Boost Mobile. "We use Google Marketing Platform to look at both our audience insights and performance metrics in one place, so we can understand which products people gravitate toward, and then really double down on that in terms of our messaging and investment."
Because the team has greater visibility of insights … Sprint cut its cost per acquisition by 30% year over year on a flat spend.
Greater visibility enables the team to be more efficient, reaching the right people and putting money behind the top-performing campaigns. As a result, Sprint cut its cost per acquisition by 30% year over year on a flat spend. "Transparency and machine learning have led to an increase in online conversions without having to increase media spend," Florio said.
Greater collaboration, faster feedback loops
Taking its marketing technology in-house also meant that team structure mattered more than ever.
Instead of keeping teams siloed, Sprint literally brought various groups together.  "We now have data scientists, bid managers, and creatives sitting side by side," said Roy. "It's not unusual to walk out my door, tap the shoulder of somebody, and see a campaign optimized within a matter of minutes."
"Hallway conversations can make huge differences in how we go to market," he added.
"We're seeing major performance improvements by bringing in a best-in-class team from around the country to drive daily optimizations, and we're also able to establish strong direct relationships with our media and technology providers," Florio said.
Bigger impact across the business
Another plus: Teams are no longer so focused on individual marketing channels that they miss the bigger picture.
"For the first time, we've been able to connect online and offline conversions to our digital marketing investment," said Florio. "Now we're able to understand the impact of channels, such as paid search, on our enterprise sales. For example, we know whether a branded keyword led to a conversion in our online channel or in one of our thousands of stores. Connecting offline with online allows us to leverage digital marketing investment to drive sales growth for the entire company."
As a result of adding in-store conversions to their reporting, Florio says the Sprint team has seen a lift of over 150% in conversions. "It wasn't easy, but we knew in terms of being truly customer-centric, we needed to have a view of the offline world and the online world together," Florio said. "We have thousands of stores where our customers are engaging with us. From a performance and optimization standpoint, it's changed the game for us since we are now able to optimize toward enterprise sales-based outcomes."
This change in thinking not only helped the Sprint team gain a more holistic view of its marketing, but it also set the team up to have bigger impact on the overall business.
We're moving from a situation where the digital marketing team was focused just on web sales, to focusing in on enterprise sales that help Sprint as a company.
"Having proven that we can run efficiently in-house, we now have earned the right to go and explore new audiences, new insights, and bring those back to Sprint for use in a more meaningful way," Roy said.
"We're moving from a situation where the digital marketing team was focused just on web sales, to focusing in on enterprise sales that help Sprint as a company. We can also take those insights to our retail stores and standup solutions, whether in the search space or display space, to help them achieve their annual sales targets."
Editor's Note: This article has been updated with additional context on Sprint's relationship with its agencies.