Because of mobile, there are numerous marketing opportunities that allow brands to reach more consumers than ever before and engage them throughout their daily lives. It's an amazing time to be building brands and businesses. Anything is possible.
At the same time, this world is introducing new and complex challenges. I hear about those marketing opportunities and challenges from the world's leading marketers every day:
How do we respond to consumers' expectations for immediacy in their lives?
How do we share our brand stories in a fragmented media landscape?
How do we understand impact and measure across so many devices and touchpoints?
How do we help our organizations to adapt and keep it simple?
Mobile and AI are amazing enablers to tackle these challenges. But to leverage them, we have to commit to leaning into the future. Here are the stories of three companies who are making three commitments I think we all need to make to lean into this future: three areas we're laser focused on at Google, and that I think apply to any business to grow stronger brands and business results.
Commitment #1: Be there in the moment
The first commitment that all marketers need to make is to be there in the moment.
Whether you're in retail, automotive, or banking, traditional "footsteps" have declined significantly in just the last few years. The good news is that these footsteps haven't gone away—in fact, there are far, far more of them. But they are happening online, and most are on mobile. That means you need to win before the store, dealership, or branch. And the mobile marketers that are committed to winning by being there in the moment are seeing transformative results.
Marie Gulin-Merle, the CMO of L'Oréal USA, shares a compelling story about why they're committed to being there in the moment. They saw the shift to online and realized that people want to know if a product works and how it works. Many love to take their phone right into the bathroom to try new ideas and products.
Today, Marie spends hours looking at what people search for and the how-to videos and tutorials they're watching on YouTube. She tries to "hack the hacks of the consumer." And these insights are powering their creatives.
To launch Advanced Hairstyle in the U.S., L'Oréal Paris looked at search trends and used what they learned to power dozens of personalized display creatives, showing ads that reflected the specific hairstyles people were trying to achieve: wavy, curly, updo, braids, and more. They linked to videos showing how to use the product to get that exact look.
These ads drove great results across key customer segments and over 10 million views of their videos. 10 million times people went looking for hair tips, and L'Oréal was there to help.1
Ask yourself: Am I obsessed with winning "footsteps" before the store as well as in the store? Do I know my share of these moments and track engagement on my management dashboards?
Commitment #2: Reimagine storytelling
The second commitment we need to make is to reimagine how we share our brand stories.
The growth in video consumption is accelerating, led by mobile. People use YouTube for everything in their lives. Yes, we all love to get funny videos from friends, but most of these moments are lean-back moments around areas of passion. On YouTube, the average watch time length on mobile is 40 minutes!2
In a mobile world, marketers now have tremendous reach, but there is a far bigger penalty for boring. We have to match the right videos and messages to the right moments and earn consumers' attention.
The 15 or 30 second spot works great for capturing viewers in their lean-back moments. But it turns out that just six seconds is a meaningful amount of time to catch someone's attention with the power of sight, sound, and motion—and give them an opportunity to choose to invest more time if they love what they're seeing.
Brands that commit to a wider variety of creative lengths are seeing outsized results, like L'Oréal Paris, who conveyed the core benefit of Root Cover Up Concealer Spray in under six seconds:
Then there's Colgate, who reimagined their stories with YouTube creators. When they introduced Colgate Optic White Express toothpaste, they turned to beauty vloggers Andrea Brooks and Blair Fowler. These two women have over 5 million subscribers and over half a billion views between them.3
Andrea and Blair created The Smile Show, which made the core benefit of the toothpaste come alive: it gives you a great smile!
The results of "The Smile Show" far exceeded Colgate's expectations, generating over 24 million total views. That's 82 years of watch time!
And in a smart move, Colgate carried Andrea and Blair's YouTube-driven creative over into their TV and print ads. The team credits this YouTube-driven creative to increases across brand metrics, including a 1116% lift in brand interest—8X higher than U.S. CPG benchmark.4
Ask yourself: Am I shaping a mobile-first creative strategy, with more format lengths to match the new moments? Am I earning attention in the first six seconds with highly relevant and engaging content?
Commitment #3: Measure for growth
This brings me to the third and final commitment: measure for growth.
Mobile presents huge opportunities for marketers to reach and engage consumers all along their journeys. But our traditional metrics shaped at the beginning of the web make it challenging to lean into this new behavior. They can restrict the ability to open up much larger and more qualified audiences. We need a mobile-first approach to measurement.
Fiat Chrysler Automobiles is an inspirational example of how to make this commitment.
Amy Peet McNeil, who heads up Digital Marketing at FCA, saw the pivot to mobile, and how their traditional focus on lower funnel actions like looking for dealers or inventory didn't work for how their customers had changed their journeys.
Amy and her team saw the need to win before the dealer. The average car purchaser today makes just two visits to dealerships, and is shopping much more online.5 So they created a marketing strategy to win "before the dealer" and grow the number and quality of dealer visitors.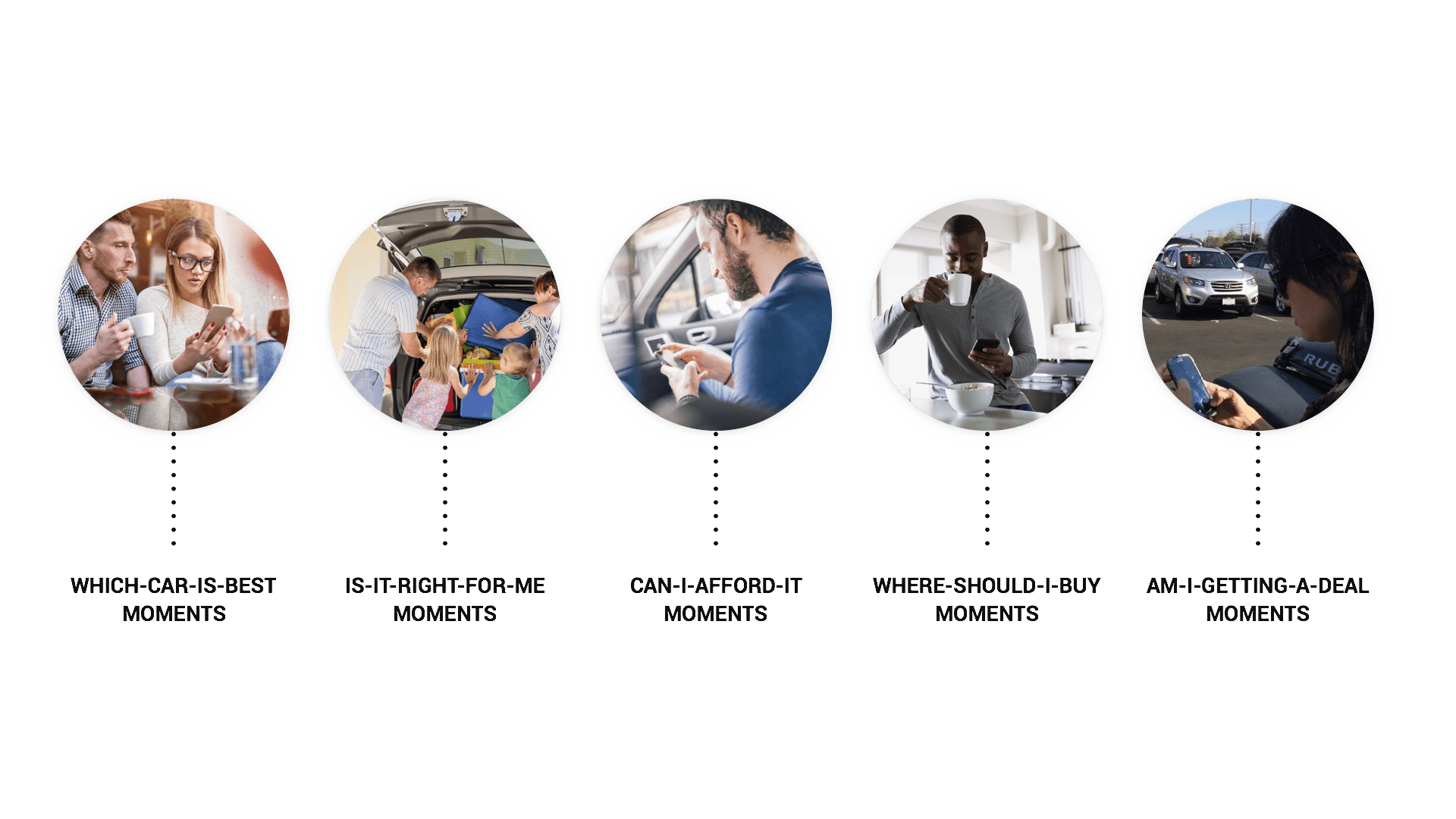 For their RAM Trucks division, Amy and team partnered with Universal McCann and Google to identify five key moments that happen before customers hit the dealership lot. One they saw they really needed to win was "Is-it-right-for-me" moments, where truck shoppers hunt for info about things like towing capacity and miles per gallon.
FCA changed their measurement KPIs and updated their content and campaigns to be there and be useful in those moments... and it worked! By shifting their targeting and measurement approach away from end of funnel (last click), RAM Trucks gained more informed and qualified buyers by engaging earlier.6
Ask yourself: Am I challenging my team to break free from legacy KPIs and prioritize ones that reflect how our consumers are changing their decision journeys?
Opportunities for Marketers
As marketers, we are uniquely positioned to lead our companies to success in the pivot to mobile. But to do so, we need to make these three commitments:
1) Be there in the moment. Commit to being there in the moment with relevant, useful, entertaining content (not ads). Consumers love it, and it leads to real business results.
2) Reimagine storytelling. The ubiquity of mobile is providing tremendous reach, but there also is a far bigger penalty for boring users. Shape a mobile-first creative strategy, with more format lengths to match the new moments. The best results happen when you earn the consumer's attention in the first 6 seconds or tap into the power of YouTube creators and their passionate fans.
3) Measure for growth. To conquer the measurement challenge, shift from measuring channel ROI to measuring for growth. This means breaking free from legacy (lower funnel) KPIs and giving priority to those that align with how consumers have changed their decision journeys with mobile. Doing so enables you to attract far larger and more qualified audiences than ever before.
The companies that make these three commitments will capitalize on the tremendous marketing opportunities that mobile provides to be there and be useful in people's daily lives.