The path to purchase, from start to finish, is rarely linear—it's more akin to a scavenger hunt. Along the customer journey, one search can spark an entirely new idea or want. And one search can make the difference between your brand and the competition.
In new clickstream data from Luth Research's opt-in panel,1 which shows the online pages a user visited, it's clear that moments of intent don't exist in a vacuum. Those moments belong to complex people who live complex lives.
1. Consider location and convenience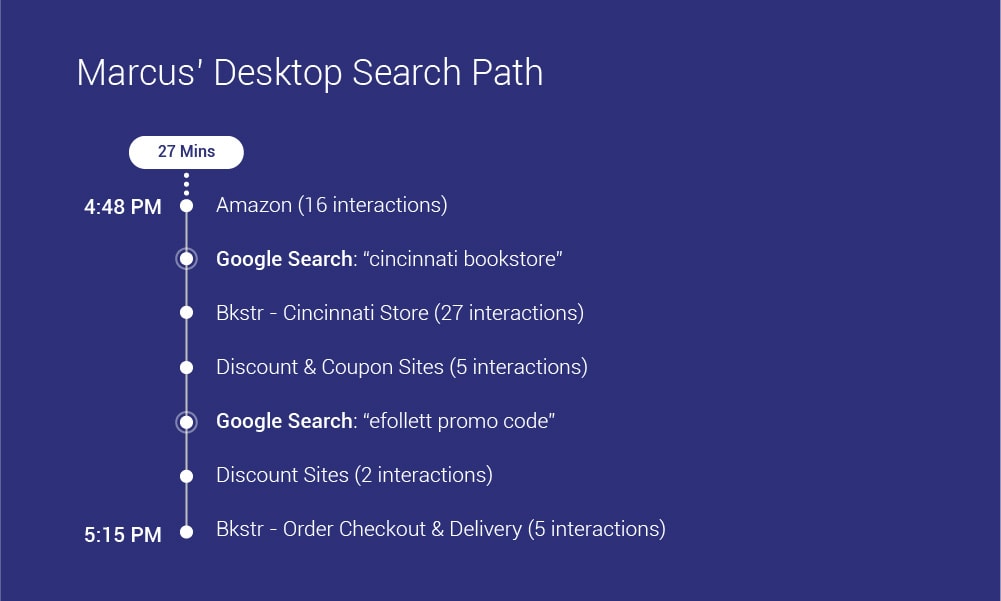 Marcus is a 27-year-old man from Ohio who was looking to buy his girlfriend collegiate apparel as a graduation gift. Marcus debated between local campus bookstores and Amazon.
In a follow-up interview, he said he was looking for the best Bearcats gift but ideally wanted to pick up the present at the graduation in Cincinnati. Though Marcus was looking for a great gift, he was also prioritizing convenience and location. In a world where consumers expect to have everything at their fingertips, brands and retailers must offer flexible delivery and pickup options to clinch the sale.
Key takeaway: Consider targeting by location to reach people not only while they're on the go but also based on where they are. Highlight your delivery options in your messaging and be sure to show your product inventory online so that customers can easily see what's in stock and where.
2. Count on an informed consumer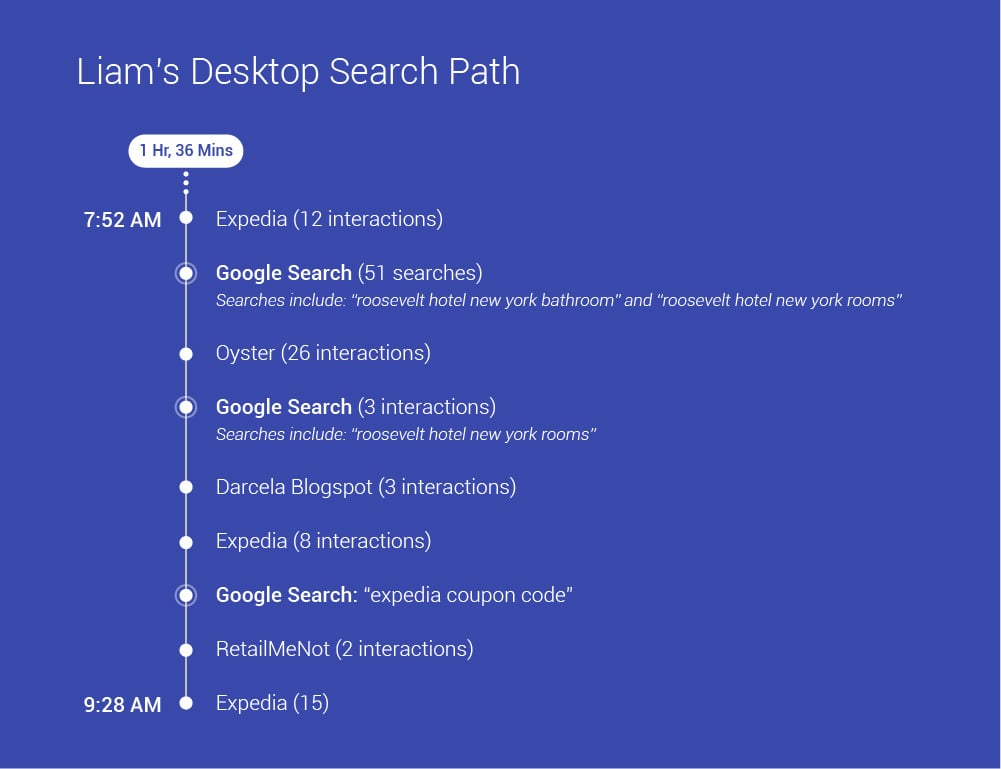 Liam, age 30, is an avid traveler from Maine. In just one month, he had nearly 3,000 online interactions related to travel, with approximately one-third of them related to a specific New York City trip.
Whether he was searching for travel options between New York and Portland, Maine, or looking for the studio that tapes "The Daily Show," Liam was thorough. In just one month, he conducted nearly 100 searches about The Roosevelt Hotel. And yet, he continually returned to Expedia to search for hotels in Manhattan. With the volume of information online, consumers are now more informed than ever before. Brands have to embrace this new reality and be prepared to be there and be useful to customers throughout the path to purchase.
Key takeaway: Ads don't always have to center on a transaction. Be helpful throughout the research process and establish your brand as a trusted resource early on.
3. Expect that search will lead to discovery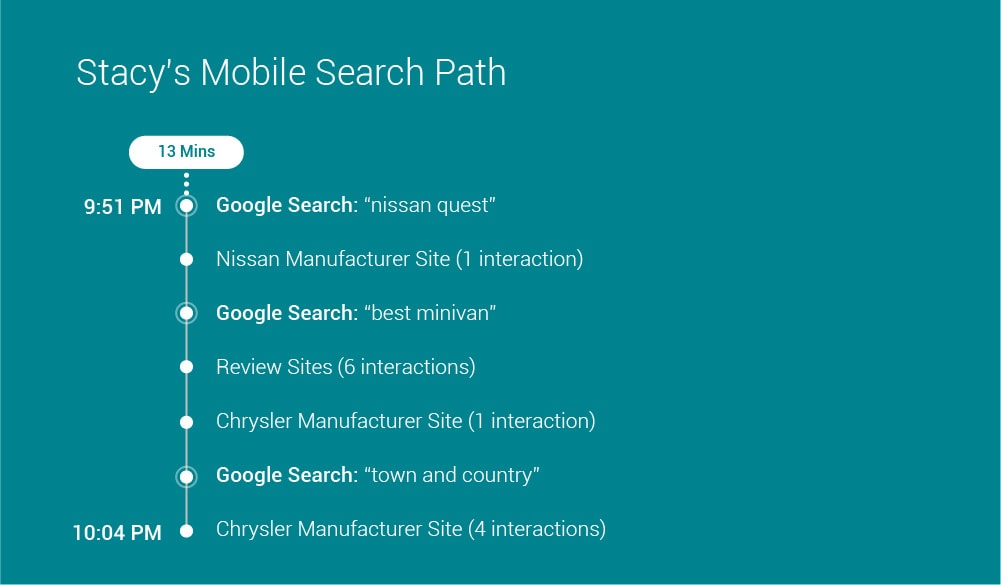 Stacy is a pregnant 32-year-old mother of two children. As she prepared for life with three young children, Stacy set out to find a car that would fit three car seats and plenty of family gear.
For Stacy, search was a means of discovery. While she was interested in one brand initially, she wasn't committed to it. Stacy was actively looking for guidance and ultimately discovered another minivan manufacturer that also met her needs.
Key takeaway: As you refine your understanding of the customer journey, consider the moments you want to capture at every step of the way. Think beyond the last click.
4. Think about complementary categories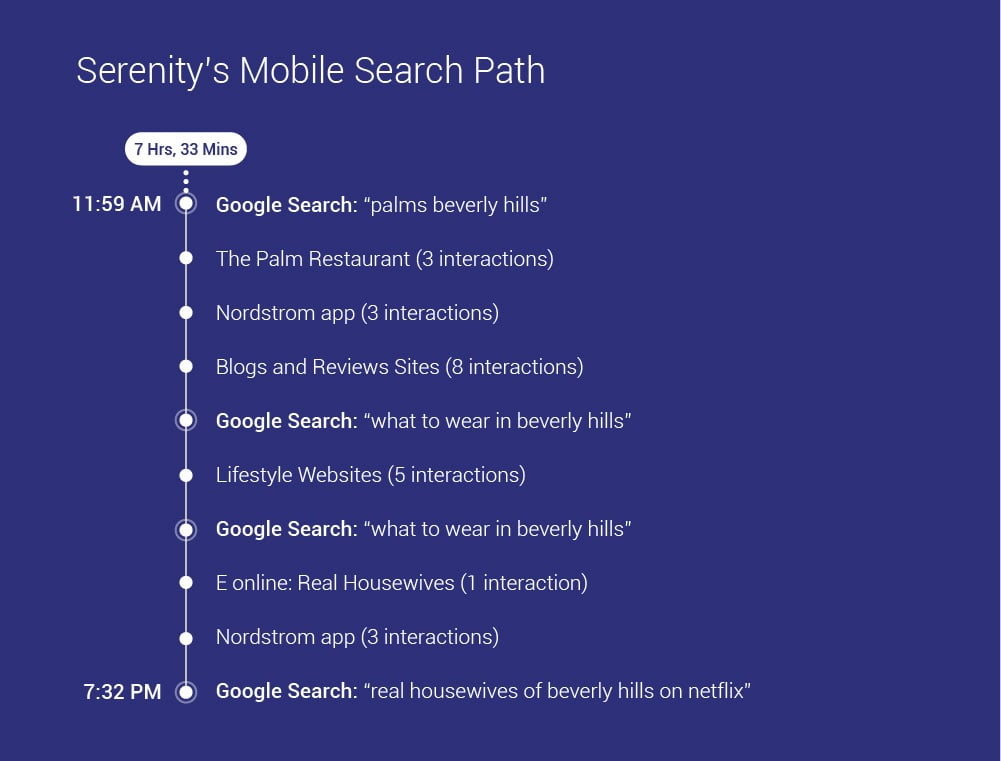 Serenity, 34, was planning a trip to Beverly Hills. Unfamiliar with the neighborhood and the city of Los Angeles, she went online to learn more about the area. She searched specific restaurants, celebrity tours, and even what to wear in Los Angeles.
Serenity's search behavior shows a domino effect. In this case, travel plans led to her wanting to know what people wear in Beverly Hills, which then led her to shop for new, fashionable clothes. Marketers who see the connection between their products and services and complementary categories will be better able to reach consumers in the right moment.
Key takeaway: Think about your customers holistically and know that one seemingly unrelated search could trigger interest in your brand. Consider partnering with related brands in different (but connected) verticals to reach similar audiences.
5. Prepare for the unexpected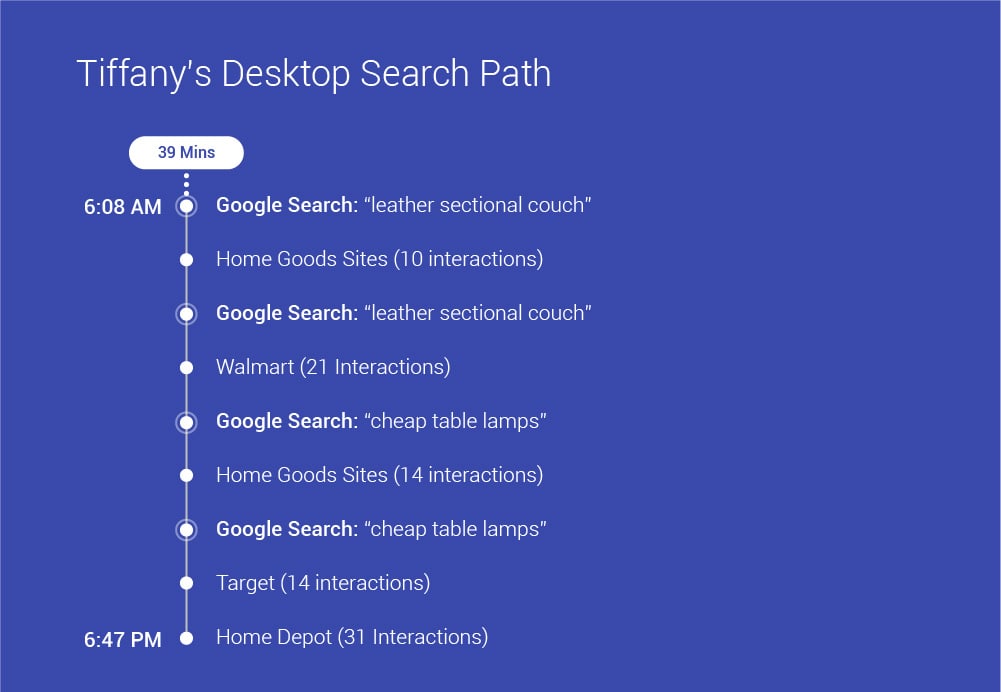 Tiffany is a 37-year-old mother of three from Minnesota. During the holiday season, she had hundreds of digital interactions with various retailers. A clickstream path from Thanksgiving Day shows how Tiffany moved from looking for a "leather sectional couch" to shopping for lamps. Her attention shifted from couches to lamps when she realized Walmart and Target both sold those products. From there, Tiffany went on the hunt for a lamp, browsing different brands and retailers, including target.com, as she looked for the best product at the best price.
Key takeaway: Keep an eye on the customer journey and maximize your presence in those places where people may change course and consider related products.
6. Don't underestimate the power of reviews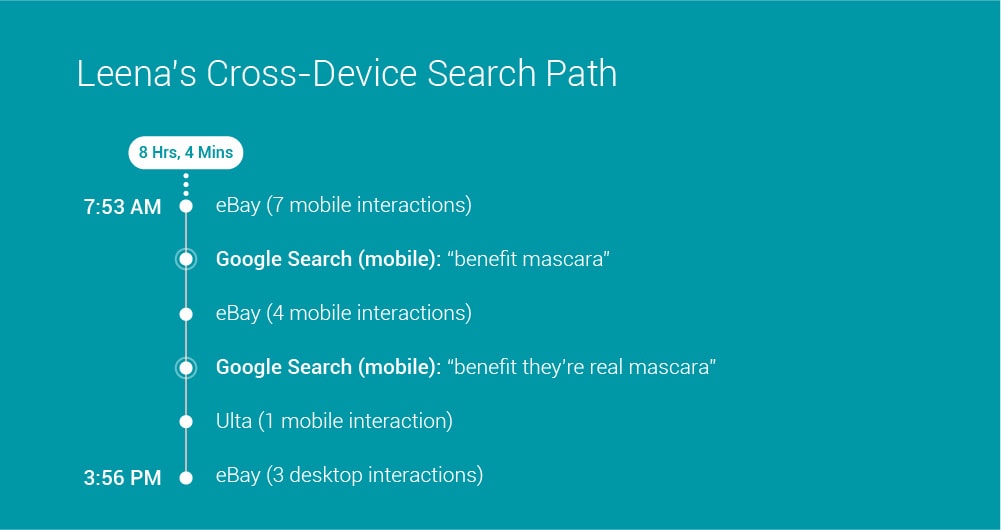 Leena, a 32-year-old from Washington, regularly checks Groupon, RetailMeNot, and other deal sites as she hunts for sales and coupons. When Leena ran out of mascara, she went to eBay to look at different brands, then used search to zero in on the brand she wanted, reading reviews along the way.
According to a video interview, Leena had only purchased drugstore mascara in the past but wanted to find a longer-lasting product at a better value. She considered two brands, Too Faced and Benefit, and said she decided on Benefit, in part, because of the positive reviews.
Key takeaway: Embrace the importance of ratings and consumer perception online. Consider building these into your ads and messaging.
7. Remember the world is mobile-first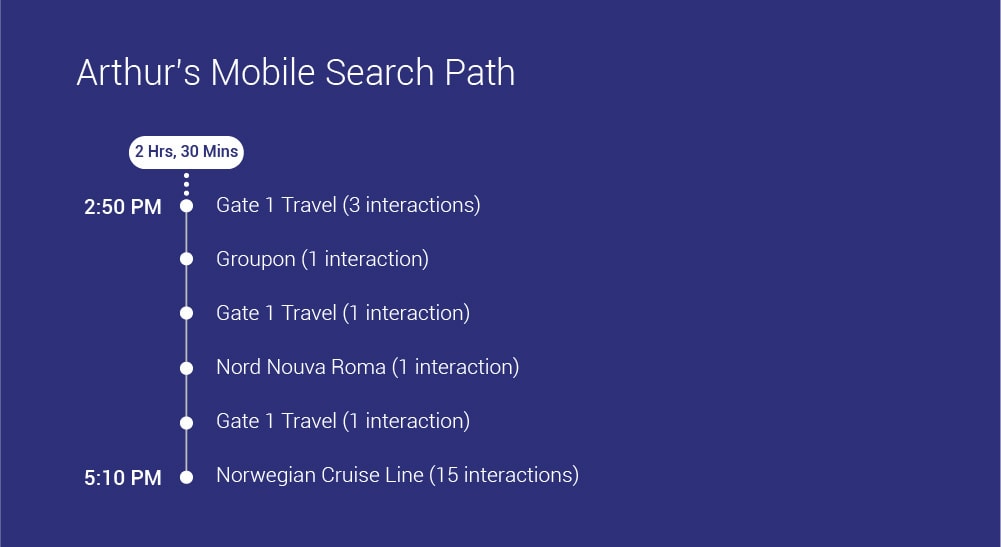 Arthur, a 66-year-old retiree from Missouri, enjoys going on cruises to faraway destinations with his wife. With a retirement income and time to spare, Arthur is always open to travel deals and impromptu getaways. During a three-month period, Arthur had nearly 250 travel-related interactions online—with 50% of those occurring on mobile.
Though he often books with a travel agent, Arthur also relies on his smartphone to plan his next adventure. From browsing for deals with his favorite Norwegian Cruise Line to checking his IHG Rewards, Arthur is turning to the small screen for big plans.
Key takeaway: Recognize the role that mobile plays in the research process. Orient your messaging and targeting plans around a cross-device customer.