Live TV events bring audiences together on the web, and this year's Academy Awards was no exception. Before, during, and after the broadcast, viewers searched, watched, and shared all things Oscar related—from red carpet fashion to YouTube trailers. Mobile was the big star, with more than half of all Oscar queries coming from smartphones. All of this activity gives marketers a real-time view of the audience's interests, a gauge of consumer intent, and a snapshot of rapidly changing user behavior.
Last night, the Oscars made people want to act—on the web. Audience members did much more than sit back and watch; they grabbed their mobile devices to search and share, recap and rewatch.
Before and during the event, they were checking out red carpet fashion, watching trailers on YouTube, searching for information about the nominees and more. The resulting data provides a real-time reflection of audience's interests, a gauge of consumer intent and a snapshot of rapidly changing user behavior.
The rising star: mobile
Even if they were watching alone, viewers had smartphones as their constant companions during the show. Mobile searches were up 41% from last year and 86% from 2012. This is one trend that's definitely on the rise.
During live events like this, consumer's constant connectivity means they weave in and out of search mode. Marketers can respond by being "always on," so they can capture interest in the moments that matter. During the show, for example, an ad for AARP featuring a successful career woman prompted a huge spike in searches for "AARP"—a hundred-fold increase for the 10 minutes following the ad, 62% of which were mobile queries. The predominantly female Oscar audience is clearly connected, interested and taking action.
Who wore what? (And where can I get it?)
The Oscars brought people together both online and off. Searches for "Oscar Party" were up 40% from last year. Many searched for party-related terms, including "menu," "game" and "theme" ideas, and they shopped for "supplies" and "decorations."
People gathered early to watch the event, tuning in pre-show for the red carpet festivities. Indeed, the fashion drew nearly as much interest as the films—a trend that's grown over time.
Oscar Fashion and Film Searches Over Time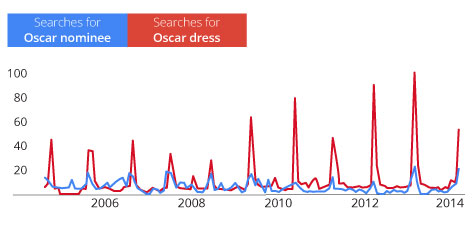 Top 5 Most Searched Red Carpet Dresses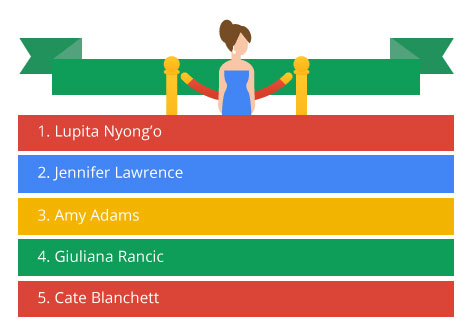 Women are taking style inspiration from the stars—looking for the most popular dresses with an eye to buy. The terms most commonly associated with red carpet fashion were "best" and "sale" or "for sale." Expect to see these Oscar styles influence prom trends; "prom," "knock off" and "cheap" were all commonly associated as well.
Interestingly, we see more searches for Oscar dresses on the day after the awards show than on the night itself. Last year, we saw a dramatic dip in keyword coverage that day, meaning that only one in four searches performed by users had ads against them. This year is tracking similarly, showing there's a lot of consumer interest being left on the table.
Keyword Coverage for Oscar and Red Carpet Fashion Terms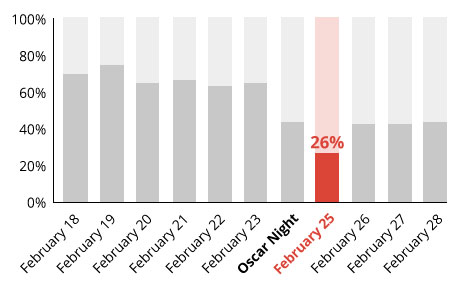 Moments of interest
Leading up to Sunday, Gravity and The Wolf of Wall Street battled it out as the most searched trailers on YouTube. Gravity drew more interest when it came out in the fall of 2013, but The Wolf of Wall Street maintained interest into this year and had the most views leading up to the Oscars. Wolf was also the big winner in search pre-show. It garnered the most interest over the past year, as did its director (Martin Scorsese) and lead actor (Leonardo DiCaprio).
Of course, Wolf didn't fare so well at the Awards. Searches during the show were a closer reflection of the actual winners.
Top 10 Most Searched Nominees During the Show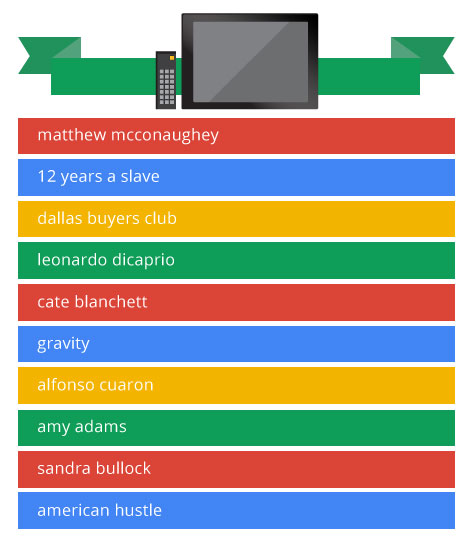 People reflexively turn to search in the precise moments they're interested. People searched for the nominated films throughout the show. For example, 12 Years a Slave spiked the most when it won the best picture award.
Best Picture Nominees During the Show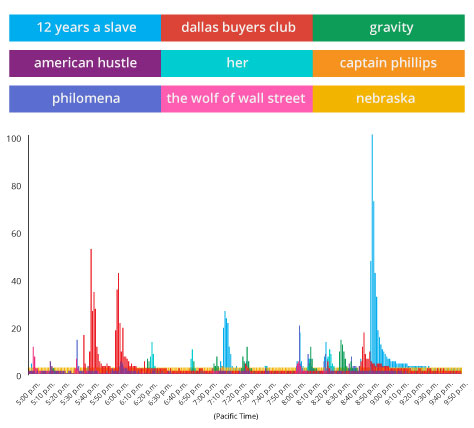 They also turned to search to learn more about the stars—from Matthew McConnaughey's co-presenter to Jennifer Lawrence's love interest.
Top 5 Oscar-Related Questions in Search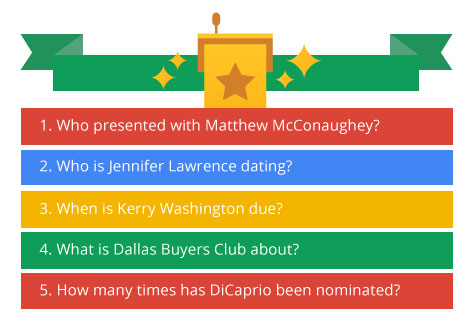 Hollywood's "Super Bowl" proved that live TV events still have the power to draw big audiences. This is great news for advertisers. As Stuart Elliott put it in The New York Times, "In a world where television viewers routinely zip through or zap commercials, advertisers crave big-event television—live events that viewers watch in real time. And the power of those big events is now on display as perhaps never before."
We saw this power online, where viewers' interests, behaviors and intentions were on full display.