In retail, there's no space for standing still. Empowered by mobile, people can get exactly what they want instantly and effortlessly, and they expect retailers to meet their needs faster than ever before. In fact, 46% of shoppers will go to the store as soon as possible after deciding they want a product — and only 12% will wait until the next trip.1
For retailers, this means that people are also tougher to reach and tougher to please. In the past, it may have been simple enough to apply intuition and previous experience to selecting the "right products" to sell at every season. But with shopping behavior constantly evolving, the backbone of retail — product merchandising — also needs to evolve. While retailers have had data sources in the past, we're now able to deliver new sources of insights at a faster rate. The access to new data points can help shift product merchandising from an art into a science — offering retailers deeper insights to better understand how to meet the demands of today's always-on customers.  
To do this, retailers should consider how they can incorporate deep, timely data into daily planning activities. One retailer we've seen do this well is Walmart. "To meet growing consumer demands, we need to leverage the full capacity of our product catalog and the underlying product attributes," said Matt Kennedy, senior director of digital marketing at Walmart. "Google's insights have helped us in this area. Now, we have a clear view of how effective Walmart is in driving demand of our assortment across myriad product life cycle stages, allowing us to make better real-time operational decisions."
By enabling teams to better sort the right products and styles, and price goods competitively to sell, marketers will be ready when a shopper shows intent.  
Use search signals to understand what you should be selling
With customer needs changing by the season, determining the best product mix and inventory size is critical. But how can a retailer choose the right assortment of products that shoppers actually want? Should they turn to historical sales data? Or is there a way to predict the right assortment early on in the season to capture the latest trends?
Retailers that integrate timely search data into the assortment process are best positioned to meet customer demand. Take the holiday season, for example, where toys are a particularly popular category. We looked at customer demand for L. O. L. Surprise dolls and accessories, and unit sales of L. O. L. Surprise. As seen in the graph below, customer demand for a product and actual sales of a product are highly correlated.
Customer demand vs. actual sales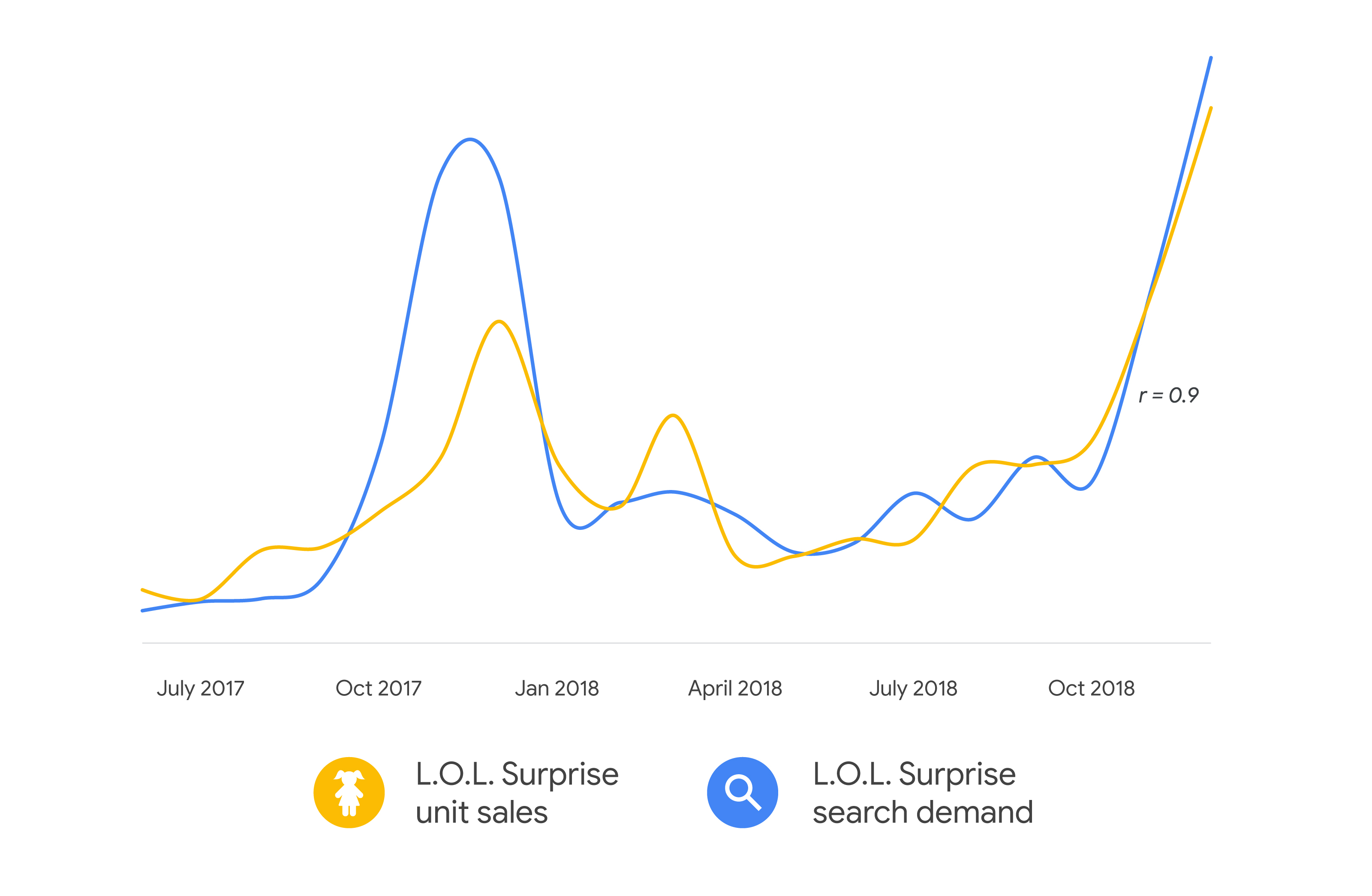 Those retailers that sold L. O. L. Surprise in 2017 had a higher market share for the toy in December 2018 than those that began selling L. O. L. Surprise in 2018. Ultimately, this equated to 217 million new L. O. L. Surprise dollars spent at these early adopter retail stores.2
The bottom line? Act quickly on signals and identify what's going to peak early on to make the right assortment decisions.
Tune into local insights around your brick-and-mortar stores
Once the inventory is in hand, how should one go about selling more to the people who are looking for it? For those with physical stores, tapping into local insights to understand store-level demand can help drive foot traffic and sales.
Let's take a look at an example of a company that sells sweet and savory pies.
Let local insights inform your inventory strategy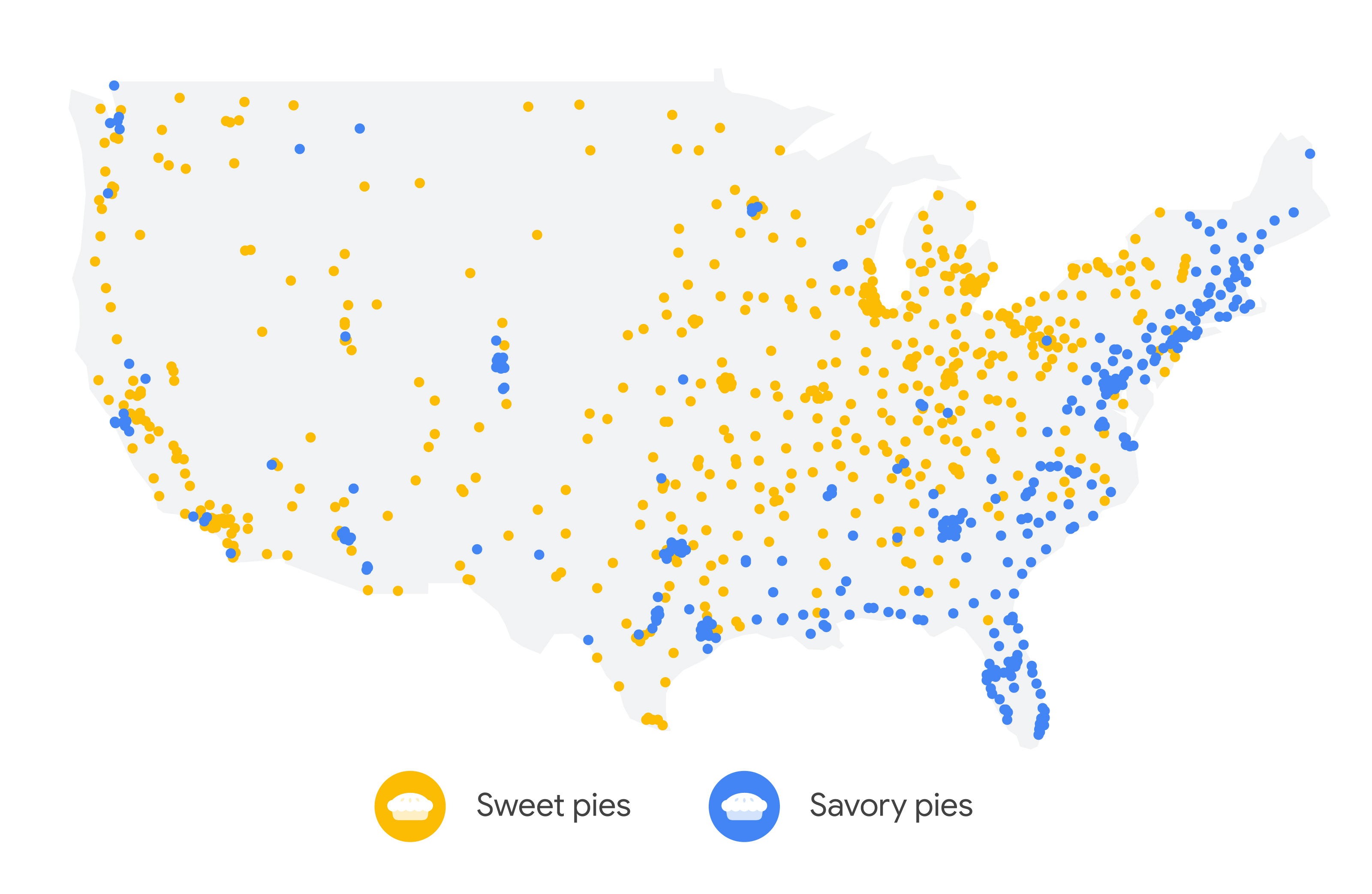 The map above represents the pie company's store coverage. Each dot covers a five-mile radius around a store location, with blue dots representing savory pies and orange dots representing sweet pies. We see that savory pies are most popular on the East Coast, while sweet pies are enjoyed most in stores on the West Coast and in the Midwest regions of the U.S. Understanding this type of data can help better understand pockets of high demand. And with that, retailers can make smarter stocking decisions at the regional store level and reach shoppers who are searching with tailored, personalized messages through local inventory ads or local campaigns.
Clear inventory profitably by using data to make smarter pricing decisions
Every retailer wants to stock the right products and sell them to the right shoppers, while maximizing profits and minimizing losses. But that can be especially challenging for seasonal inventory. Take outerwear, for example: This apparel category is highly popular leading up to the holidays, but once it comes time to introduce springtime lines, there is often a compulsion to discount a once high-ticket item to quickly clear the inventory.
We've seen that these decisions are often based on historical information and not what's actually happening in the marketplace.
Apparel inventory vs. apparel market demand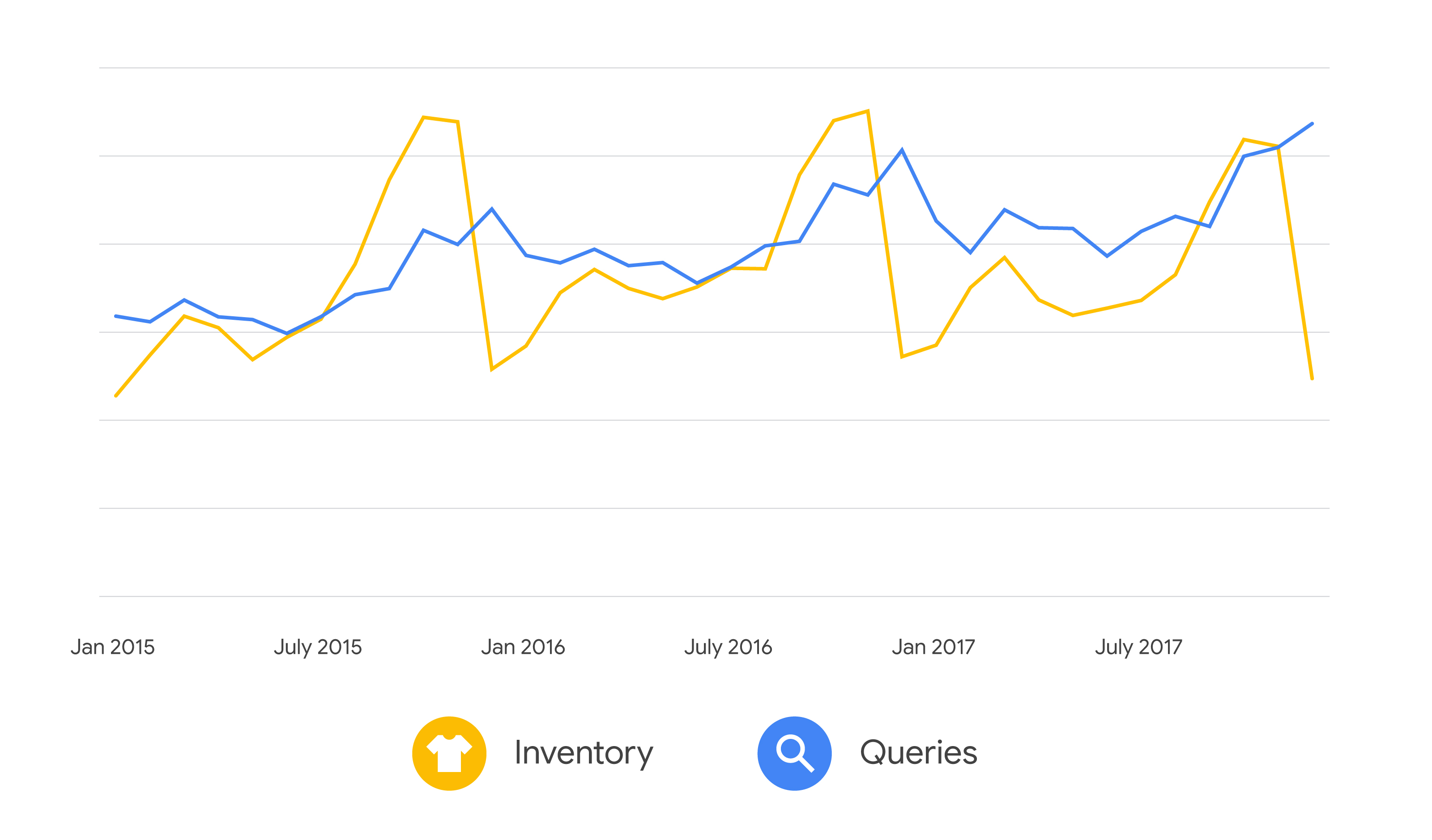 When we looked at apparel inventory versus apparel market demand across 2015 to 2017, we saw that, while inventory rises and falls, demand doesn't necessarily follow the same cadence. Aligning sales and markdown strategy with market demand can help retailers more profitably sell this type of seasonal inventory rather than, say, offload to a deep discounter. Instead, use search insights to better price your products in a way that meets demand, while also maximizing profits.
While product merchandising was once an art, today it is just as much a science. To better reach these empowered shoppers with the right products at the right price, retailers must put insights, not just the product, at the heart of every activity and objective. That means using data to power product merchandising decisions through smarter product assortment and demand-driven sales strategies.