Matt Gehring, vice president of growth at Rothy's, shares how the sustainable shoe company's brand strategy builds customer relationships that drive growth.
Our founders had a vision: To create stylish flats made from repurposed plastic water bottles and to improve the environment. Three years and more than 35 million bottles later, Rothy's is a $140 million company — a thriving disrupter competing against decades-old shoe brands.
Disruptive companies like us succeed by focusing on people's unmet desires, delivering a unique product, and building direct relationships through full-funnel marketing that drives growth. Our chic, comfortable shoes satisfy a hunger for sustainable everyday fashion. And it's not just the shoes that are good for the environment. We take sustainability into account at every point along our pipeline, from production to transportation to packaging to our office designs. And by being transparent along the way, customers can trust our commitment to sustainability isn't a gimmick. It's our core.
As we continue to expand our direct-to-consumer business in an increasingly competitive marketplace, staying true to our brand across all channels is more important than ever. Here are three things we've learned about breaking through the noise and connecting with people in an authentic way.
How to connect with your audience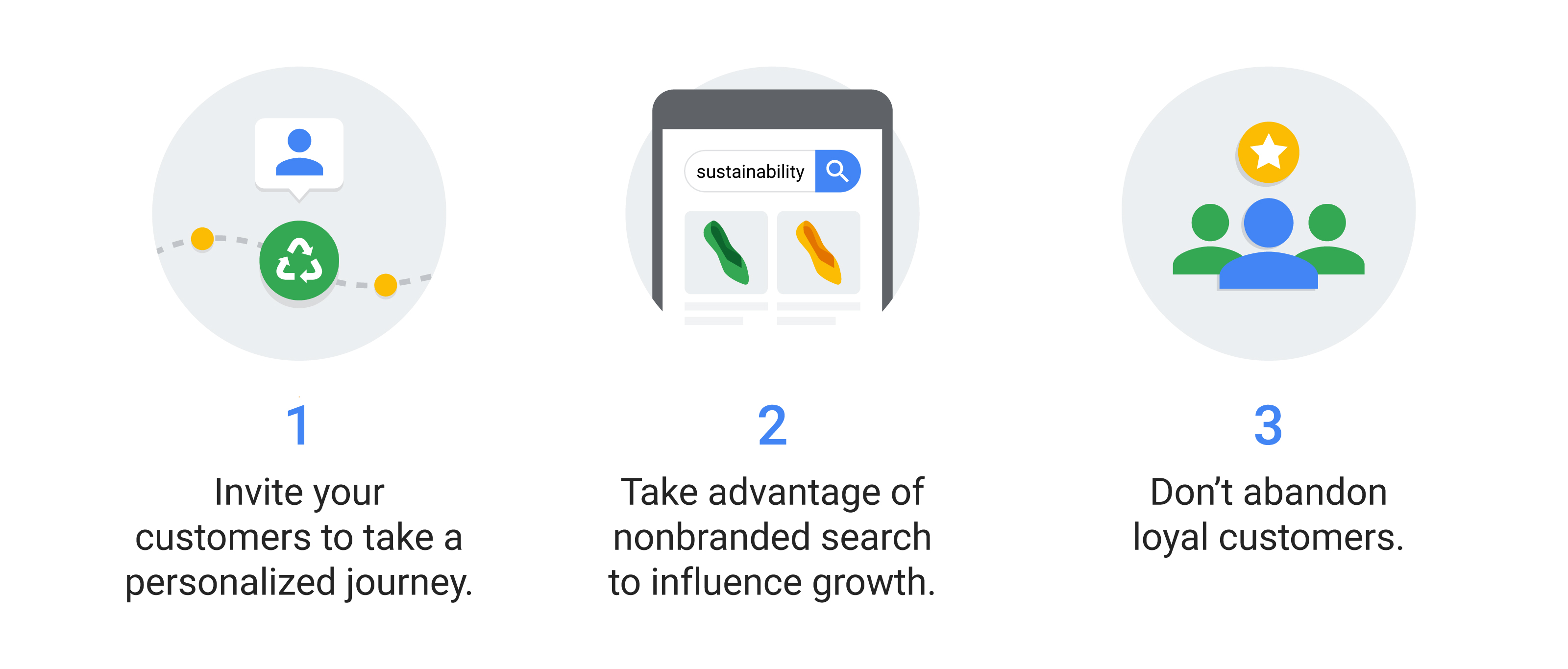 1. Invite your customers to take a personalized journey
When you're growing a business, there's a tendency to want to push your product. But we're not just here to sell a ton of shoes. We're here to connect with and gain the trust of the modern woman who cares about sustainability, style, and comfort. The idea is to invite the customer to share in our story — to bring them along with us through a personalized marketing experience.
Paying attention to context — where people are, what they need, what channel they are using — is key to building trust. Thanks to Google, we're able to implement marketing strategies that capture the full funnel and understand how to craft messaging that works at each touchpoint.
For example, if a shopper is just learning about Rothy's, we rely on Google Search to focus on top-of-funnel results, like brand awareness, and center our strategy around engaging graphics, such as images of plastic water bottles or shoes spinning in a washing machine, that visually introduce us to her and tell our brand story.
2. Take advantage of nonbranded search to influence growth
The ability to continuously introduce new customers to our brand in a cost-effective manner has been a big contributing factor to our growth.
To achieve this, we partnered with Google to analyze customer segments within regions and identified geographies with low purchase consideration for Rothy's. We then cross-referenced regional data with product demand and nonbranded search terms, such as "recycled plastic bottles," "sustainability," and "machine washable," to identify areas with strong category demand and developed our Google Search campaigns accordingly.
We wanted to prove that nonbranded search would drive brand growth — and we did. Our experiment resulted in a 200% increase in brand growth in just two months.
3. Don't abandon loyal customers
Growth isn't just about new customers. We've seen success using Google Display for both prospecting and remarketing. By running Custom Intent Responsive Display Ads, we've been able to close the loop on purchasing by making our ads more relevant to users who have already interacted with specific Rothy's silhouettes and colors.
We started by identifying unique customer attributes, such as category purchased, and used those signals to predict propensity to repeat and timing of repeat purchases, which allowed us to identify customers with higher lifetime value. Through a combination of visual creative and intent-driven audiences, we isolated a better approach for Display that allowed us to grow the channel by 350% in less than six months.
As a new company trying to disrupt in a very established marketplace, we put a lot of effort into understanding how the consumer journey is changing and tailoring our messaging strategy based on those trends. As touchpoints continue to multiply, we have to deliver consistent messaging across all of them — messaging that tells people why we exist and that also meets their needs, no matter how or when they find us. That's what drives results.