Before committing to a purchase, no matter how big or small, people do their homework on search first. This is especially true for CPG shoppers, who increasingly turn to brand websites and apps expecting helpful information.
The marketing team at Procter & Gamble's Olay has seen this consumer behavior play out. And the team realized that, to earn engagement from people, the key wasn't a generic ad. It was a fast, helpful answer to people's questions.
Rather than simply promoting products in search, Olay promoted well-researched information on skin conditions. For example, you might think a person searching "dark circles under eyes" would be served an ad for an under-eye serum, driving to the Olay homepage. Not so. Instead, Olay's ad copy directly addressed the person's search and directed them to a page that offered detailed information and solutions.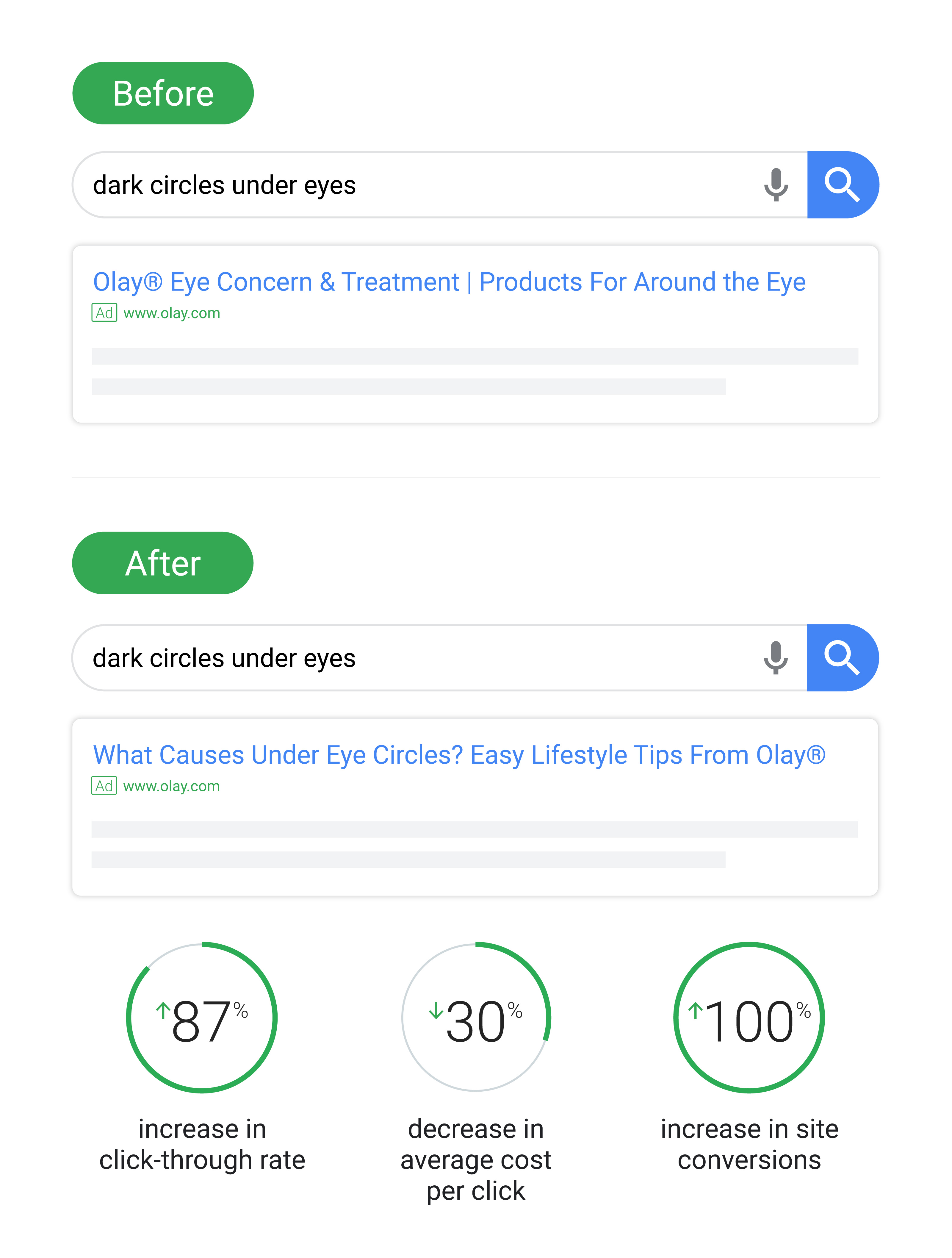 In return, the brand saw more clicks and more efficiency in its search campaigns — as well as an increase in sales. Olay's average click-through rate increased 87%, its average cost per click decreased 30%; and it saw a 100% increase in site conversions.
Increasing online conversions is important, but for a CPG brand, driving more people to the brand website is a meaningful victory, even if they purchase in store. According to research by Deloitte, CPG shoppers who said they used brand websites or mobile apps to browse or research reported spending 108% more than shoppers who didn't.1
Olay approached its ads and website experience as a person seeking information would. This allowed the brand to transform its search strategy to be more intuitive and useful.
When people search
"We started to see search as a direct dialogue with the consumer," said Spencer Kelly, brand manager for Olay e-commerce. "If they were standing in front of us asking the question, how would we answer? We probably wouldn't respond with 'Buy Olay!' But this is how most of our ads responded to consumers' questions. So we started to rethink how we respond back to consumers in a way that gets them what they need."
Olay adapted its ad copy to clearly and directly answer people's questions and address their needs. Because the brand understood that search behavior is more conversational, it used natural language in its results to better connect with consumers.
When people click
When consumers get to where they're going, speed matters. People are likely to click away from a site if it doesn't load quickly. In retail, a three-second delay in mobile load time can decrease the average conversion rate by more than 50%.2 To meet consumers' expectations, Olay has invested in speeding up their site's load time.
Kelly says of their approach, "We believe site speed is more important than ever and it is becoming a key metric for our digital strategy. We have implemented the latest dynamic rendering approach to serving our website, resulting in a load time decrease of over 3X."
We started to see how search is like a direct dialogue with the consumer.
When people land
The fastest way to lose someone's trust is a bait-and-switch. If the search ad copy promises information on the causes of under-eye bags, the link shouldn't go to a generic landing page or product catalog. If you deliver on the promise in your ad copy, people will engage.
"Any time you do something that provides more value to the consumer, they will reward you with better results. ROI is determined by the choices you make. Be sure that the strategy you pick is one that will drive the results you're looking for," said Kelly.
When people leave
Olay used insights from consumer interactions to make the next interaction more useful. It looked at aggregated search queries to understand people's latest questions and needs, and then addressed those topics on its site.
"We're continuing to update our site to be more relevant to the inquiries we see in search, including the content we drive them to," said Kelly.
When you create more useful search ads, you don't just drive engagement with your brand — you create real value for people. Whether you're selling in retail stores or direct-to-consumer from your website, Olay shows that being useful can drive real results.