Vidhya Srinivasan, VP and general manager, Search Ads and Ads on Google experiences, shares what marketers can take away from Search On 2022, an annual event where Google showcases the latest Search updates and innovations, and what they can do today to unlock the full potential of Search.
As people, we gather information using multiple senses and inputs. While it's always been hard for computers to make sense of the world in this same way, they're getting closer, thanks to developments in computer science.
At Google, we started with text search, and, over the years, we've introduced other natural ways of exploring information, like searching what you see using your phone's camera, asking questions aloud with your voice, or even humming to figure out the name of a tune stuck in your head.
At our recent Search On event, we shared how we're going even further beyond the traditional search box to create search experiences that help people make sense of the world in more natural and intuitive ways. Here are some highlights and a look at what these changes mean for marketers.
Helping people make sense of the world in natural, intuitive ways
People naturally use a combination of inputs to explore information. That's why, earlier this year, we introduced multisearch, a new way to search using images and text simultaneously, similar to how you might point at something and ask a friend a question about it. Multisearch is available globally in English, and we're excited to be expanding it to over 70 new languages in the next few months.
Part of making search more natural is making it more visual. Google Maps is expanding its 3D and immersive capabilities so people can get a feel for a place before they even go there. And, using advanced computer vision, we're making it magically seamless to translate pictures with Lens.
Creating a more visual Search is particularly helpful for shopping, and we're making it even easier for people to shop online, whether they know exactly what they're looking for or are seeking inspiration on Google. Now when people type the word "shop" followed by whatever they're looking for, they'll get a shoppable display of products from retailers and brands as if they're window shopping online.
And to take shopping from 2D to 3D, we're helping merchants tap into our advanced 3D shopping capabilities. We've seen that people click on 3D images almost 50% more than static ones.1 But for merchants, creating these assets can be a challenge, requiring hundreds of product photos and costly technology. Soon we'll make it easier for merchants to show their products in 3D by applying our 3D mapping and machine learning to automate 360-degree scans of objects using just a handful of photos instead of hundreds.
These announcements, along with many others from Search On, show how we're transforming search to go beyond the traditional search box and become more natural and intuitive.
What this means for the future of advertising
Similarly for marketers, the evolution of Search means new opportunities to connect with customers in more natural, intuitive ways.
For example, now, when shoppers look for products, they can scroll through visual results with more browseable product images across free listings and, soon, ads. We're continuing to make products more discoverable by providing new ways to surface product images, lifestyle shots, and helpful information through Shopping ads.
Marketers can invest in visual Search with compelling image assets that bring ads to life. With the recent rollout of landscape images to the mobile results page, businesses have more flexibility about where images appear, making it easier for brands to get noticed and drive results.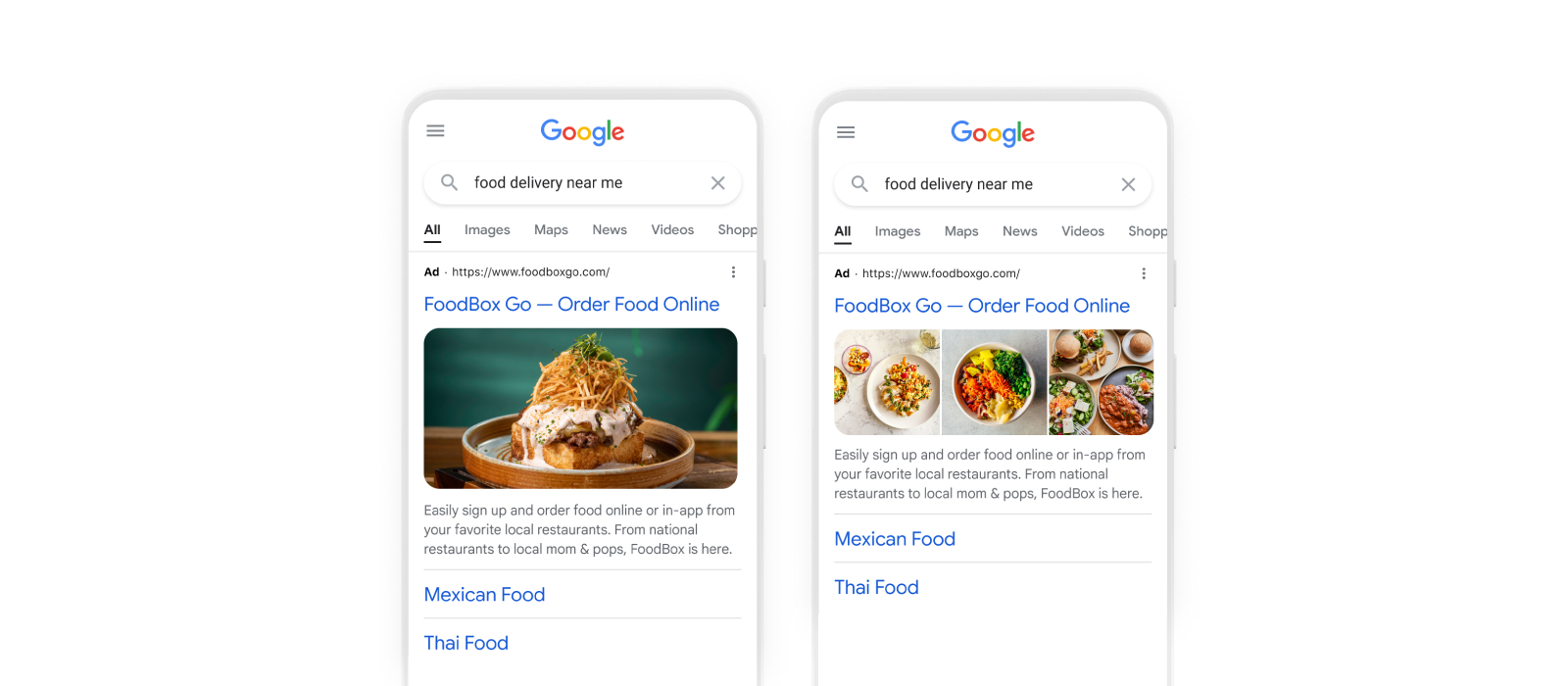 Just as we're applying our technology to help people express themselves in new ways, new ad experiences will also help consumers better connect with businesses. With Business Messages, customers will be able to message brands through Search ads, getting timely information and engagement. If a search needs to become a text-based conversation, it can. And with a 30-day reengagement window, marketers will have the opportunity to develop relationships with customers, both before and after sales happen.
All of the announcements coming out of Search On are rooted in our long-standing investment in machine learning and artificial intelligence, which also powers ads automation. Our state-of-the-art language models have gotten 50% better at understanding human language,2 and we're using advancements like these to help marketers stay on top of consumer needs as they evolve in real time. Broad match, in particular, has become even better at matching keywords to user intent to help brands find new opportunities, even as those opportunities are still emerging.
Take the example of Rothy's, a shoe and accessory retailer, that went all in on automation with Performance Max campaigns to multiply results and show their creative assets to customers at scale. Since using Performance Max, Rothy's grew conversions by 60% and revenue by 90%. "At first we were hesitant to use automation to make such important decisions," explains Kate Barrows, Rothy's VP of growth. "But the results spoke for themselves. Automation stays on top of customer trends and behavior faster than we can."
Automation can be a business multiplier. It helps brands market faster and capture reliable, real-time ROI.
AI and machine learning help identify fresh, relevant information — and drive performance
Moments like Search On are an important reminder of how far Search has come — and how much further we can take it together. With these advancements, we're creating new search and ads experiences that better reflect how we as people make sense of information.
We're here to work with you, to help you stay on the cutting edge, and to drive performance, even in uncertain times. Take a look at my Search On recap, which highlights three steps businesses can take today to be ready for what's next. I hope you're excited to search outside the box, and we look forward to cocreating the future of search marketing with you.