As the Chief Search Evangelist for Google, I'm in the business of making bold predictions. We know that the advertising landscape is shifting, and fast, but we can't always see where it's going.
Based on my research and work I'm doing with some of the top CMOs in the world, here are my bold predictions for what advertising will look like in Canada by 2025:
Bold prediction #1: Because of the continuing shift to online advertising, rapid improvements in Machine Learning (ML), and the rise of programmatic, almost all media buying will be digitized and fully automated.
Bold prediction #2: Driven by this digitization, most paid ads—across most channels—will be measureable and optimizable in real time.
Bold prediction #3: This will transform brand marketing, which will start to look a lot more like performance marketing.
It's Bold Prediction #3 that I want brand marketers to pay particular attention to. In this modern marketing era, they will need to shift their thinking on what they're measuring, how they're measuring, and how they're budgeting.

Here are three things brand marketers should consider doing in the age of modern marketing:
1. Focus on the right KPIs
Machine learning algorithms rely on humans to tell them what to do. One of the most important decisions that you can make as a brand marketer is which KPIs you select to optimize.
In the short term, brands can get significant benefits by optimizing total reach by properly optimizing their mix of TV and digital video. But today's top performing brands now go well beyond reach, in favour of optimizing more important business and brand metrics.

Here's an illustrative example of the metrics a CPG company could optimize today, in real time, using ML: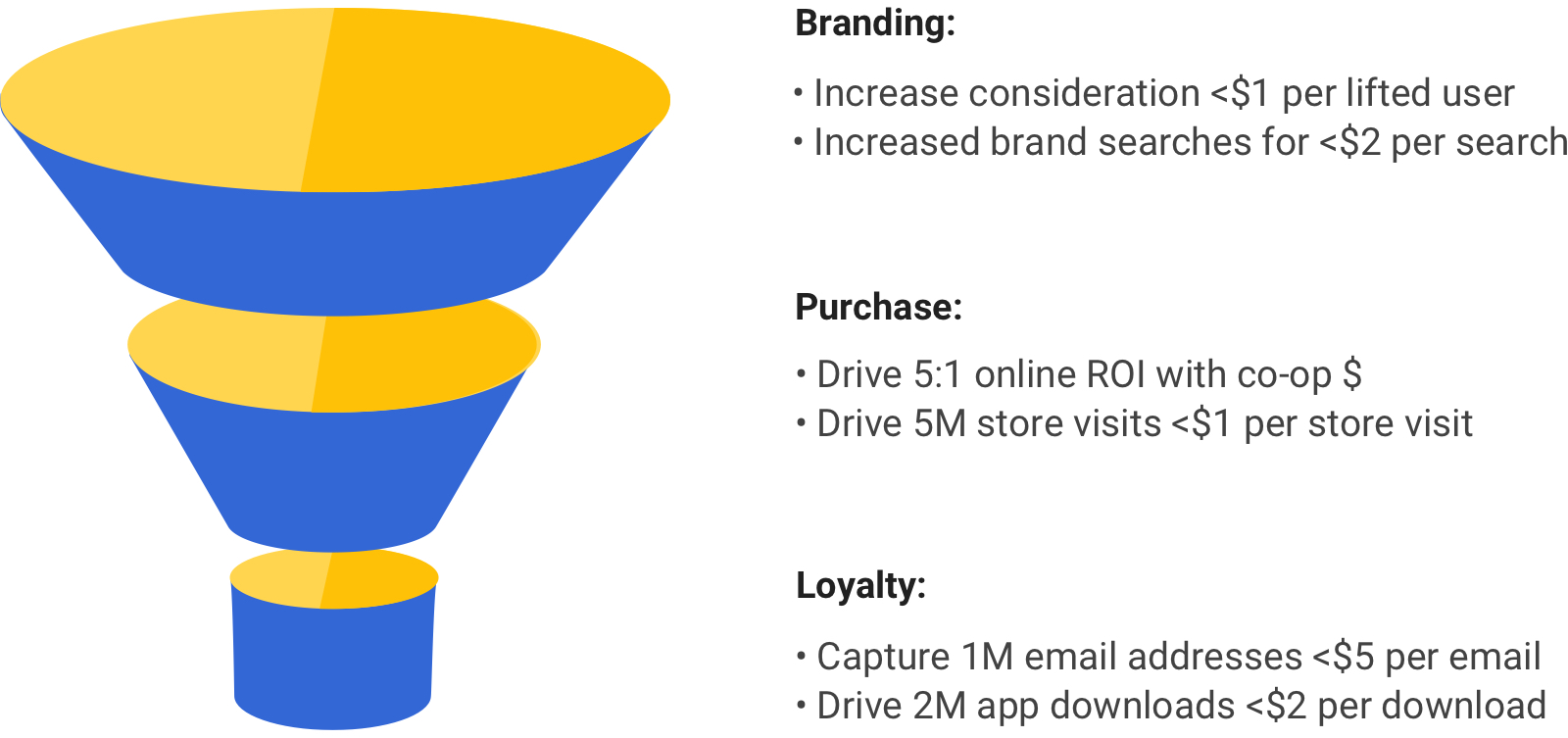 Imagine, for example, investing $5 million to drive 5 million Canadians to a retailer that sells your products (and even getting the retailer to co-fund some of this investment), or driving a lift in consideration at a cost of less than $1 per lifted user. 
Next step: Brainstorm with your marketing, agency and/or Google teams to create the dream list of KPIs you'd like to drive that aren't reach. Ask for a plan to accomplish this list.
2. Measure better
In the past, brand marketers had to rely on media metrics that were built for television -  such as the aforementioned reach, frequency and Media Mix Models (MMMs). 
In the short term, brands will still rely on MMMs to measure the efficacy of their advertising. But top brands are already making significant improvements to their approach:
Adapt: Modify their MMMs to bring them into the digital age. 
Test: Experiment with digital-first campaigns to better understand their impact. For example, the state of Oklahoma's tourism department launched a test of different mixes of YouTube and TV, resulting in a staggering 486% improvement, becoming the No. 1 visited state tourism website in the U.S.  
Another great example is from the U.S. Navy, which went from 70% TV to a 70% digital media mix by launching its first made-for-digital recruitment campaign.  
Next step: For your next brand campaign, create a YouTube-first campaign in at least one province.
The future of brand marketing is digital, and it's automated. As a brand marketer, if you can start thinking like performance marketers when it comes to KPIs, measurement and budgets, you'll be poised to win.
3. Go always on
More than 80% of the performance advertisers we work with don't have a marketing budget. Why? Because they can measure the profitability of their investment relatively accurately, enabling them to free up more budget as long as the investment is profitable.  
In the era of ML, we believe we can accomplish the same thing for brand advertisers.
For example, YouTube's Maximize Lift is a tool that uses ML to automatically drive the maximum lift in brand consideration at the lowest possible price. Since it measures results using A/B testing, these results are very accurate and independent of the rest of a brand's media mix.
If a brand can approximate the impact on medium-term revenues that this consideration lift will create, it can justify the investment, and can optimize it in real time.  
For example, if a 10% lift in consideration drives a $10 million boost in revenues over a year, it's clearly profitable to invest $250,000 to drive that 10% lift. This is something a machine learning tool can do automatically.
As the brand proves over and over again that it can forecast revenue lift accurately, and that its brand advertising is profitable, it will start moving to an always-on brand marketing budget.
Next step: Try an ML tool like Maximize Lift, and see how a performance-like advertising campaign can make an impact on your consideration and revenues.
The future of brand marketing is digital, and it's automated. As a brand marketer, if you can start thinking like performance marketers when it comes to KPIs, measurement and budgets, you'll be poised to win.
Key takeaways for brand marketers of the future
Go beyond reach: Start to shift your focus to the right KPIs that make more sense for brands in the world of automation — while reach is important, we can do so much more. And we should!
Remix your media mix: Brand marketers' MMMs need to be brought into the digital age. They can't just be built for television. Adapt yours, and then test with all the tools at your disposal to find the best mix for you.
Find your way to always-on: Episodic brand strategies aren't the way of the future. Being always-on and optimizing in real time will allow you to fully harness the power of automation to benefit your bottom line -- start working on ways to make your case.