When I first got into yoga five years ago, I spent weeks looking for the right studio — reading reviews and instructor bios, asking friends, looking at photos, you name it. But then for smaller purchases, like a mat, blocks, and other gear, I decided in a couple of minutes. There just wasn't a lot of info out there. Today, I do a deep dive on nearly everything I buy. Time for a new toothbrush? I do a quick search for the latest research. Car getting high on miles? I watch virtual test drives before I set foot in a dealership.
Like me, people are jumping seamlessly from channel to channel and researching more, often in unexpected ways. This explosion of consumer touchpoints means more advertising opportunities — and more complexities — for marketers.
The brands and agencies I work with every day are tackling this complexity by bringing media and creative together to anticipate what matters to people and help shape their customer journey. Here are three ways I see them finding success.
Using rich signals to inform creative and media
Smart advertisers are using signals about viewers' intent and context to inform not just who they talk to, but how and when they do so. A great example is this year's YouTube Works Grand Prix U.S. winner, Xfinity Mobile. In a competitive category and cluttered market, the brand and its creative and media agency partners cleverly incorporated signals into the creative itself. The ads showed viewers how much it would cost to stream the video they were about to watch on their current mobile plan. The teams made use of signals like content type, file size, wireless carrier, and whether or not the viewer was on Wi-Fi.
In a deep-dive article on the campaign, I was struck by this insight from Kim Thompson, executive VP at Spark Foundry, the agency that worked on the campaign. "In today's world, it's as much about data as it is about a good idea. There is a symbiotic relationship between creative and media. Without having credible data, you may not see the success you want."
When you get to know your audience on a deeper level ... you can uncover unexpected insights.
In the end, these relevant, eye-opening ads created a sense of mass intimacy with the audience, helping the brand acquire thousands of new customers.
When you get to know your audience on a deeper level and understand who they are and what matters to them, you can uncover unexpected insights and reach them in moments when they're most engaged and receptive.
Orchestrating a breakthrough story
Marketers can reach people more frequently than they ever could before. But seeing the same ad over and over again can be grating for viewers, especially now that they're so accustomed to watching entirely on their own terms.
One way around that is through a tool called video ad sequencing, which allows marketers to serve up a series of ads in the order they choose, delivering repetition through variation, not redundancy. This is an opportunity for advertisers to tell stories that match how people watch today — and is a uniquely rich canvas to bring media and creative to life in effective ways.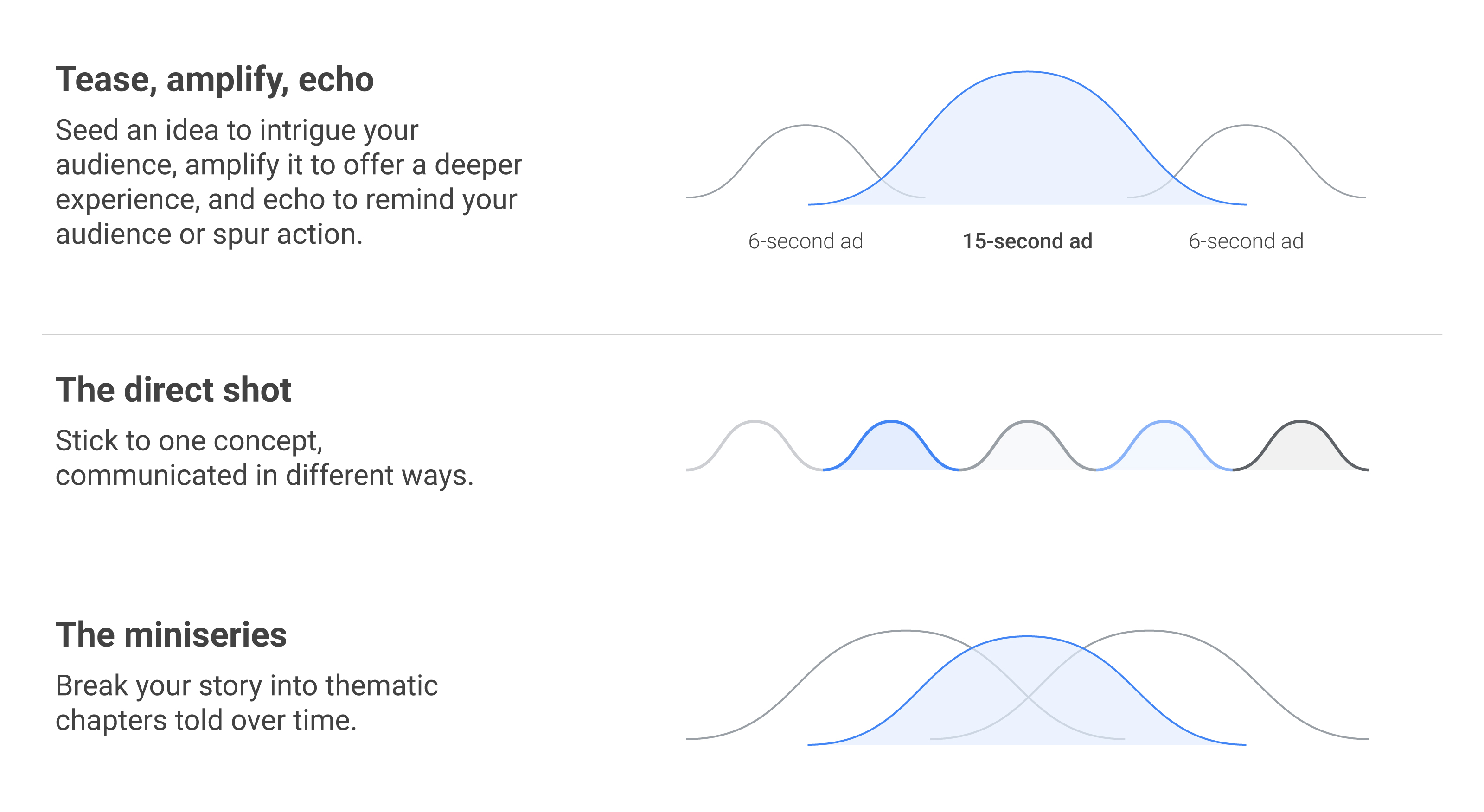 Research shows that sequenced storytelling that combines multiple creative formats boosts message retention compared to using a 30-second ad on its own.1 Brands like Adidas and 20th Century Fox are using sequencing to push the boundaries of their storytelling — and seeing record business results.
Optimizing creative based on marketing objectives
When media and creative are in lockstep, campaign creative can be optimized based on best practices for the platform and even for specific marketing objectives, which ideally ladder up to business objectives.
For example, when your media and creative teams know that the main goal is to, say, drive awareness, you can ensure the ads you're creating follow best practices by including your brand logo within the first five seconds. You better believe this product ad from Lululemon caught my eye in the weeks before my friend's birthday, even though I wasn't specifically looking for men's yoga pants.
In a recent study done in partnership with 4A's, we analyzed beauty campaigns and found that when ads are created with a specific marketing objective in mind, results are supercharged, and have a 2X higher lift in the later stages of the purchase journey.2
Game-changing opportunities to break through
It's no longer enough to have a great media plan and a great creative concept. To anticipate what matters and reach consumers on their terms, advertisers will need to treat their media and creative as one, ensuring they complement one another. In working with brands and agencies, I not only know that it's possible, but that it will help you create game-changing, breakthrough creative.