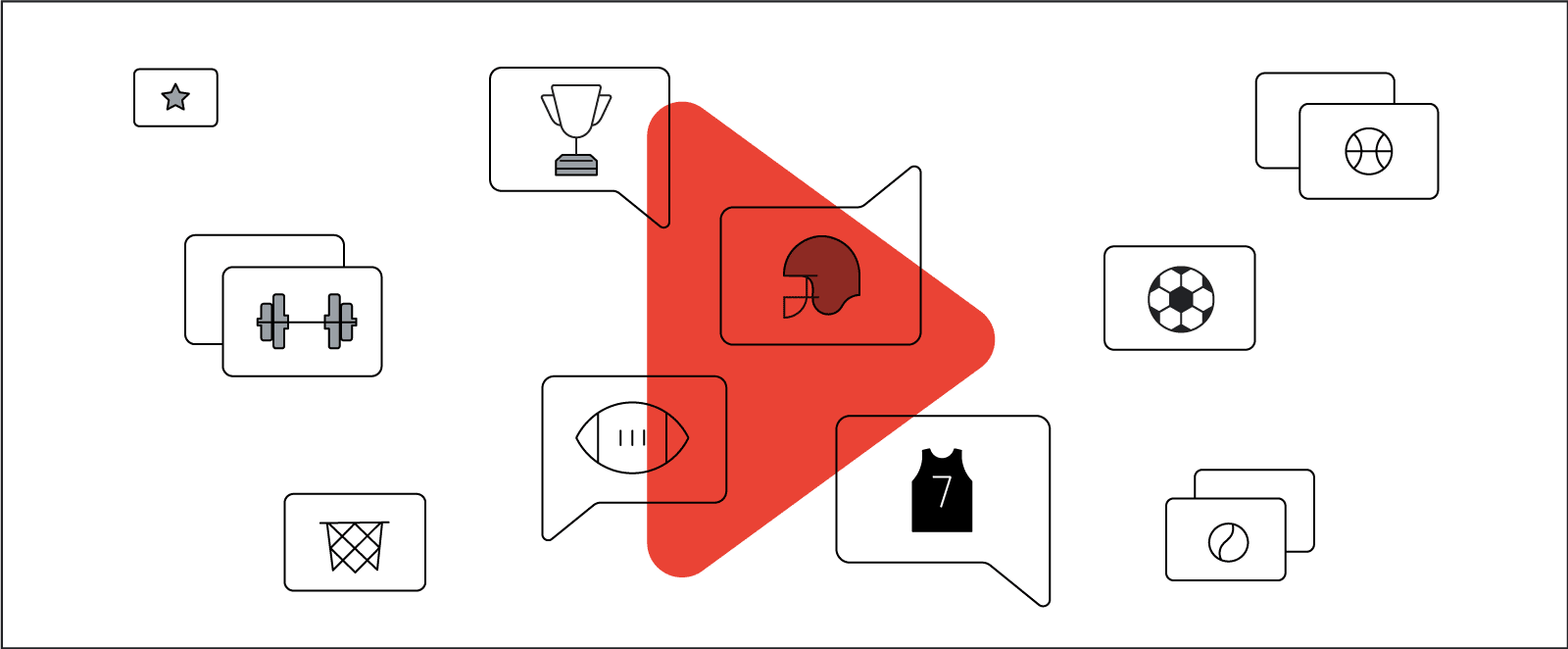 In the world of sports, the game may stop when the clock runs out, but the fandom doesn't.
Last year, when live events were delayed and seasons were shortened, fans turned to YouTube to get their sports fix: streaming highlights, nostalgic games, and content from their favorite athletes. With 79% of viewers saying the platform has sports content that can't be found anywhere else,1 it's become increasingly indispensable. In fact, fans ranked YouTube their No. 1 preferred platform, higher than cable TV.2
Even with most live sports back in some capacity, fans are continuing to stream YouTube to catch the in-depth, behind-the-scenes content they love, on screens big and small. YouTube watch time of sports videos on TV screens increased more than 65% year over year, and that doesn't include live content.3 Brands and creators can win big by meeting consumers in these captivated moments with personal, relevant content.

Here are a few ways athletes and advertisers are tapping into these changing viewing habits, creating new opportunities to connect with fans and drive results.
Athletes become creators, giving fans an inside look
Today's athletes are giving fans an exclusive look at their lives both on and off the field, redefining what "sports content" means. Authentic and immersive videos lead to more engaged audiences and deeper fan connections.
Take Indianapolis Colts wide receiver Michael Pittman Jr. He and his wife, Kianna Pittman, started their YouTube channel Michael and Kianna while in undergrad at USC to help fans see the person Michael Pittman is beyond the uniform.
"As soon as we leave that football field, people don't really see us outside of that environment," said Michael Pittman. "Through YouTube, [I] can give people an inside look at what life is like for an NFL player or for an athlete."
Athletes are giving fans an exclusive look at their lives both on and off the field, redefining what "sports content" means.
When they started the channel nearly two years ago, fans gravitated to their "Game Day" vlogs, "A Day in the Life" videos, and fun moments of their relationship. The couple shares both everyday and major life moments, like their engagement, with a growing audience of over 350K subscribers, up almost 90% from this time last year. To date, they have more than 20 million channel views.
"Our transparency helps our subscribers feel connected to us," said Kianna Pittman. "So when something good happens, say in Michael's career, they feel even more excited for him, because they feel like they know him and have been a part of it."
Fan feedback leads to better content and engagement
Catering to shifts in how younger audiences consume sports and entertainment, digital sports media company Overtime is also creating on-and-off the court content.
"We are leaning into what we know the next generation wants to see in sports: long-form storytelling, highlights, and the athletes and influencers that matter to them," said Marc Kohn, chief content officer at Overtime.
Dialing into their audiences' preferences — over 90% of millennials who watch sports videos say they do so on YouTube4 — Overtime expanded from one channel to six, including adding specific content for football, basketball, and gaming. By encouraging and responding to feedback via messages, comments, likes, and viewership trends, the company has successfully created over 40 series across YouTube and other social platforms, with an active audience of more than 3 million subscribers and over 45 million followers.

Fans regularly tune in to watch videos of their favorite athletes. The weekly series "Prolific Prep — Superteam," featuring Overtime fan favorite Jalen Green, saw a viewership spike each Saturday night when new episodes premiered. In 2020, the brand garnered more YouTube views per video, all organic, than anyone in their competitive set.
"When we create a show for YouTube, we get real-time feedback from the audience on what content they like, don't like, and are most engaged with," said Kohn. "The generation of cord-cutters and cord-nevers is just as interested in long-form, episodic series, but they want content that they enjoy."
Hershey's expands reach beyond the game for sweet success
More than ever before, fans are seeking out and inviting into their living rooms media that provides access to their favorite teams and athletes. Brands can take advantage of this trend, creating content beyond and complementary to what's traditionally shown on TV.
As linear TV viewership continues to decline, Hershey's is increasingly looking to digital platforms to replace the reach they need to grow their brands. For the 2020 Super Bowl, for example, their Reese's Take 5 brand needed to expand the reach and frequency of their big game campaign, so they looked to YouTube.
Fans are seeking out and inviting into their living rooms media that provides access to their favorite teams and athletes.
"This audience is increasingly harder to reach on linear TV," said Mike Nolan, integrated media lead for Reese's. "Through YouTube, we are able to do it much more efficiently and with greater precision."
A mix of ad formats, including YouTube Connected TV and Home feed ads, ensured Reese's Take 5 message ran across all screens where fans were engaged. The Super Bowl campaign became the most efficient digital video campaign for the Hershey Company, gaining 24% incremental reach among their key audience of adults ages 18 to 34 and delivering a high ROI.
Hershey's has since applied the lessons learned from this campaign across a number of their brands with similar success. Additionally, the brand has leveraged influencer marketing via BrandConnect to reach sports enthusiasts specifically. "We're really seeing the growth in streaming video, and also leaning into user-generated content to place our ads next to content people are looking for," said Nolan. "For sports fans, it's about the content. You can't go to your cable channels and get the same behind-the-scenes content that you can on YouTube."