Marketers love talking about the customer journey. After all, our top mission is to drive people through the purchase process, from awareness to consideration to intent to action. Often, that journey takes weeks or even months. But what if you could move your audience through the funnel in just days?
That's the challenge we, the marketing team for Pixel 2 and Pixel 2 XL, gave ourselves in January for the Grammy Awards. To tackle it, we built a comprehensive full-funnel YouTube campaign. And it worked.
More than one-third of U.S. millennials saw the campaign1 — more millennials than watched the 2017 Super Bowl2 — and there was a 20% lift in brand awareness among viewers aged 45 to 54.3 Google searches related to "Pixel camera" increased by 145%, while queries about Pixel commercials spiked by 340%.4 And, best of all, the campaign drove a click-through rate to the purchase site 113% higher than the average of other campaigns.5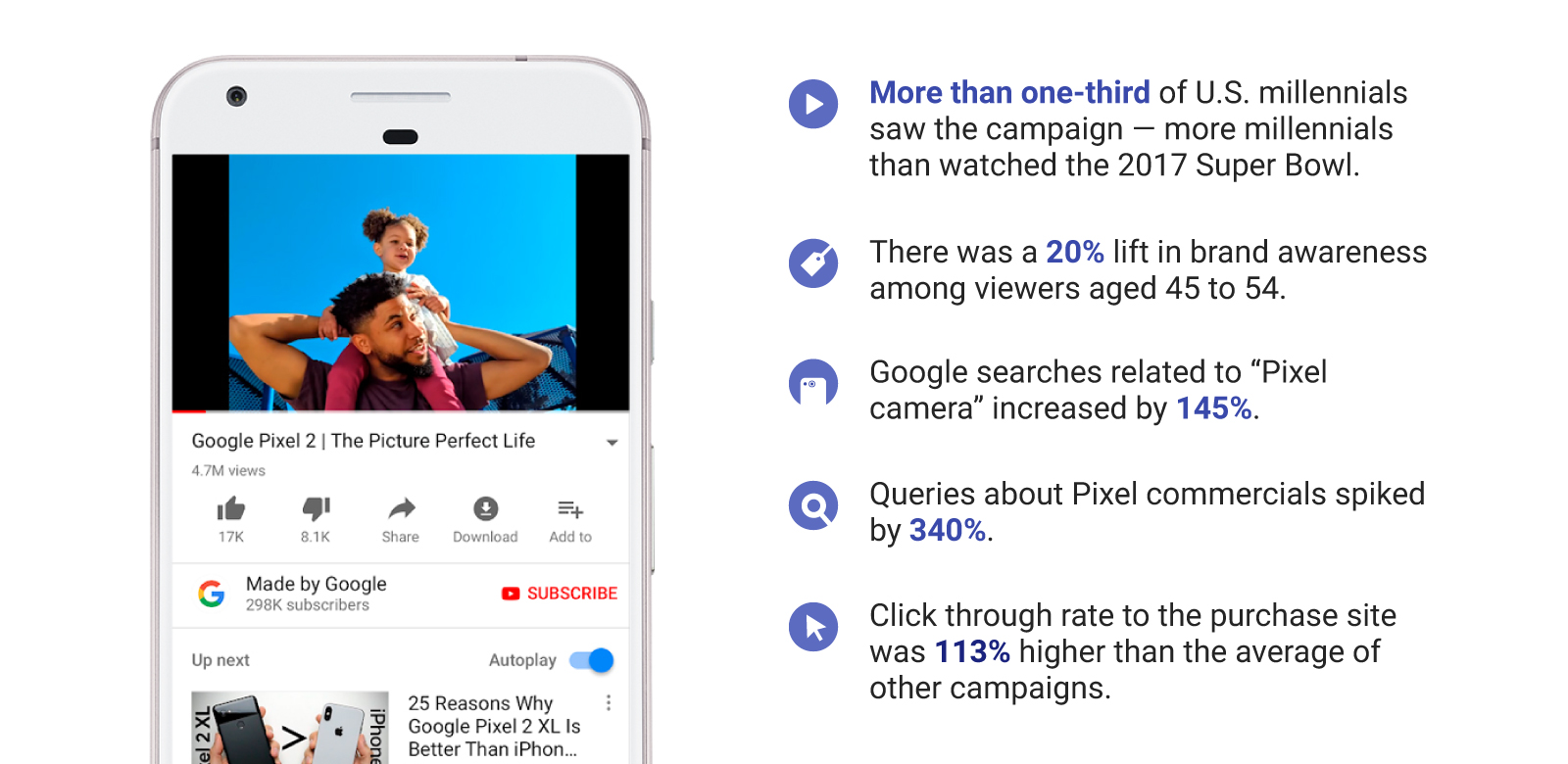 Here are three things we learned that can help other marketers replicate the success.
1. Listen to the data, especially when it challenges your assumptions
As marketers trying to showcase a product, our first thought always goes to the product itself. If only we can effectively highlight its best features and most exciting use cases, people will see for themselves how amazing it is (and therefore why they should buy it).
But that's not necessarily the best approach for capturing people's attention. In fact, when the team dug into the research, we found that for premium purchases like smartphones, consumers make emotional decisions, not logical ones.  
That insight led us to create the headline-grabbing ad, "The Picture Perfect Life." Featuring the copy "question your lens," the ad was less about the phone itself and more about an important social issue: suicide prevention. To make sure the powerful campaign reached as many people as possible, we ran it across the YouTube Masthead on mobile and desktop as well as on linear TV during the Grammys.
2. Go big, but follow up after
Big moments like the Grammys come with a lot of noise, so a single ad might grab people's attention but it won't hold it. That's why we adopted a "go big and follow up" strategy.
First, the broad reach of the Masthead and the ad's powerful message started a conversation. Then, six-second and 15-second ads highlighting the phone's camera were served to people who had seen the Masthead and visited the Pixel page on the Google Store. Finally, as the video ads inspired people to search on Google to learn more, search ads brought them to the product site.
For full-funnel campaigns that have to cut through a lot of noise, repeating the message is the best way to move an audience from awareness to action quickly.
3. Keep creative fresh with a range of formats
Building new creative can be challenging and expensive. But you also don't want to serve the same spot repeatedly and risk it turning stale. As our team discovered, there's an easy solution: Use the same creative but make it feel fresh by cutting it for different lengths.
For instance, we used the same shots for our six-second and 15-second spots. But since they were cut differently for each length, they felt distinct enough to still be interesting.