When I'm thinking about making a purchase, it often takes many searches before I decide what to buy. My searches typically start with questions like, "what's the best type of protein powder to use?" Then I move on to "best 2021 whey protein powders." Sometimes I'll end the search by looking for a vitamin store near me, or sometimes I'll go ahead and purchase online.
Brands can showcase products to interested audiences who come to the platform to engage with the creators they trust.
With so many options out there, we often need assistance from others to help us make purchasing decisions. YouTube creators play an important role in how people find out about and think about a brand. In a recent Ipsos study, half of U.S. consumers surveyed say they are more likely to consider a product or service if their favorite creator has promoted it.1 Through product reviews, clothing hauls, and personal stories, creators give consumers an honest, inside look into these products and services and help us feel confident about making purchases.
Whether through ads or creator partnerships, brands can showcase products to interested audiences who come to the platform to engage with the creators they trust. Top brands such as Ritz, Madewell, and Schick have successfully engaged creators to help increase awareness and sales of their products. Below are some ways they were able to trust in the power of creators to help enhance their marketing efforts, and how they saw success with these creators.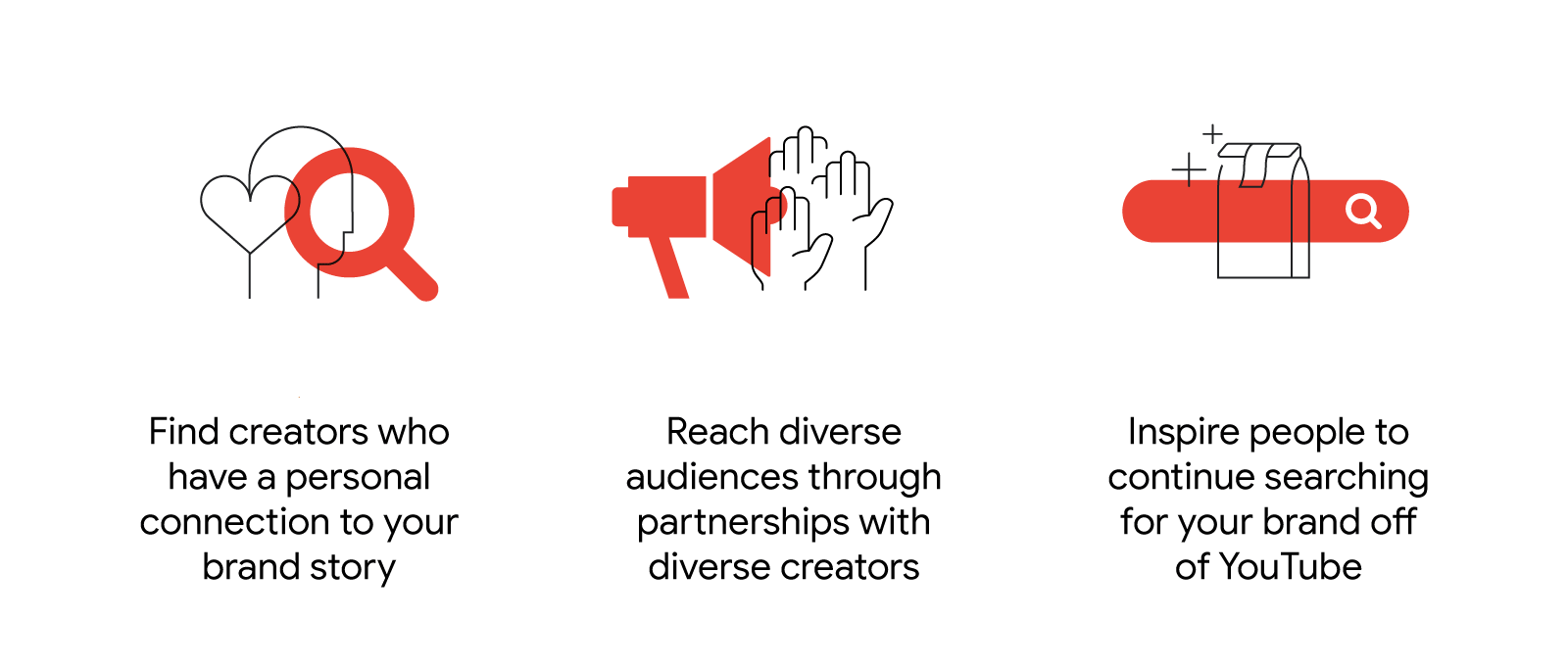 Find creators who have a personal connection to your brand story
Creators often build trust and interest by sharing stories that viewers can relate to — stories that show a sense of authenticity and vulnerability. In a recent Ipsos study, 47% of U.S. consumers ages 18 to 24 surveyed agree that they feel a personal connection to a brand when it's used by a creator they like.2

Ritz is one brand that recognizes the beauty in the unique voices of creators. The brand understands that although holidays are when people spend the most time with family, the idea of "family" is changing, and family doesn't look the same for everyone.
Known as the cracker that represents the idea of being welcoming, Ritz emphasized its messaging through YouTube's branded content platform BrandConnect last holiday season. The brand found an opportunity to stand for and highlight the beauty of chosen families through creators and their personal stories about what family means to them.
Creators such as Jeannie Mai and Todrick Hall were asked to speak to their personal experiences with finding their chosen family, while sharing a fun snack or recipe using the Ritz core cracker. This led to heartfelt, genuine, and entertaining stories, and allowed the brand to connect with viewers in a way they hadn't done before. The campaign also drove 747,000 total views, more than 3.1 million minutes watched, and a 484% increase in branded searches for Ritz on Google Search.
Reach diverse audiences through partnerships with diverse creators
YouTube creators have vast and loyal followings, and their messages can reach millions of people at a time. Including parents, beauty enthusiasts, gamers, and more, their audiences are diverse and so are they. Partnering with a variety of creators allows brands to go after wider audiences and resonate with more people. They have an opportunity to connect with people from various backgrounds and with different interests, increasing their reach and influence.
YouTube creators have vast and loyal followings, and their messages can reach millions of people at a time.
The importance of working with diverse creators was evident in Madewell's "What are you made of?" campaign. Madewell partnered with a wide range of creators, such as Molly Burke and Leena Snoubar of "With Love, Leena." They created organic videos, weaving in their personal stories, to empower people to feel comfortable with what makes them different and encourage them to share and celebrate those differences. Other creators included XO, MaCenna, a home renovation connoisseur, and Jo Franco, a multilingual storyteller, showcasing a diverse range of content and audiences reached. The authentic, creator-driven model resonated with viewers and drove an increase of 73% lift in awareness, with the search "madewell" increasing by 10X. Their creator videos saw 1.3 million views, exceeding their original view target by 30%.
Inspire people to continue searching for your brand off of YouTube
YouTube creators play a large role in helping consumers make purchase decisions, both online and offline. Consumers often turn to creators to help inspire their purchase decisions, whether discovering a brand for the first time through a video or considering a purchase from a brand from a creator's review. American razor brand Schick experienced the power of creator-driven purchases and searches in one of their recent campaigns.
Last year, Schick partnered with creators to reach women ages 18 to 24 who have an interest in beauty. Their goal was to get these women to turn to Schick Hydro Silk for their "closest shave yet." Whether it was a self-care video, daily routine, or a video dedicated to do's and don'ts of shaving, the creators highlighted the product specifics that make Hydro Silk stand out from its competitors, positioning it as the must have razor this summer. The campaign also featured the BrandConnect shopping shelf, a feature that allows you to highlight products below your ads to enable instant consumer shopping from creators' videos.
Creators help bring consumers to the platform, get them engaged, and help inspire them to make purchases.
The campaign not only led to 75% unique viewer reach and 40.7% lift in purchase intent, but it also resulted in a 3,540% lift in branded keyword searches on Google.com and YouTube.com.
Although many consumers made a purchase directly on YouTube through the shopping shelf, their shopping journey didn't end there. Many turned to Google to learn more about the brand and purchase through other channels.
Creators are continuing to shape our culture and are becoming more trusted by consumers than traditional celebrities. As the creator landscape grows, viewers are going to continue tuning into creator channels and engaging with their content.
It's important that brands take advantage of the opportunity that YouTube brings to connect with consumers through creator videos, whether it's through creator partnerships or running paid ads on the platform alongside these videos. Creators help bring consumers to the platform, get them engaged, and inspire them to make purchases throughout the online shopping experience. The opportunity to connect with a wide range of consumers through authentic storytelling and diverse creators is one not to be missed in the future of shopping.