We're all aware of the new reality: Today's consumers are in complete control of their path to purchase and the number of touchpoints have proliferated. People move seamlessly across channels and devices — from discovery to consideration to conversion — on their own terms. But what may come as a surprise is the outsize role that online video now plays. It can help create demand and also fulfill it.
Online video now plays an outsize role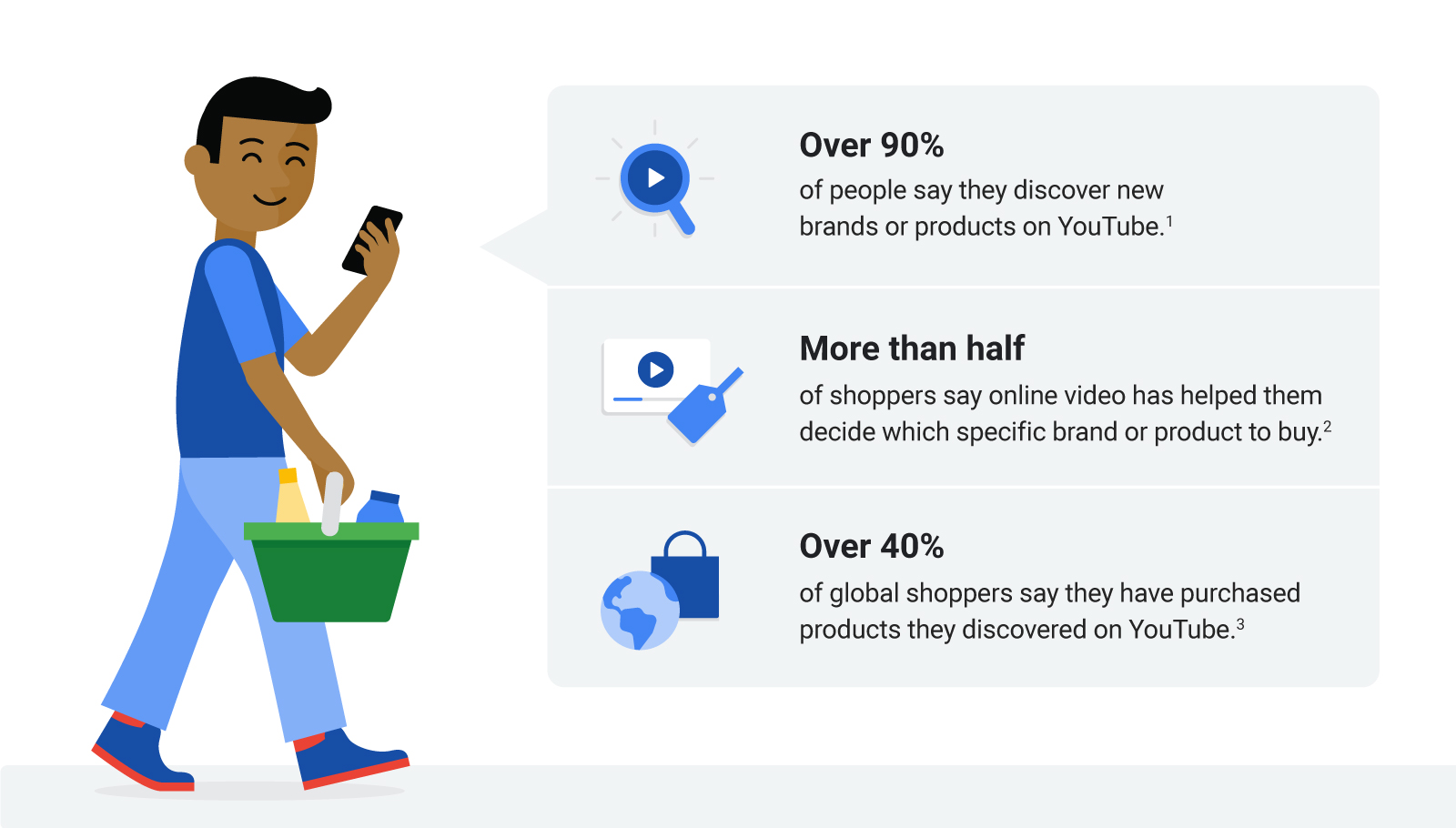 Over 90% of people say they discover new brands or products on YouTube.1
More than half of shoppers say online video has helped them decide which specific brand or product to buy.2
Over 40% of global shoppers say they have purchased products they discovered on YouTube.3
Marketing success has always hinged on building meaningful customer connections. But the formula for achieving it — largely driven by consumer behavior — is constantly evolving. Here are three tips to help you better respond to changing consumer behaviors.
Approach brand and performance goals holistically
A great video can lift brand awareness, while also providing a clear path to purchase. We saw this happen in a smart campaign by Marley Spoon, a Berlin-based subscription meal kit service.
In an effort to raise awareness and acquire new customers, Marley Spoon tested an online video-only approach. The team developed creative assets that introduced the brand and explained the service to drive upper funnel goals with video. Then they added a direct-response element to their videos, through clear calls to action, driving users to the website and sign-up pages.
Marley Spoon's results validate the team's hybrid approach, with a 25% lift in brand awareness and a 49% lift in ad recall, a near 10X increase in search volume, and 52% incremental uplift in conversions.4 In short, blending storytelling with direct response formats can be incredibly effective.
Identify your best customers
Compelling, action-inspiring video ads can help set you up for success. But you're missing an opportunity if they don't reach the right people. Developing a plan that leverages audience intent signals will help ensure that doesn't happen.
Take Mumbai-based Axis Bank's campaign to reach potential customers who had specific banking questions and concerns. To build interest in a new digital app, the private-sector bank dug into popular banking keywords and questions, and developed a series of online videos that demonstrated how the app could help: paying bills via mobile device, opening a fixed deposit account, making a big purchase, and so on.  
Once Axis identified user needs and created content to address them, it connected that content with the people who were searching for it. Axis created custom intent audiences, based on who was searching for relevant keywords to ensure the content was reaching and helping the right people at the right moments.
The approach paid off, delivering a 234% lift in brand search interest and a 93% lift in brand search volume.5 And the campaign also drove conversions, increasing new customer accounts through the app by 30%.6  
Meet your audience where they are
It's true that audiences control the path to purchase, but with online video, you can create a compelling path for them to follow whenever they're ready. And you can help them by showing up along the way.
Adidas recently took this approach to introduce people to a new soccer shoe. Using YouTube's video ad sequencing tool, the team developed a video campaign featuring the shoe across multiple ad formats to reach people at different touchpoints over time, based on their level of engagement.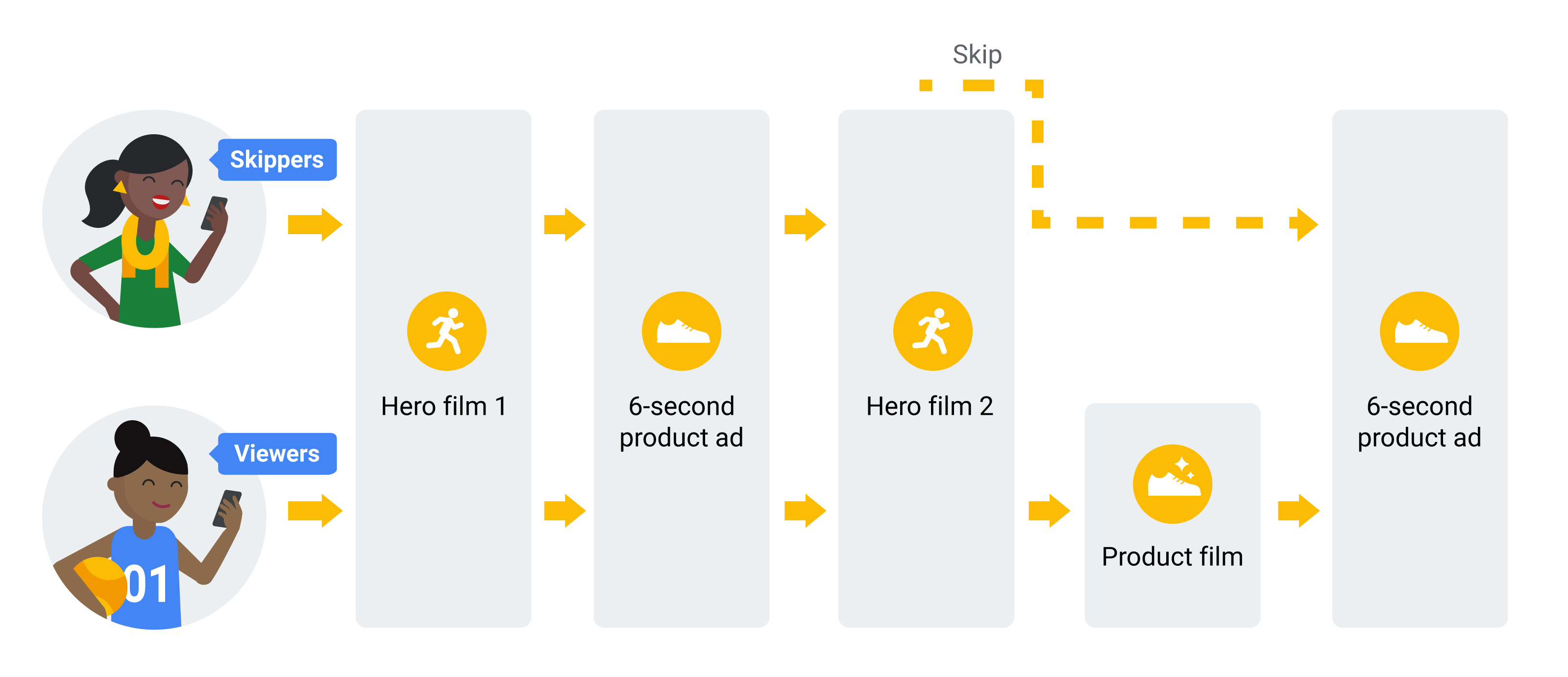 The sequence included two long-form videos, a six-second unskippable bumper, and a product video. Providing a simple path for viewers who wanted to engage helped deliver on Adidas's brand and performance goals. It saw a double-digit lift in brand awareness and ad recall, as well as a 317% lift in product interest.7 Most impressively, the average view-through rate increased 20%8 as the sequence progressed from the long-form video to the product video, confirming the value of tailoring the sequence for engagement.
As these marketers have proved, brand and performance goals can be tackled simultaneously with online video. Video can capture people's attention, move them from inspiration to consideration, and encourage them to take action. By creating a holistic video strategy, you can help deliver short-term performance goals as well as long-term brand equity.