In today's world, there are countless products and brands to choose from. For help making informed decisions amid all the clutter — including deciding where to shop, what products to get, and what brands to choose — consumers are turning to digital video.

But digital video is useful for more than just the research and action phases of shopping. It has also become popular much earlier in the shopping journey, when consumers are simply looking for shopping inspiration. In fact, 80% of shoppers who watched a YouTube video related to a planned purchase said they watched it at the start of their shopping process.1

In other words, brands have a unique opportunity to influence shoppers long before they hit the store. To find out more, we asked three leading creators to tell us about the latest YouTube shopping trends they're seeing on the platform.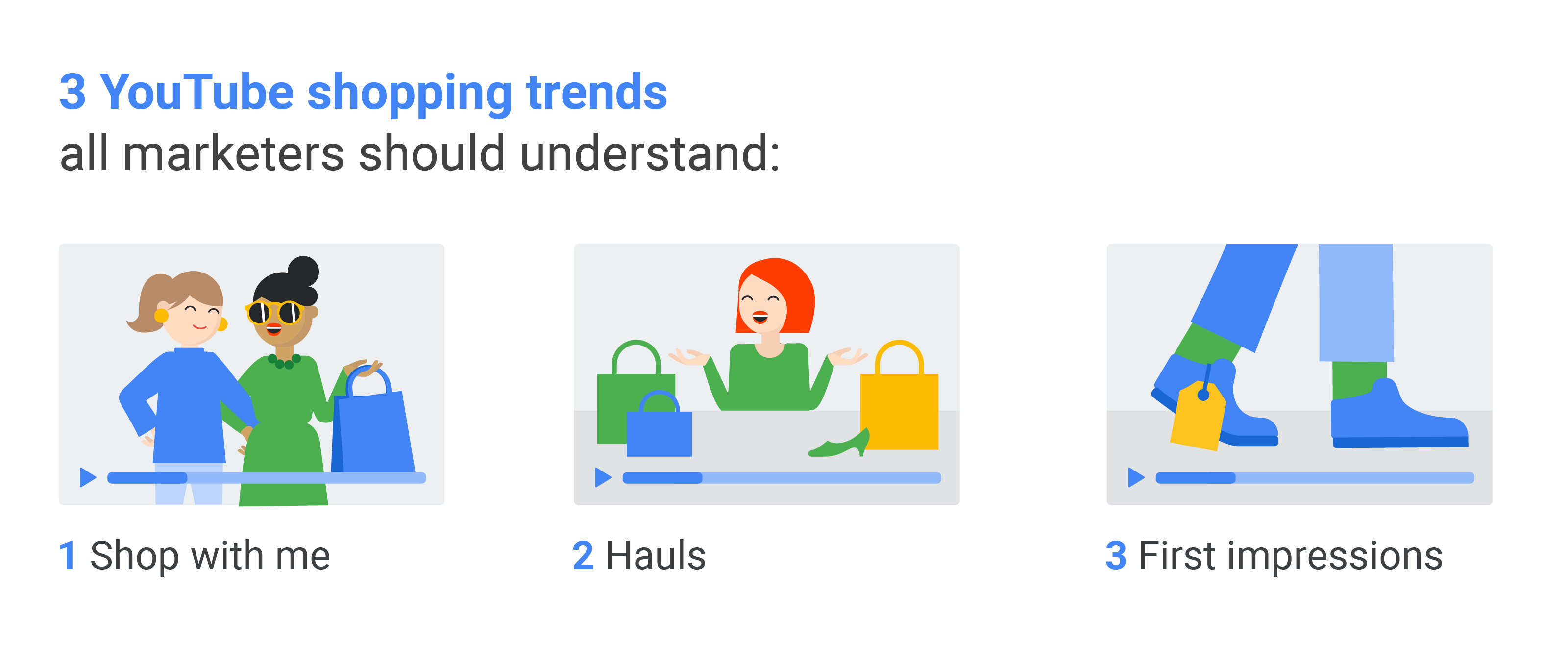 Shop with me 
"Watching a shop with me video is like shopping with your friend — except your 'friend' is just someone you admire and feel like you know, and you're not actually there with them in person. Still, you get to see what stores they visit, what they try on, and what they buy. And you get to hear about the deals they find along the way. Most of the time the videos are about clothes shopping, but I've featured everything from groceries to home decor to beauty in mine.
While the majority of my audience loves shopping, there are people who watch purely for entertainment. Even then, though, I've heard from fans who had no intention of buying things in stores but ended up changing their minds when they saw how easy and fun it can be. I also get a lot of messages from fans who have felt really inspired by these videos — people saying I gave them wedding outfit ideas, helped them rekindle their love for sparkly items, and showed them that fashion is still accessible on a budget."
Hauls
"Haul videos — which showcase what someone bought on a shopping trip — aren't new, but creators keep making them, and our fans keep tuning in for them. I think that's because they give people an opportunity to watch someone who isn't an actor or model interact with things they might have seen on a website or in a magazine. The format has evolved a bit over the years, though. In the past, creators would just quickly mention a product they'd bought and then move on. Now they take the time to describe each item, say where they bought it, and explain why they chose it.
I tend to find my viewers come looking for haul videos around new holidays, seasons, and trends. It's at these times that they're searching for inspiration and ideas on what to buy, which is why a lot of my haul videos have themes, like back to school or one of the four seasons."
First impressions
"In first-impression videos, a creator either buys a product for the first time or buys from a store they haven't shopped at before. They're essentially really authentic on-the-spot product reviews, which is what sets them apart from other shopping inspiration videos, where creators have often already interacted with a product, or at least formed an opinion on it.
A lot of my first-impression videos feature apparel, although other creators make them for makeup, skincare, shoes, electronics, and more. I like to look at the item I'm showcasing, talk about how it fits and the fabric it's made of, and say whether or not I'd buy it again. I've established some credibility among my fans as a fashion creator, so they value my opinion and watch my first impressions to see what I think about something.
Seeing a real person try out these products in real time can help inspire a viewer's next purchase, especially when this 'real person' is a creator who they trust will tell the truth."