The car industry has experienced a major disruption in the past few years precipitated by the COVID-19 pandemic. With dealerships often closed due to restrictions, shoppers shifted from physically viewing cars to doing the majority of their research, and sometimes even completing their entire purchase, digitally. It seems this change in shopping behaviour is not just a temporary blip, but is here to stay — in fact, 70% of Canadian buyers discovered their car online in 2022.1
To attract and retain auto consumers, the online and offline journey has to be seamless.
So what do the latest insights tell us about how Canadians will be shopping for cars in 2023? And how can automakers and marketers best reach them? One thing is very clear. Automakers and dealers need to shift gears to meet their customers where they are now, and will be increasingly in the future: online.
1. A lot has changed, and a lot more is desired
This coming year, Canadian car buyers — especially millennials and Gen Zers — will be seeking an omnichannel path to purchase: a hybrid of online and offline. Most of the initial discovery happens online, with shoppers vacillating between exploration and evaluation before making their decision. This "messy middle" is full of micro-moments as consumers take advantage of everything the internet has to offer: from YouTube car reviews, to side-by-side comparisons, to the chance to build out a car with a configurator tool, or even simulating what it's like to walk around or sit inside the car using virtual reality or 3D tools. In fact, nearly 9 out of 10 Canadians say they researched their car purchase online before visiting the dealership.2
To attract and retain auto consumers, the online and offline journey has to be seamless. Even if a shopper's initial discovery happens online, their offline research — from dealer visits to test drives — remains incredibly important. In 2022 the vast majority of shoppers, 93% to be exact, still completed their purchase at the dealership.3
This trend is changing fast, though. Last year, 6% of Canadian shoppers bought their new car online, a 6X growth versus pre-pandemic, and the majority of buyers (54%) say they expect their next purchase to be completely contactless, from discovery to home delivery.4 With virtual buying becoming more common, dealers should be aware of the pain points that shoppers may be looking to avoid at the dealership, which include pressure from a salesperson or attempts to sell unwanted services.
2. Search and online video are key sources in the research journey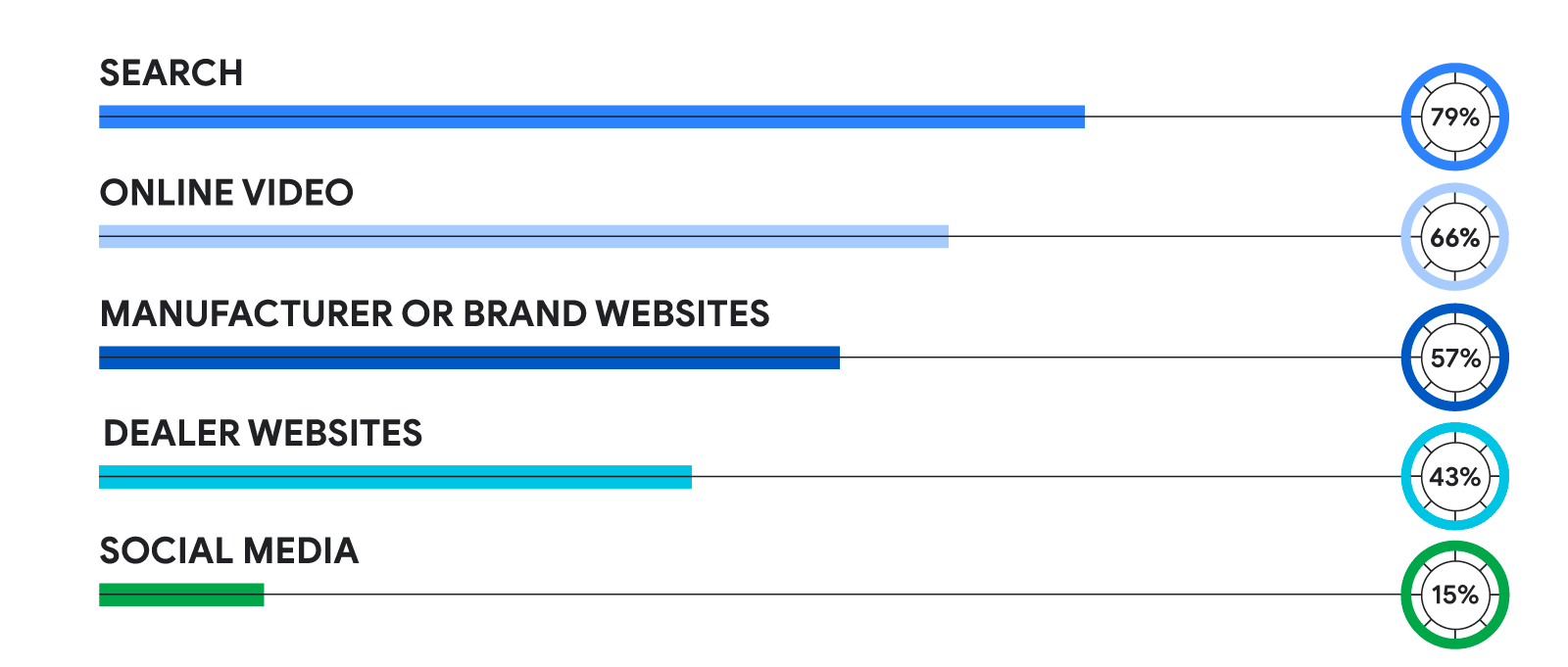 In the coming year, research journeys are going to be longer. Forty-five percent of Canadian new car buyers say they already spend over a month investigating vehicles before they purchase, and the majority of car buyers (close to 80%) said that search informed or influenced their most recent vehicle purchase — this was followed by online video (66%), brand websites (57%), dealer websites (43%), and social media (15%) as other key sources of information on vehicle purchases.5
Once online, one of the most influential decision-making tools for shoppers is video: 66% of Canadians said that it informed or influenced their recent vehicle purchase, and 68% of buyers say they took action because of something they saw in a video, with 33% going to the dealer website and 21% scheduling a test drive.6
Connected TV (CTV) plays an important role in the buying journey — 19% of YouTube views were on CTV, with consumers saying they are 1.6X more likely to click on vehicle ads while watching YouTube on CTV.7

YouTube is the place where shoppers can remotely get behind the wheel, try a virtual test drive, and experience a vehicle's features before heading to a dealership. The biggest opportunity for advertisers on YouTube is to drive awareness and consideration among Canadians by aiming for higher reach. With nearly 7 in 10 Canadian car buyers turning to online video to help their purchase decisions, advertisers should be focusing on meeting them on their shopping journey.8 YouTube tools like TrueView in-stream and bumper ads can help reach more potential customers before leveraging Video action campaigns to capture intent by encouraging shoppers to visit a dealer website or schedule a test drive.
Where car manufacturers and dealers can really satisfy consumers is by showing up in the four key moments that more than half of Canadian shoppers have identified as being critical for a seamless, omnichannel experience, which are when they:

3. Brand loyalty is in flux
The auto industry will still be feeling the effects of the supply chain disruption well into 2023, and so will customers. Availability issues mean it may be harder for them to get their first-choice model or the desired features for their car due to microchip shortages. This means that for many Canadian car buyers faced with less choice and longer wait times, brand loyalty may be a thing of the past: nearly 14% of Canadians have changed their purchase decision due to wait times or availability.9
The automotive industry was already experiencing challenges with brand loyalty, and thanks to these issues, loyalty is now more fragile than ever. The year 2022 saw an 11% decline in loyalty across new car buyers in Canada, and there has been an even greater drop in the premium and luxury car market, which has experienced a 22% decline.10
So how do you keep people loyal when you can't offer them their first choice of car? A key insight is to communicate clearly and quickly about what is available, and create options, rather than just leaving customers waiting.
4. The era of electric vehicles (EVs): Cater to what your new customer really cares about

The demographics of car buyers are shifting — in 2022, 43% of new car buyers were millennials or Gen Zers.11 As a group, their purchasing decisions are often based on their passion for advocacy and change rather than brand. In fact, EV considerers are 25% more likely to be millennials and Gen Zers.12 The overall market for EVs in Canada is moving from niche to mainstream, with 26% of Canadians considering EVs, and 1 in 2 considerers actually purchasing them (compared to 1 in 3 the previous year).13
One of EV shoppers' key considerations is environmental impact and sustainability, and as such, almost 75% say they are motivated to purchase EVs due to their lower emissions, noise reduction, promotion of renewable energies, and innovative technology.14
Creating a positive online experience is one of the ways to attract and cater to this new generation of car buyers. EV considerers are avid online shoppers in all aspects of their lives and are 3X more likely to purchase their vehicle online than other groups, and 20% more likely to buy their next car completely online.15
5. The road ahead: How to create a loyal customer and a bright future for your brand
These insights into Canadian car shopping habits show there's a unique opportunity for automakers to nurture loyalty, especially through online channels.
By focusing on what consumers have shown matters the most, brands can meet both their loyal and potential customers' needs.
The fact is, the Canadian shopping journey in every category is getting more complex due to a combination of loyalty decreasing, supply chain issues, and omnichannel purchasing — the "messy middle". But with a strong data strategy and a willingness to experiment, marketers can meet the challenge presented by all of these changes. Disruption equals opportunity, and all of these decision-making micro-moments give brands multiple occasions to show up across the convoluted journey.
Online is the place for automakers to engage shoppers: the majority of Canadians say dealer and brand websites are top sources for research. By focusing on what consumers have shown matters the most — easy-to-compare vehicle options, easy-to-navigate price and financing details, and a seamless, omnichannel experience — brands can meet both their loyal and potential customers' needs while enlisting "switchers" along the way.