For today's consumers, the journey to weight loss typically begins with a search query. To better understand the impact of digital marketing, Google conducted a study with research firm The Modellers. The research identified three key consumer findings: The weight-loss journey has changed, fitness is prioritized above nutrition, and affordability is core to choosing a weight-loss solution. By understanding what motivates and concerns consumers, marketers can become successful partners in their paths to better health.
There are endless solutions available to those who want to lose weight. Some will choose from the thousands of free weight-loss apps. Others will focus on exercise. And then there are those who will simply look for the quick fix. As weight-loss consumers continue to pave their own paths, they're increasingly going digital to find ways to reach their goals.
To better understand the full impact of digital marketing on consumer weight loss, Google conducted a study with the research firm The Modellers. The research identified three key findings about the way consumers now approach weight loss:
The path to weight loss has changed, as consumers have greater access to a broad range of solutions.
There is a common belief among consumers that fitness rather than nutrition is the cornerstone of successful weight loss.
Affordability is an important factor when choosing a weight-loss solution.
The challenge for marketers is addressing these three points in a way that's both helpful and engaging.
The consumer journey has changed
Not surprisingly, today's weight-loss consumers typically begin their journeys with a search query. Eighty percent of survey respondents rated search as very or extremely important to their decisions to purchase health, diet or fitness products.1 This instant access to information allows health-conscious consumers to engage in a conversation about their health in any place and at any time. They're actively researching across screens, with 46% accessing the internet via smartphones and 30% doing so with tablets.2 This means marketers can no longer push information to them through one medium and hope they get the message.
Brands need to consider how they can increase their chances of reaching more of these fragmented consumers in a way that respectfully engages them, especially given the topic's sensitive nature. And this conversation can begin at any time, as research showed that seasonality in the industry is more of a self-fulfilling prophecy for weight-loss companies than a reality of consumer behavior. Most consumers purchase products throughout the year (not just in January when they make their resolutions). In fact, 41% last purchased a health, diet or fitness product in the summer.3
Favoring fitness
There's constant chatter about the most successful ways to lose weight. Although experts agree that the key to healthy weight loss is a combination of good nutrition and exercise, that's not the typical path those seeking to lose weight take. Our data shows that there is more searching done for fitness solutions than for weight loss. In fact, from January through December of last year, there were eight times as many searches for fitness than there were for weight loss and diet.
Indexed Search Query Volume

United States, Fitness and Weight Loss Category, 2013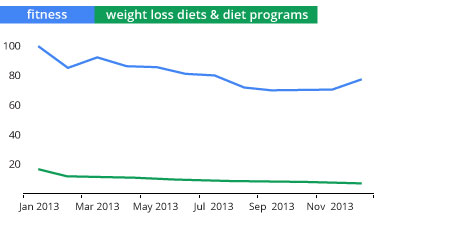 Source: Google Trends
Moreover, 23% of the dieters surveyed believe that gym memberships are the most effective weight-loss solution.4 After that, there seems to be a great deal of confusion about whether diet or exercise works best. Home cardio exercise equipment, weight-loss services, home fitness programs and weight-loss meal plans all received about the same number of responses.
Research also showed that not only do consumers believe that fitness is the most effective way to lose weight, but it's one of the first things they'll try. However, it's not the only thing. Some dieters will look to multiple solutions, switching around among products and services. Though this may appear to some marketers as mere confusion or indecision, others may embrace this as an opportunity to influence open-minded consumers.
Free or fee
One of the largest purchase inhibitors for consumers is cost. In fact, 58% said cost was preventing them from completing a weight-loss program.5 Digital has lowered the barrier to entry for companies while offering consumers less costly options for losing weight.
There are more than 1,750 "fad" diets in the market today, a combined 13,000+ diet and fitness apps available in the Apple App Store and Google Play Market, and over 857,000 YouTube channels dedicated to health and fitness. Most of this content is available for free to consumers, providing the ultimate "try-before-you-buy" strategy.
Our three key findings suggest how marketers can help consumers manage the myriad of options:
Be present in all of the moments that matter by communicating their messages across screens
Reach a wider audience by aligning their weight-loss plans or programs with the topic of fitness
Reconsider whatever barriers may be in place (cost, for example) that are prohibiting engagement
By paying attention to what consumers really want and understanding their concerns and missteps, weight-loss companies can become successful partners in their paths to better health.