As early as May, some holiday shoppers are starting to plan their holiday purchases with intention. They're balancing budgets, finalizing lists, and researching purchases. Connect early to convert these customers and multiply the number of peak shopping days in your season. AI can be used to identify and capture customer demand beyond the traditional "Cyber 5" shopping days.
1. Planning and researching starts earlier than you think
Common early-season activities for shoppers include searching for gift ideas and turning to YouTube creators for reviews and inspiration. Now is the time to strategically share gift guides and create video content that will spark ideas — and gift lists.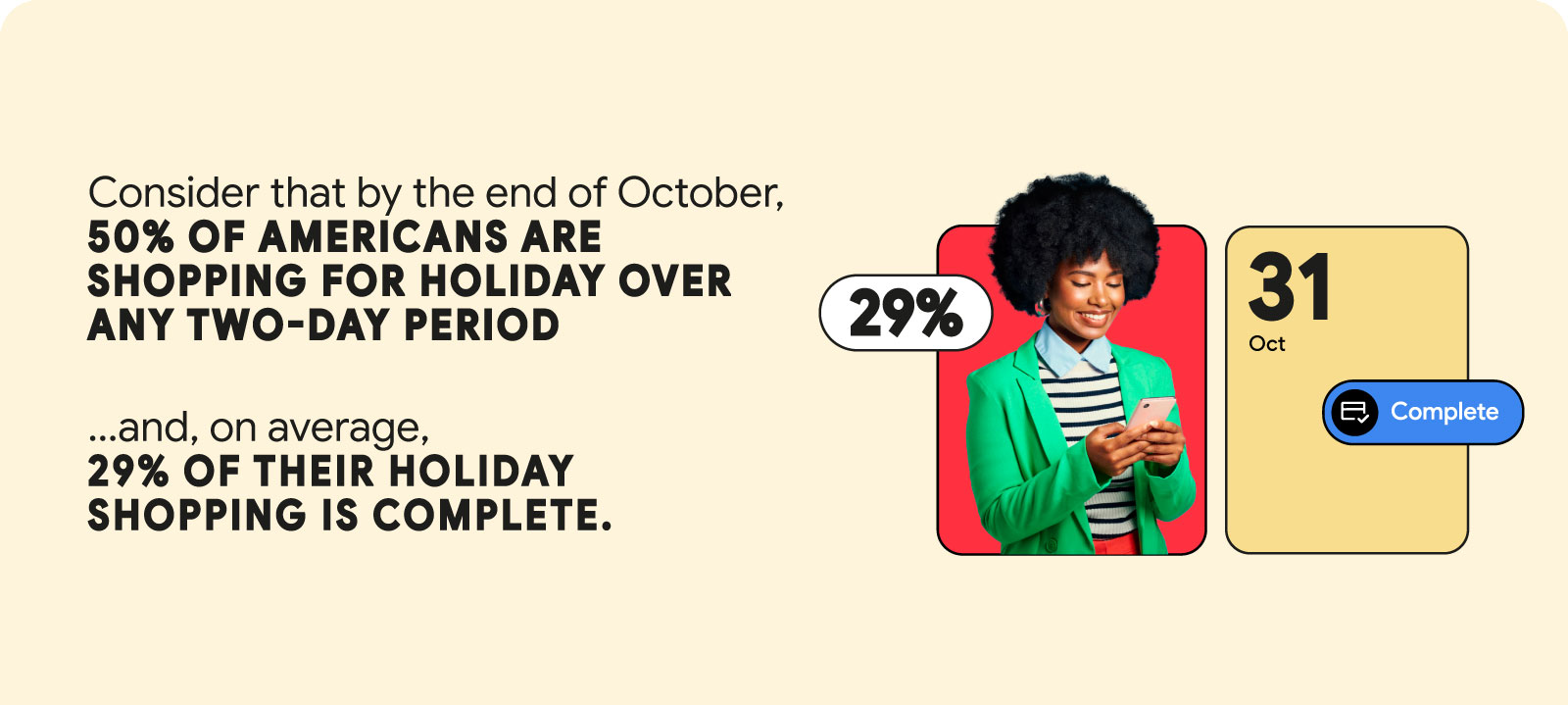 "Shop with me" videos, for example, have exploded as people browse for inspiration and an authentic look at potential gift ideas. In 2022, the number of video uploads with "shop with me" in the title on YouTube grew over 35% year over year.1 Then, consider that by the end of October, 50% of Americans are shopping for holiday over any two-day period, and, on average, 29% of their holiday shopping is complete.2 Bottom line, if you're not in front of shoppers early, you're leaving sales on the table.
Try Video action campaigns to inspire these shoppers while they're browsing for gift ideas, then convert them with a clear call to action, whether that's buying online or directing them to a store.
2. Deliberate shoppers invest time over money
Today's shoppers are more intentional, with 74% planning ahead.3 People are being thoughtful, even in environments meant to inspire impulse shopping. For example, online shoppers who are active on social media use, on average, 10 touchpoints to inform and evaluate purchases inspired by an influencer.4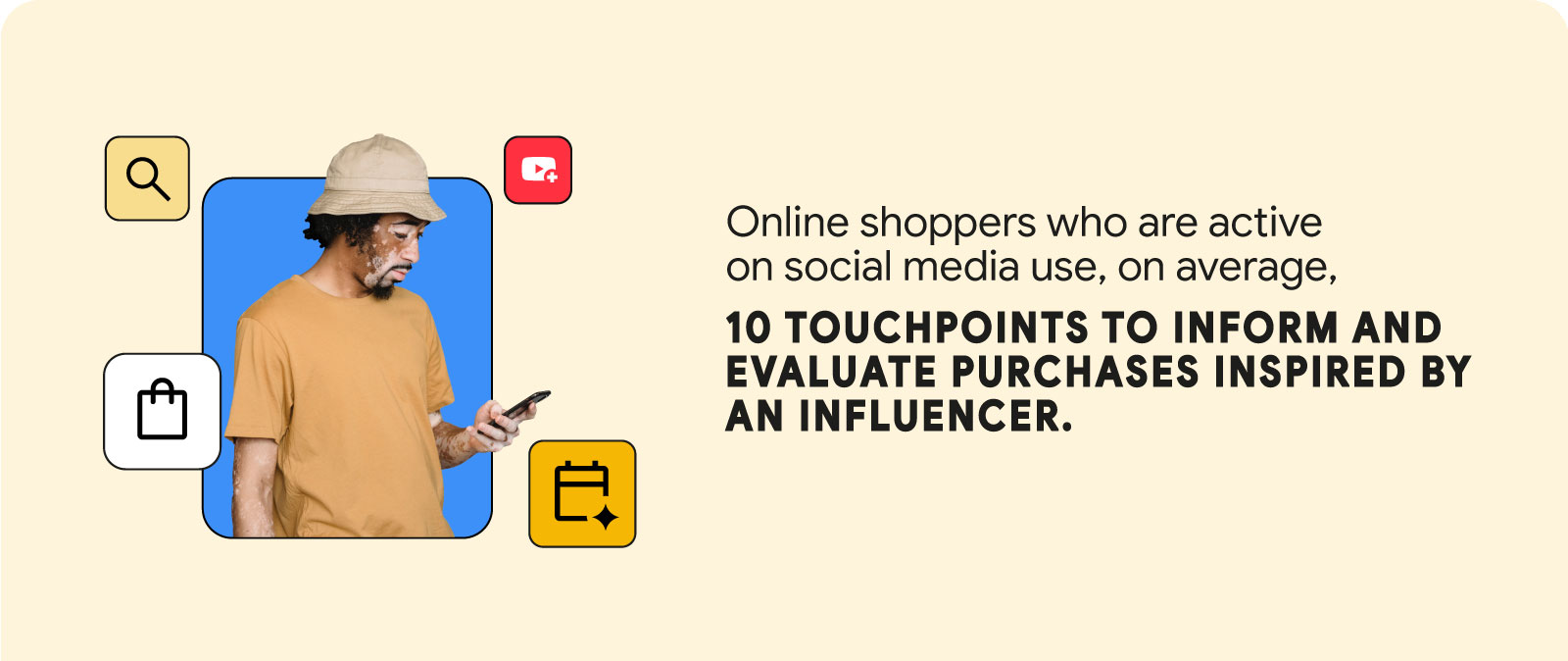 The consideration cycle for the right holiday gift at the right price is also lengthening as more resources and channels become available to shoppers. For example, 87% of holiday shoppers report using Google properties (such as Search, Maps, and YouTube) as a shopping resource, while 65% use social media platforms, and 59% turn to top online marketplaces.5
To help you reach customers across all Google Ads channels, Performance Max campaigns can help you harness the full power of Google AI across more of the touchpoints your customers are using to shop, like YouTube, Search, Discover, Maps, and Gmail.
3. Capture the sale with nonprice differentiators
Ahead of peak deal periods, sell shoppers on your brand value and differentiators.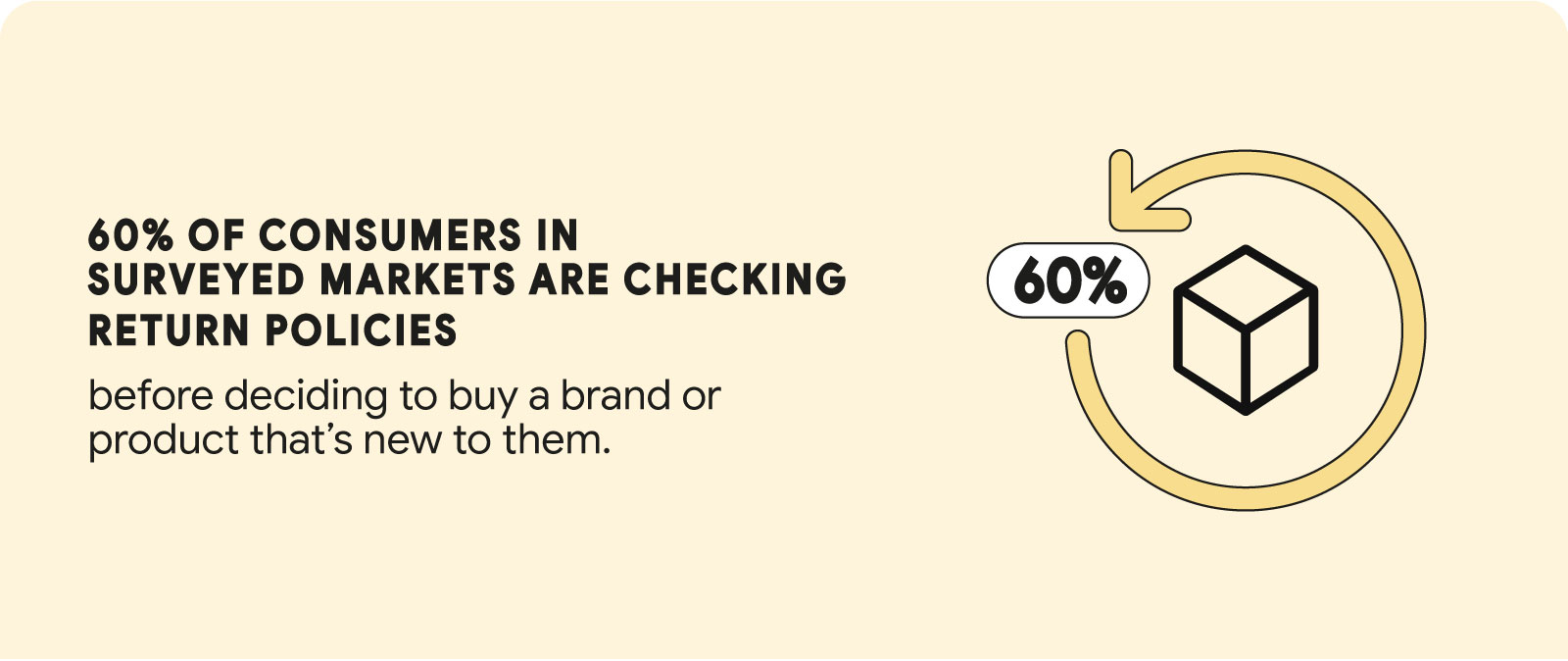 Online ratings, reviews, and price comparisons are top resources for people looking to feel confident in large purchases ahead of advice from family and friends.6 Likewise, clear return policies can also make a difference. For example, 60% of consumers in surveyed markets are checking return policies before deciding to buy a brand or product that's new to them.7 That might seem small, but it all adds up over the course of the holiday season.
Make sure your product feeds on Google are up to date, so your products stand out. Include the latest promotions, shipping speed, and fulfillment options, such as pickup today and curbside pickup. You can also add business identity attributes, like Black-owned or LGBTQ+ owned, in Merchant Center to further differentiate your business.