Fashion trends might be set on the runways of Milan and New York, but they don't always take off. To understand what style seekers really want to buy and wear — and how those preferences play out in the way they search online — we instead turned to Google Search data.1 Here are five things we learned.
Fashion searches aren't one-size-fits-all
The way fashion lovers search online for an item of clothing depends on what they're looking for. For example, 45% of dress searches contain a reference to an event, like a wedding or graduation. But when people are searching for bottoms, they're more likely to use gender-related terms, like "women's shorts," or a color, like "black trousers."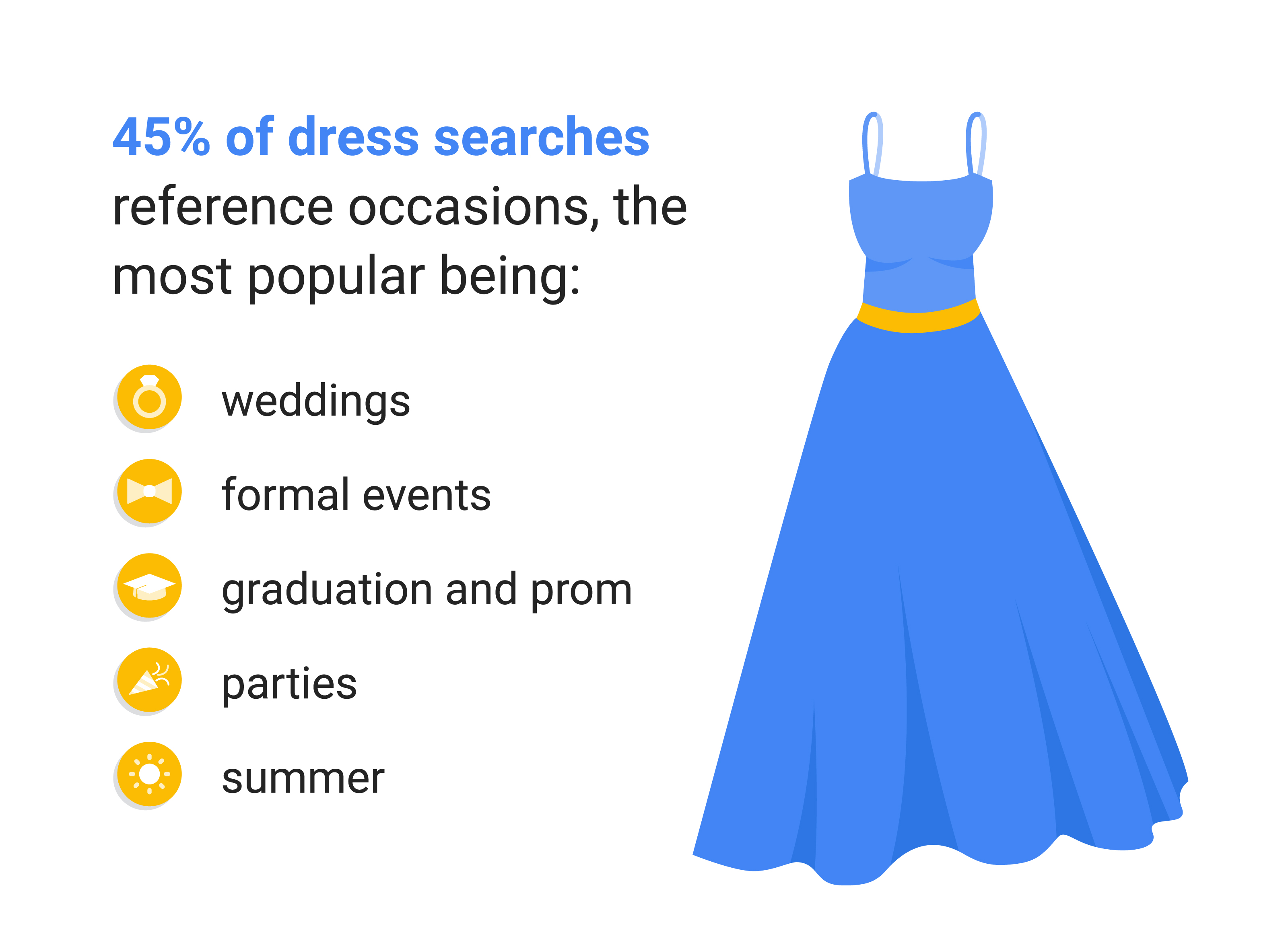 Fashion has a regional flair
Fashion may be one of the most globalized industries in the world, but we definitely saw some regional differences when we dug into the data. Compared to other regions, Asian-Pacific and Latin American shoppers show a higher interest in party dresses. Europeans spend more time looking for the perfect summer dress. And searches for graduation and prom dresses are more prevalent in North America.
While people in most countries prefer fitted, tight, or skinny bottoms, Asian-Pacific fashion fans tend to search more for wide or baggy trousers. Latin Americans show more interest in flared pants, and in Europe, leather is the new denim, with searches for leather pants exceeding those for denim in the past year.
Of all the searches for bottoms (trousers, shorts, skirts, etc.):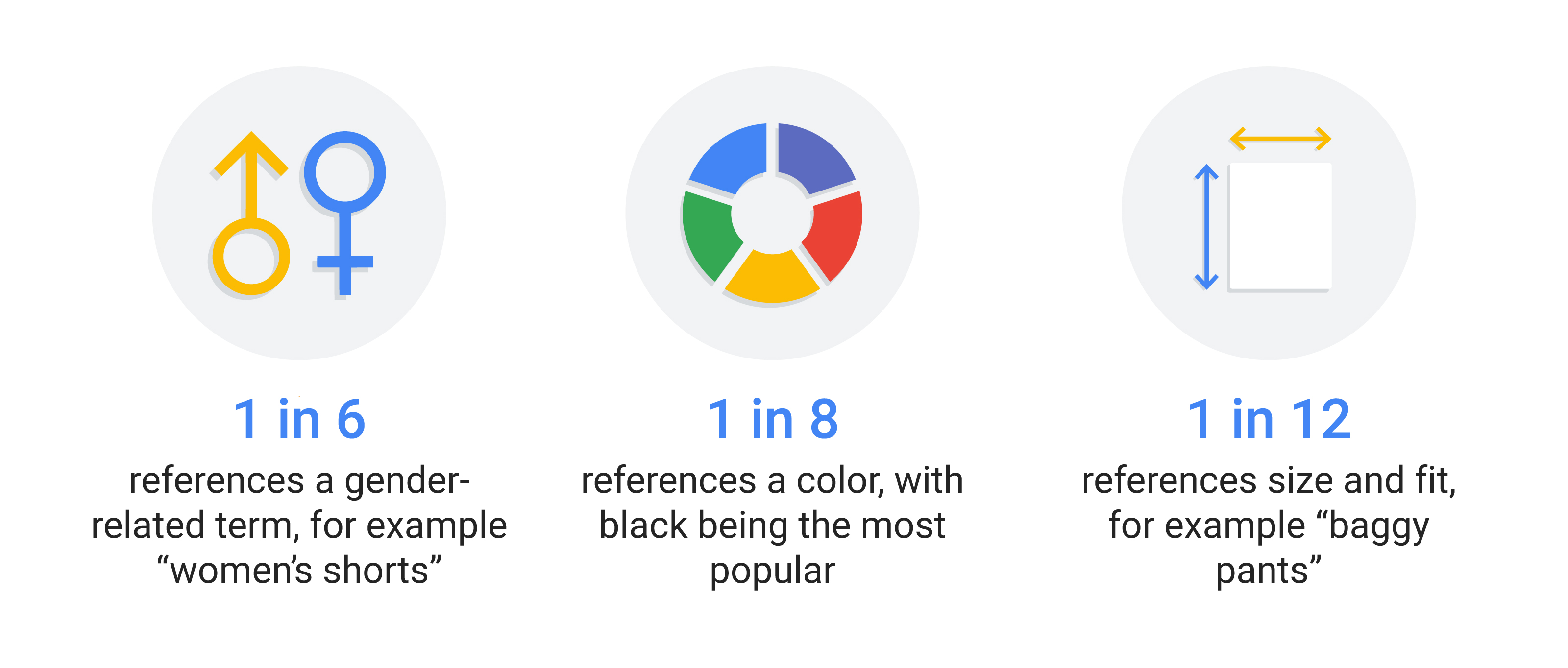 Search is the new personal shopper
In the past, if shoppers were looking for a very specific item of clothing or the perfect outfit for a particular occasion, they either asked a friend or got a recommendation from a store assistant. Today shoppers head online when they're in that discovery and consideration phase of their shopping journey.
While this behavior isn't exactly new, it's surprising to see how fast it's still growing. Globally we've seen over 15% growth in "best" searches in the apparel category over the past two years.2 The growth was even higher in women's clothing searches, at over 20%.3
Orange really is the new black
Perhaps it's a reaction to the rise of mass-produced, cookie-cutter styles, but we're seeing that a lot of fashion lovers are searching for somewhat daring items of clothing: think bright colors and flashy patterns.
When it comes to tops, while white and black might be the most popular colors, making up 36% and 14% of top color searches respectively, bolder hues are faster risers. Searches for yellow- and orange-colored tops (like corals, peach, salmon, and apricot) have risen by 63% and 82% respectively in the past year. We've also seen a rise in searches for things like neon tops. As for bottoms, styles like plaid and checkered are among the fastest-growing searches globally.
We've seen a rise in searches for tops in the following styles:

Once again, we saw some regional differences. For example, while fashion fans in Europe, North American, and Latin America were all partial to a bit of animal print, floral was a faster rising trend in Asia-Pacific.
Comfort is just as important as style
It used to be that fashion lovers put style above comfort, but now they seem less willing to compromise and expect to both feel and look good. From the U.S. to India, we've seen a decline in searches for things like high heels and figure-hugging bodycon dresses, and an increase in searches for items like ballerina shoes and wrap dresses.4
We're also seeing this love of all things comfortable playing out in the types of fabric people are searching for. In the past year, searches for linen clothing — a material known for its loose, comfy feel — have grown by over 70% in North America and Canada, and over 130% in Asia Pacific, Latin America, and Europe, making it the fastest-growing fabric in terms of searches.
Staying ahead of the fashion curve
It can be difficult for marketers in any industry to stay ahead of the curve, but the world of fashion moves exceptionally fast. Instead of waiting for the latest issue of Vogue, Google Search data can help us understand what will be the next big thing.