Sometimes, even a beloved brand needs a makeover.
Kentucky Fried Chicken became KFC. British Petroleum turned into BP. And Apple Computer is now simply called Apple.
But rebranding is about more than just changing a name. It's about redefining a brand's mission and its message for a new generation of customers.

We did that last July when we relaunched three iconic B2B marketing brands. After 18 years, Google AdWords became Google Ads. DoubleClick merged with Google Analytics 360 to become Google Marketing Platform. And DoubleClick for Publishers folded into Google Ad Manager, some 22 years after its debut.  
One reason we made these changes was to help brands, agencies, publishers, and advertisers better meet people's needs by delivering meaningful and relevant messages. We also realized we needed to be more responsive to our customers.
Here are three rebranding lessons we learned along the way.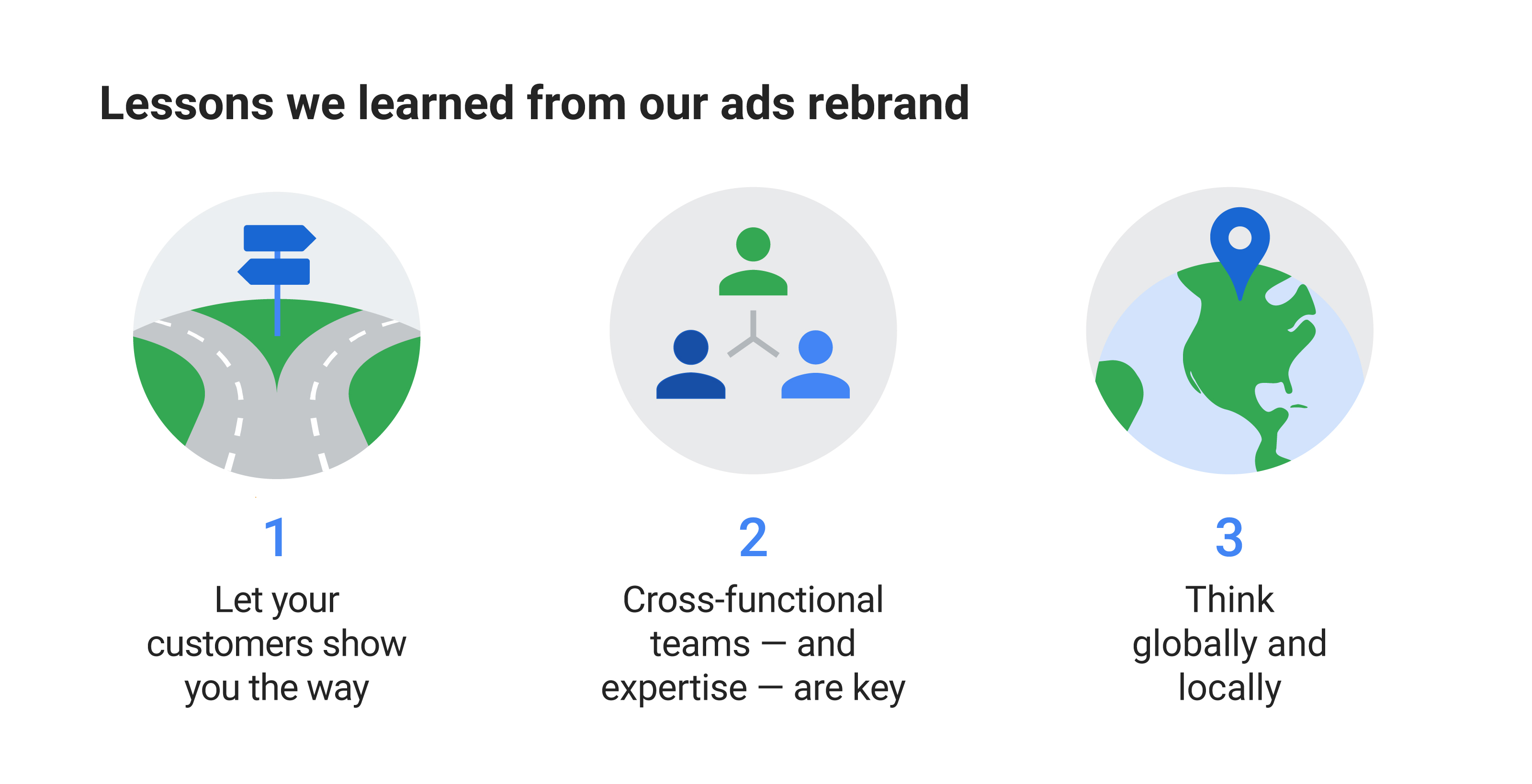 Lesson No. 1: Let your customers show you the way
Internet advertising has changed so much over the last two decades. As the ad market evolved, so did our tools for building campaigns, buying media, and measuring ROI. And as video and mobile began to dominate, our ad tools kept pace.
But while our tools evolved, the AdWords brand remained primarily associated with buying search ads. It didn't resonate with people who wanted to buy app installs or video ads.
Plus, our customers wanted a single platform to create, plan, buy, and measure their campaigns. In fact, many of them were a step ahead of us. They were already using DoubleClick and Google Analytics 360 Suite products in tandem to create campaigns and measure their impact. Our customers weren't merely telling us they needed a change, they were showing us how to do it.

To learn more, we partnered with Bain & Company to interview more than 900 marketers from around the globe. Their message was clear: 80% of U.S. marketers said they wanted to use integrated marketing and advertising technology from a single vendor.1
Lesson No. 2: Cross-functional teams — and expertise — are key
We knew we needed to simplify our offerings and integrate them into a unified platform with a common look and feel. By no means was this going to be a simple task. The two-year effort involved hundreds of people across the organization.
We started by assigning a small group of marketing professionals — called the "core team" — to lead the project. For an engineering-centric company like Google, it was an unusual move. We did it because the job of marketers is to listen to and amplify the voice of the customer. And we had already concluded that, from start to finish, this rebrand would be customer driven.
Beyond that core team, we involved more than 20 cross-functional teams and hundreds of employees from every part of Google — from engineering, product, design, sales, payments, and more.
We relied on the expertise of each group. For example, we asked our internal Brand Studio to design logos. Our training and education team was instrumental in updating thousands of salespeople across the globe. And our engineers made more than 1 million changes to the code base.
Along the way, the team updated the URLs of more than 50 web properties, rebranded multiple social channels, edited hundreds of YouTube videos, and updated more than 500 Think with Google posts and 5,000 help-center articles.
It was up to the core team to keep the project on track by consistently returning to key customer insights as our guiding principles.
Having this many teams involved generated new ideas and diverse opinions. Change was constant. It was up to the core team to keep the project on track by consistently returning to key customer insights as our guiding principles.
Lesson No. 3: Think globally and locally
Another key learning was the importance of adopting a global point of view. We needed to address the concerns of all our customers, not just those in English-speaking countries. We thought deeply about how to introduce the new brands in markets that don't use Latin characters. As a result, we localized the brand names into Arabic, Japanese, and Russian equivalents to ensure that they were meaningful and locally relevant.
Having regional-specific activations was also key. That meant understanding how each market would respond to the rebranding, and adjusting our approach accordingly. For example, teams in Latin America and Asia Pacific organized their own roadshows, met with top partners in each region, created their own press materials, and presented local examples and case studies.
Pulling together as one company
Throughout this project, we learned the importance of putting the customer at the center of everything we do. This rebrand also taught us a huge amount about what it takes to create change on a massive scale and gave us insights into how similarly ambitious projects can be approached in the future.