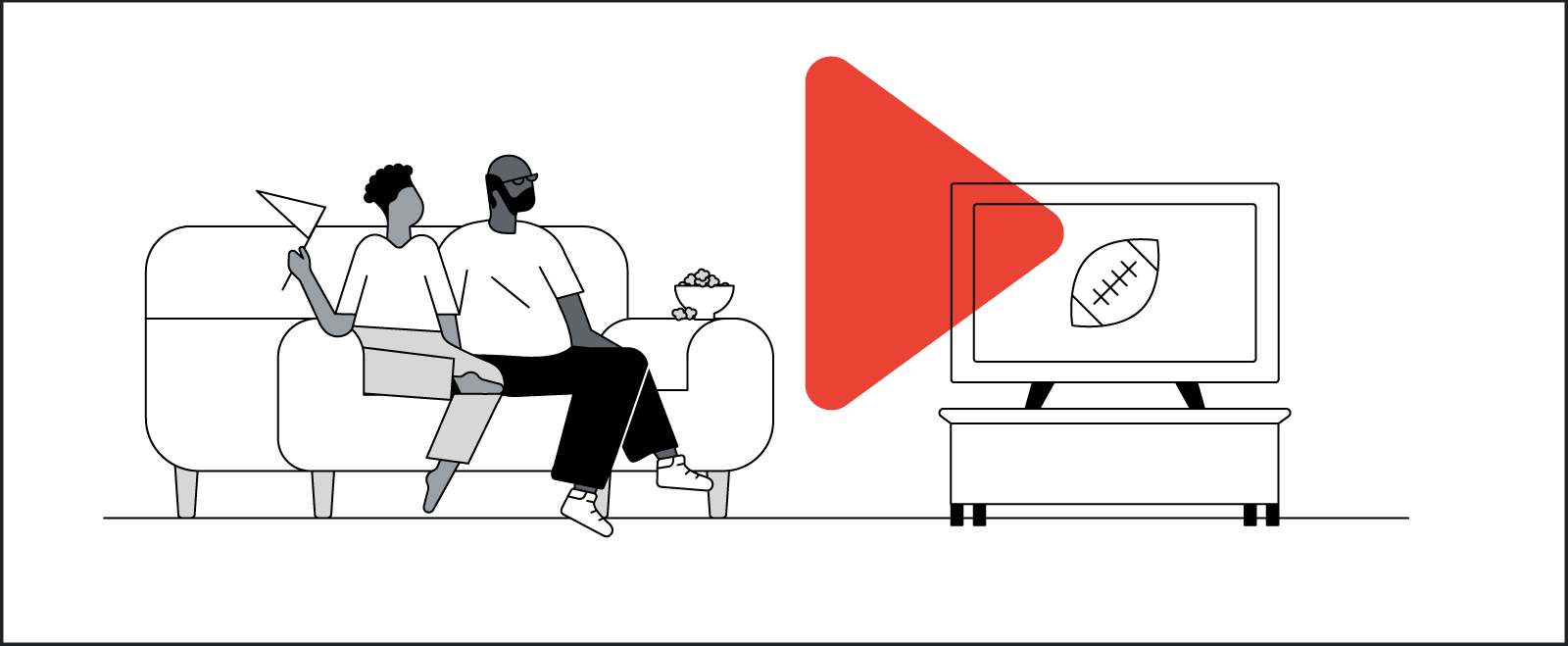 Think about how you plan to watch the Super Bowl this year. In college, I might have joined the crowd in front of the dorm TV to vie for a decent view, and likely missed half the game because of the typical group distractions. Now that I, like most of us, watch on a smart TV, I never have to worry about missing any of the action. I can simply hit rewind.
A global shift in the way we enjoy entertainment is underway, with digital consumption rising to all-time highs over the last two years. Though live events like the Super Bowl still draw large crowds, people aren't limiting their big-game viewing to four hours of live play. They want to watch what they want, when they want, and how they want, especially when it comes to sports.
Last year saw YouTube at the forefront of the digital sports viewership shift, and that audience continues to grow. The number of digital viewers of live sports in the U.S. will reach 57.5 million this year and is expected to exceed 90 million in 2025, a 26% projected increase.1 This jump highlights how quickly content consumption is shifting to become more digital. Here's how the landscape is changing.

Athletes are the new creators
Freed from the confines of a timed slot, creators have more flexibility to share their content, and viewers have more options to watch what they love. And many of those creators are athletes giving fans a behind-the-scenes look at life on and off the field.
Whether sharing perspectives on a play or introducing fans to their families, as Tampa Bay Buccaneers tight end Rob Gronkowski does on The Gronks, athletes are blurring the line between traditional and digital media by creating original content for fans to watch on demand.
"My brothers and I were thinking about starting a YouTube channel for some time," said Gronkowski. "It was important for us to do it on our own terms and schedule, because we all have full-time jobs that keep us busy."
With a wide range of content — from long-form culinary competitions to live-streamed videos guest starring Mama Gronk to Shorts featuring game highlights, the brothers hope to give people a peek into their lives in sports and beyond. After starting their channel less than two years ago, they have amassed over 8 million views. "YouTube is where you find the most original and creative content, and it's been super fun being part of it," said Gronkowski.
"We did a lot of big videos when we first started, but we have learned that not every video needs to be a crazy collaboration or production. YouTube Shorts have allowed us to still put out content and videos while I am in the middle of my season."
The big screen brings people together
The decades-old experience of coming together to watch something in the living room (or dorm room) has not changed. Whether it's cheering for our favorite teams or celebrating a big win, sports bring us together. But we now have more options for customizing our experience than ever before.
From highlights and interviews to the game itself, more people are turning to YouTube on connected TV (CTV) to watch together. One of the reasons for this shift is that people feel like they build a greater sense of connection when they watch with others. In fact, according to a Talk Shoppe survey, 79% of viewers achieved deeper connections when they watched YouTube with others.2
By offering viewers a choice between live programming, such as the Super Bowl, and customized content from their favorite creators, YouTube on CTV combines massive reach and the power of relevance. That makes it pivotal for today's marketers.
Connect with fans where they're watching
Brands are tapping into a moment when viewers are leaned in to share their message and build community. That's why 74% of survey respondents interested in sports said they visit YouTube several times a week.3 Last year, with the game falling at the height of tax season, Intuit TurboTax leaned into the momentum of the Super Bowl to reach consumers where they were watching and extend the reach of its TV ad. The brand ran five different video ads geared toward different audiences on YouTube, including its game day ad, as part of its AdBlitz activation.
"The content landscape is rapidly evolving and we are constantly testing and innovating across fast-growing platforms like CTV, so that we are connecting with consumers where they are," said Cathleen Ryan, VP of marketing at Intuit TurboTax.
By offering viewers a choice between live programming and customized content, YouTube on CTV combines massive reach and the power of relevance.
This strategy contributed to Intuit TurboTax's ad becoming the most-watched financial services ad during the game. The brand's presence increased, with 10% growth in subscribers following the 2021 Super Bowl. "We had a big brand opportunity to raise awareness of our new TurboTax Live offerings, and the Super Bowl gave us a big platform to get our message out to consumers at a time when consumers are highly engaged," said Ryan.
Sports trends are showing us how the future of content is taking shape. As creators continue to blur the line between traditional and digital, sports fans like me and my college pals are shifting to watch even more, together, on CTV. Brands aiming to build community around the content we love to watch should meet us there.