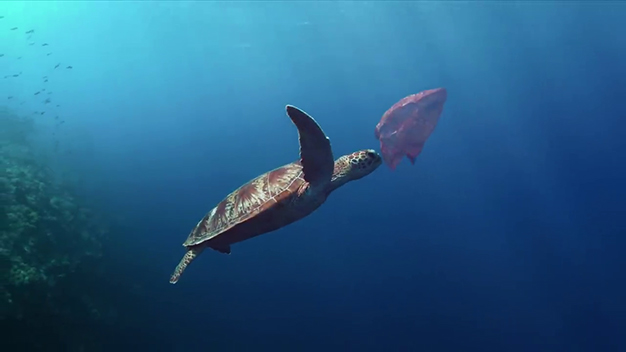 To understand how change could be forged by the power of storytelling, we put YouTube's formats to the test, and what we discovered set a new standard for creative campaigns.
Today, consumers no longer simply suggest brands play a role in building a more sustainable and inclusive world – they expect them to. With this demand higher than ever – and a myriad of ways to tell their stories – brands are looking for better ways to drive change. So with some staggering ambitions, we put YouTube's formats to the test, and what we discovered set a new standard for creative storytelling.
To understand how change could be forged by the power of storytelling, we partnered with the United Nations and Tribeca Enterprises and presented creatives with a brief of global importance; Raise awareness and action for the Global Goals for Sustainable Development, telling sequential stories that take viewers on a journey – and inspire them in ways proven more impactful than a single ad spot. Addressing issues from gender equality to climate action and quality education, 8 creative teams of world-class agencies & filmmakers developed campaigns which sparked decisive action and achieved real-world outcomes.
Ipsos has shown that ad sequencing drives higher retention than a single repeated ad – a statistic substantiated by our 8 campaigns. With 100% of campaigns influencing brand lift, as well as driving action (+120% YoY traffic to GlobalGoals.org and +80% in new visitors), the results spoke for themselves.
More than that, the work produced by the creative teams, uncovered six key learnings that will change the game for future creators;
1. Primed viewers unlock powerful potential
Whether preparing a viewer for a long form piece, reiterating a key point, or breaking down a story for greater impact -- ad sequencing means you can build your story in ways like never before. The Sustainable Cities & Communities team primed viewers for a Sustainable Cities & Communities long-form film with teaser content of a similar look and feel, resulting in an 85% higher viewer rate than the next most viewed asset. Meanwhile, the Zero Hunger campaign used follow-up messages featuring different characters to reiterate a key point about food waste. Other campaigns benefited from breaking down a rich story, such as Life Below Water's mockumentary about individual pollutants in our oceans.
"What the audience knows, feels, and likes — and what they don't — is at the heart of sequencing. People's levels of engagement and interest are going to be different across generations. With sequential storytelling, we can overcome this challenge by finding and telling stories that resonate with each individual viewer." — Keka Morelle Creative Chief Officer, Wunderman Thompson Brazil on Global Goal 11: Sustainable Cities and Communities.
2. A second chance can be more powerful than a first impression
How you treat watchers and skippers differently can have a huge influence on viewership and engagement—a challenge that creative teams rose to in different ways. For example, the Responsible Consumption and Production team had a hypothesis that they could "roast and retry" a skipper with a punishment song to regain attention, and their hypothesis panned out: View rate increased or remained steady on videos following the "retry," and the video immediately following the "roast" drove a watch time 49% higher than the campaign average.
"Hedging everything on a single asset is pretty common, but that's a super methodical and factory-like approach to marketing. I like the surround sound you can create with sequential storytelling. You still have one core idea, but you have the ability to re-engage viewers to expand the power of your message." — Michael Shirley Senior Vice President, Creative Director, Leo Burnett Chicago on Global Goal 12: Responsible Consumption and Production.
3. Consistent visual cues are the kings of consideration
When it comes to effectiveness, the number of stories in a sequence doesn't matter as much as the connection that can be established between them. All the campaigns that resulted in a large lift in consideration had a repeated visual cue, whether it was a red sweatshirt in No Poverty, a gold backdrop in the Responsible Production and Consumption, or clouds of purple smoke in Climate Action.
"All of our sequences featured various female figures in people's lives — mothers, wives, and daughters — to make sure everything felt thematically cohesive. This helped viewers recognize that each bit was part of a bigger picture, which mirrored how recognizing and preventing each microaggression is a key step toward gender equality." — Maas Virajoti Senior Communication Planning Director, Dentsu Thailand on Global Goal 5: Gender Equality.
4. Fast-track performance by front loading
Just as a front-loaded ad can maximize impact, the teams discovered a front-loaded sequence can have similar results. So, instead of fixating on completion rate, they thoughtfully considered the purpose and potential impact of each ad. Avoiding the temptation to bury the action ensured the story and key message were clear even if viewers didn't finish watching the sequence.
"People are just hovering right over the skip button, so you have to have a really quick, high-quality payoff. Starting off your videos with a hook is so important. Everything from an unexpected title to a surprising tune can let viewers know that the story they're about to see will be worth their time." — Christine Chen Head of Communication Strategy, Goodby, Silverstein & Partners on Global Goal 14: Life Below Water.
5. Sequencing is a powerful way to approach ad frequency
Using multiple, different ads in sequence performs better than repeating the same ad. According to IPSOS, video sequences with three ads increased key message retention by 89% — much higher than two repeating ads. All 8 creative campaigns executed on this insight, using a combination of creative to drive impact for their goal.
"Each sequence has the potential to spark a meaningful connection with your audience and take them on a journey around a single, familiar message, which in turn builds brand familiarity. These frequent yet seamless interactions are what'll boost your performance over time." — Kelsey Hodgkin Head of Strategy, Deutsch LA on Global Goal 1: No Poverty.
"Linear stories typically give us one shot to get it right — breaking down a film-like story into sequences gives us more freedom to experiment and cultivate multiple interactions within a single campaign." — Toby Allen Deputy Executive Creative Director, AMV BBDO on Global Goal 13: Climate Action.
6. Let sequencing fill the funnel
The teams found that ad sequencing offered them greater audience context and narrative control than traditional ad campaigns, which enabled them to use clearly differentiated messaging to reach a variety of viewers. This intentional approach led to an increase in consumer awareness of and consideration to take action on the Global Goals, as well as a huge uptick in site visitors.
"One of our biggest challenges was deciding which ideas not to pursue, because sequencing offers seemingly endless possibilities. Focusing on what we wanted people to take away from each video, whether that be awareness or action, is what guided us." — Felix Fenz Managing Director and Creative Director, Grabarz & Partner on Global Goal 2: Zero Hunger.
While there are an abundance of ways to reach viewers, the campaigns created in partnership with the United Nations and Tribeca Enterprises proved that better ways of communicating messaging are constantly evolving. And whether brands are trying to change the world, or to drive business growth, ad sequencing has the power to help tell stories that create impact time after time.
Explore more creative perspectives from industry leaders – presented by Think with Google.