The world of fashion has always been known for its ability to surprise and innovate. Reinvention and creativity are, after all, core to the industry. It feels very "on brand," then, that some of the biggest fashion houses would see the pandemic not as a challenge but as an opportunity to rethink the status quo.
From virtual catwalks to immersive video campaigns, here's a review of how the fashion industry handled a year like no other.
In 2020, fashion shows went digital
With social distancing measures in place throughout most of 2020, fashion houses had to go digital to showcase their creativity.
Balmain, for example, knew that most of the big names in the industry wouldn't be able to attend Paris Fashion Week in September. So instead, the team invited celebrities like Anna Wintour, Jennifer Lopez, and Cara Delevingne to videoconference into a virtual front row.
Louis Vuitton closed out Paris Fashion Week at La Samaritaine, an old department store that the brand has been renovating since 2005. While the in-person experience was a more intimate affair than most years, the team used 3D cameras and green screens to create an immersive show that allowed people to tune in from home — an approach Nicolas Ghesquière, the fashion house's creative director, described as "phygital," the merging of physical and digital spaces.
Across the Channel, London Fashion Week was the first to take place entirely online. Sixty-eight brands launched their latest collections on YouTube, many of them live or using Premieres, a feature that allows viewers to watch a new video alongside the creator, as if at a movie or TV show premiere. Many brands also took the opportunity to highlight issues far beyond fashion. Halpern, for example, paid tribute to front-line workers, while Bethany Williams replaced the traditional catwalk show with a YouTube video showcasing the work she does with homeless moms and their children.
In Milan, 33 brands rolled out their new collections on YouTube. The much-anticipated collaboration between Miuccia Prada and Raf Simmons kicked off with a joint interview about their creative process, which web viewers followed with great interest. Versace used features on the YouTube Community tab to share stories about its ocean-themed travel project, Versacepolis. And Jeremy Scott, creative director of Moschino, collaborated with Jim Henson's Creature Shop, a visual effects company, to build a dollhouse-inspired runway, and replaced human models with life-size marionettes.
Fashion on YouTube
Though 2020 was a digital turning point for the fashion industry, it already had a strong online presence before the pandemic. Between 2016 and 2019, the number of YouTube channels dedicated to fashion increased by 400%.1
Traditionally, these channels belong to YouTube creators who share their love of fashion on the platform. But recently, top models like Ashley Graham, Lily Aldridge, Karlie Kloss, and Naomi Campbell have been using YouTube to give viewers a behind-the-scenes look at the fashion world.
Fashion brands are also starting to have a bigger presence on the platform, creating original content and collaborating with creators. Emma Chamberlain, a fashion influencer with almost 10 million YouTube subscribers, partnered with Louis Vuitton to create a humor-filled video about Fashion Week, which she tuned into virtually.
Brands and publishers can also be found on the YouTube Fashion and Beauty vertical. Across the various fashion weeks in 2020, 205 shows were broadcast there, racking up 100 million cumulative views, and 108 new partners joined, a 900% increase since the vertical was created in 2018.2 During men's fashion week in July, 93 brands presented their collections on YouTube; 58 of those brands appeared on the platform for the first time.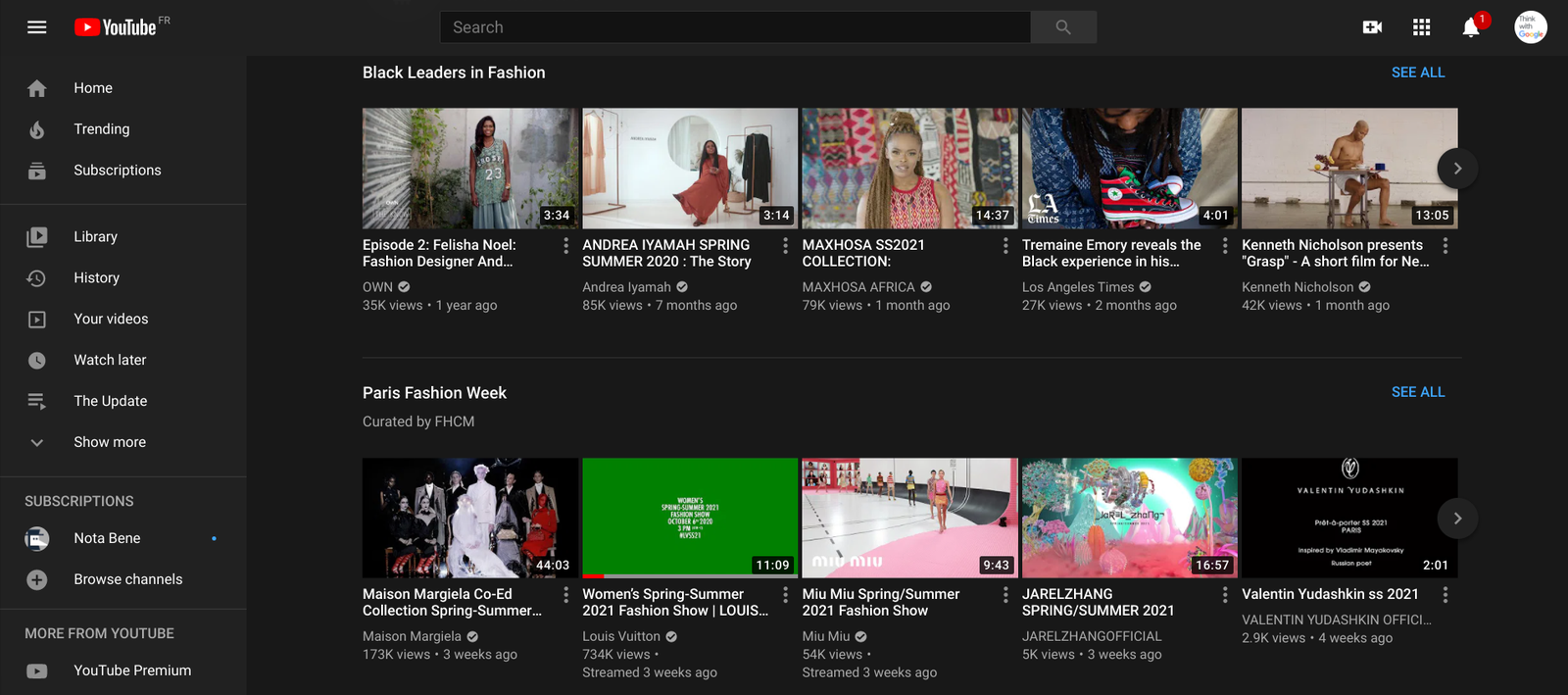 Beyond the fashion show: Saint Laurent's immersive experience
For the launch of its spring-summer 2021 men's collection, Saint Laurent, under the direction of Anthony Vaccarello, reinvented the old runway format. To do so, the team shot a six-minute, highly choreographed film featuring its models on the rooftops of Paris, New York, and Beijing. The short film, which combined both physical and digital elements, concluded with models walking down a pyrotechnic runway against the backdrop of the Eiffel Tower.
In addition to the longer film, they created an immersive video that combined augmented reality and 3D imaging to give viewers breathtaking shots of the French capital.
On YouTube, viewers were first teased with a six-second version of the video. Later, they were served up the full six-minute film in TrueView format. Finally, they were shown the 3D immersive video. By using custom audiences, the team was able to engage fashion week fans and generate 19.4 million views across all the videos.
In a complex year for companies, digital became a means of bringing creativity to life. Whereas, in the past, fashion brands could wow audiences at in-person shows, social distancing and stay-at-home orders mean they've had to come up with new, more surprising and dreamlike ways of reaching potential customers.
It is difficult to say what future fashion weeks will look like once the pandemic is over, but it is likely that this move toward digital will have a strong influence in the future.