As businesses have had to adapt to sudden shifts in consumer behavior over the past seven months, our relationships with our customers have completely changed. Even prior to 2020, at Google, we've seen CMOs across all verticals redefine their industries by embracing digital transformation. This trend has only accelerated in the context of COVID-19.
We talked with brand leaders from Salesforce, Hyundai, Wyndham, and others about how they're tackling the unique challenges posed by the pandemic and how they're positioning their businesses to be ready for what comes next. Here are some insights from those CMOs.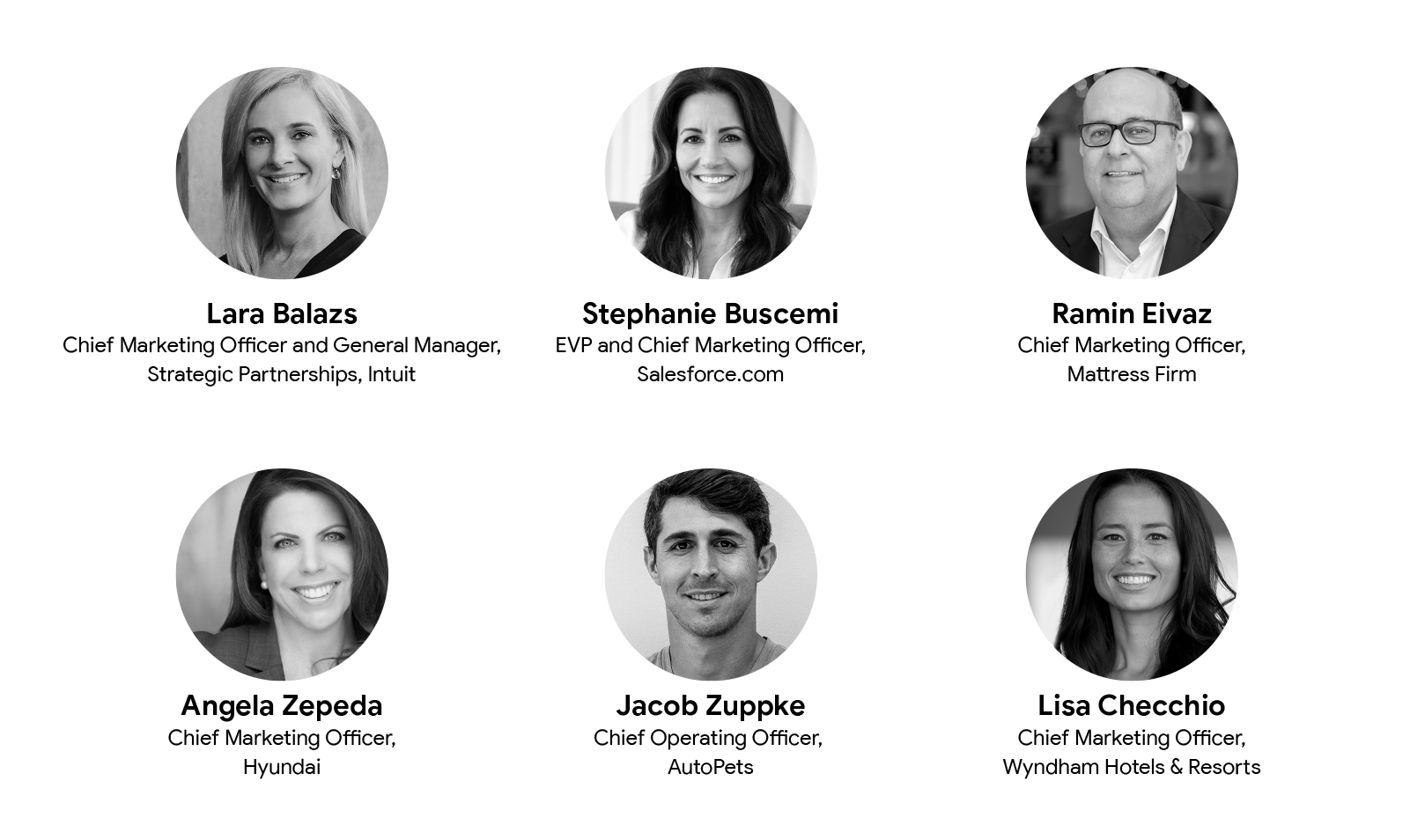 Be ready to lead with customer insights
Tax Day in the U.S. every April was a certainty until COVID-19 hit. With tax season extended through July, the Intuit team needed to change its entire approach. Suddenly, customers were searching for answers for a variety of new financial challenges — unemployment benefits, stimulus support, and small business loans. Responding to these new customer needs, Intuit prioritized features such as TurboTax Live, which connects people with a certified tax expert to answer questions, and promoted the service via YouTube. The company also released and promoted Intuit Aid Assist, a tool that distills all 300 pages of the congressional CARES act, allowing customers to quickly understand new benefits.
"We are on a journey to becoming a more platform-driven company. And as we make that transition, which only is more important in a COVID-19 environment, where people are in need of more financial tools, more financial support — whether they're a small business owner, a mid-market business owner, or a consumer — we have the ability to service a lot of their needs."
Lara Balazs, Chief Marketing Officer and General Manager, Strategic Partnerships, Intuit
Be ready to accelerate with automation
The pandemic brought new challenges and opportunities to Salesforce. On one hand, demand for its category increased significantly as companies sought remote work solutions. On the other hand, the ability to connect with customers face-to-face disappeared overnight.
In the past, Salesforce hosted events, convening thousands of its customers, something it could no longer do. So the company pivoted to virtual events and created "Leading Through Change," a virtual content series to help organizations manage through crisis. Salesforce began experimenting with YouTube to promote and stream these events and built direct integrations with Google Analytics 360 and Display & Video 360. This allowed for clear measurement that could modify promotions in real time based on what was working. The automated campaign drove over 4 billion impressions.
"AI is going to enable the scale that all businesses need. It's one thing to automate [a collection of insights], but to be able to quickly go across that with data in real time and produce the insight that will allow you to inform and change the action based on the consumer or the customer's behavior requires AI."
Stephanie Buscemi, EVP and Chief Marketing Officer, Salesforce.com
Be ready to pivot to e-commerce
Prior to the health crisis, Mattress Firm was working to accelerate its e-commerce growth and deliver a true omnichannel experience. Back then, the majority of the company's revenue came from brick-and-mortar stores, with the e-commerce channel playing a supportive role. When the pandemic forced the company to close half its stores, the brand experienced a dramatic decline in sales. E-commerce suddenly became a critical sales channel. Beyond just merchandising, the pivot involved everything from brand messaging to site experience and the reallocation of media spend. The team became more data driven and tracked consumer demand to understand where to invest at the local level. As a result of these changes, Mattress Firm saw a 4X increase in e-commerce revenue in just six weeks and achieved two years of planned digital transformation in just three months.
"Our CEO, John Eck, felt very strongly that as you look across what we were facing, the one channel that felt most reliable was our e-commerce channel. So as we began to shift our mindset to be a lot more data driven, we partnered with Google to better understand demand and to leverage various KPIs that one could use as a barometer for consumer demand, including the search index and many other KPIs. That became a key part of the strategy. [So the process was to] begin to track, fine-tune, understand the broader market demand, and then invest appropriately."
Ramin Eivaz, Chief Marketing Officer, Mattress Firm
Be ready to reimagine the customer journey
Hyundai doubled down on online retailing at a time when less than 1% of all vehicle sales were online. At the start of the pandemic, nearly three quarters of Hyundai dealers experienced some type of shutdown in the U.S. Around the same time, Hyundai launched its revamped hyundaiusa.com. The website streamlines the car-buying experience, bringing actions that were once only possible offline to the comfort of one's home. As of today, every U.S. Hyundai dealer has signed up for the tools and, as a result, Hyundai retail sales were up 6% in June, while the industry was down 16%.
"We're hovering around 8% to 9% of transactions happening online, all the way up through an electronic or wet signature. That's pretty significant considering we basically had none at the start of COVID. We need to think of the customer and what they're expecting from us as an auto manufacturer. Delivering them a seamless, transparent, and efficient online shopping and buying process ... was a natural place for us to go during the pandemic."
Angela Zepeda, Chief Marketing Officer, Hyundai
Be ready to drive results with video
AutoPets, famous for its automatic litter box Litter-Robot, is dedicated to the design and manufacture of highly functional and connected pet products to make life easier for pet parents. With the surge in pet adoptions across America during the pandemic, the brand turned to YouTube to introduce Litter-Robot to new cat parents, driving 87% year-over-year growth in branded search. Now, Litter-Robot as a brand is searched 3X more than the category "automatic litter box" alone.
"We've continued to refine our customer acquisition model across our high-funnel, mid-funnel and low-funnel cohorts, with the goal of continually filling our high funnel to create the customers of tomorrow. As we look to the future, a focus on continually refining our multitouch and multichannel attribution will be key to scale our business."
Jacob Zuppke, Chief Operating Officer, AutoPets
Be ready to build a digital-first culture
Like nearly all travel brands, Wyndham Hotels & Resorts suffered from the travel standstill that swept the world. Wyndham was forced to reevaluate its entire marketing strategy and put digital first, as it was the best way to find leading indicators of returning demand. The company built a sequential reactivation plan centered around machine learning and automation to be ready for travelers who were beginning to search for their next trip. Wyndham also launched a new app, which helped the team capitalize on the growth in mobile check-in and checkout, as well as allow new road trippers to book a room in just three clicks on their phone.
"Our media is flexible and positioned to move wherever the demand is, and I think that has been our competitive advantage all along."
Lisa Checchio, Chief Marketing Officer, Wyndham Hotels & Resorts
Digital transformation is about using data and technology to upscale your product and channel capabilities. It's the common thread throughout the stories shared here. These stories also help inform a new kind of relationship with the customer that we've embraced — one that anticipates their ever growing needs beyond business as usual and prepares them for the road ahead.