Last year, marketing leaders across Canada had to adapt to unexpected shifts in consumer behaviour and transform their organizations for the digital-first world. As we begin another year marked by uncertainty, we asked marketing leaders from Mejuri, Clearly, Altitude Sports, Cubert and Harry Rosen to share what they learned in 2020, and how it's shaping how they approach the year ahead.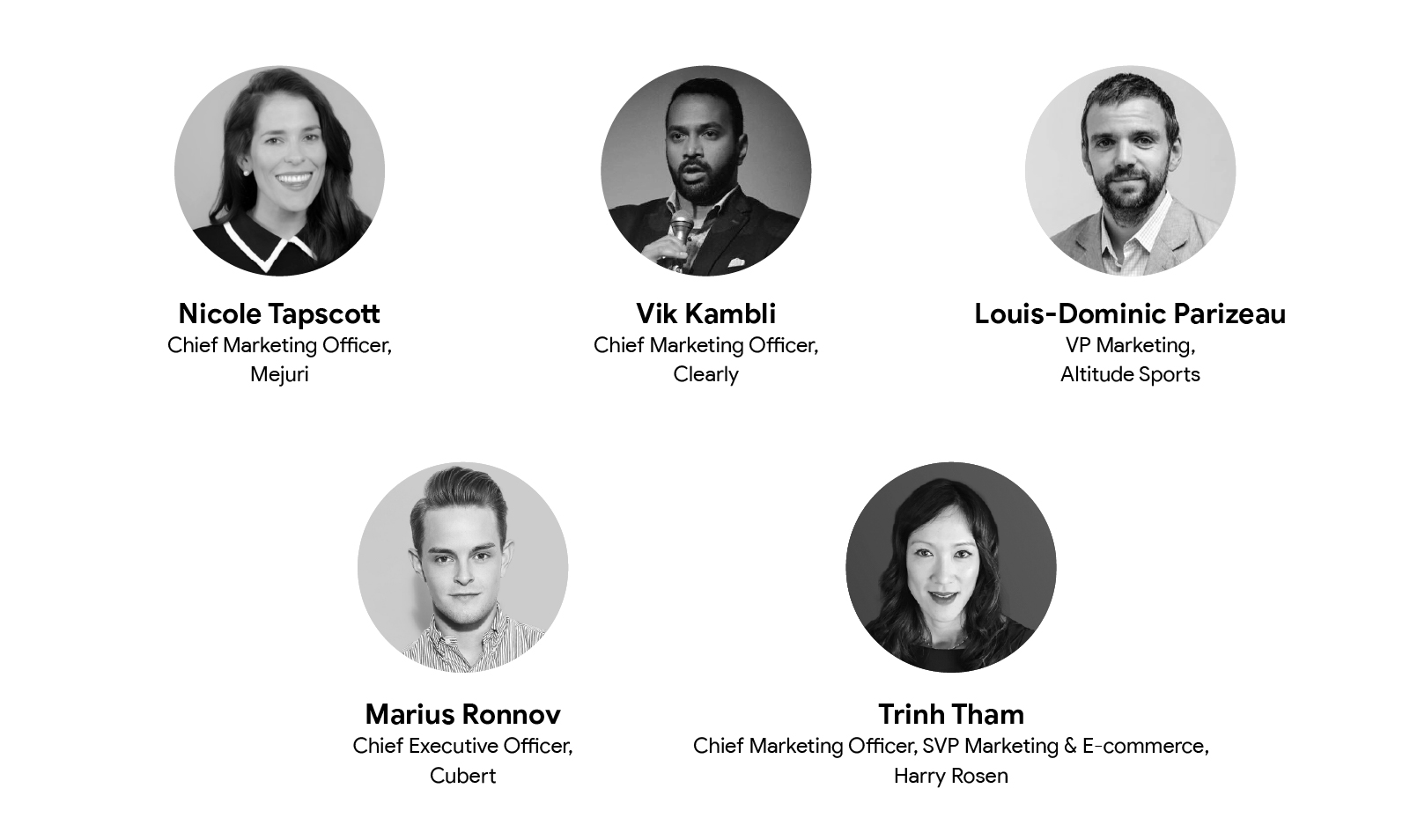 Consumers want purpose-driven brands
"More than ever, community should be the foremost consideration for any marketing strategy. The 2021 consumer is more informed, educated and discerning in their choices than ever before — seeking out high-quality, everlasting products and services. They require authenticity and transparency but also the feel-good factor of supporting mission-driven brands. Creating a platform that is focused on cultivating conversation around global issues and initiatives outside of pure commerce is incredibly important to maintain relevance in today's climate."
Nicole Tapscott, Chief Marketing Officer, Mejuri
'Wow' first-time customers with great experiences
"With historically high savings rates in Canada and proliferation of COVID-19 vaccinations, the consumer economy should roar back during the second half of 2021. As optimism rises, people who made their first e-commerce purchase during the pandemic will try even more online brands. Accordingly, evaluating customer acquisition strategy through the lens of lifetime value (LTV) is increasingly important. Wowing first-time customers with experiences and services should keep them returning to your brand beyond 2021. This LTV focus will generate a more efficient marketing spend in the long-term. Without it, brands will pay a premium for customers making a single purchase."
Vik Kambli, Chief Marketing Officer, Clearly
People want services that can help them shop locally
"Our biggest takeaways from 2020 have been the spotlight put on e-commerce and the newfound respect for shopping and living locally. We've tracked a change in our customers' purchasing habits — they're spending more time outside, exploring nature locally, and dedicating more time to physical and mental wellbeing. Many new customers tried online shopping for the first time during the pandemic — they get hooked on how easy and convenient it is. We rode this momentum to provide them with same-day and next-day delivery in select cities. Being able to give our customers what they want, when they want it, has been game-changing."
Louis-Dominic Parizeau, VP Marketing, Altitude Sports
Keep agile strategies and shorter planning cycles
"In 2020, we saw the need to be more agile in building our marketing initiatives. With disruption at every turn, we learned how to plan on shorter cycles and adapt in real-time to changing consumer needs. In 2021, we're focused on replacing our traditional media buying with four-week campaign sprints that we can quickly learn from and iterate on throughout the year, allowing us to better serve our customers."
Marius Ronnov, Chief Executive Officer, Cubert
Leaders must balance information and empathy
"Last year, many of us experienced expanded responsibilities and significant digital progress, and had to redesign our marketing strategies to address new business models. We learned the importance of living your brand purpose to achieve human experiences with your customers, and retooling your resources to put truly omnichannel plans into action. We also learned the importance of continuing to be data-driven, to ensure marketing plays an active role in driving rather than just supporting the business. We're now adjusting the way we communicate and increasing the frequency, to ensure we balance and contextualize a solid fact-base with empathy. It has spotlighted what authentic leadership means to each of us."
Trinh Tham, Chief Marketing Officer, SVP Marketing & E-commerce, Harry Rosen
By staying agile, empathetic and continuing to experiment, marketers across Canada can continue to adapt their business for success, navigate uncertainty and deliver exceptional experiences to their consumers.