David Mataranglo is the U.S. CEO at Reprise Digital, a performance marketing company. Here, he shares how to create an agile business that's ready to tackle today's challenges and be prepared for the opportunities of tomorrow by focusing your marketing on customer behaviors.
Closing out this calendar year, businesses are likely realizing that uncertainty is the only certainty. A parade of headlines — covering labor shortages, supply chain delays, inflation, and uncertain financial markets — dominate the news and suggest that volatility will persist. As a result, changes in consumer behavior will likely continue, sending a clear signal to brands: Adapt or be left behind.
At Reprise Digital, we help ensure that the brands we work with are agile and ready for whatever the future holds. We do this by focusing on how consumers move along the path to purchase, and analyzing and assessing those behaviors holistically, rather than in siloed channels. This approach allows brands to design their marketing around consumer behaviors, which positions them to thrive, even amid macroeconomic uncertainty.
A great example of this is the work we've done with dermocosmetic skin care brand NEOSTRATA and its e-commerce strategy.
Operating a direct-to-consumer business model, the company sought to efficiently drive traffic and online sales despite having limited awareness. In partnership with Reprise, NEOSTRATA piloted a new approach using Performance Max, which leverages automation to optimize Google and YouTube campaigns in real time. More specifically, this helped the brand hit its predetermined goals by identifying the right ad creative and the right ad placement to reach the customers most likely to convert.
The campaign's results speak for themselves: When comparing three months of Performance Max data to the previous three months of standard Shopping campaigns, NEOSTRATA saw a 91% increase in revenue at a 65% increase in spend, all while increasing efficiency 16%.
While every brand is unique and will see different results, you can follow this example — and deliver consumer-centric marketing while staying agile — by employing three key steps. First, enhance your first-party data strategy. Then use automation to optimize your marketing for the right customers. And finally, build a fully connected, omnichannel customer experience.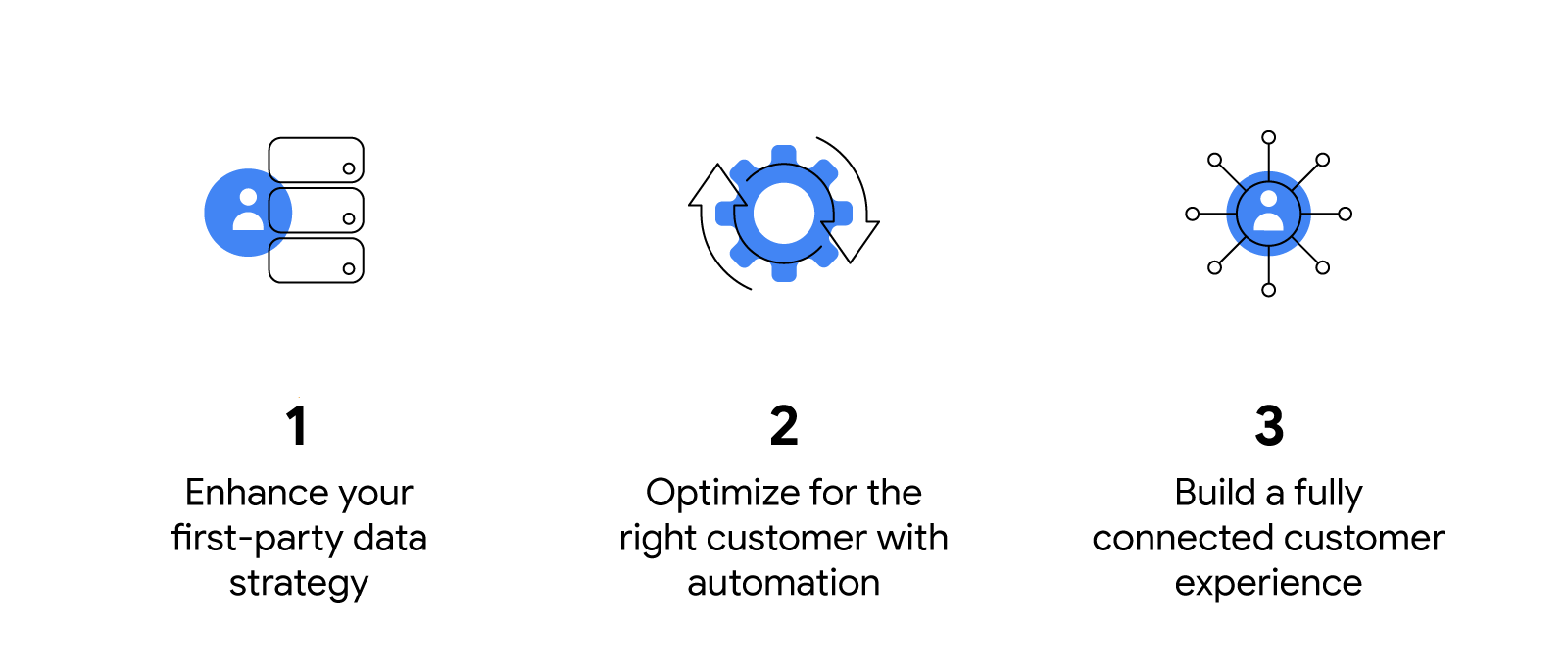 1. Enhance your first-party data strategy
As the economy tightens, many brands are tempted to shift their advertising focus to performance and results. With increased scrutiny on ROI, marketing teams will need to work smarter, using data to achieve greater scale and better outcomes without sacrificing effectiveness. This requires having a sustainable first-party data strategy in place.
Data is the key to achieving greater scale and better outcomes without sacrificing effectiveness.
First-party data can create new value for your marketing, improve ad performance, and help you deepen relationships with your customers. To build a strong strategy, it's critical to know exactly what data you need to collect from customers and have a clear plan for how it will be used. For example, NEOSTRATA identified its website visitors, particularly those who did not make a purchase, as a crucial audience to help drive the highest quality leads.
As you develop your strategy, keep in mind that value exchange is paramount. You must give your customers something of value in return for their consented data, such as early access to new product launches, personalized recommendations, exclusive products, and other unique offers.
2. Optimize for the right customer with automation
In times of volatility, brands should shift their focus away from generalized outcomes, like the number of clicks, toward customers who are the most valuable and profitable. And because customer journeys are becoming increasingly complex and difficult to measure, leveraging automation is increasingly important.
Automation can be a vital device for keeping your business agile and ready to react to changes in real time.
With automation, it's possible to focus your campaign reach on those online customers who are most likely to shop with your brand. Tools like Performance Max, for instance, allow you to promote products across a range of channels, and ensure that you deliver the right message to the right audience at the right time. This capability becomes even more powerful when you're able to combine it with first-party data you've collected and build lists of people who may be interested in your products.
Automation becomes even more significant when you factor in nuances like fluctuating demand across markets, because it can keep pace with shifting consumer behavior faster than a manual, human-led process. In this way, automation can be a particularly vital device for keeping your business agile and ready to react to changes in real time.
We certainly saw this with NEOSTRATA. Using Performance Max, the marketing team was able to optimize their Google Shopping feed, regularly rotate ad copy and collateral, and develop a complete set of audience signals, like website visitors and purchases used to target new customers. And all of this was done at scale and across new formats like video, which is crucial for driving conversions across a full-funnel strategy.
3. Build a fully connected customer experience
Increasingly, brands need to think beyond in-store versus online, linear versus digital marketing, or mid-funnel versus lower-funnel conversions and embrace a more connected, omnichannel customer experience. Indeed, a recent survey by McKinsey found that 75% of U.S. consumers say they're going both online and into stores to research and buy products across categories.
Create experiences that make it easier for customers to convert throughout the funnel.
What does this mean, exactly? A fully connected customer experience collapses the traditional marketing funnel and authentically reflects how people are actually shopping today. For example, people increasingly use the internet to discover new products and often end up buying products immediately after researching them. So what has traditionally been an upper-funnel activity is now also a purchasing opportunity through various shoppable media. This means that every connection you make is a chance to acquire a new customer.
During the past couple of years, NEOSTRATA focused on expanding their approach from selling products mainly in dermatology offices to selling directly to consumers. That meant the brand needed to create experiences that make it easier for customers to convert throughout the funnel, whether they were comparing different skin care products through Search or discovering the brand for the first time on YouTube. In fact, combining search and video is especially important, as research shows that YouTube advertisers see brand videos driving 28% of their conversion assists.1
Amid a volatile economic forecast, it's more important than ever for your businesses to adapt and stay agile. You can set yourself up for success by developing a smart first-party data strategy, leveraging automation to find the most valuable customers and creating a fully connected, omnichannel customer experience. With these tactics, your business can drive growth now and capitalize on new opportunities in the future.