As COVID-19 continues to impact businesses large and small, many marketers have been wondering how their brands can be helpful.
Here are five examples of Canadian brands that quickly shifted their marketing and business strategies to address new consumer needs and help support small businesses and frontline workers.
Cineplex
In March, COVID-19 forced Cineplex to temporarily close their network of entertainment venues across Canada. The company didn't know how long their theatres would remain closed to the public, but knew they needed to turn their attention to the parts of the business that could help people at home.
Cineplex decided to encourage people to #StayHomeEatPopcorn, and bring the movie theatre experience into their homes through a cross-functional approach to digital products and food delivery. They focused their efforts on promoting their Cineplex Store, which allows people to rent or buy the latest Hollywood films and classic movies, as well as their food delivery partnerships with Uber Eats and SkipTheDishes, which deliver their popcorn and other concession stand treats to homes.
The Cineplex marketing and insights team built out an agile, cross-functional strategy that allowed for cohesive targeting and messaging. By aligning product, loyalty, social content and media planning partners, they have built an iterative marketing strategy that can evolve with weekly priorities and search trends. The team uses Google Trends and Google Analytics to follow search interest and popular topics.
"Cineplex Store was created to give our guests choices when it comes to what they watch at home. During this time, we're making sure movie-lovers have access to the latest titles and old favourites. We know that Canadians are looking forward to joining us in our theatres again, but until that time comes, we're excited to bring as much of the movie theatre experience as we can to them," said Sara Moore, SVP of Marketing at Cineplex.
Maple
Maple is a virtual healthcare platform that connects Canadians with family doctors, medical specialists and paramedical healthcare providers online, 24/7. When COVID-19 hit and doctors offices began closing and cancelling in-person appointments, Maple realized they were in a unique position to help minimize the impact of this disruption. They already had the technology to connect Canadians with virtual healthcare and a network of doctors, but they could also help doctors across Canada get set up online.
Just weeks after the global pandemic was called, Maple launched an OHIP-covered COVID-19 screening service, which connects symptomatic or concerned patients in minutes to live doctors across Canada through their app. They also created a turnkey virtual clinic platform that was free for physicians to use during the pandemic.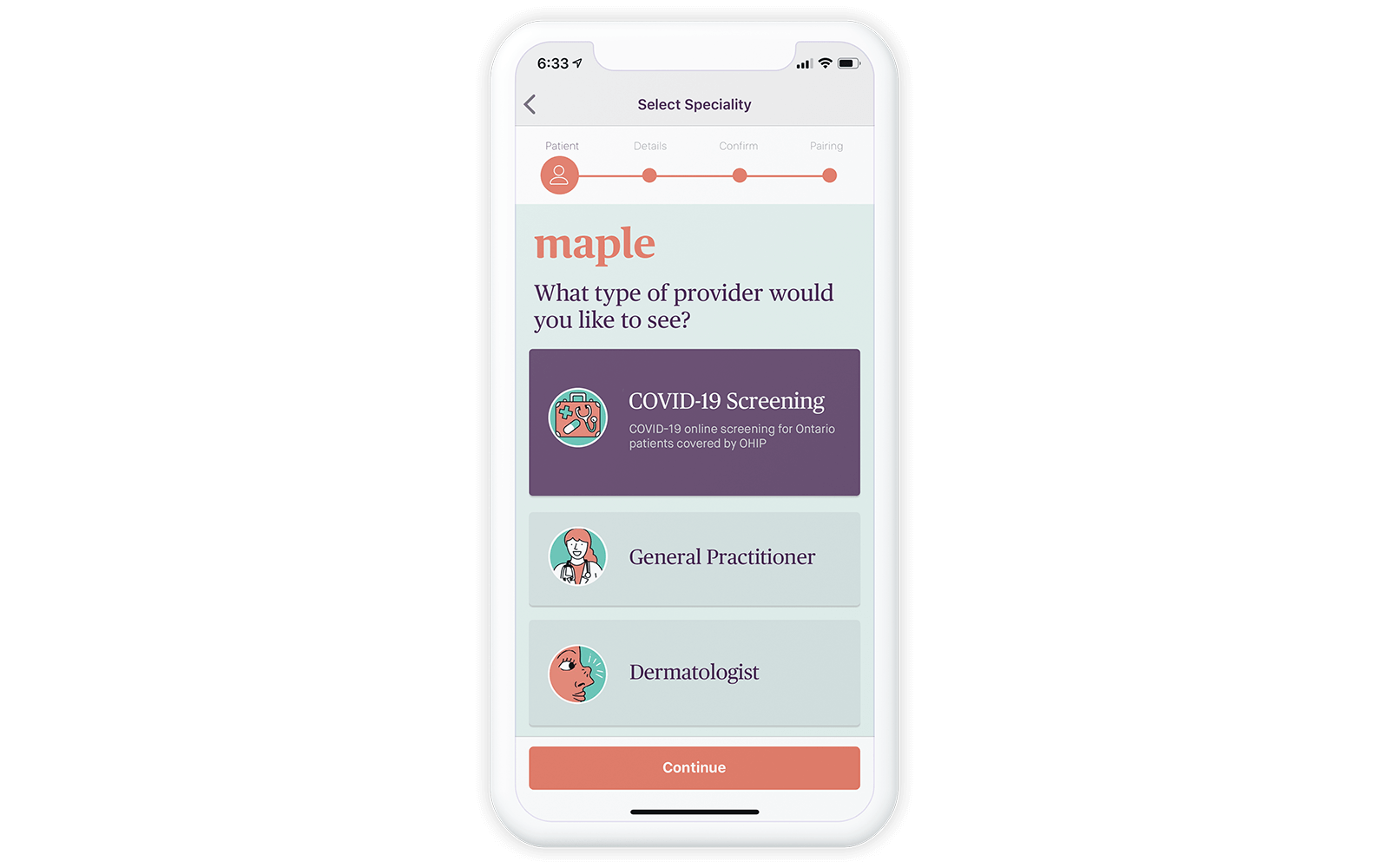 "As an ER doctor during SARS, I witnessed firsthand the collateral damage that was caused by patients being too scared to seek care for routine symptoms, resulting in missed diagnoses that often were life threatening," said Dr. Brett Belchetz, CEO and Co-Founder of Maple. "We wanted to help minimize the disruption in access to care."
Maple also partnered with Shoppers Drug Mart during this time, which allowed them to extend coverage for virtual care services across Canada for several weeks. "This helped people access the healthcare services they needed as clinics quickly reduced hours or closed their doors altogether to follow the social distancing guidelines and move to remote solutions," said Belchetz.
Jewlr
Like many businesses, COVID-19 forced custom jeweller Jewlr to rapidly adapt to a new reality. But when local hospitals across Canada began putting out urgent requests for personal protection equipment (PPE) like face masks, the team realized they were in a unique position to help.
Their jewellery polishers used N95 masks for protection from polishing dust, and were able to quickly donate their inventory of over 1,000 masks to healthcare facilities. They then realized their laser cutters could be used to make reusable face shields for healthcare workers, which were also in short supply.
"Our business is about creating personalized jewelry that helps people celebrate life's important moments. We wanted our brand to continue connecting with people during these new moments in crisis, and provide frontline workers with what they needed to stay safe during this critical time," said Tony Davis, CEO of Jewlr.
Jewlr's team used its pre-existing e-commerce store and supply chain based in Canada to locate materials from local suppliers and began designing reusable face masks and shields. Jewlr has been able to produce and donate over 3,500 (and counting) masks and face shields to frontline workers across the country.
Kraft Heinz Canada
As the global pandemic began to unfold, Kraft Peanut Butter recognized that more than anything, this was a time to come together and support the community. They wanted to do something tangible to help small businesses impacted by the global pandemic.
With help from their agency partners, Kraft Heinz Canada was able to find new meaning in their brand ethos "Stick Together," and pivoted their strategy to address the needs of Canadians during this time. "People don't need another peanut butter ad right now, so we shifted our media campaign and donated our ad space to support local small businesses, so they could let Canadians know they are still open for business," said Kraft Peanut Butter senior brand manager Daniel Gotlib.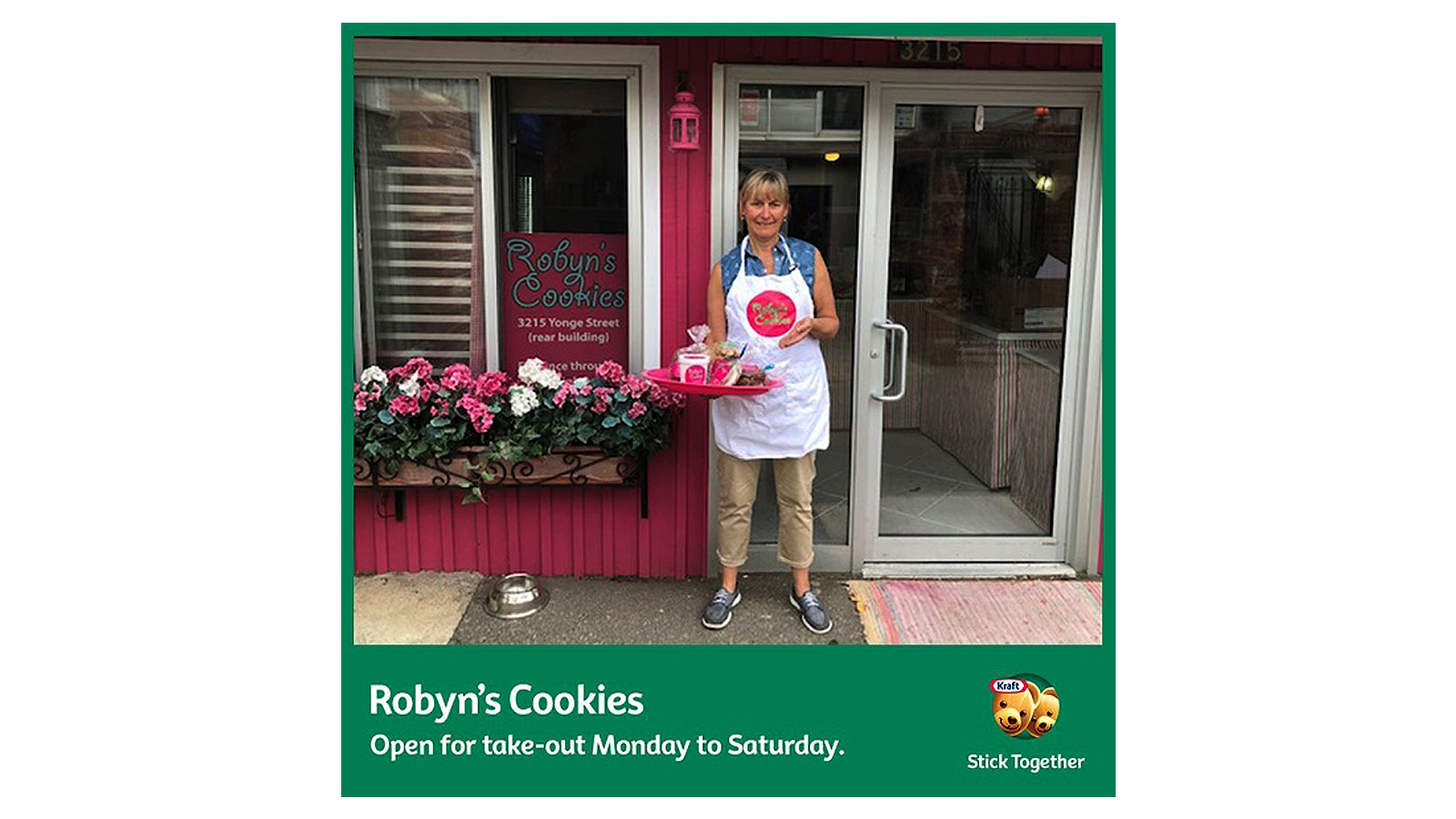 On social, Kraft Heinz Canada encouraged Canadians to nominate deserving small businesses by commenting on their posts marked with the hashtag #StickTogether. The chosen businesses worked with Kraft Heinz's agency partners to develop and amplify their messages across social media.
Canadian businesses like The Tampered Press and Bigsby the Bakehouse have been able to use this service to promote their offerings during the pandemic. "It is so great to see how eager local communities across the country are to support each other and we are humbled and proud to be a part of the movement," said Gotlib.
Freshline
Before the pandemic, Freshline (previously Coastline Market) was a business-to-business (B2B) network that connected seafood harvesters directly to restaurants across North America. With COVID-19 forcing the closure of thousands of restaurants across the country and putting more Canadians in their home kitchens, Freshline was forced to rethink their entire business strategy and redefine their customer base.
Now, Freshline is a business-to-consumer (B2C) marketplace where Canadians can get chef-quality grocery delivery, direct from local producers and suppliers. They also offer tools for suppliers to manage inventory, build an online presence, and simplify order fulfillment.
The shift to B2C has meant they need to learn a lot about their new customers, and quickly. The Freshline team relies on digital tools to gain insights, track analytics and stay connected to their customers. One way they do this is by sending out custom Google Forms over email, which helps them collect feedback from their customers about their needs.
"Our goal is to increase accessibility to quality food ingredients and in turn, pave new paths for local suppliers and consumers to connect. We believe everyone deserves great food, anywhere," said Joseph Lee, Co-Founder and CPO of Freshline. "A core thesis we've adopted through the quarantine is that action is better than inaction. While there are still uncertainties and knowledge gaps with our pivot, there's no better way to learn than to do first, make mistakes, and evolve along the way."
COVID-19 is forcing businesses to re-evaluate their business models, adapt their marketing strategies and redefine their customer base. No matter what size or sector, businesses can look to their customers to understand how their needs are changing, and remain relevant and helpful through these times.