For much of its existence, the NFL's big game has been home to ads that featured action, comedy, and plenty of men. When women were featured at all, there was a good chance they'd be sporting a bikini.
In short, the ads in what has become the nation's biggest TV event were made by men, for men. To a certain kind of marketer, it made a certain kind of sense. The assumption was that the game was watched predominantly by men. But that's no longer the case. According to Nielsen, women have accounted for 46% to 47% of total Super Bowl viewership from 2014 to 2018.
But the advertising running during the game hasn't caught up to the people watching it. Why does this matter? Equal representation isn't just the right thing to do, it's good for business. In our ongoing work with The Geena Davis Institute on Gender in Media, we found that marketing content on YouTube featuring female led and gender-balanced content attracted 30% more views than male-dominant videos, despite representing less than half of all the videos we studied. We've been doing similar research to improve our own work, because Google is committed to diversity in our own marketing, not only in front of the camera but behind the camera and throughout the entire organization.
It's an ongoing process, but by sharing our learnings, data, and insights, we hope to help other marketers also make their advertising more inclusive — and more effective.
A number of marketers paying large amounts of money to run ads in the Super Bowl have gotten the message. There has been an uptick in purpose-driven marketing with better representation and portrayals of women in big-game ads over the last decade. "Like a Girl," a 2015 Super Bowl spot for Procter & Gamble's Always brand, is one that jumps immediately to mind. This year, P&G will continue to push gender equality with an ad for its Olay brand, featuring a star-studded, all-female cast. It was created by female-owned ad agency Badger and Winters and is tied to a Twitter campaign called #MakeSpaceforWomen. A pregame ad for P&G's Secret brand will also advocate for gender equality, aiming to show women what a world of equal possibility could look like. "More than two-thirds of girls believe that society doesn't encourage women to play sports," said Sara Saunders, associate brand director, Secret. "We're setting out to change this notion by spotlighting world-class female athletes on a field where they lack equal opportunity." (To see the Secret ad and all of this year's other big-game ads, check out YouTube AdBlitz.)
To see exactly where things stand, we took a look at the actual data. Our researchers evaluated 273 Super Bowl ads, a representative sample of Super Bowl ads from 2015 to 2019.1 Here's what we found.
Male characters receive about 2.5X more speaking time than female characters.

In general, representation falls well short of reality. Women not only account for almost 50% of the Super Bowl viewing audience in the U.S., they account for more than 50% of the population in the country, according to official Census Bureau figures. Yet male characters appear more often than female characters in big-game ads, and they get more on-screen time and more speaking parts.

Male characters not only get more lines, they get better gigs in Super Bowl ads. They're shown working more often than female characters, and they're also shown more often as leaders. There's also an age disparity. Male characters are twice as likely to be ages 40 or older (43.2% compared with 22.6%), while 3 in 4 (77.4%) female characters are under the age of 40.
Female characters are about 3X more likely than male characters to be shown as "skinny" or "very skinny."

Then there's the matter of physical appearance and sexualization. When female characters do appear on screen, they are significantly more likely than male characters to be shown in revealing clothing (10.2% compared with 1.2%) and in a state of partial nudity (7.5% compared with 2.1%). A far greater percentage of male characters are portrayed as "average size" than female characters — 74.4% compared to 48.8%. Female characters are more likely to be shown as "skinny" or "very skinny" than male characters (45.5% compared with 15.8%). And only 4% of male characters are shown as "unusually muscular."
Female characters are about 9X more likely to be shown in revealing clothing than male characters.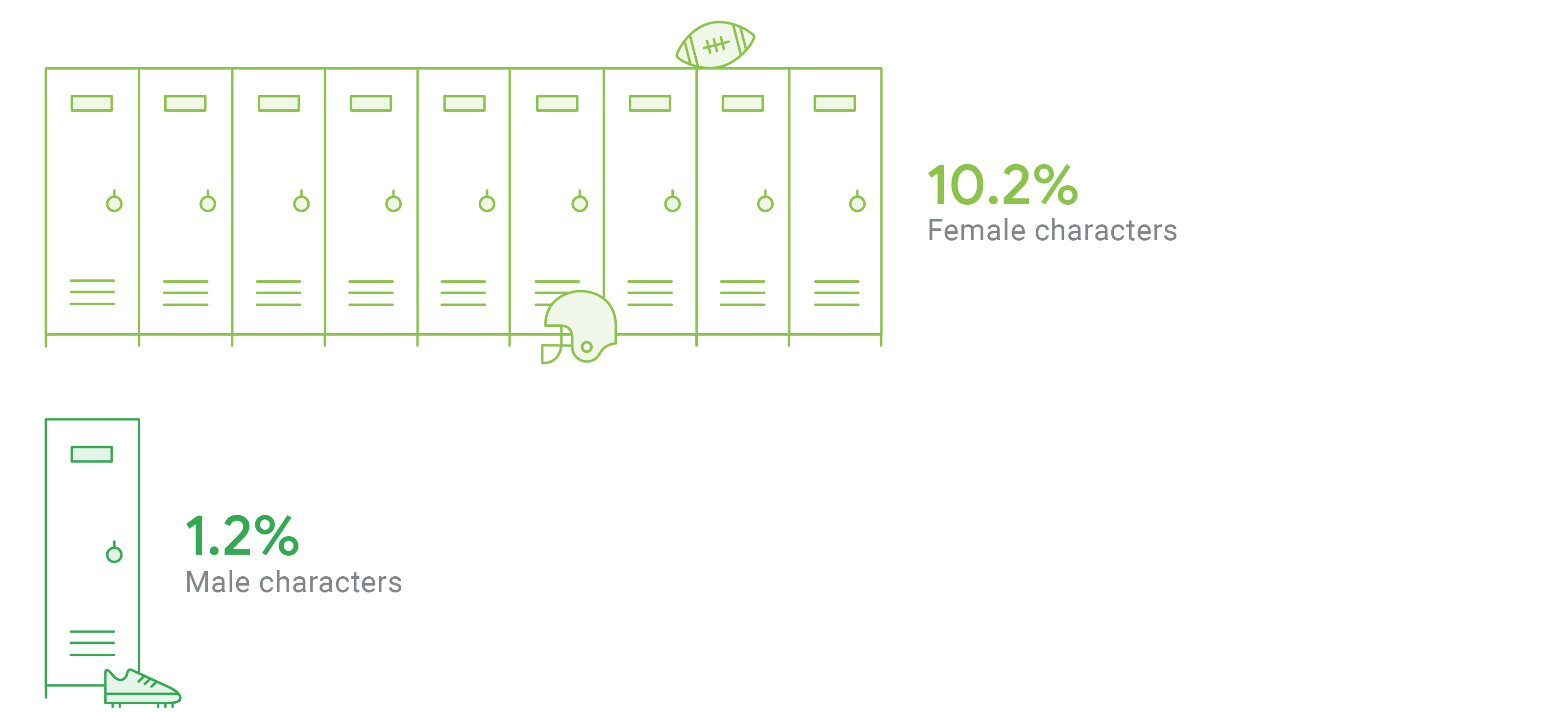 We're devoted to improving our own marketing and with helping other marketers succeed in doing the same. Providing tools and insights that enable all of us to make data-driven changes to our advertising is just one part of the solution. We're also working with the Association of National Advertisers' #SeeHer initiative to scale our technology to help brands measure representation and unconscious bias in their ads.
Diversity in advertising is an ongoing journey, but we are making progress.