Innovations in digital technology present fresh opportunities to connect with consumers. But navigating this changing environment requires adaptability and intention. Here are our suggestions, based on the latest research with GfK, for how brands can effectively reach and support consumers every step of the way.
Last year, we unveiled The Messy Middle — a consumer decision-making model that examines how individuals act in the time between awareness and purchase.
Today, the landscape is more complex than ever. COVID-19 introduced a once-in-a-generation shift, with an increase in adoption of digital technologies changing the way Aussies, Kiwis, and the rest of the world interact with brands.
To better understand the impact to consumers, we did some research. Partnering with GfK, we set out to uncover which new behaviours have turned into sustained habits and understand what that means for brands seeking to catch and keep people's attention.
Through quantitative and qualitative analysis, an extensive literature review, and passive measurement across 8,000 days of consumer journeys, we found that people are increasingly walking their own lines — and brands must adapt to meet them.
More Aussies and Kiwis are online than ever before
COVID-19 accelerated the number of people moving online — not only to do tasks like buy groceries, purchase electrical items via click-and-collect, and make claims with auto insurers, but also as a mode of engagement before and after their purchase. Since the beginning of the pandemic, half of Aussies have either done more online or are more likely to interact with brands via online touchpoints.1
Today, people expect brands to meet them where they are: 9 in 10 Aussies expect retailers to sell their products online.3 And brands that don't show up risk losing out. One in three consumers will choose their second-choice brand over their first choice just because it shows up in Search results.4
What's next? Rethinking "The Line"
Digital media has changed the way marketers think about "The Line." Once upon a time, consumer experiences sat above or below the line. Now, they can be above, below, off, or on it — and brands can no longer neatly categorise how they connect with their audiences.
People jump online and offline and across different platforms on their way to buying the things they want and need. Over the hundreds of purchase journeys examined in our study, we kept observing consumers intertwine online and offline interactions — regardless of brand category. For instance, when signing up for a new service, 84% of Kiwis and 91% of Aussies interacted with brands via two or more different channels, such as in-store, website, and app.5
Our research showed us that consumer journeys are anything but straightforward. Let's look at one path to purchase in more detail.
Here we have a man, we'll call him Bruce, who was in the market for a new PC. He started by visiting three retailer websites. Then, Bruce hit YouTube and some review sites before heading back to more retailer pages — different brands this time, specific to the model he wanted. Next, he turned to Search to investigate some specifics of the laptop he was after.
The following day, Bruce moved from Search to exploring other retailer websites, back to Search, to a few forums, then back to Search again, before finally arriving at his chosen retailer in St Kilda. He completed his transaction using the business's website and online banking and moved to Maps to plan an in-store pickup of his chosen product.
Here's how Bruce's purchasing path looks from start to finish: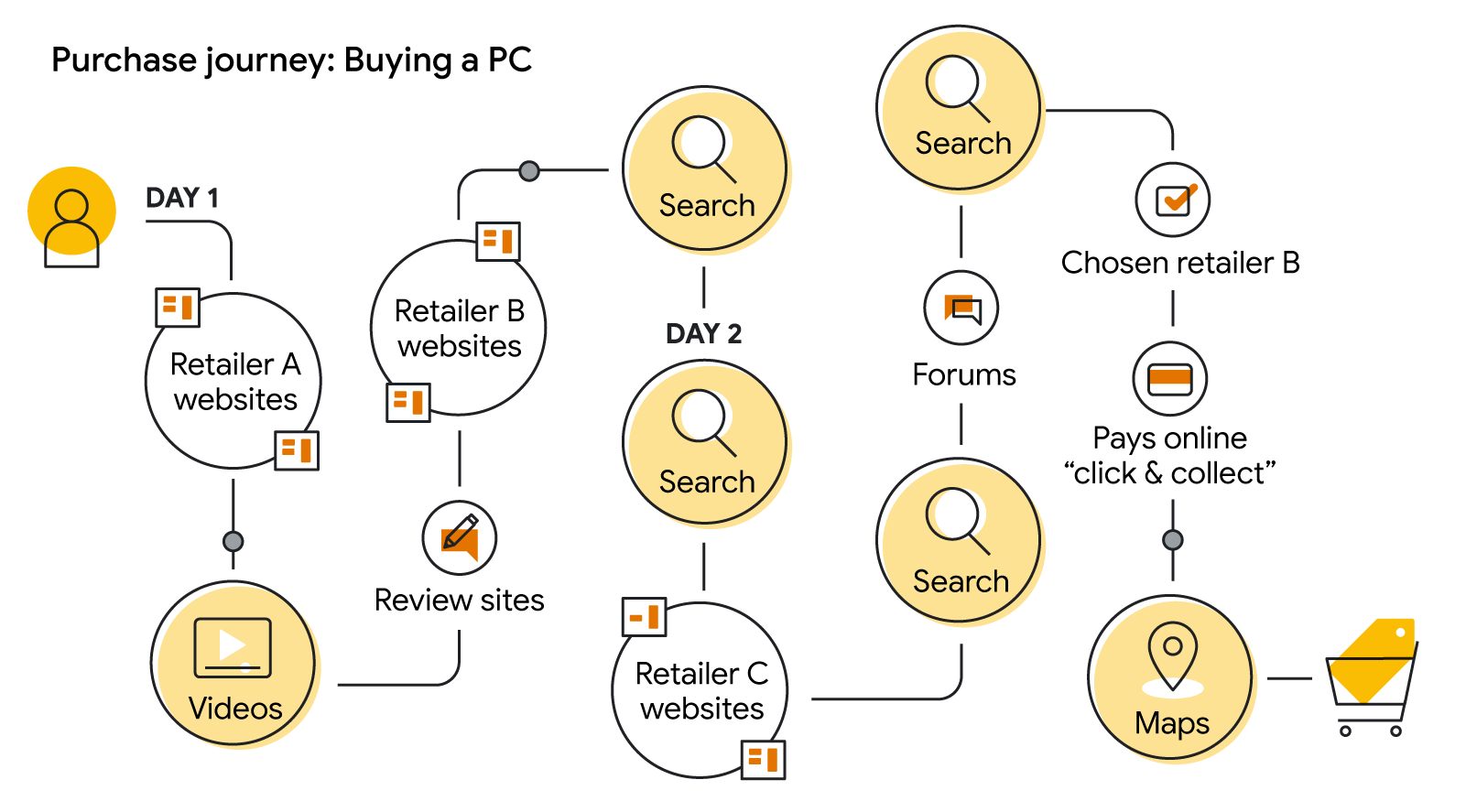 With such complex and nonlinear paths like the one above, consumers are relying on trusted navigators to steer them: 70% of all consumer journeys involve a Google touchpoint, such as Search, YouTube, or Maps.6
Also, this increased cross-over means media investment has a wider reach than ever before. In the latest findings from Analytic Partners, online channels such as Search, display, and video drove 42% of in-store sales, while offline channels such as out-of-home and TV were responsible for 40% of online sales.7 When intentionally brought together, however, these two channels drove more than 50% ROI.8
What's more, taking an omnichannel approach leads to happier, more satisfied shoppers. In our GfK study, consumers felt 52% more positively toward brands that connected with them both online and offline, as compared with brands that only interact with them on just one channel.9
Brands' futures are on the line
People are eager to engage with new technology. But shoppers still expect a friction-free and consistent brand experience.
As new technology promises to make life easier, consumers have less patience for brands that miss the mark. One in three Aussies reported having at least one brand interaction that didn't meet their needs.10
Brands can address the disconnect between online and offline experiences by finding ways to close the gap. Harnessing technology and first-party data has become even more crucial to delivering tailored, continuous experiences every step of the way.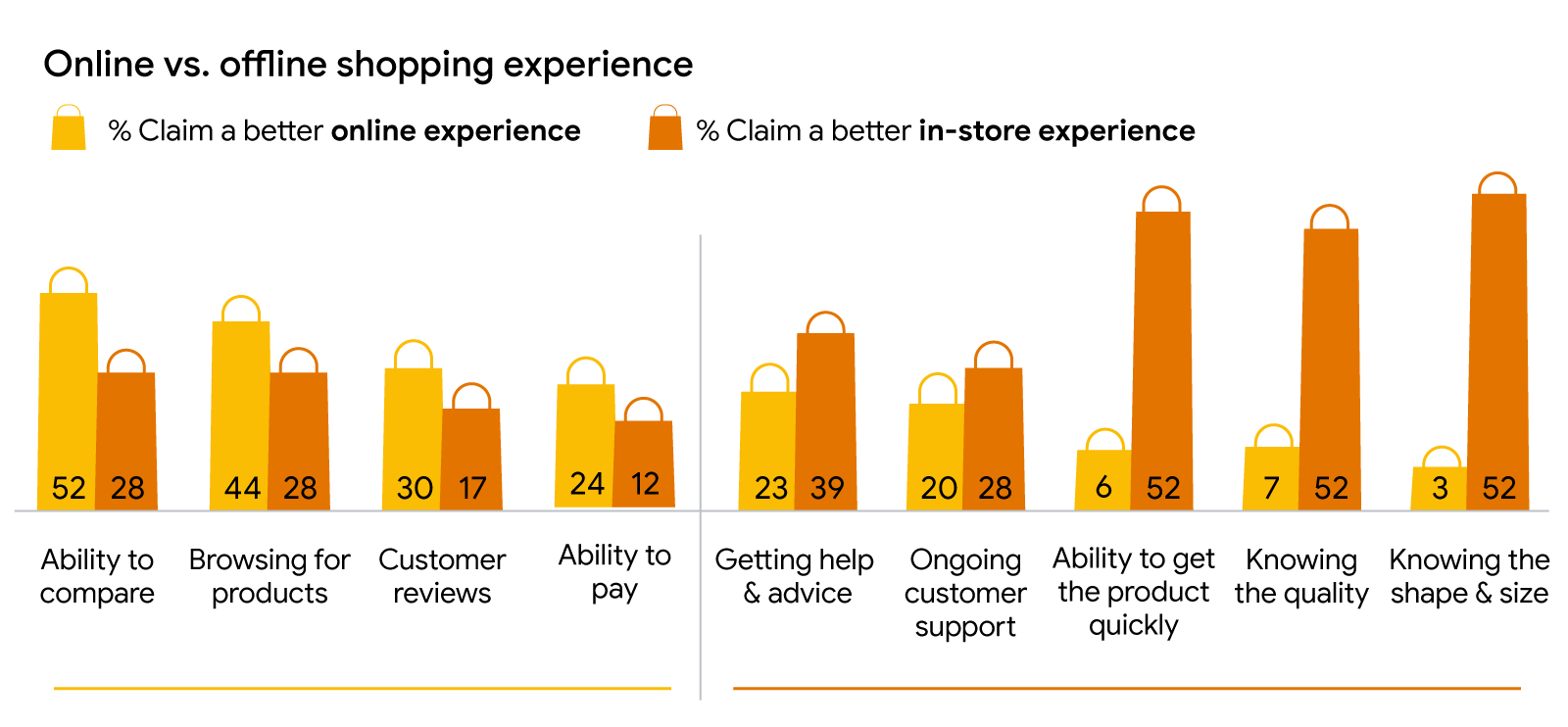 Foresight and agility allow brands to provide a reliable experience, and in turn, keep consumer trust as commerce continues to change.
With an intentionally planned, omnichannel strategy, marketers can stay ahead of any hiccups that might come with trying new technologies. Similarly, being able to quickly change course as consumer behaviour and the market shift can ensure brands stay in tune with their audiences and deliver relevant experiences in real time.
Where does this new line lead?
As shoppers continue to move online and across different channels, brands that don't invest in staying ahead risk being left behind. Australian Psychologist, Professor Lea Waters tells us in episode two of "On the line" that shifting the way we think of the unknown is key to embracing change. When people move away from viewing uncertainty as a threat and instead look for the untapped opportunity, they can adapt to new conditions.
The same goes for brands — when businesses use moments of disruption to focus on their strengths and create something new, they can bounce both back and forward in times of global uncertainty. Brands can carve their place in an ever-changing landscape by adopting this positive-psychology approach, becoming comfortable with change, and challenging organisational habits that prevent them from keeping up with audiences.
Key takeaways for brands

Be there: Brands have to be discoverable online to meet consumers' rising expectations. Occupying both online and offline spaces will allow marketers to reach consumers wherever and whenever they explore their options.
Connect online and offline: Online and offline touchpoints are complementary parts of the consumer journey. Bridge the two touchpoints to deliver a unified experience for shoppers who are increasingly looking for consistency.
Future-proof your business: As commerce continues to evolve, preparation and adaptability are key to ensuring consumer connections are sustainable relationships. Thinking with a long-term mindset helps brands thrive — not just survive.