Ramadan is the largest shopping period for Muslims in Indonesia, and for brands, it's a crucial time to connect with customers online.
However, with the many challenges brought on by COVID-19, the digital space in 2020 became more crowded — and noisier than ever before. At the same time, consumers' behaviors changed rapidly as they adapted to new priorities and government restrictions.
To stay ahead, brands had to adapt quickly — tapping into current consumer insights to rethink the way they approach their Ramadan communications.
Here, we look at how three brands revamped their approach to connect with consumers during Ramadan 2020.
Collaborate with content creators
During Ramadan, there is increasing importance to remind consumers of how brands can be helpful during the celebration period. Yet, with more advertisers competing to gain people's attention, brands need to be creative in how they reach their audiences.

After learning that 93 million Indonesian adults were spending time watching YouTube every month during lockdown and Ramadan, Wings, an Indonesian fast-moving consumer goods (FMCG) company, set out to try new ways to reach people online.
The company decided to collaborate with a number of YouTube content creators to feature Wings products in their videos and live streams in a way that was subtle, and not overly-focused on selling the product. Each content creator was asked to incorporate products into their videos in a way that felt natural and relevant to each creator's channel.
Edho Zell, who reviews products on his channel, broke fast with Wings' products, then made his own beverage concoctions, showing how their product can be the base of more unique ideas. Raditya Dika, known for his comedic and entertaining videos, enjoyed their products while live streaming himself playing The Sims — adding commentary on the taste and quality of each of the products as he played. Finally, Rans Entertainment, known for family-friendly content, tested their new products to give their audience a taste of what to expect. 
Be part of your audience's consideration journey
With more time at home, people didn't need to focus on convenience as much, and instead were choosing to spend time cooking their own food, learning about new skincare routines, and taking part in workouts online.
During Ramadan, search interest for "Iftar" (the evening fasting meal during Ramadan) spiked by 1,950%, while "Tarawih" (nighttime prayers) increased by 1,150%.1
Spikes in Search interest during Ramadan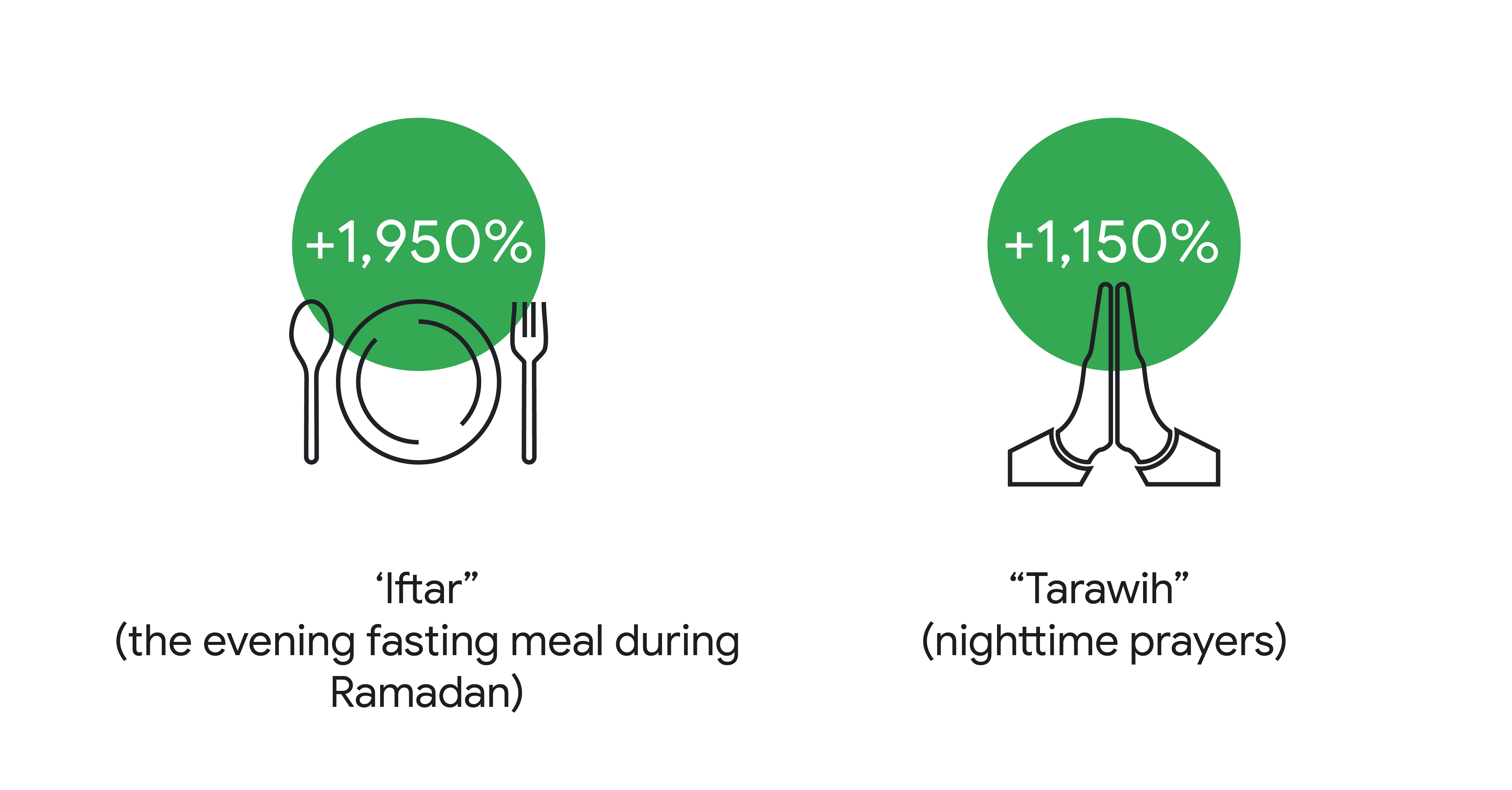 Most users look for recipes seven hours before Iftar, to prepare their ingredients. But because Suhoor (the morning fasting meal) and Iftar times change daily in each city, so did the times that people were searching for Ramadan-related recipes.
Unilever, a global FMCG company, saw that many of their customers were going online to not only watch videos but also search for new recipes to cook for their break-fast or iftar meals.
Realizing that their products could be used across multiple dishes for people cooking and feasting with their families, Unilever placed advertisements on Search throughout the Ramadan period that drove people to Unilever's recipe website where they could find featured recipes for all types of foods that used Unilever products.
The ads were deployed using Search Ads 360, which included a timer that reflected how many hours were left before the next "breaking of fast". As the exact time of iftar differs in each timezone and region of Indonesia, this approach meant that time-sensitive content was much more relevant for users.
For example, if someone is searching for "resep buka puasa" (recipe for Iftar) three hours before breaking their fast, then the ad copy would automatically include copy that read: "Three hours before breaking fast | practical recipe tips".
This made the ads dynamic and much more relevant to the respective viewers while helping Unilever to manage a campaign across different fasting times, for multiple brands, which saved time and drove impact.
By tapping into search interest for terms like "iftar" and "suhoor", Unilever was able to stay top-of-mind while helping consumers find recipes to cook for their next meals.
By optimizing their Search campaign and tapping into search interest for terms like "iftar" and "suhoor", Unilever was able to personalize their ads to the changing times when their viewers searched, which drove higher engagement on their platforms.
Be human in your messaging
While donations usually increase during Ramadan, as the pandemic affected many Indonesians, people were looking to help each other through donations more than in previous years.
Nestlé Indonesia saw this increased search interest in "donations" and decided to shift the focus of their Ramadan advertising.2 Instead of trying to stay top of mind amongst consumers, Nestlé called on people who saw their Bear Brand ads to visit the Kitabisa donations page — a platform for social and personal medical causes in Indonesia — where they were encouraged to donate to those whose line of work were impacted by COVID, such as Gojek taxi drivers, street vendors, and medical practitioners.
The campaign started each morning with messaging that invited consumers to drink their Bear Brand beverages during Iftar to encourage them to start their day with the good intention of staying healthy.
The brand then kicked off their campaign of #NiatMurni (good intentions) inviting people to donate to those impacted by COVID-19, collaborating with 16 Gold Creator Award YouTubers who also encouraged their audiences to send donations through the #NiatMurni campaign on Kitabisa.com.
"With YouTube, we were able to reach 25 million Indonesians over the Ramadan period. This was a key way for our Nestlé brands to deliver strong, relevant messages – and to encourage goodwill to those in need during this holy period," shared Guy Kellaway, Communications Director, Nestlé Indonesia.
Ramadan will always be a loud period in Indonesia, so it's up to brands to rethink how they can explore creative ways to not only reach new and existing audiences but also connect and inspire them as their behaviors change during this spiritual time.