It's no surprise that the growth of e-commerce has accelerated during the pandemic. People turned to online shopping to fulfill their retail needs — many for the first time.
As consumers move beyond basic essentials to buying products that enhance their at-home experience, they're creating a winning opportunity for brands to be where they are: online.
Here we look at three trends affecting e-commerce in APAC and uncover how brands can connect with new cohorts of shoppers by responding to changes in consumer shopping habits.
Your online store is your new storefront
Despite restrictions on outdoor movement easing across APAC, the volume of foot traffic to retail shops has been lower than expected, while search interest for e-commerce continues to rise.
Across Southeast Asia (SEA), many people are limiting their movement to essential trips to buy groceries or to travel for work. However, only Vietnam and Thailand have experienced a positive increase in visits to grocery stores or pharmacies.1
Even as some SEA countries come out of lockdown, search interest in e-commerce sites like "Lazada," "Shopee," and "Sendo" has gone up. In fact, Thailand saw a 63% increase over the same time last year, while Malaysia (+32%) and Vietnam (+13%) also experienced positive levels of interest.2,3,4
These numbers underscore why it's important to keep your online retail strategy top of mind. Continue to invest in optimizing your digital presence so you can provide a relevant, frictionless, and helpful shopping experience for your customers.
With people making fewer trips to physical shops, there's an opportunity for advertisers to increase their basket size. Consider ways to offer bundles that could encourage a higher average spend each time people shop.
More shoppers are rushing online, and so are new sellers
Recent months have seen many people turn to e-commerce sites for the first time to fulfill the retail needs they had before the lockdown.
In Singapore, 24% of all online buyers during the city's Circuit Breaker period were new buyers,5 while 32% of Indonesians during lockdown said they hadn't previously made a purchase on any e-commerce platform.6 But this shift to online shopping is more than a short-term response to the pandemic.
In fact, 74% of the first-time online buyers during the Circuit Breaker in Singapore expressed that they would continue making online purchases post-lockdown.7 Not only are these exciting growth numbers for online retailers, but these new shoppers are proving to be more profitable than existing customers.
"We experienced an extraordinary demand from new consumers shopping with us for the first time. We also saw an increase in return customers who hadn't shopped with us for over a year," said Jo Bjordal, chief marketing officer at Zalora Group.
"The growth in new customers was unprecedented, and we see this as significant long-term value for the brand."
But just as more new shoppers are checking out their virtual baskets, more sellers are coming online as well.
Shopify saw a 62% surge in new stores created on their platform between March and April compared to the previous six weeks, while search interest for "seller" queries in SEA grew more than 20% in May compared to April, despite offline retail stores being allowed to open in some markets.8
Existing online marketplaces are also contributing to this growth in offline sellers moving online. A number of them are ramping up onboarding programs such as Lazada University, Shopee University, and Tokopedia Pusat Edukasi Seller that offer courses for e-commerce store owners on how to get the most out of their online presence.
So while the opportunity to find new customers is higher than ever before, marketers will need to find the sweet spot between a targeted audience strategy and engaging creative to increase their reach.
A new purchase journey beyond essentials
As people are spending more time at home during the lockdown, we noticed a shift of interest to more nonessential items: smart home devices to enhance their at-home experience, new cooking appliances to try out fresh recipes, or vitamin supplements for that extra health boost.
Search interest for kitchen appliances like "air fryer" rose by 190% in Singapore during lockdown compared to earlier in the year. Also, Vietnam saw a 68% growth for "blender," and queries for "coffee maker" grew by 33% in the Philippines.9,10,11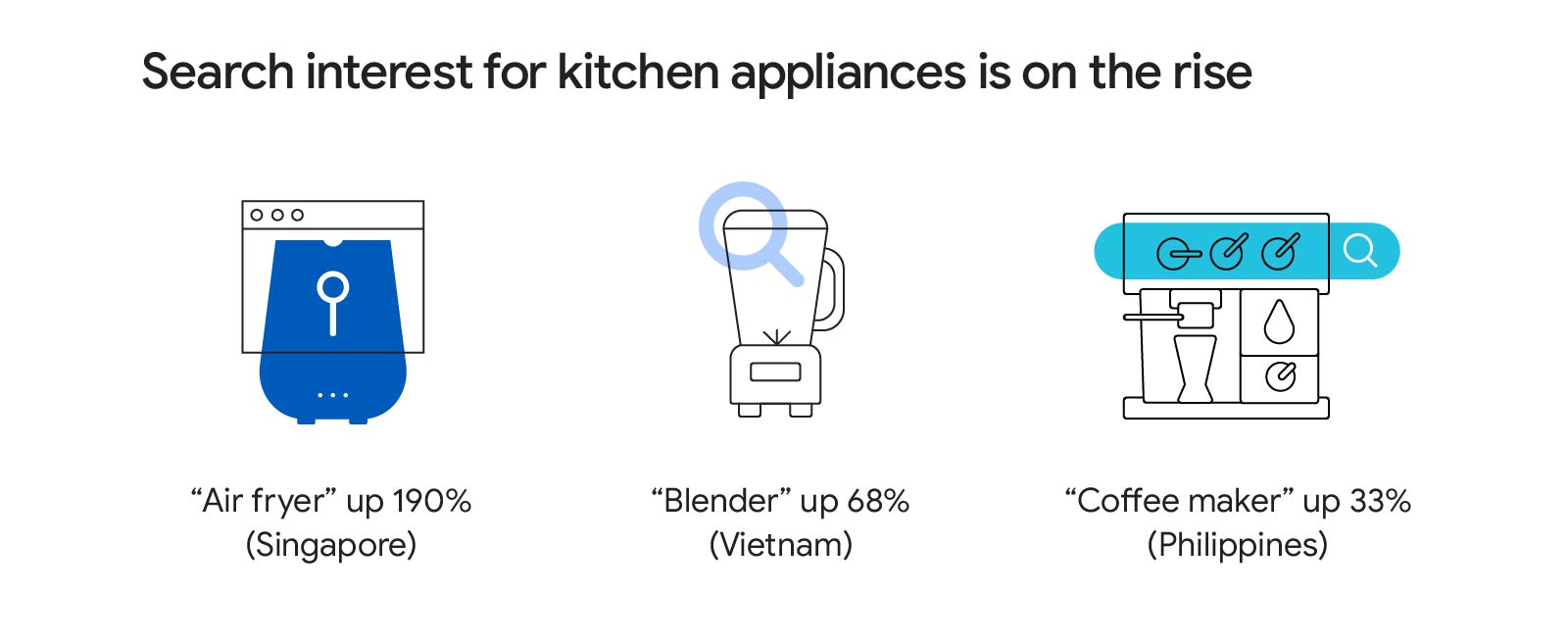 With less time spent outdoors, people have focused their attention on upgrading their indoor living spaces. In Thailand, search interest for "home automation" jumped by 95% during the peak lockdown period. And "smart TV" search interest in Malaysia grew by 39% as people searched for ways to improve their at-home entertainment.12,13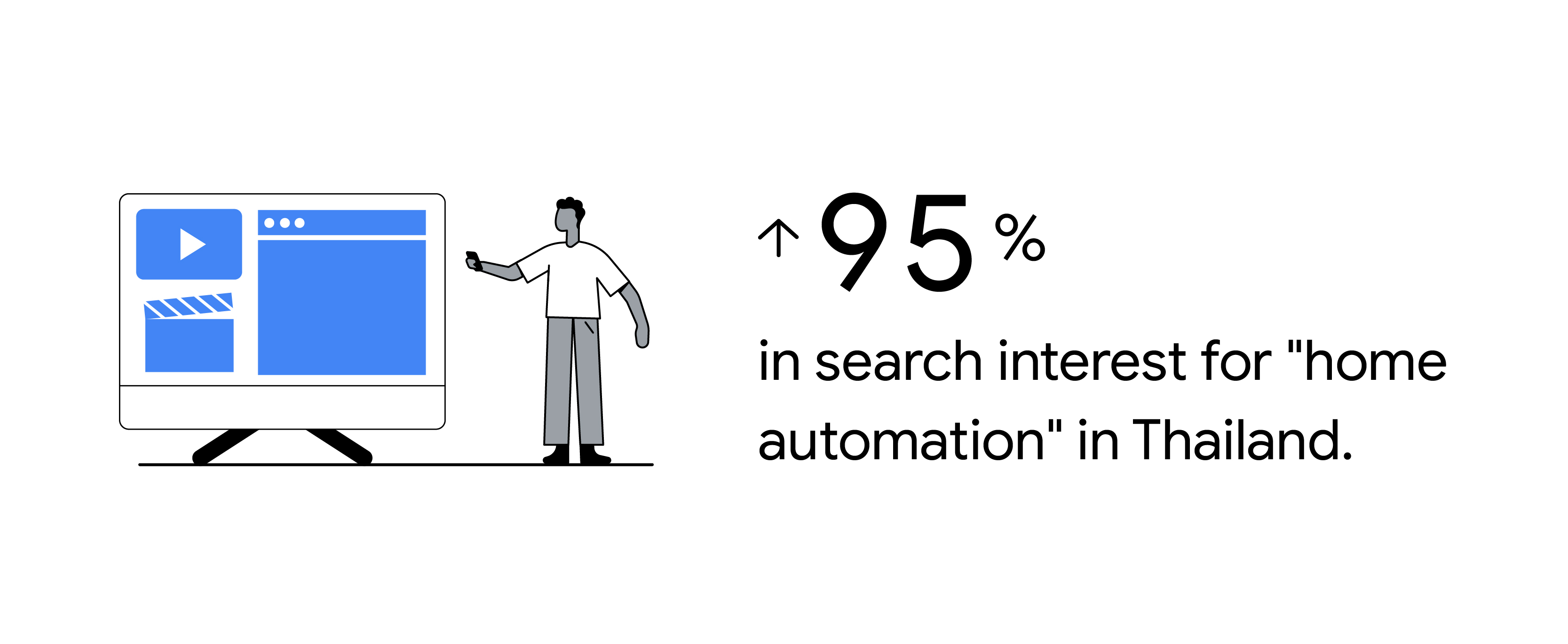 This time was also an important opportunity for people to take stock of their healthier habits. Globally, search interest for "vitamin" grew by 40% on the previous year, with the highest concentration of searches peaking in the Philippines, followed closely by Indonesia.14 Singapore also recorded the highest concentration of search interest for "lutein" (a type of eye vitamin) as people's time spent in front of screens increased while working from home.15
Despite the rise in search interest for certain items, marketers should be wary of the financial effects COVID-19 have had on households. In fact, 48% of surveyed Singaporeans said the pandemic will have a big or dramatic impact on their personal/household finance, and this number is as high as 87% in the Philippines.16
As consumers will be spending more cautiously, promotions, discounts, and deals are top of mind — 55% of Singaporeans said they would be willing to wait for a promotion before buying their delayed purchase, and 40% said they are looking to trade down to a cheaper alternative.17
Offering trade-down alternatives will be key in helping marketers capture delayed demand in the nonessentials. Retailers will need to think about pricing and creative ways to destock inventories, and 2020 shopping festivals could become key levers to industry growth.
During this time, it's important to stay plugged in to changing consumer mindsets and understand the best way to put your promotions in front of customers. Learn how consumers are likely to sustain rewarding habits they formed during the lockdown that will have a lasting impact on the way they engage with your brand in the future.
"All meaningful, lasting trends in consumer behavior are founded on a fundamental human need or want, and with e-commerce, it's often about convenience," said David Mattin, evangelist-at-large at the independent consumer trends firm TrendWatching. That's what will make this a lasting behavior shift among consumers. And no doubt we'll see their e-commerce use broaden even further in the months ahead."