Yet with global IT spend expected to reach $3.8 trillion in 2020 (in areas such as enterprise software, IT and communication services, devices, and data center systems), and 3 in 5 businesses planning to increase IT spending over the next 12 months,1 it's clear that this audience segment is an important one. There are, on average, 11 IT influencers involved in the B2B decision-making process (e.g., the CTO, IT analyst, IT architect, etc.), and each of them has different priorities and objectives, depending on where they fit in the company structure.2 With these different layers of motivations and hierarchies, simply knowing the job function or official title of an individual decision maker to reach out to is no longer enough. Brands must know what ITDMs are searching for, and then use these intent signals to reach them in that moment, through the right channel.
To help brands do that, we conducted a quantitative research with Ipsos into this audience segment in Southeast Asia (SEA). In the process, we found some common and some not-so-common behaviors of this important audience.
ITDMs conduct a lot of research, and they assign specific roles to each channel of information
For major enterprise IT purchase cycles that can take anywhere between three and 12 months to complete, it stands to reason that decision makers conduct a lot of research.3 The majority of ITDMs (97%) actively search for information while planning, conducting an average of 5.2 planning-stage activities such as comparing price plans, bundles, and service offers between different providers, reading reviews, and talking to others about their experiences.4
At the same time, they also use each touchpoint for very specific purposes. For instance, search helps ITDMs compare IT products and services offered by different brands (+28.3pp vs. other touchpoints), while direct websites are a means to inform themselves about specific service or product features about an individual brand (+21.8% vs. other touchpoints).5
It's worth noting that direct contact with sales representatives continues to remain important, as ITDMs reach out to them to find out more about the price, delivery terms, and warranty levels, among other details (+37.3pp vs other touchpoints).6
This means brands can reach ITDMs during the planning phase by serving them the information they are looking for, through the channels where they seek it. For example, you can use informative search ads that include information such as price points and product specifications (some of the most common comparison criteria). And on the brand website, ensure detailed product features are easy to find. By showing the right message on the right channel when the consumer is looking for it, brands have a chance to win ITDMs over.

ITDMs are selective, and they are also receptive to ads
After conducting ample research, when it comes to making a selection, ITDMs narrow down their choices to 2.1 brands, which is fewer than the 4.3 brands considered by mass consumer goods buyers, given the complexity of the IT products.7 This complexity also means the purchase cycle can extend up to 12 months.8
Luckily, ITDMs are receptive to relevant advertising up to three months before the purchase.9 During this consideration phase, they take into account more than 15 factors, including product and service reliability, after-sales service, and customization.10 Brands can ensure that they are part of the consideration set by including these features in their messaging, and using advanced audience solutions to find the right segments to serve it to.
ITDMs are offline buyers, but open to online purchases
Even though direct and offline sales continue to account for more than 73% of B2B purchases, ITDMs are channel-hopping shoppers in that 90% of their direct and offline purchases are influenced by digital touchpoints.11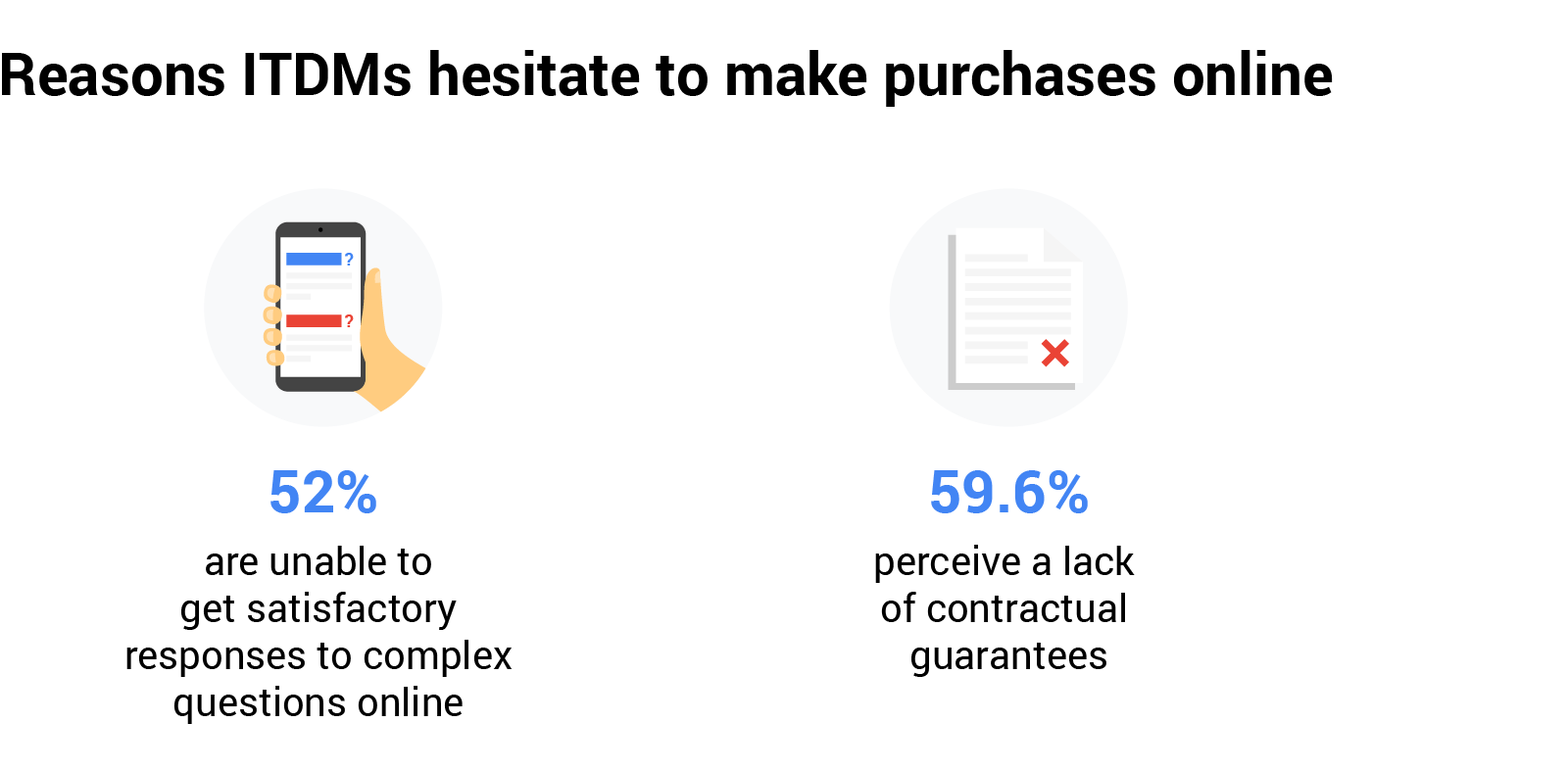 But 1 in 5 ITDMs who purchase offline actually show an interest in completing their purchase online.12 They are currently hesitant to do so because they can't get satisfactory responses to complex questions online (52%) and they perceive a lack of contractual guarantees with such transactions (59.6%) because they feel they may be invalid or fraudulent.13
Brands can cross these barriers by investing in live online support to provide clarity on questions, and having clear terms and conditions that are easily discoverable on the website. This way, they can build trust among ITDMs and ensure they have a smooth online experience.
ITDMs seek after-sales support, and continue to seek alternative options
The complex nature of the IT product or service means the need for support continues long after the purchase. ITDMs use channels such as Search (33.4%), YouTube (24.5%), and contacting sales reps (64%) for troubleshooting.14 Yet, interestingly, 3 out of 5 buyers seek alternative options when it's time to renew, even if they are satisfied with the service.15
This means closing the deal is no longer enough with ITDMs. Engaging them online and offline to ensure a positive after-sales experience is very important. Whether it's a post-purchase follow-up call, having a clearly discoverable FAQ section on the website, or showcasing tutorials or "how-to" videos on their official YouTube channel, brands can anticipate and address this audience's needs even before they arise.
Being helpful throughout the customer journey
Although the decision-making process is longer, brands that understand the importance of helping the customer can reach ITDMs in their moment of need. With the right channels and the right message to address that need, they can win over this important audience every time.
Methodology
Google partnered with Ipsos on custom research to uncover insights about how ITDMs use various channels in their purchase journeys. In May 2019, online surveys were conducted with 1,350 ITDMs across Singapore, Thailand, and Indonesia. Respondents who answered the survey were ITDMs who had purchased IT services (broadband and mobility, cybersecurity, and enterprise cloud solutions) in the past year.