Photo and video apps were the third most downloaded app category across the globe in 2018, generating more than $950 million in app store revenue.1 In our latest research, we found culture plays a heavy role in consumers' usage of photo apps. For app marketers and developers, understanding this cultural influence is critical to developing products that resonate with users in different markets.
From taking goofy selfies to sharing pictures with family, photo apps have a wide range of uses. The nuances of usage also vary from market to market — smartphone users in India tend to use apps more for sharing photos with friends than those in Japan, who primarily use apps to edit photos.
To help app marketers and developers better understand how consumers discover and use photo apps, we surveyed 1,800 iOS and Android users who use photo apps at least weekly across China, India, Indonesia, Japan, Korea, and Vietnam.2
The most eye-opening lesson was that culture affects how beauty is perceived and, as a result, how people use apps — from the types of photos being taken to how they edit them. Below, you'll discover insights into this crucial audience and their behavior throughout the user journey and find out how marketers and app developers can win their loyalty.
How photo apps are discovered
When APAC consumers can't get what they need from pre-installed photo apps with limited features, they start searching for alternative options. In our research, we discovered that the main motivation for using a photo app is driven by a common, unifying desire to store memories. Reliving these memories is important, so consumers put in a lot of effort to create the very best versions of the photos they take — whether they're pictures of themselves or of something else.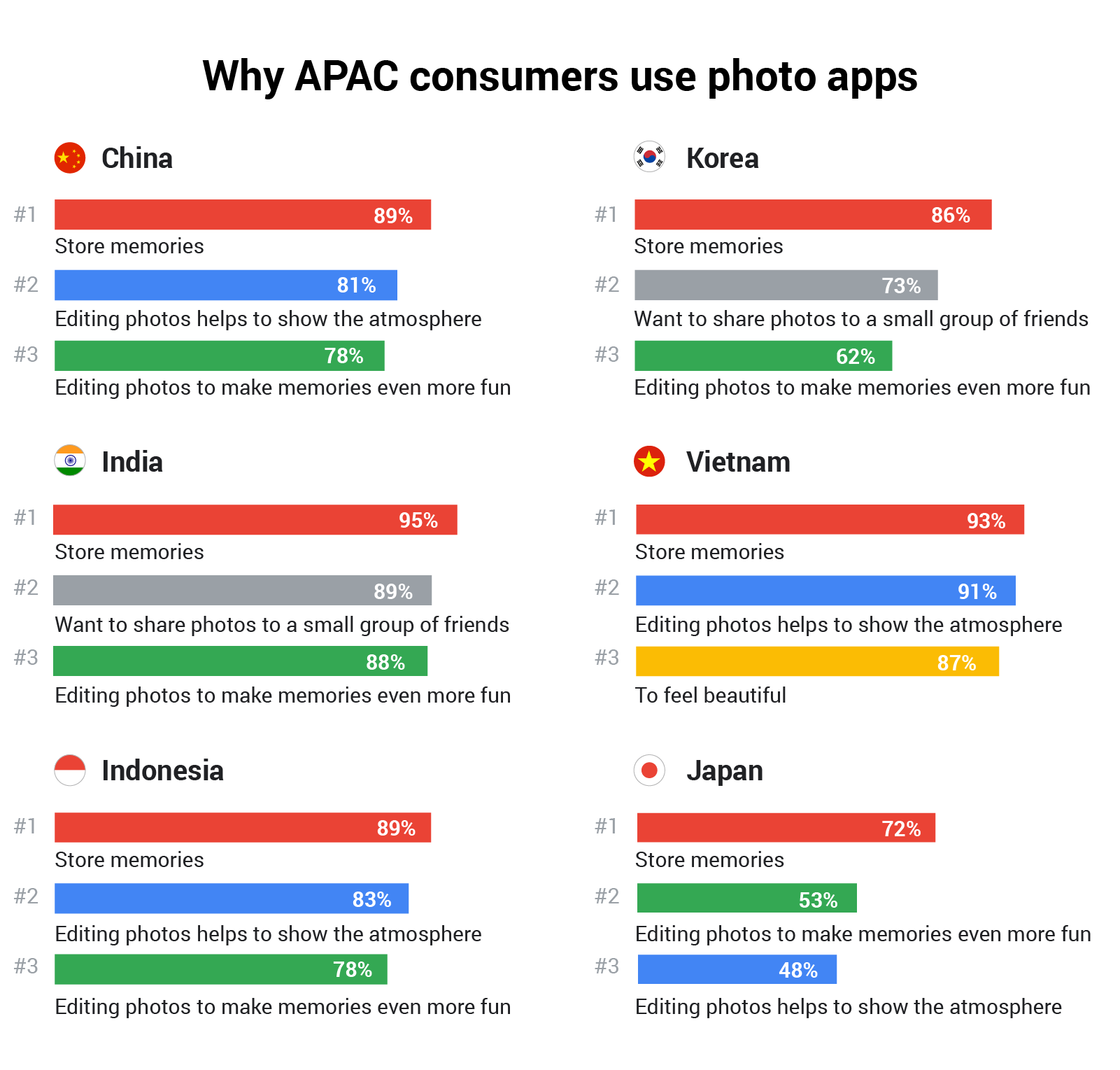 Smartphone users in India (43%), Indonesia (55%), and Vietnam (49%) download new photo apps to create better quality photos, while 31% of users in both China and Korea try them to achieve a specific look (keep reading for more). The popularity of an app and the desire to improve photography skills can also trigger users to seek out and download a new photo app.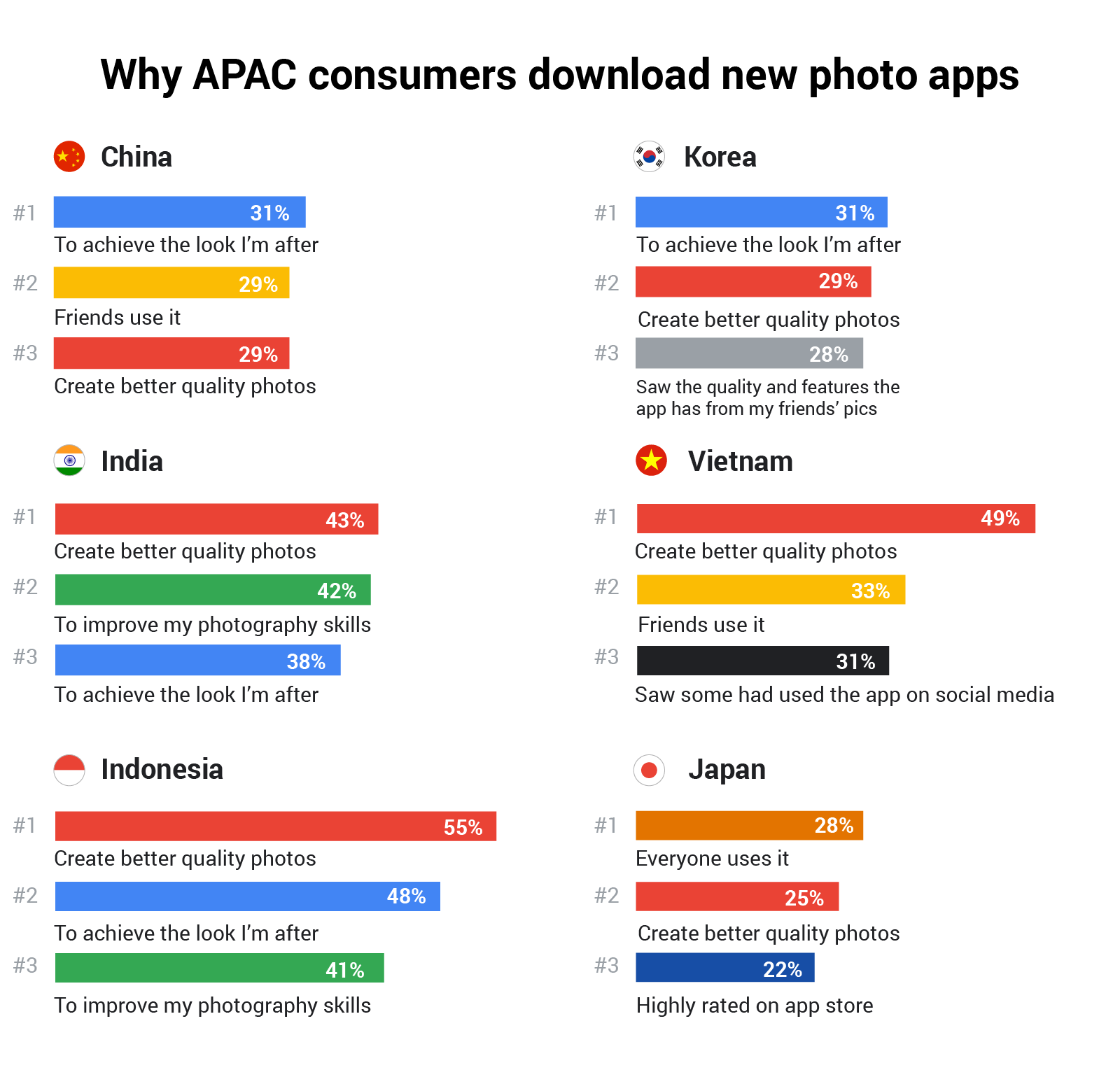 Our research showed that another means of discovering photo apps involves users' relying on positive word of mouth and the app store. Social media is also prominent in China and Indonesia, where 39% and 50% of users, respectively, use it as their primary source of discovery. Users in India and Indonesia also rely on ads on video sites to find out about new photo apps.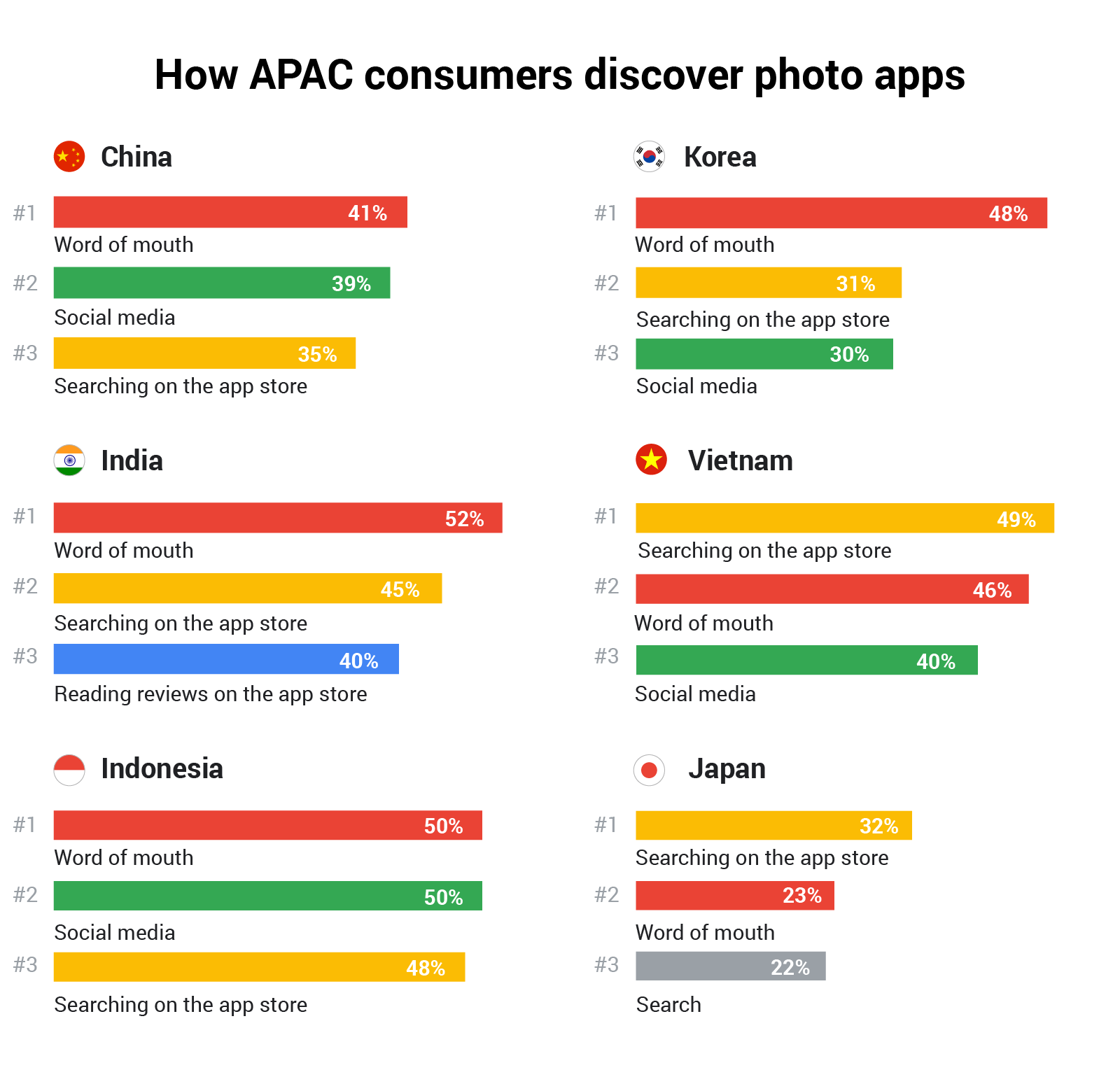 How people use photo apps
We may have identified a common reason why APAC users download photo apps, but the way they use them and the features they prefer often vary from market to market. For example, consumers in India (76%) and Indonesia (79%) primarily use photo apps to take selfies, while those in China (72%) and Vietnam (68%) use them to take photos of family and friends. Meanwhile, photos taken by users in Korea (85%) and Japan (76%) are usually of landscapes or landmarks.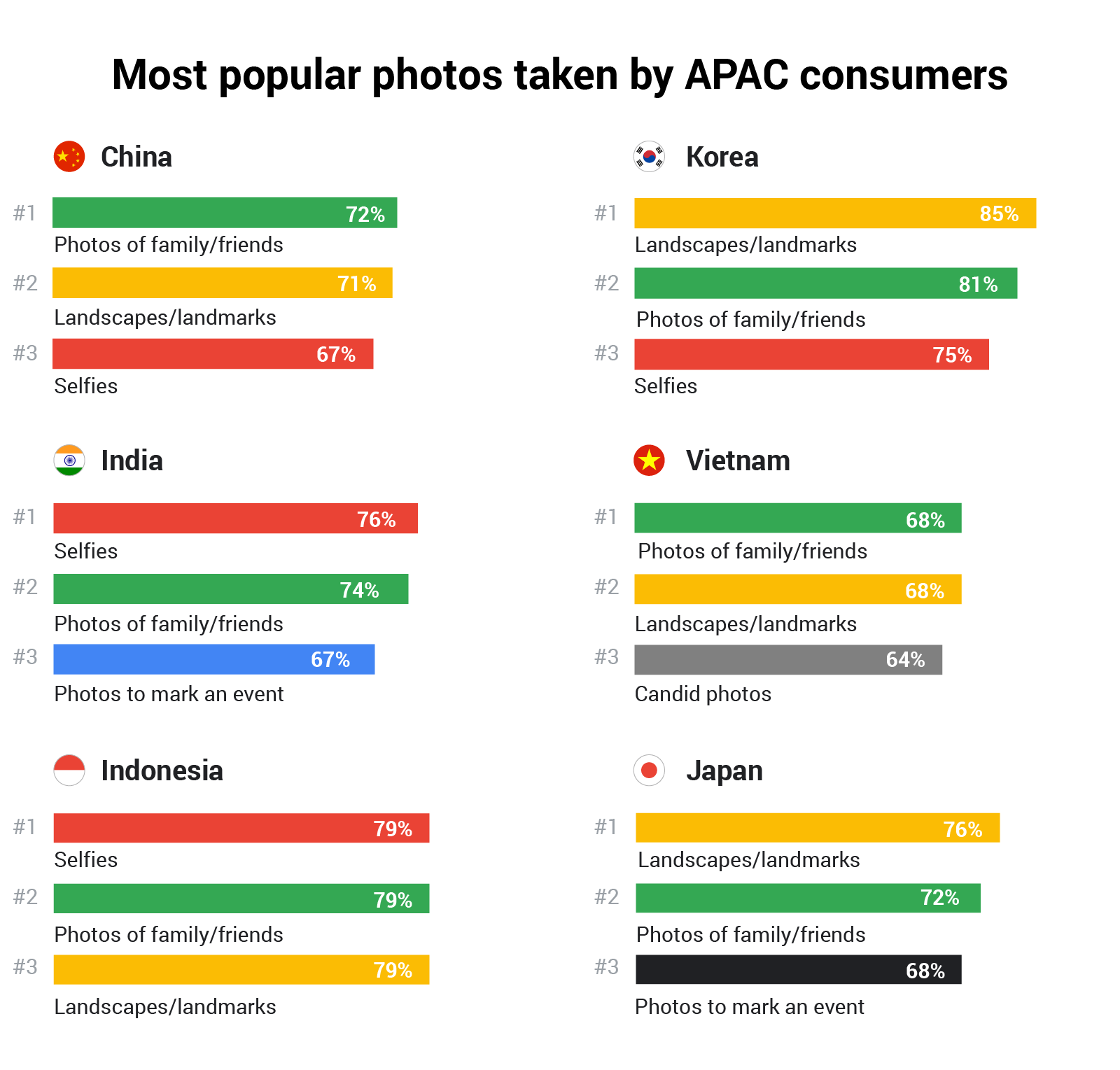 Different markets also edit photos for different reasons. While users in all six markets use photo apps to create their ideal version of a captured moment, how they define ideal is driven by cultural nuances. Here's a breakdown of the cultural norms around editing photos in each country: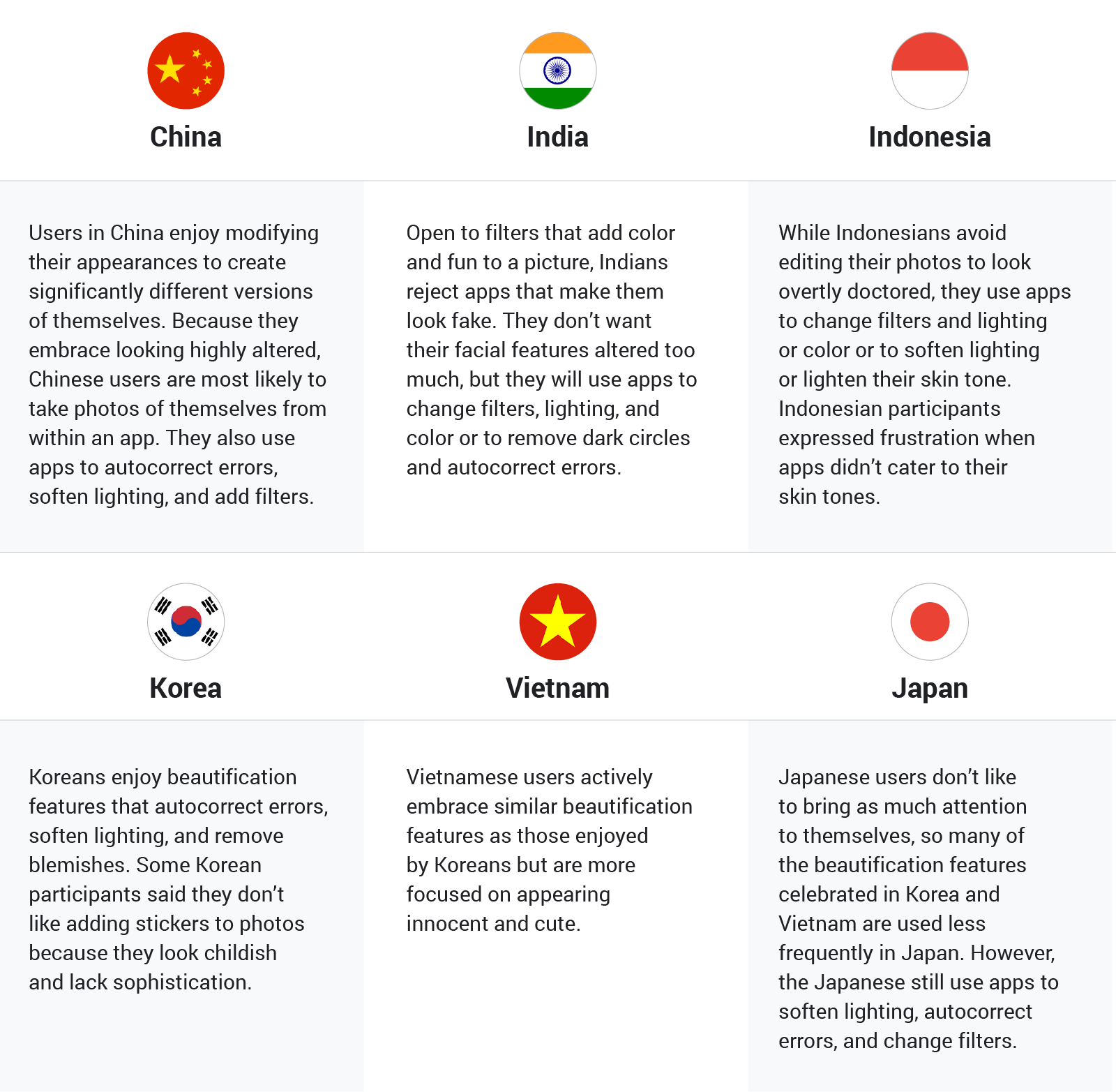 From taking and saving a photo to editing and sharing it, there isn't one perfect app for photographers to use across all stages of their photo journey. That's why users end up relying upon a number of different apps to create the ideal picture. For example, consumers in China have as many as six photo apps installed on their phones at once. Meanwhile, consumers in China, India, Indonesia, and Vietnam download new photo apps as often as once a month.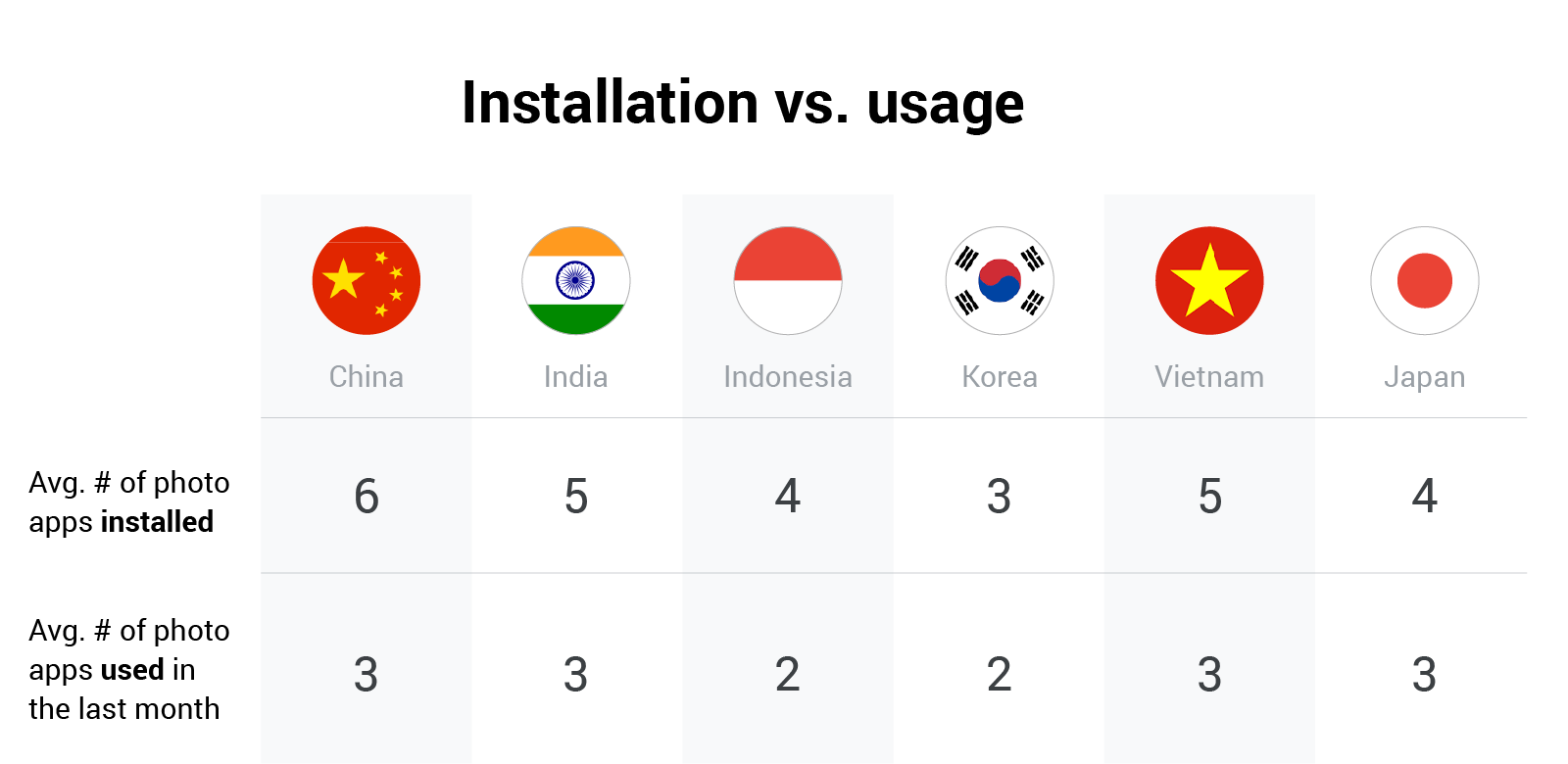 How to reduce churn rates
With users installing and uninstalling apps at similar rates each month, app churn is common across APAC. In fact, while 74% of users in Vietnam and 72% of users in India install photos apps monthly, 60% and 70% of them, respectively, also uninstall them. This behavior suggests users will download apps to test their features and delete the ones they don't like.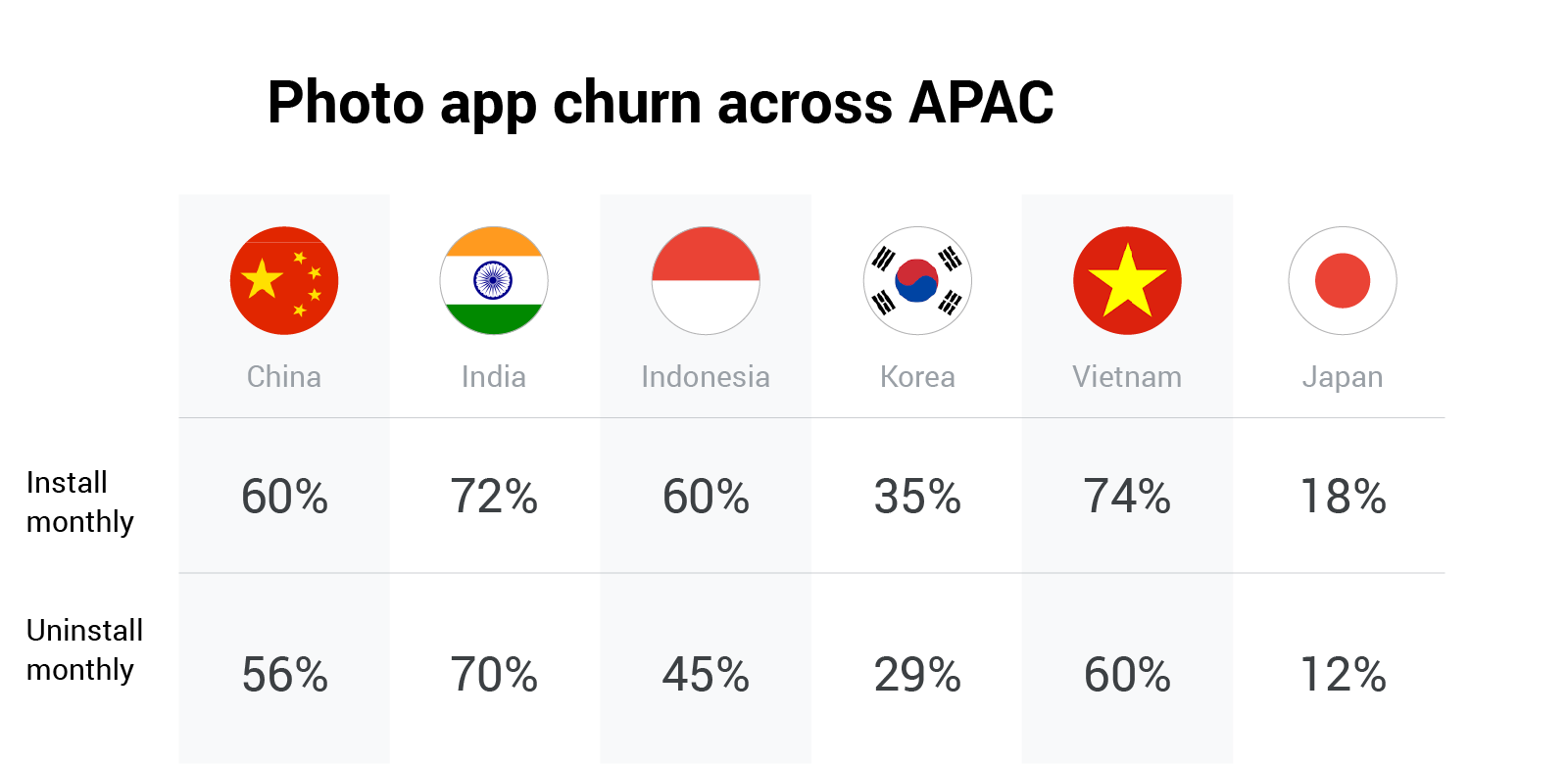 So what drives someone to uninstall a photo app? Users in China (27%), India (38%), and Indonesia (42%) will uninstall an app if it takes up too much memory, while those in Japan (29%) and Korea (33%) will only keep an app on their phones if they use it frequently. Interestingly, 39% of users in Vietnam claimed they are driven to uninstall photo apps if there are too many ads.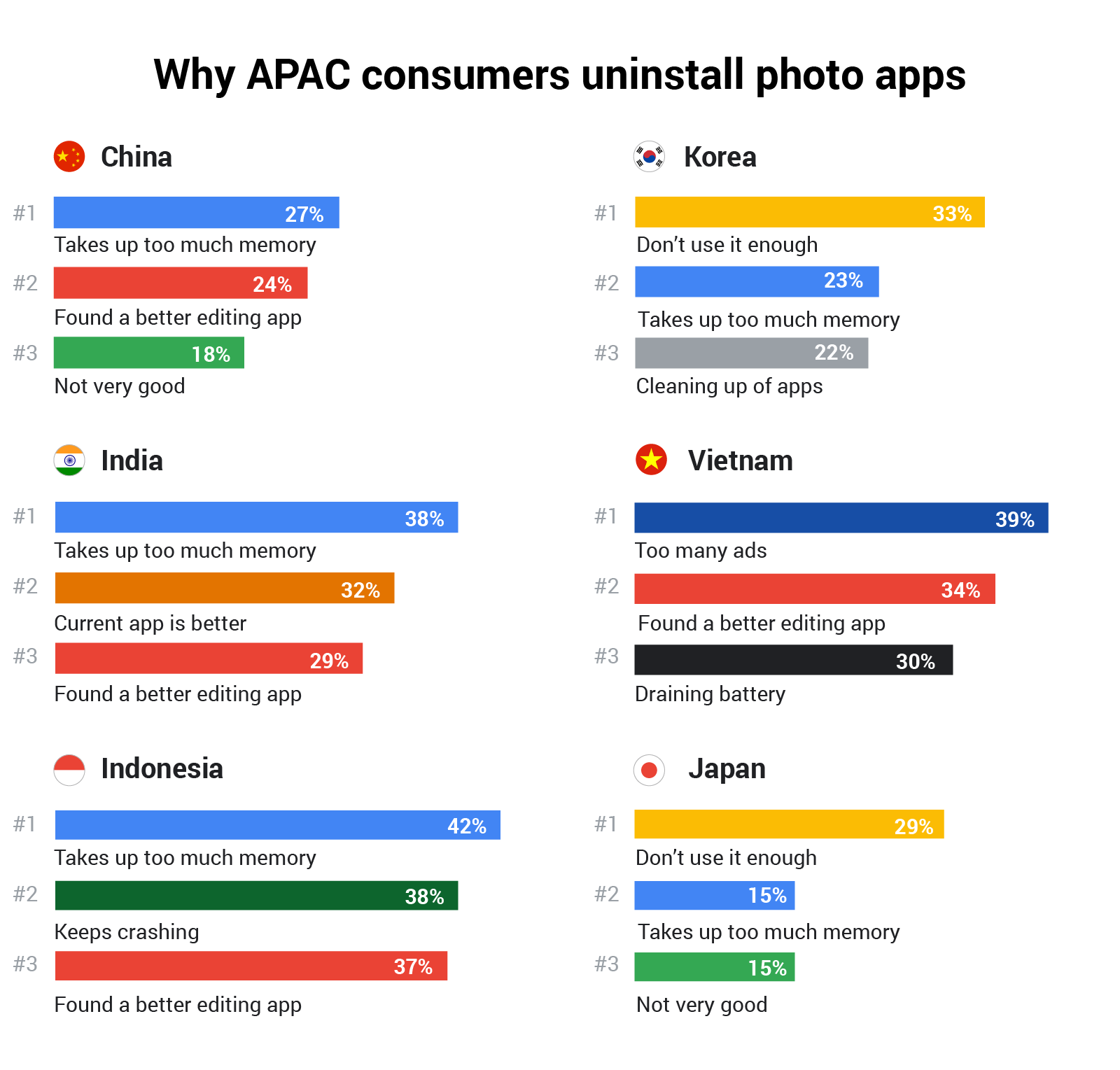 How to meet each country's specific needs
APAC users have an appetite for hyper-local, market-specific features, which means developers have an opportunity to be more relevant, boost engagement, and capture user loyalty by offering the most popular features in each market.
Features to lead with in China are autocorrect and blemish removal, while Indians and Indonesians prefer personalization features like emojis or stickers. Beautification features have the highest reach in Korea and Vietnam, while developers in Japan should focus on both beautification features and providing more filters.
By gathering insights and determining which features are most sought after in their market, developers can create apps that will keep APAC users snapping, editing, and sharing into the future.