More than 70% of gamers in APAC play mobile games every day.1 For mobile gaming companies, understanding why users want to play certain games is crucial to delivering experiences that keep them engaged and coming back for more.
By 2021, the gaming market is expected to hit $180B in worldwide revenue. As the fastest-growing segment within this market, mobile gaming is projected to claim 59% of this revenue and be a $106B industry. Most notably, the majority of that global revenue is projected to come from APAC.2
To help game developers and marketers better understand how users discover mobile games — and more crucially, why they download and play them — we embarked on new research using a representative survey of smartphone users from the region's biggest gaming markets: India, China, Indonesia, Vietnam, Korea, and Japan.1 The results revealed fresh insights about this fast-growing audience and how gaming companies can tailor their marketing and communication strategies.
More than one motivational factor at play
In our research, we discovered nine common factors that motivate gamers to play: adrenaline, aspiration, entertainment, escapism, competing, socializing, killing time, relaxation, and training their brains. Furthermore, we found that gamers were driven by multiple factors at any given time. Based on the most recurring combinations of these factors, we identified four unique gamer mindsets — which we call "need states" — that define why mobile gamers want to play certain games:

While gamers driven by each of these need states appear in every country, it's worth noting that some emerged more strongly in certain countries, as seen below: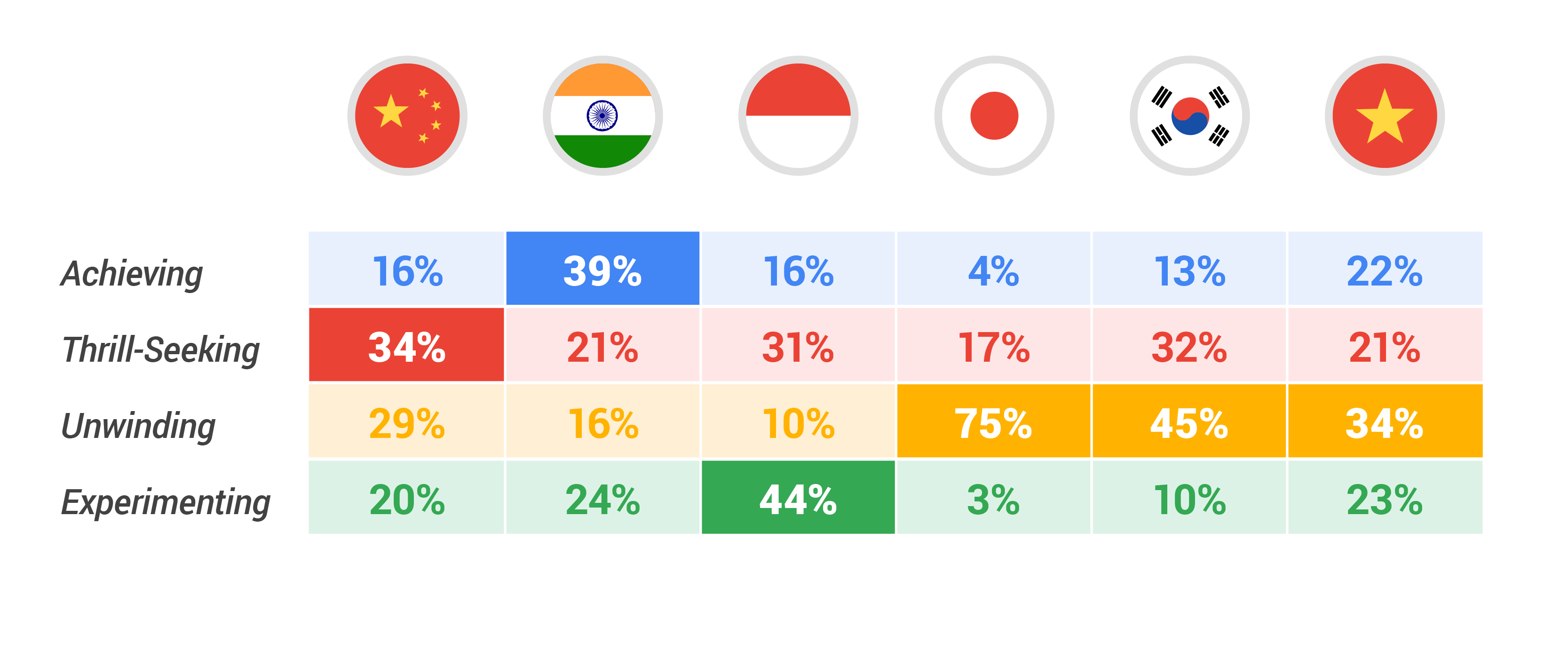 As the mobile gaming population in APAC continues to grow, game developers won't get far with a one-size-fits-all strategy when acquiring and engaging gamers.
Use the dropdown menu below to explore how each of these different need states influence what gamers play and how they play — and how to keep them engaged over time.
How mobile gamers find new games to play
Our research also showed that when it comes to discovery, gamers across APAC rely heavily on word-of-mouth recommendations and the app store — specifically, searching for games in the app store and browsing featured apps. Social media is another important resource in most markets, especially Indonesia and China, where 53% and 40% of gamers, respectively, use social media as their primary source of discovery.
A rising trend is the influence of ads on video sites. In four of the six countries we surveyed, video ads were one of the top sources of discovery for new games.
Top sources of app discovery in APAC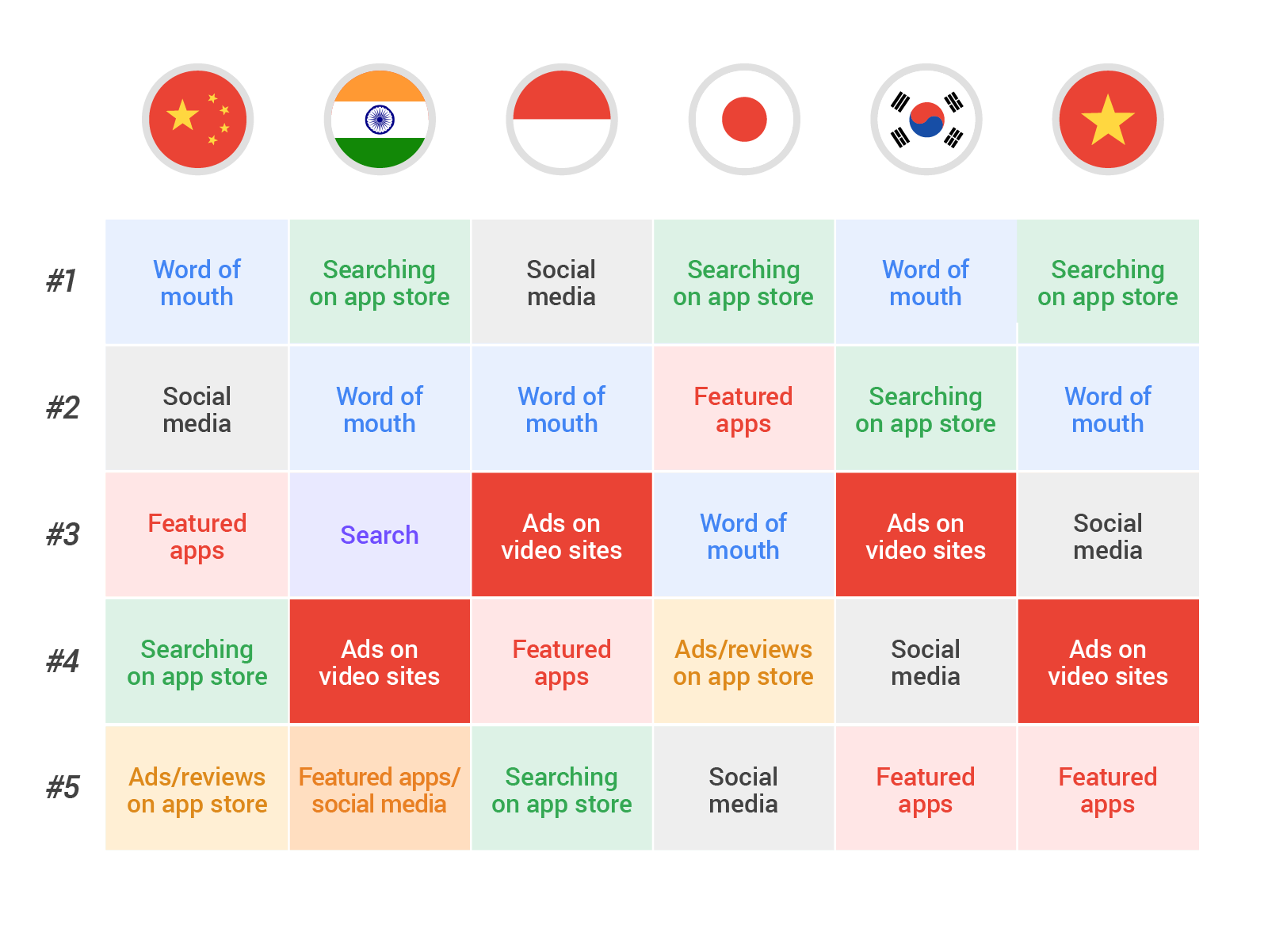 End game: Tap into the need states of mobile gamers
Before launching a new game or planning your marketing strategy, go beyond the gaming genre or consumer demographics and consider the different "need states" that your game will appeal to. Focus on showing up where users are most likely to discover and engage with  your game, and then drive results on those touchpoints by aligning with the factors that drive them to play. There's an opportunity to personalize from the starting point of an app lifecycle — such as the app store — from creating custom in-game events to tailored content and push notifications.
Today's gaming companies have an unprecedented opportunity to showcase the unique aspects of their games. Whether it's shifting the tone of an intro video, highlighting leaderboards in your game, or encouraging users to leave reviews that speak to specific need states, understanding the nuances in gamers' reasons for playing is key to keeping them engaged.
Methodology
In 2018, Google partnered with Kantar TNS on custom research to gain a deeper understanding of gamers' usage, attitudes, and motivations toward gaming. In-depth interviews were conducted with 48 gamers and online surveys were conducted with 2,400 respondents across six countries in Asia Pacific: China, India, Indonesia, Japan, Korea, and Vietnam. Respondents who answered the survey were smartphone users between 18 and 64 years old who used mobile gaming apps at least once a week.