Christmas is Philippine's biggest shopping period.
Christmas-related search queries have grown in volume and increasingly conducted on mobile phones.
Searches for "pizza" and "ham" peak on Christmas Eve and New Year's Eve.
Watch time for "hairstyles" content on YouTube in December grew by 71% YoY.
1. Christmas-related searches are now bigger, longer, and more mobile
Christmas in the Philippines is an experience filled with food, gifts, well wishes, and music. But recent search data from Google and YouTube also reveal that it's also a time when Pinoys go online to seek advice, solve problems, and get ideas to make the best Christmas possible.
Christmas has become longer
Filipinos love Christmas—so much so that preparing for the holidays as soon as we hit the "-ber" months is natural for us. Christmas-related search terms (from Google Search and YouTube) in the Philippines start ramping up as early as August, and we've seen from 2017 search data, that people began thinking about festive decorations and celebrations as early as July this year. Search activity builds throughout October and November before finally peaking in December, but we can also see that post-Christmas fever extends all the way to February.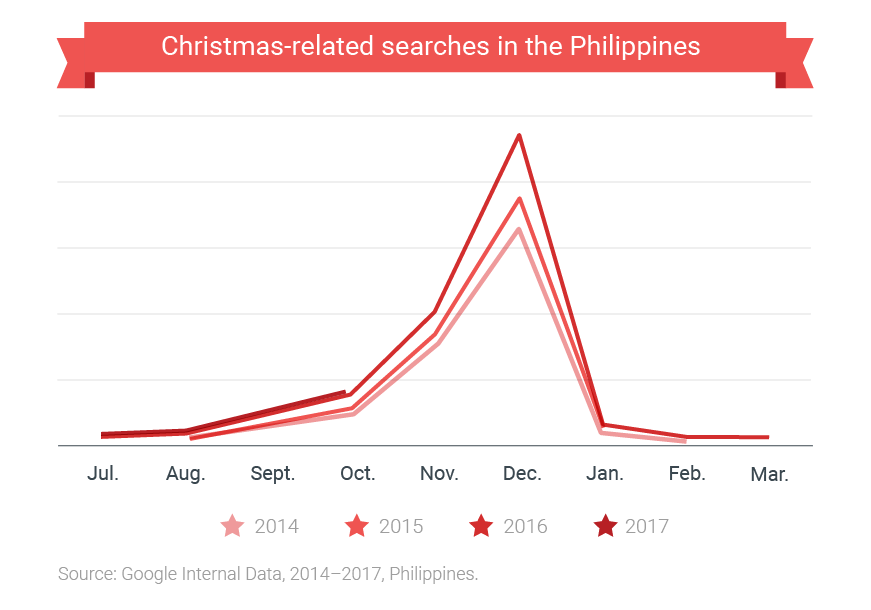 Christmas has become bigger
The total volume of Christmas- and gift-related searches is also growing year over year (YoY) as more and more Pinoys look for gift ideas and help with planning and celebrating the season. The total volume of searches grew by 12% YoY in 2015. It grew by an even bigger margin of 24% YoY in 2016.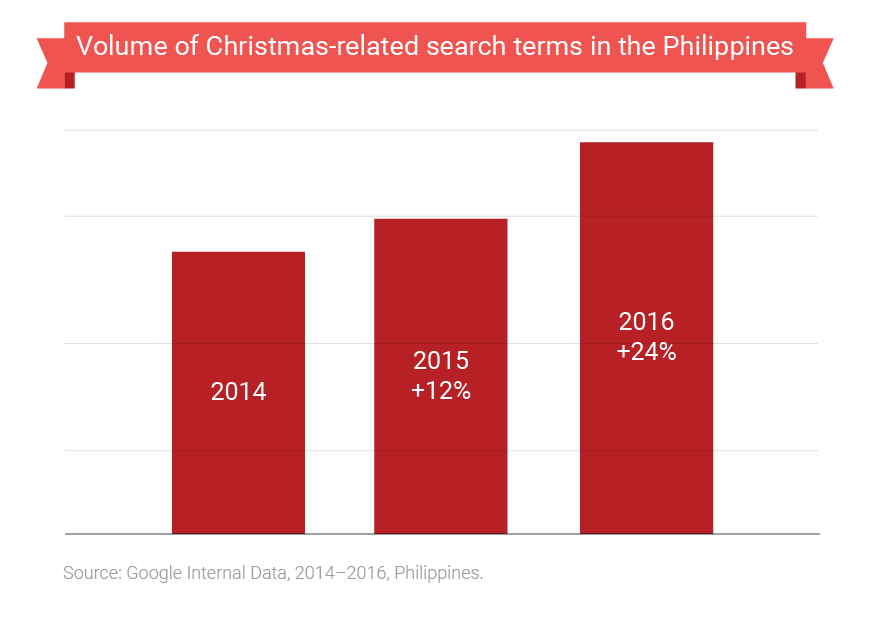 We've also seen that as early as November, Pinoys not just in Metro Manila but also in key provinces start searching for Christmas-themed experiences. In 2016, we saw an increasing trend of Pinoys searching for "light shows" and "Christmas-themed villages". This year, we're also seeing "Nuvali Christmas Lights"—an award-winning light show featuring more than 5,000 LED lights on a large open field—as one of the breakout searches on Google Trends.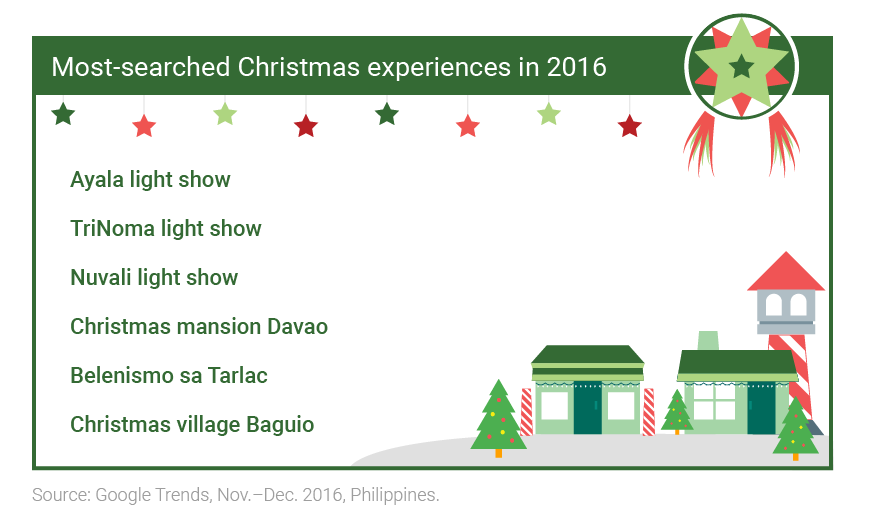 Christmas has become more mobile
In 2016, 46% of Christmas-related searches were on a mobile device. That's 18% more than in 2015 and a reflection of how Pinoys are becoming increasingly mobile-first. In fact, the closer it gets to Christmas and as help finding the best ideas and solutions becomes more urgent, the more mobile-driven the searches become.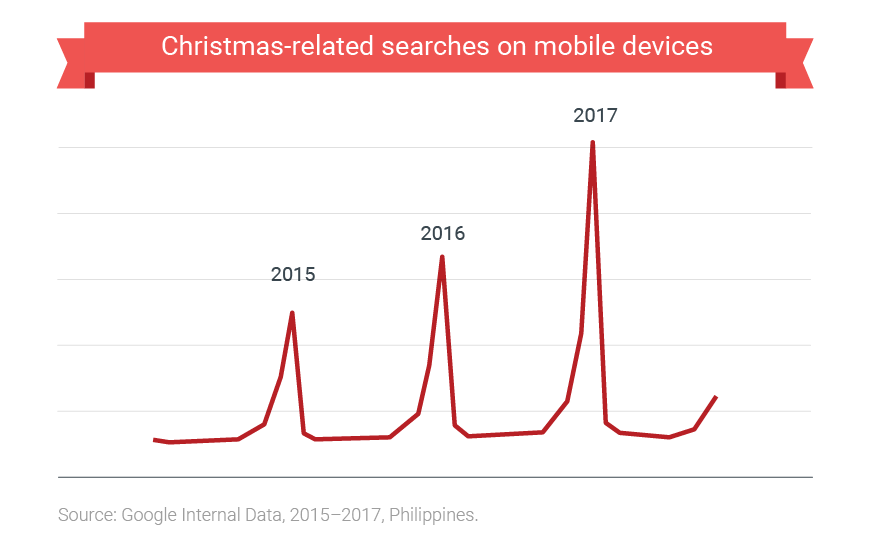 2. The Pinoy holiday handaan is indulgent and immediate and should be easy to prepare for
The height of all social gatherings occurs in the Christmas season, with office parties and reunion meals filling calendars before and after Christmas and New Year's Eve. These celebrations have become a smorgasbord of not only home-cooked dishes but also platters of shareable food items delivered by quick-service restaurants (QSRs) and pizzerias to name a few.
When it comes to Christmas-themed, home-cooked meals, the search is on for recipes for creamy pasta dishes and indulgent desserts. Top search terms related to the Pinoy holiday handaan ("feast" or "spread") include "macaroni salad," "carbonara," "lasagna," and "spaghetti." The same search behavior can also be seen on YouTube, where viewers are looking for recipe instructions and demos.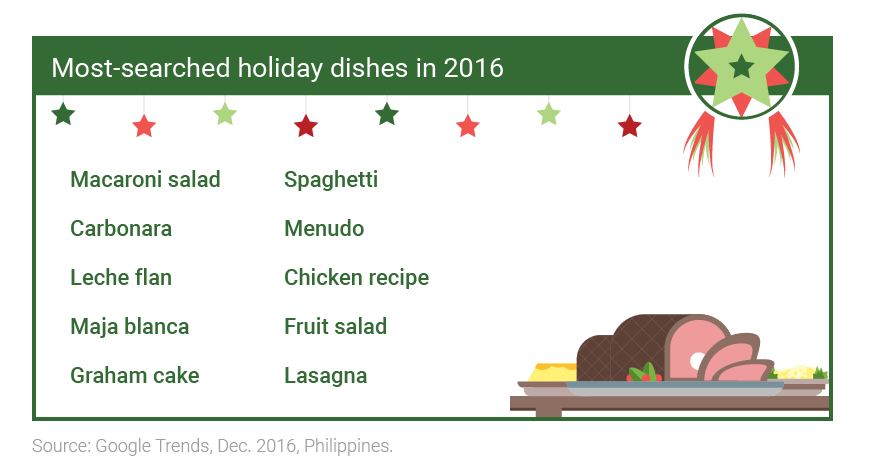 "Pizza" and "ham" searches peak on Christmas and New Year's Eves
With parties, reunions, and get-togethers taking place throughout the season, we've also seen an interesting trend of searches for "pizza" peaking on Christmas Eve and again on New Year's Eve. Looking at the chart below, we compared searches for two "pizza" chains and saw that they overtook searches for some traditional QSRs on both eves.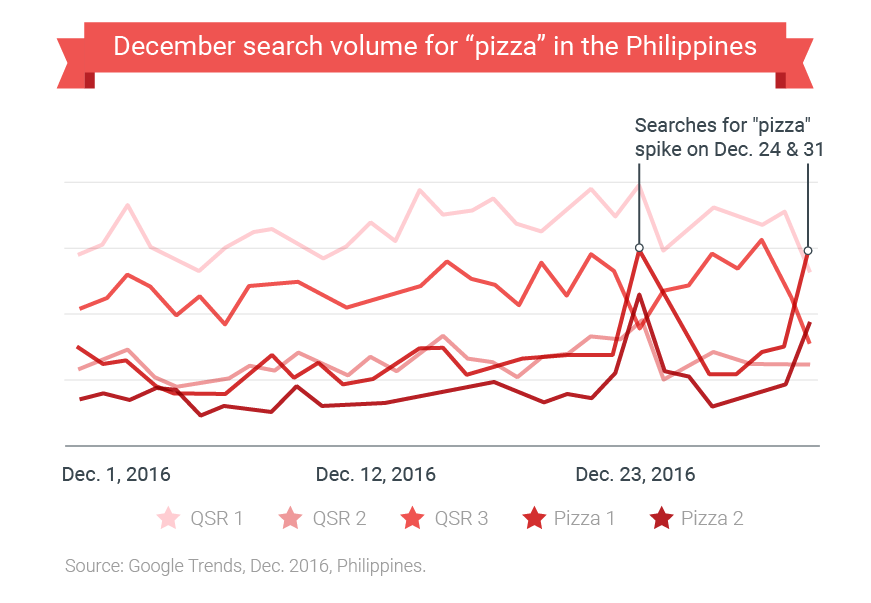 Another interesting search trend we spotted is that ham-related searches peak on December 24 and December 31, with "how to cook ham without oven" being a top search term. "No-bake cheesecakes," "refrigerator cakes," and "graham cakes" are also popular search terms during this time of the season, reflecting how Pinoys want to serve easy-to-prepare, indulgent dishes with none of the fuss or need for expensive cooking equipment.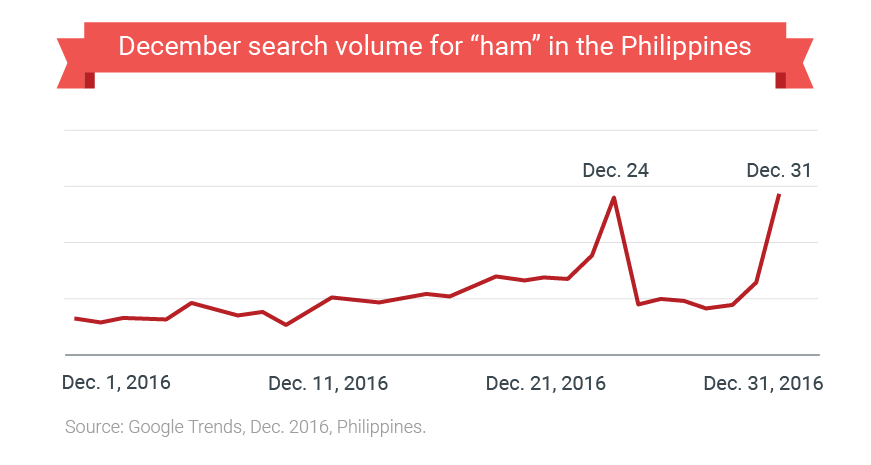 3. Pinoys get into the holiday mood with music, makeover tips, and financial readiness
Music is an integral part of Christmas celebrations, and in the Philippines, this is no different. In fact, watch times for Christmas-related songs and videos increase by 10% from November to December. Searches for Christmas songs and jingles by Pinoy singers also peak in December as people turn to YouTube to listen to Christmas songs during the holiday season.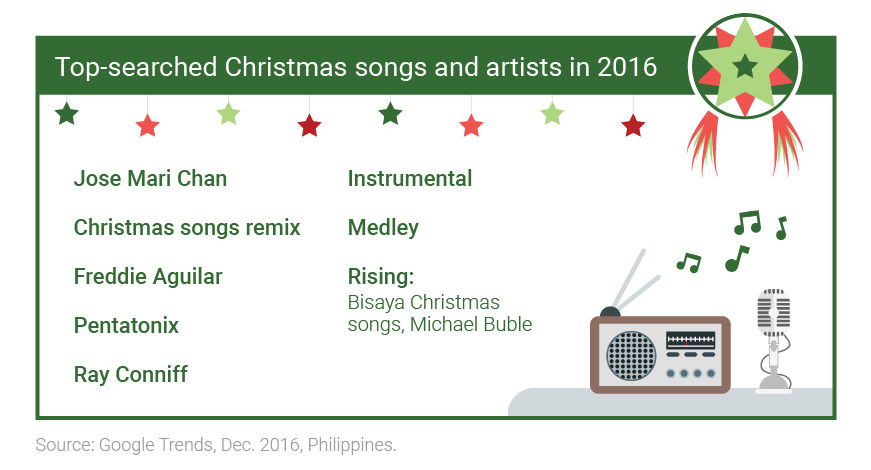 Christmas is a time to look your best
With Christmas being a time for parties and reunions, Pinoys are also looking for instant grooming and makeover solutions to help them look their best during the holidays. We see a seasonal rise (+12% from November to December) in search volume for keywords such as "eye bags," "dark spots," and "whitening."
YouTube watch time for "hairstyles" also grew by 71% YoY in December 2016 as Pinoys searched for video tutorials on beauty tips and solutions. Men aren't left out either; searches for "hairstyle for men," "men's haircuts," and "fade haircut" also comprise top grooming-related searches in December. Searches for "hairstyles" also grew by 26% YoY in December 2016, with a 9% growth from November 2016 signaling increased interest in hairstyles in the last month of the year. Historically, December is the month with the highest search volumes for hairstyles.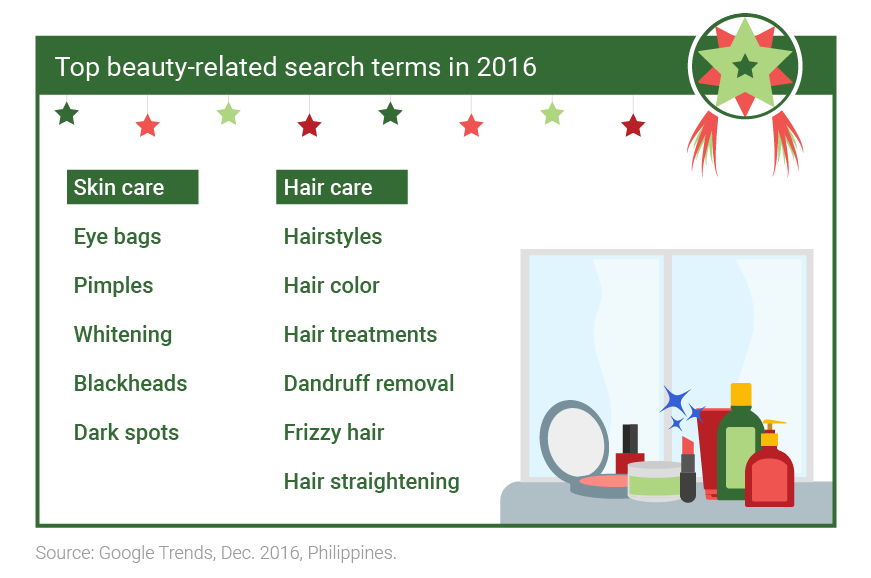 Money matters
And with all the eating, shopping, and gifting going on in the months leading up to Christmas and on Christmas itself, it's no surprise that searches for "credit cards" also start to rise in July, steadily building into September before peaking about a month before Christmas. Historically, November is the month with the most searches for credit cards, which are driven by searches for credit card promos, points, rewards, and applications. This suggests that consumers are looking for credit cards that can offer generous "0% installment plans" and "buy now, pay later" deals that are popular during the festive season.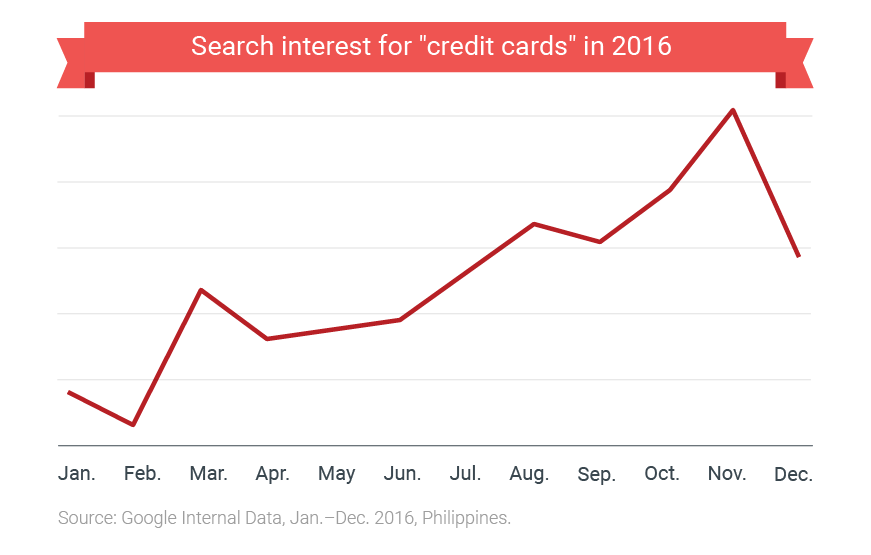 Top three takeaways for holiday marketers
1. Be easy to find
Draw in more Filipino visitors this Christmas by providing addresses, directions, and operating hours to those who search for Christmas experiences like light and fireworks shows, restaurants, sales, and bazaars. Make this information available on Google My Business so people can easily find relevant information about your business. Reviews and information about nearby restaurants and other activities will encourage visitors to do more when they're in the area.
2. Assist Pinoys with recommendations and fast mobile experiences
Provide easy-to-prepare food tips, recipes, and experiences and make it easy for consumers to find them. Ensure that your website loads quickly on mobile—our research has shown that 53% of mobile visits are abandoned if it takes a page more than three seconds to load. Visit Test My Site to find out how fast your website loads and the changes you need to make to load it even faster. Ensure that your mobile experience is easy for customers to use and understand to enable ease of fulfillment—from payments to delivery.
3. Get Pinoys in the mood with powerful storytelling
Play up the Christmas mood with the power of sight and sound on a platform with a captive, engaged audience for Christmas. YouTube has 95% audibility and 95% viewability—which means that nearly all videos are seen and heard by viewers. So take advantage of the opportunity so you can deliver a Christmas experience in full sight, sound, and motion—especially for food. Don't be shy about dramatizing these indulgent dishes' creaminess and thickness or the delight that comes with enjoying them.