In 2020, not only did a new wave of previously offline-only shoppers join the world of e-commerce, but those already shopping online grew even more reliant on it.
As shopping behaviors continue to evolve, an interesting set of tensions has emerged as consumers are confronted with choices that appear to be on opposite ends of the spectrum. These seemingly conflicting expectations might feel like a challenging paradox for brands. But instead of regarding these as potential trade-offs, brands who seek to give people the best of both worlds can win over a satisfied set of shoppers.
Paradox 1: Meeting consumers at the intersection of fingertips and footfalls
People have become not only comfortable with e-commerce but are starting to prefer it. For example, 38% of APAC consumers who didn't shop online before the pandemic have said they intend to continue shopping online and many businesses found that their primary storefront had shifted online.
China became the first market where e-commerce sales overtook store sales, with South Korea following closely behind at 28.9% projected online sales this year. In particular, grocery shopping has seen the biggest growth in APAC, with an average of 44% of consumers purchasing groceries online in Q4 2020 — 1.6X higher than the rest of the world.1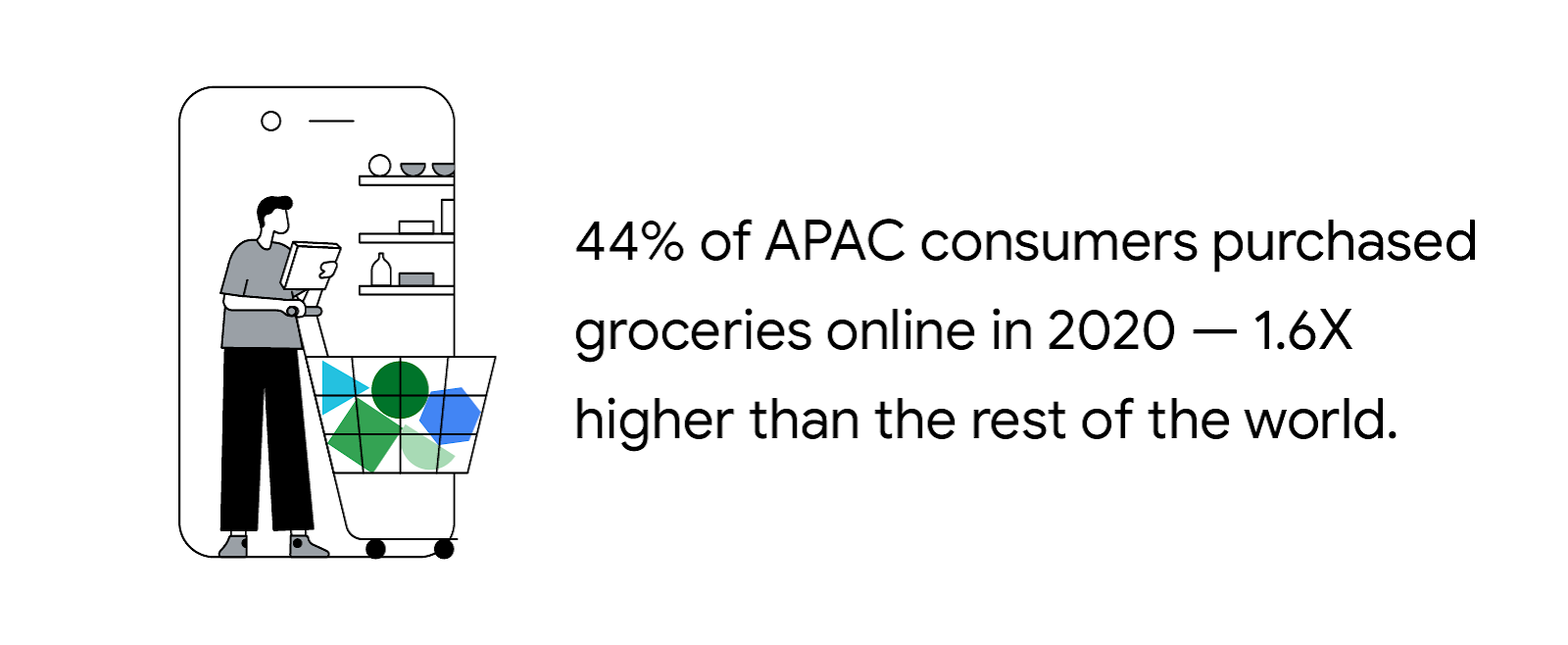 While online commerce is growing, in-store shopping remains important, especially for CPG brands.2 Even in countries that are still heavily affected by the pandemic, shoppers are continuing to return to brick-and-mortar stores.3
Every shopping experience, whether offline or online, has something that people appreciate. Rather than focusing on one or the other, brands need to think about how they can bring the best of each into the other while making it easy for shoppers to move between them.
We know that online, people enjoy access to information at their fingertips, the privacy of shopping undisturbed, seamless checkouts and the ability to search across a wide range of products and branches.
So how can physical stores replicate some of these benefits? Brands can make consumers' in-store path to purchasing easier, more informative and more helpful with virtual assistance. This allows shoppers to shop in peace without having to ask a store associate. And leveraging newer technologies such as VR and AR in retail stores to create more immersive and enjoyable experiences can, in turn, make you more memorable.
Similarly, the advantages of in-store shopping can also be applied to the e-commerce experience. We're seeing free delivery, easy return policies and next-day delivery acting as important drivers for online purchases.4
"With consumers craving instant availability yet dependent on the ease of home deliveries, the expectation of 'last mile delivery' is here to stay." —Jason Mander, GWI
Meeting your consumers at the intersection of fingertips and footfalls can take the form of providing online shoppers with the peace of mind they get with physical stores through secure and reliable checkouts. Jason Mander from GWI suggests that customers appreciate it when brands smoothen their purchase journeys by expediting deliveries and removing or reducing shipping costs.
Paradox 2: Standing up for values while serving up value
Shoppers will always care about finding the best deal — even more so since the pandemic negatively affected the finances for nearly 1 in 2 consumers in APAC.5 Many shoppers go through great lengths to search for good deals online and make the most of sales and promotions.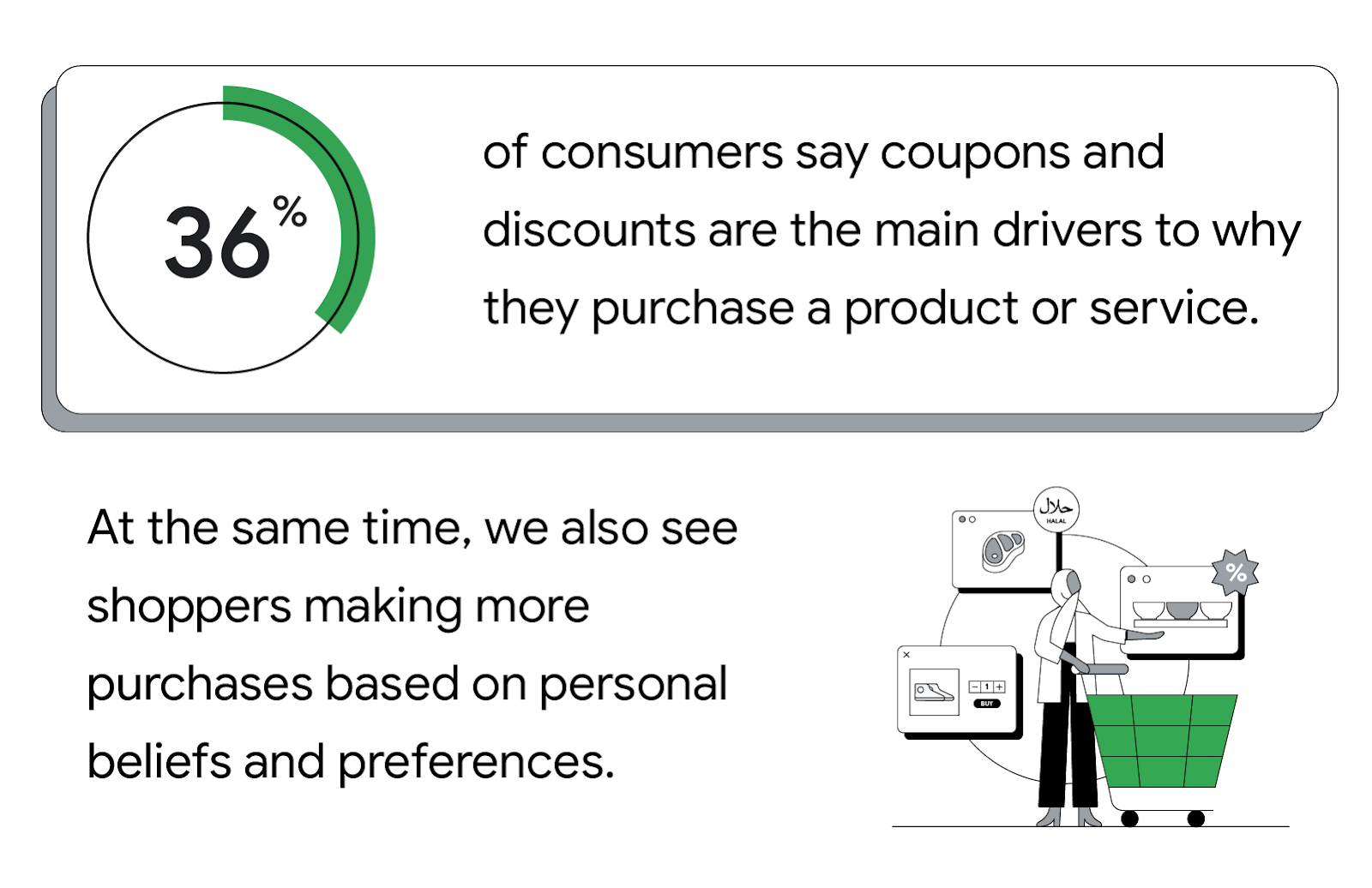 According to Mander, more people are counting on brands to match up to their personal beliefs, with 59% of consumers expecting brands to be environmentally friendly or socially responsible. The good news is, they're also more likely to reward these brands with loyalty, particularly in the APAC region, which is also seeing increased use of reward programs.
Even though many people are willing to pay more for brands that align with their values, offering a great value at the same time will make your brand even more attractive.
For example, the Singaporean mobile app SusGain offers people the opportunity to earn points when spending at a sustainable local business as well as a percentage back on their purchase — meeting both of their value-driven needs at once.
By connecting through a direct-to-consumer strategy, a brand can create an authentic and meaningful connection and stand out as an independent brand with its own principles.
It's possible to provide both value and values and it's crucial to reach out to your customers so they're aware of where you stand. If you're not sure where to begin, consider auditing your value chain to identify opportunities where you can communicate your values to your customers. For example, be more transparent about your business methods or the processes involved in creating a product.
Paradox 3: Offering global while showing up for local
With so much time spent online, people have become used to accessing brands and marketplaces from around the world. At the same time, we've seen an increased preference for purchasing locally due to a greater sense of community and caring for the environment.

How do you offer your customers the world's best while also enabling them to play an active role in their communities?
Businesses can start by taking an active stance on their support for local suppliers — like the online marketplace ShopClues, which offers its customers access to global brands but also calls out domestic products with "Made in India" labels, allowing people to make the choices that best suit their needs.
Global sports brand Nike also adopted a similar approach with their hyper-local store concept, Nike Unite, which focuses on depicting local cultures and prioritizing local heroes. Though the products are global imports, each store is stocked with curated merchandise that reflects what local consumers are looking for.
Work can begin at the source too. The world's largest coffeehouse chain, Starbucks, transformed its logistics and value chain to commit to ethical sourcing from local coffee providers as well as making its social impact reports publicly available.
The rising expectations from consumers seem challenging to integrate. However, brands that successfully align with these expectations (and cater to their varying needs) are more likely to come out on top.

"Driving digitization by optimizing omnichannel touchpoints is a great start, but to uncover real innovative opportunities, dare to reevaluate your business models so that your brand can meet people in the sweet spot of expectation and experience."