Marvin Chow, VP of Marketing, and Kate Standford, Managing Director for Ads Marketing at Google, share their insights on four COVID-era trends. Shaifali Nathan, Director of Large Customer Marketing and Events in the APAC region, provides APAC-specific insights from the latest Year in Search report to illustrate Chow and Stanford's perspectives.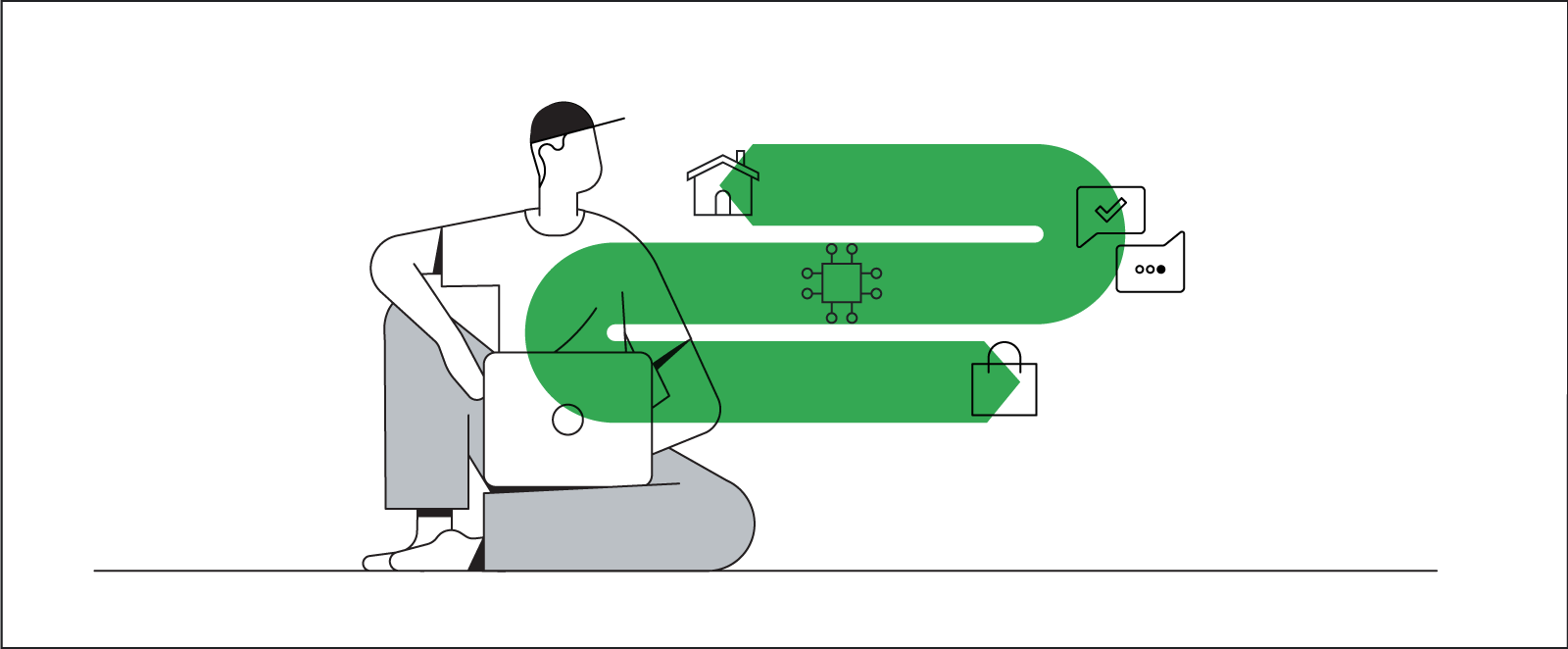 To say COVID restrictions lasting over a year has been challenging is an understatement. But as pragmatic optimists energized by ideas of "what's next," we're drawn to the silver linings that have emerged. As ravaging and upending as the pandemic has been, it's also illuminated consumer shifts that are already transforming the future of marketing.
The primary catalyst for these shifts has been our at-home experience. It has redefined how we work, shop, and live. It has impacted the way we express ourselves and the way we consume everything from content to products. As people adapted to these shifts, so did businesses. Brands had to get creative and find new, more meaningful ways to connect with consumers. And that's exciting. We see four trends that are enriching the B2C and B2B relationship, and evolving products and consumer experiences for the better.

People will expect even more helpful, relevant shopping experiences
The acceleration in digital adoption, especially e-commerce, is one of the most obvious and relatable trends driven by the pandemic. Necessity spurred new users and use cases, and it's only natural that habits will stick around in areas where we've experienced better ways to get what we need.
The acceleration in digital adoption, especially e-commerce, is one of the most obvious and relatable trends driven by the pandemic.
As 2020 searches in APAC showed us, there is a heightened expectation that follows increased digital adoption. Consumers expect brands to fit into their lives, and not the other way around. This means a greater focus on shopping experiences that are seamless, enhanced, and adapted to the individual context.
Though e-commerce acceleration has been profound (India alone has seen a 42% increase in daily heavy internet users) the extent of shopping transformation will be much broader.1 Think about all the things that straddle online to offline — whether it's contactless payments or immersive experiences like envisioning a lipstick that matches your skin type.
Our extended time at home has opened our eyes to the value of this new hybrid space. Some observers refer to it as phygital retail — the blurring of the lines between physical retail and digital retail.
Introducing more consumers to the benefits of these experiences is altering their behaviors and, more importantly, their expectations.
One simple user-first solution? Using digital to speak to your customers in their local language. The latest Can't Read, Won't Buy study from CSA Research revealed that 75% of online shoppers prefer to buy products with information in their native language.

Flipkart, India's largest online marketplace, responded to this demand by launching a voice assistant service so that shoppers who were not at ease with the written word, or the English language, could engage with the brand verbally and in their vernacular.
Consumers will be both locally minded and collectively conscious
Given travel restrictions, shelter-in-place mandates, and physical distancing guidelines, we've been jolted into a heightened awareness of the value of our local communities. At Google, we see this reflected in a surge of searches related to "near me," which reached a global all-time high over the past year.2
In turn, we've naturally demonstrated invigorated interest in ensuring our communities continue to thrive.
In the 2020 AUNZ Year in Search report, we found that domestic online sales in New Zealand grew by 53%, while international sales were down 5% in the same period last year. At the same time, we observed a 90% increase in searches for local purchasing in Australia, with +84% of Aussies agreeing they place a greater value on local products, and 83% saying they would pay more for Australian brands.
We saw a similar trend across APAC: a 95% increase in searches for "buatan indonesia" (made in Indonesia), a 35% increase for "made in pakistan," and a 325% increase for "support local" in Singapore.
Last summer, searches for "support local businesses" grew globally by over 20,000% year over year.3

But this doesn't mean we're burrowing in and closing off from the world. We're also seeking a greater connection to the collective. Exceptions will always be true, but the pandemic and other shared experiences of the past year have reinforced that our own actions play a pivotal role in the big picture.
Just as we saw in the Higher Purpose trend in our Year in Search report, various behaviors may be more locally directed, but our thinking has an elevated consciousness of how we're connected — both with each other and our environment.
As a global community we should be encouraged to learn that, in 2020, the world searched "how to help" more than ever. In Vietnam, searches for "quyên góp ủnghộ" (donate to support) doubled; in Singapore, we saw an increase in search interest for "donate" (+40%) and "volunteer work singapore" (+100%). In Pakistan, "charity work" grew by 120% and "help others" by 90%, while in Indonesia, search interest for "menyumbangkan" (donate) grew by 150% in comparison to the 15% growth the previous year.
Consumers will return from the pandemic more connected to their communities and more mindful of playing a role in the community. This means brands will be compelled to relate on a deeper level with these consumers.
That might translate, for example, to a reimagined role for "brand communities" or new brand and product experiences that enable consumers to "pay it forward" for others. Similarly, the rise of virtual communities is likely here to stay, allowing brands to better reach their segments at a micro-level.
Brand value will converge with personal values to drive spending decisions
Another indication of the pandemic's impact on people's connectivity is our departure from life on autopilot. For many of us, our extended time in isolation has led to an immersion into our deeper psyches and a range of awakenings about our lives. We've been forced to revisit the fundamentals of happiness, family, and health. For many people, there's a "shedding" of sorts that's taking place as we try to take on the attributes of our best selves. For example, South Korea saw a 20% YoY growth in searches for "음식물쓰레기" (food waste) compared to +10% the previous year and India saw a 25% YoY growth in searches for "how to recycle" compared to flat growth in the previous year.
Searches in 2020 also showed us an increase in consideration of our environment. In Malaysia, there was a 65% YoY growth in searches for "reusable" compared to +30% in the previous year. In the Philippines, we observed a 125% YoY growth in searches for "eco-friendly packaging" compared to +55% in the previous year.
What did the YoY growth in searches look like in different markets between 2019 and 2020?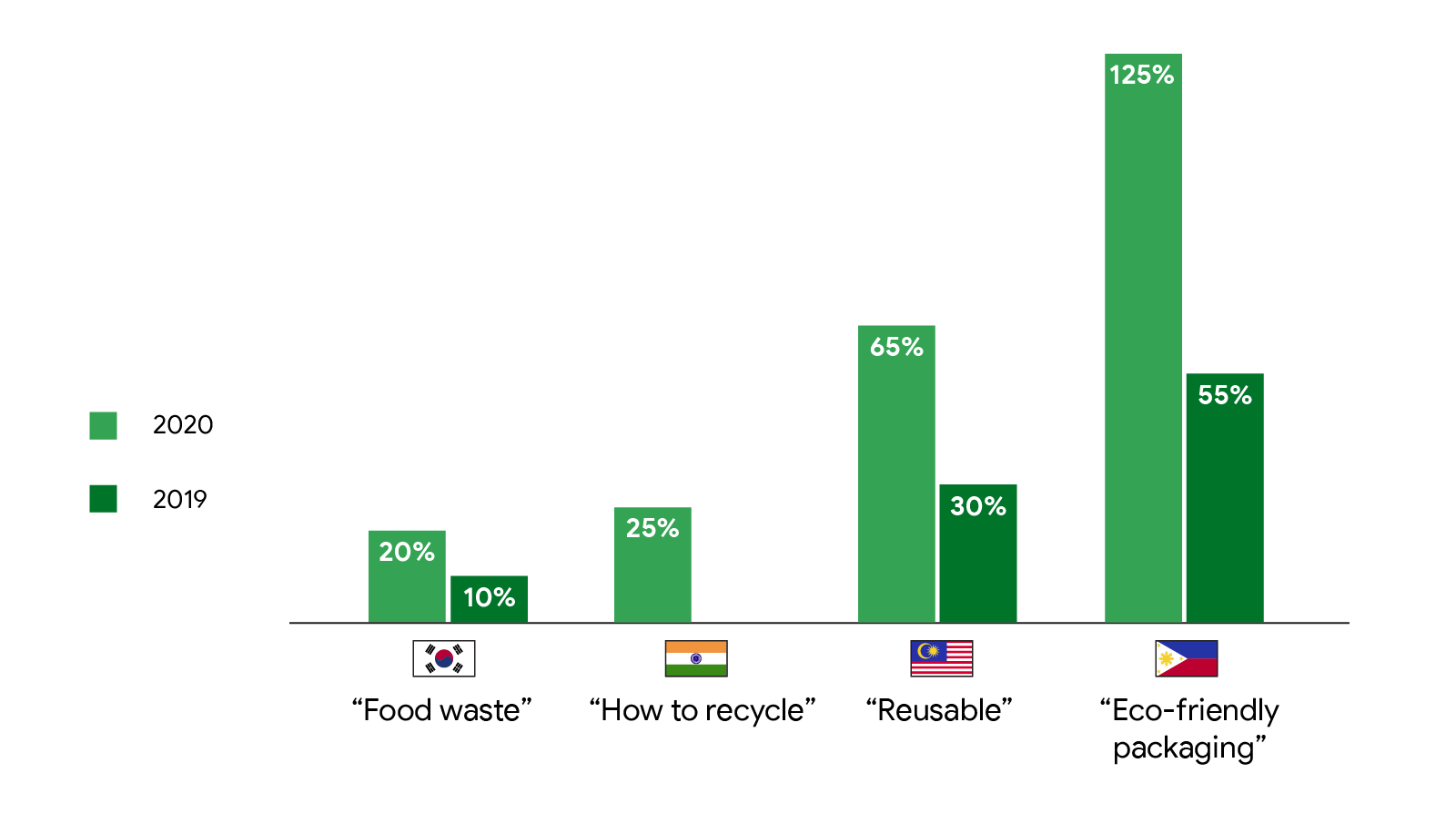 Belief-driven buying also shows the importance of values in consumption decisions. This could be seen in the 140% growth in search interest for "halal food delivery" in Singapore, and a 150% growth in Japan for "plant-based meat".
And it's not just deep reflection on our values that's shaking us. For so many, it's an economic necessity, too. These altered mindsets will continue to color our purchase decisions and brand perceptions.
Mindless buying is neither practical nor personally fulfilling, as we shift toward decisions that reinforce who we want to be — and who we can be financially. In other words, the notions of "value" and "values" will continue to converge, independent of a product's price point.
Whether someone is choosing to buy an expensive electric car to do her part for the environment, or directing her Rs100 to a woman-owned coffee shop in India, consumers will more actively shop their values.
Brands will increasingly enable it, going beyond talking about their brand values to embedding those values as differentiating "features" of their products and services.
Marketers' own at-home experiences will lead to next-level empathy in creative
Last but not least, we can expect the products, services, and creative that consumers experience to change because the people developing them have changed. Why? Because we stopped "going to work" and began "bringing work into our lives."
Over the past year, the idea of bringing one's whole self to work has shifted from an abstract idea to a reality that is now broadly felt and experienced. Thanks to videoconferencing, we've seen (and heard) everyone, including leaders and executives, in their natural habitat — kids popping in, partners sneezing, dogs barking. With remote and hybrid work models expected to continue, we can't turn back time on the fact that we know our teammates on a level that's much deeper, vulnerable, and human.
2020 Searches in APAC show us how consideration for others has grown and put mental health front and center. In several markets in SEA, we saw a 40% growth in mental health-related searches such as "how to take care of mental health", "mental health tips", and "mental health test". More specifically, as people looked for ways to help others, we saw a 250% growth for "how to help someone who is depressed" in the Philippines and a 220% increase in searches for "employing people with disabilities" in Australia.

The consequence is that we've entered a new dimension of professional-plus-personal empathy and respect. As businesspeople, and marketers specifically, this should only cascade to a deeper appreciation of the full depth of what our consumers think, need, and feel. By embracing our shared experiences and the beautiful complexity of human beings, we will unlock powerful new ideas, deeply resonating creative, and ultimately less transactional relationships with our consumers.
For example, searches in 2020 also saw how consumers are welcoming products, services and activities that can spark joy in their lives, create a safe space for them to take a break, and help them connect to others. There was a 95% increase in "balloon delivery" in Singapore, a 700% increase in "ドライブ イン" (drive in theatre) in Japan, a 125% increase for "ก้าอี้ เกม มิ่ง" (gaming chair) in Thailand, and a 75% increase in searches for "birthday decorations" in India.
We can't turn back time on the fact that we know our teammates on a level that's much deeper, vulnerable and human.
While we can't fully predict it, we have the power to shape the future we want. As we think about the consumer products and experiences that were born out of previous historical moments, we can't help but think we have a similar chance to define "what's next." A renaissance is at hand; let's seize the positive momentum.