Even as offline spaces open up, people are choosing to stay online. From brand apps on their phone to YouTube videos on their connected TV, people are embracing new and convenient ways of shopping across online channels and digital devices. For brands, however, this poses the challenge of reaching people effectively across myriad customer journeys and meeting their expectations. It's why those ahead of the curve are turning to marketing automation to grow their e-commerce business.
Marketing automation tools use machine learning to assess audience signals in real time and at scale, providing marketers with an understanding of consumer intents and preferences. This enables them to ensure brand campaigns show up at relevant moments in people's shopping journeys, and that they connect with high value customers at scale.
Brands are also relying on automation to simplify the management and optimization of their campaigns. In fact, over 80% of Google advertisers are using automated bidding to improve ad performance and free up time for other tasks.1
3 ways marketing automation enables business growth

Savvy brands across APAC are maximizing the power of marketing automation by using Performance Max. It consolidates all your performance advertising activity into a single campaign that runs across Google channels, including Search, YouTube, Display, Discover, Gmail, and Maps. And by connecting your Performance Max campaign with your Google Merchant Center feed, you can also surface your storefront to people when they are browsing and most interested in making purchases. Brands that have used Performance Max campaigns see an average increase of 13% in total incremental conversions at a similar cost per action.2
Here's how three brands tapped into marketing automation with Performance Max to reach high value customers, in relevant moments, and at scale, to improve bottom lines.
Show up at relevant moments during the shopper journey: Nespresso
With people staying indoors during the pandemic, coffee aficionados in Thailand searched for ways to enjoy a cuppa from home. This led to a significant jump in coffee machine sales and Nespresso wanted to tap into this consumer buying behavior to increase its online sales. It made use of Performance Max campaigns to get in front of people searching online for ways to enjoy a cafe experience at home.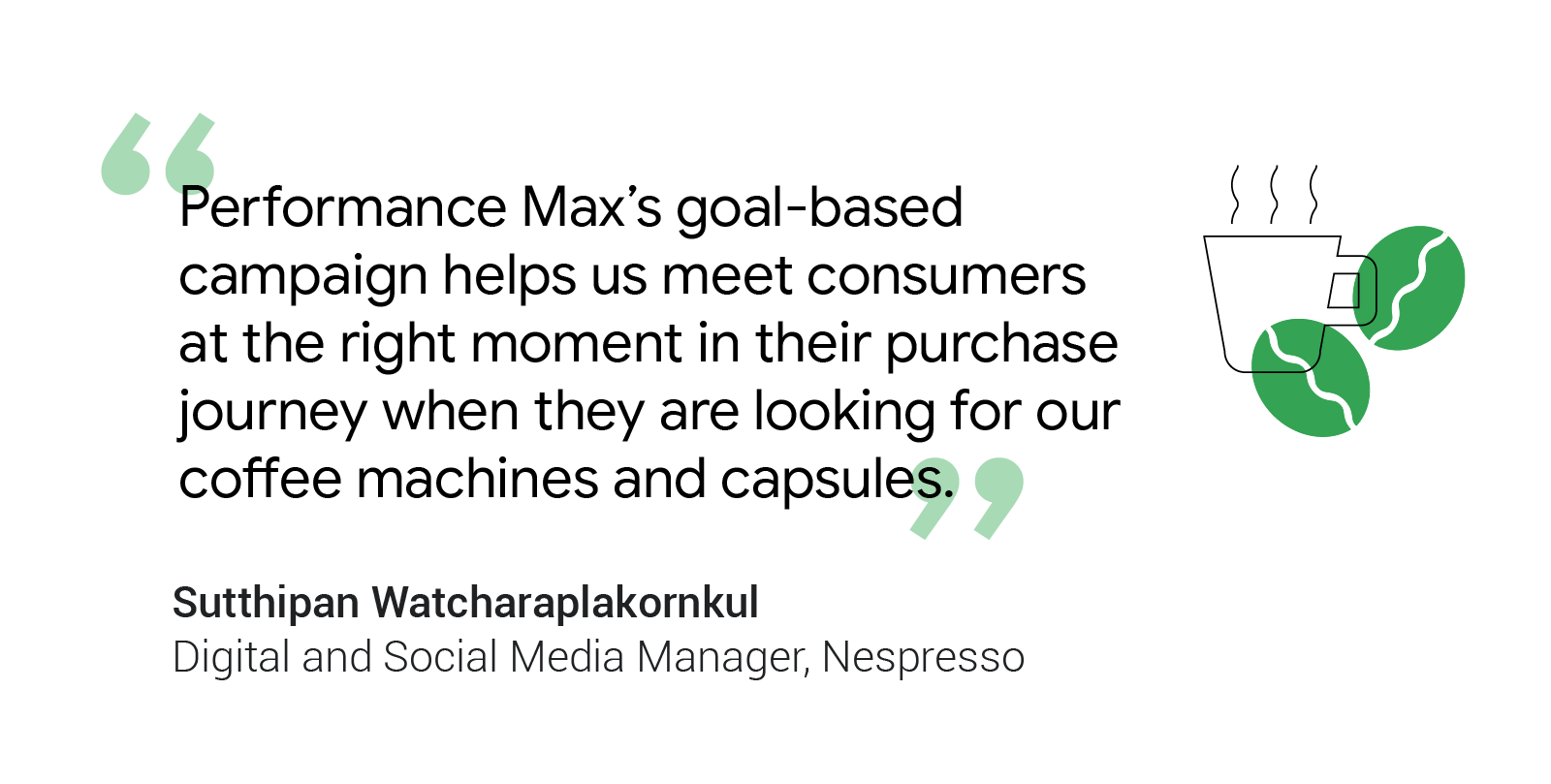 Nespresso integrated creative assets and data from its Google Merchant Center shopping feed into Performance Max to run advertising across multiple channels quickly and efficiently, and to maximize online sales. The marketing automation power of Performance Max also enabled Nespresso to use the most relevant creative assets to reach shoppers most likely to convert. The result: conversions improved by 55% and cost per action was reduced by 3% compared with the brand's existing campaigns.
Connect with high value customers at scale: Unilever
Unilever wanted to acquire quality leads in Vietnam via its Cleanipedia website, which provides products and advice on household cleaning problems. To gather first-party information for remarketing, it launched a giveaway program. Participants that filled out the giveaway form received a discount voucher for its homecare products.

To simplify the form submission, it used Google Search with lead form ads. This allowed people to fill the form directly in the ad without navigating to another page. This lead generation voucher campaign worked well on Search, so it was scaled across channels, using Performance Max, to find incremental high value customers.
With Performance Max, Unilever was able to automate its creative and bidding strategy across the entire Google Ads inventory in just a few days. It also connected its first-party data to the Performance Max campaign to find the most valuable customers, including new customer segments it hadn't previously considered.
After only two and a half weeks of using Performance Max, Unilever had acquired 45% more leads from Cleanipedia at a 50% lower cost. Leveraging first-party data helped the brand find the most valuable prospects while automation connected it with high value customers at scale.
Simplify campaign management and optimization: Mindvalley
Mindvalley, an education company that produces self-improvement video programs, wanted to unlock incremental conversions automatically and efficiently. So besides using Google Search and video campaigns to drive performance of its online advertising in Malaysia, it also adopted Performance Max.
Performance Max enabled Mindvalley to automatically create campaigns across channels and optimize them for performance. This saved the brand time and effort from otherwise having to implement solutions for each. It also reduced the brand's cost per conversion by 25%.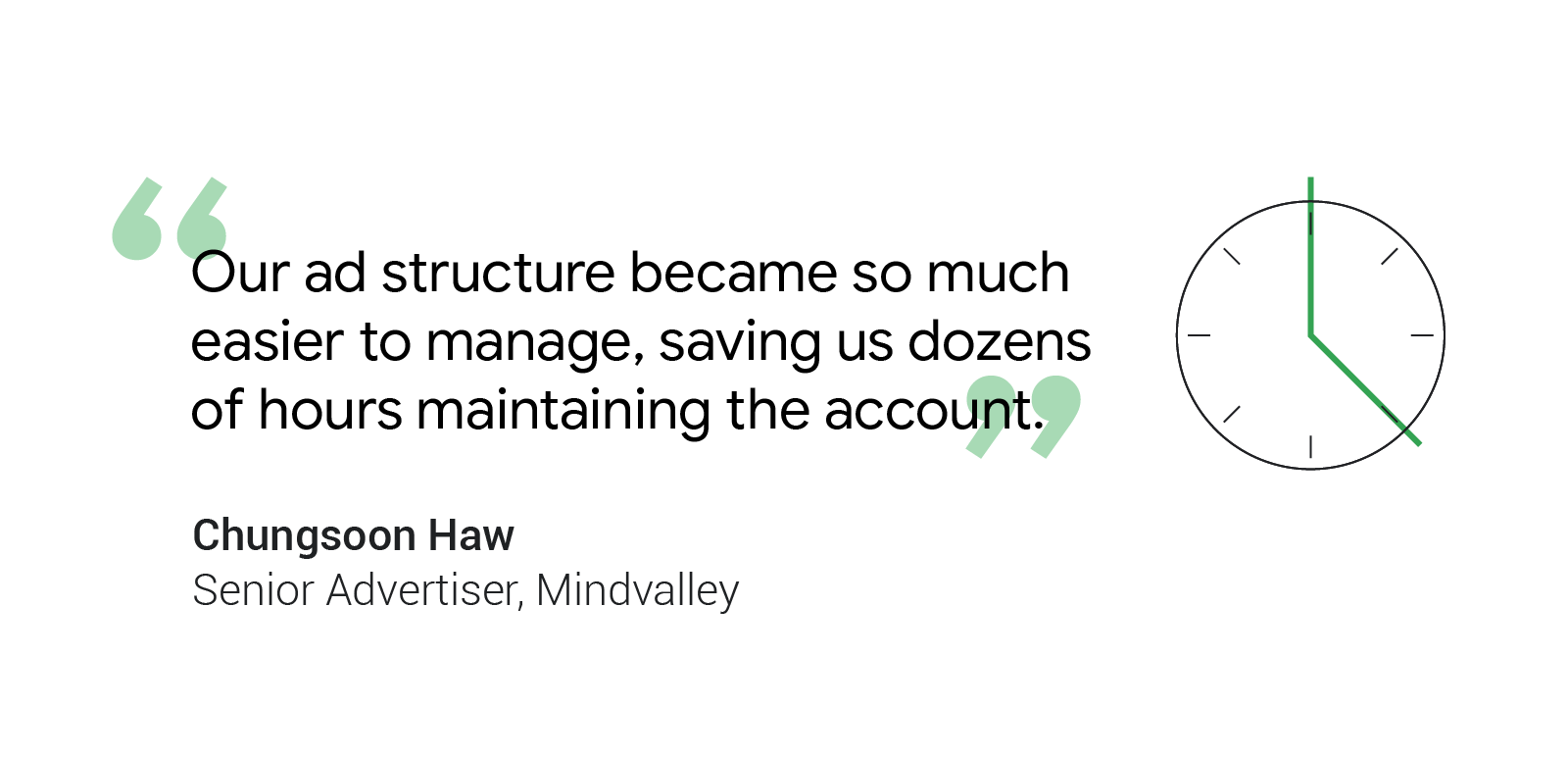 As more marketers use Performance Max, more best practices will emerge, including how to set the right conversion goals and bid strategies to optimize results. And the more creative assets and options you provide Performance Max, the more combinations it can create to help you automatically meet the right audiences in the right places and ultimately, your business goals.
Retailers will be able to upgrade their Smart Shopping and Local campaigns to Performance Max starting this month, with a one-click upgrade tool in Google Ads.