Content providers have a unique opportunity right now to reach more people at home through digital video on their living room TV screens. The connected home market is growing, and, in 2019, smart TVs represented 45% of the $21 billion market in APAC, giving media and entertainment companies a new way to interact and entertain people.1
In our recent article on the future of the connected home in APAC, we discussed how people are gradually bringing more smart devices into their bedrooms, kitchens, and living rooms. In APAC, smart TVs are the most popular, with adoption ranging from 14% to 63% ahead of other devices.2
The fastest growing screen for YouTube is also the TV, with more than 70% year-on-year watch time growth in Japan and 45% growth in Australia.3 Globally, we've seen the watch time of YouTube videos casted onto TVs grow by over 75% this year compared to a year ago.4
While some people know how to bring their favorite entertainment onto their TV, for others, smart TVs have helped bridge the gap. Imagine someone who has a few online streaming memberships, and they visit their favorite websites for entertainment. They know how to manage all this from their mobile phone or laptop, but they want to watch their favorite show on a big screen while relaxing in the living room. So they buy a smart TV to help watch online entertainment directly on their TV without any extra equipment.
As more people watch digital video on TV screens, Google partnered with Accenture to study what's working and what's still frustrating for consumers. In this second installment of a three-part series, we look at five opportunities for content providers to create easier viewing experiences and help people enjoy great entertainment from the comfort of their living room TV.
1. Focus on content preferences for the household, not just the individual
The TV is often the shared centerpiece of the home in APAC. Countries like Australia have an average of two TV screens and have very different viewing habits per household.5 But in emerging markets like India and Indonesia, we found multi-generational households usually share one TV screen,6 making family time around the TV in the living room a place where different opinions across the family can make it difficult to decide what to watch.
We've all experienced the long (and often impassioned) process of finding entertaining content that suits everyone in the family. This decision and debate can often be time-consuming, taking away from the time spent enjoying content together.
The endless scrolling of trying to find a program everyone likes
The smart play for industry players: Find ways to move from family frustration to communal curation. Make content discovery and selection customized to the family rather than one person. Instead of individual profiles on a streaming service, consider creating a parents-only profile or one for the whole family, which includes content suitable for kids.
Additionally, provide options for smarter parental controls that offer the ability to customize lists for kids' content, where parents and their children can sit down to create a profile together that suits the child's age. Also, most kid-friendly content is created for toddlers, but there's a lot of need and opportunity for content geared toward preschoolers, middle-school aged kids, and teenagers.
2. Help people navigate the sea of content devices and services
Currently, people use a mix of content platforms, devices, and applications for entertainment. Managing all of these can become confusing and overwhelming.
As people want to watch a wide range of content, they experience layers of platforms, devices, and applications that are often redundant, conflicting, and confusing to navigate. People just want a single place that brings all their recently watched content and recommendations together.
The way people are navigating the complex world of content

The smart play for industry players: Consumers are looking for workarounds to have direct access to the content they want to watch. Help simplify the way people watch their favorite shows, movies, and documentaries by making your streaming service easy to access on smart TVs with an app version optimized for search and discovery on a big screen.
Additionally, look to offer flexible pricing options for subscriptions. Consumers have consistently raised their preference to only pay for what they value rather than paying for costly pay-per-view or multiple platform subscriptions. While there is no magic number for pricing, try to be creative with options such as different costs for mobile-only streaming versus large screen viewing.
3. Provide recommendations that are purpose-driven, not content-driven
Sometimes we know exactly what we want to watch, but often we're not sure and spend time searching for something that fits our mood or the situation.
During the day, a lot of what consumers watch is dictated by the need to find content that is "fit for purpose" — where needs are driven by context rather than content. For example, people might want to watch something short and easy while they are waiting for dinner to be ready, or they may look for a show that allows their brain to switch off while they get ready to go to sleep.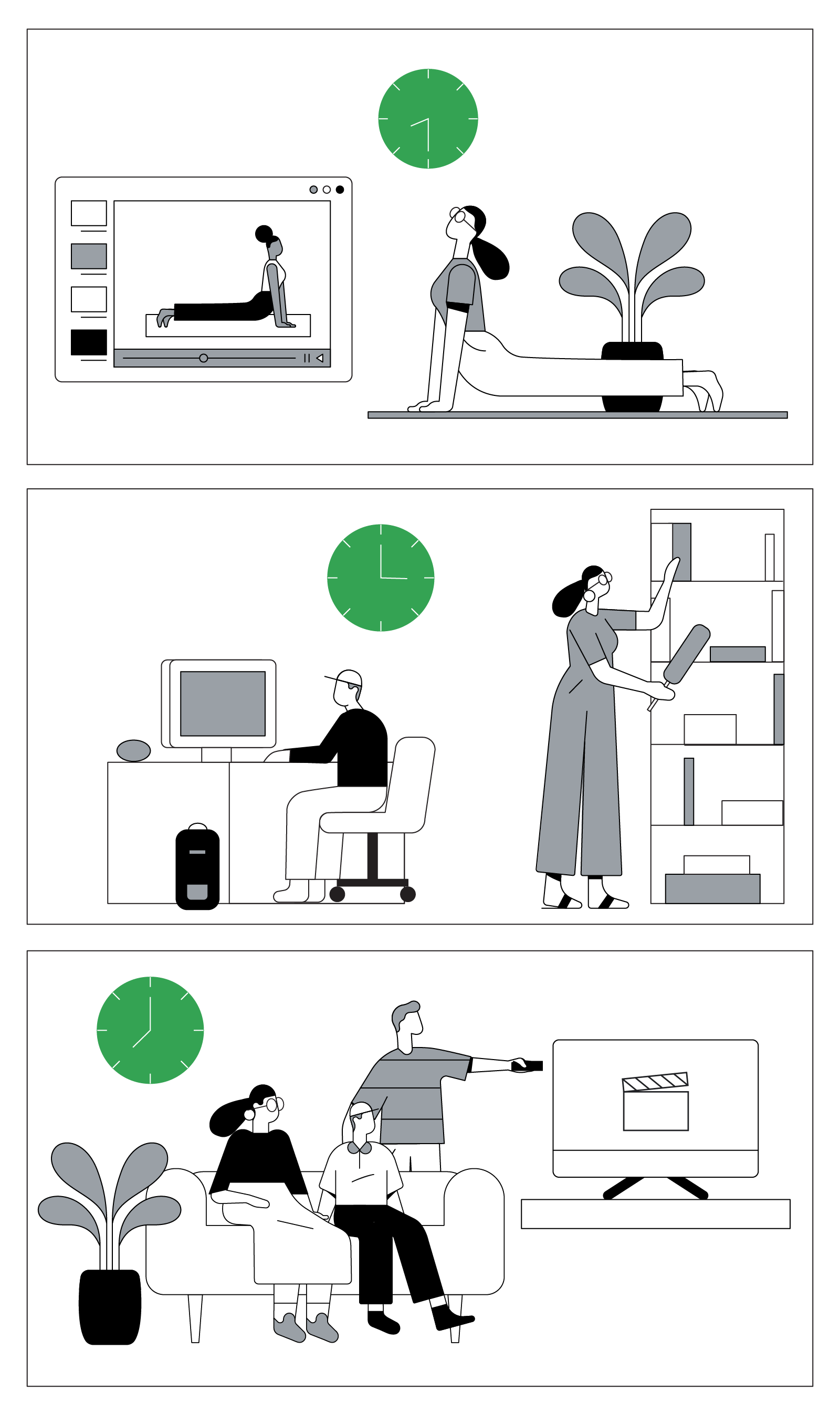 The smart play for industry players: With connected devices, content providers have access to a variety of insights based on the consumption choices people are making.These can help provide content recommendations based on consumer's choices. For example, suggest light-hearted sitcoms during lunch time, a captivating documentary at night time, or family-friendly movies for family time. Additionally, make decisions easier and more exciting by creating lists with suggestions that suit moods or habits: "The best family-time movies", "Flicks for a romantic evening", or "Shows for the aspiring chef".
4. Create more trustworthy content recommendations with social
We usually trust the advice and recommendations of friends and family, whether it's a suggestion to try a new restaurant, listen to the latest song, or watch a new Bollywood movie.
People value and trust these recommendations from friends more than suggestions from an algorithm, but there's currently no way to instantly integrate tips from friends with watch lists on our smart TV or the platforms we use to watch content.
In addition to recommendations, consumers use multiple sources to discover, evaluate, and informally plan what to watch. These can come from "top movie" lists, personalized recommendations from apps or streaming platforms, and crowdsourced ratings sites.
Some movie lovers might assemble master lists on their own to find content that is just right for them. But it's a complex, counterintuitive process that creates extra work for people who just want to switch on and switch off.
The user journey from discovery to watching is currently fragmented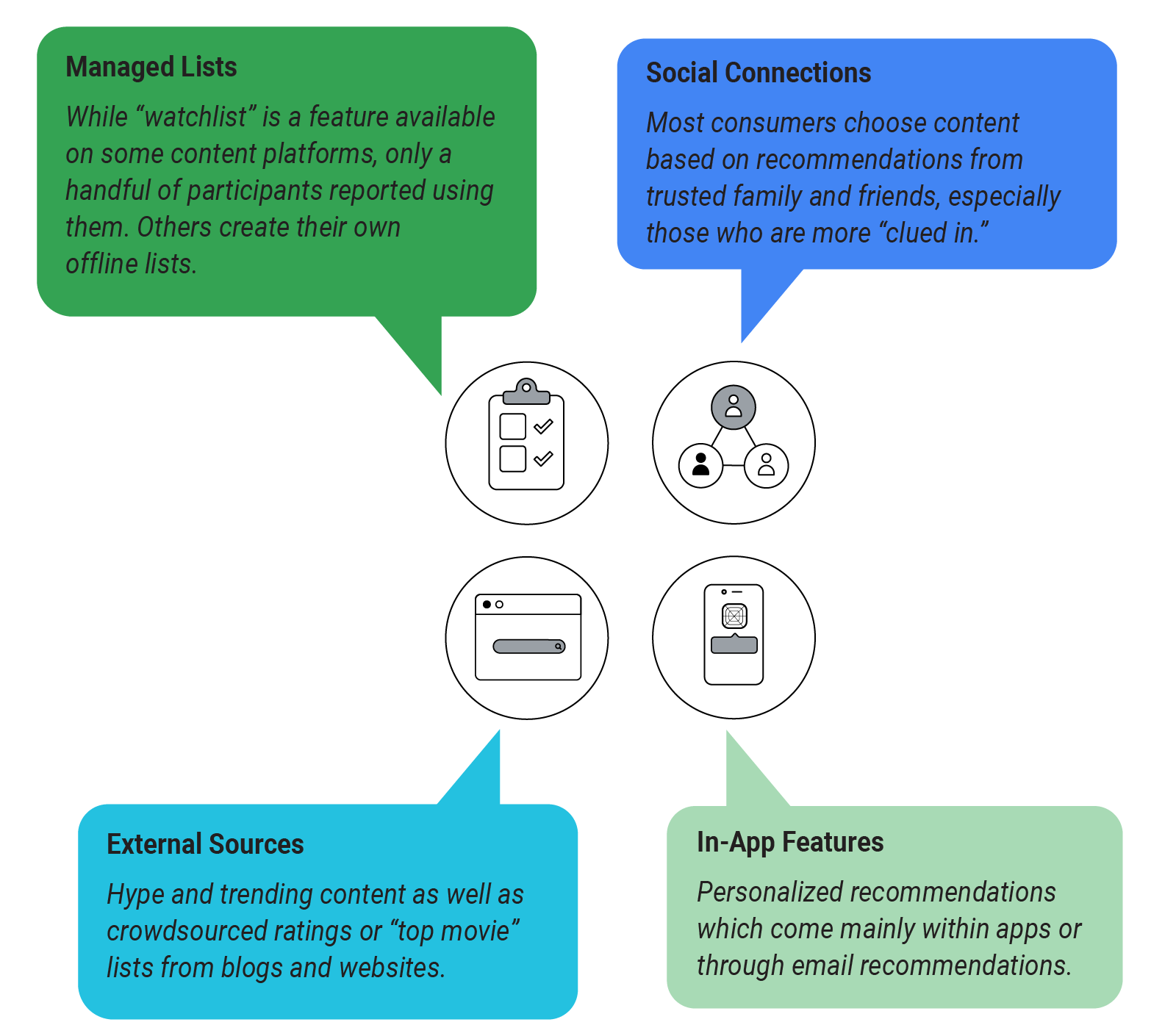 The smart play for industry players: The journey from discovery and recommendations to actually viewing content is broken today. But industry players can help consumers "close the loop" across social platforms and review websites by allowing them to view and share recommendations and create centralized watchlists across multiple platforms. Access to trustworthy recommendations means consumers can spend less time researching and more time enjoying.
5. Consider content that goes beyond traditional entertainment to serve personal needs and social connections
Some consumers are extending their use of the TV beyond "lean-back" entertainment to activities like spiritual development and social connections. Bringing their offline passions online, educational lectures, religious talks, and yoga workouts are also becoming popular for people to switch on while in the living room.
TV screens became a way for people to continue to connect with each other and enjoy their passions during the pandemic, doing things like playing games with family and friends or streaming live religious services when they couldn't go to their places of worship. On TVs, YouTube watch time has increased year-on-year across a number of categories, including learning (+100%), well-being (+180%), non-live sports (+65%), and pre-recorded live music performances (+100%).7

More advanced users integrate their TV with other connected home devices like lights and speakers to enhance their experience with features like adjusting volume and brightness, depending on whether they're working out or meditating.
The smart play for industry players: Consider exploring new genres like fitness, spiritual, and educational content to serve the personal needs of viewers by partnering with existing content creators such as fitness coaches or spiritual gurus. Offer ways to enhance the viewing experience by integrating your app or device with other connected devices such as lamps and smart speakers.
As people continue to use more connected home devices, their expectations are becoming more demanding about how all these devices work together. And as TVs become more integrated and match people's expectations, it will open possibilities for even more new kinds of content and services.
While the living room TV is just one part of the connected home experience, it's leading the trend and acting as a gateway for many people to start designing their own connected home. Smart TVs aren't novel anymore, and people expect them to not only provide entertainment but also help simplify and improve their lifestyle.
To fully take advantage of the opportunity to engage consumers on their TVs, media and entertainment companies must focus on getting the user experience right. It's all about integration, not isolation, and ensuring you show how truly smart your apps and devices can be by bringing value to people's lives and their living rooms.