In India, the country's growing cohort of new internet users has unique and nuanced needs, especially when it comes to their preferred online language. With 90% of these new internet users already choosing to consume content in their mother tongue, there is a growing number of Indians leaning into voice technology to help them search online and carry out tasks in languages other than English.
This rapid adoption speaks volumes for the desire of local-language users in India to use voice as an alternative to typing. Here, we look at the drivers and opportunities for brands to adopt voice technology as a way to solve unique problems for the world's second-largest population.
Voice technology is fundamentally changing the way we use our devices, often in ways we didn't expect. From asking how many milliliters are in a cup to searching for nearby petrol pump stations or grocery stores, people are turning to voice functionality for myriad purposes. Globally, over 500 million people use Google Assistant every month, with Hindi second only to English as the most commonly used language.
This trend of using voice technology is not simply confined to assistants or smart devices in the home; it's also shaping the way Indians interact with their smartphones. Voice is emerging as the preferred way for people to use Search and browse YouTube.
Indians find more familiarity with voice
Using voice is a more natural way for people to interact with technology, and voice functionality already exists across a variety of apps. But in India, where mobile is the primary device of choice for many people, voice is allowing users to engage with technology in their preferred local languages, enabling voice to become a core part of the user's life that goes beyond convenience. Currently, 60% of users in India are interacting with voice assistants on their smartphones.1
People often start using simple commands but very quickly turn to experimenting with more complex dialogue. For example, people might type "weather Kanpur" in Search, but they'll ask Google Assistant more conversational queries, such as "What's the weather today in Kanpur at 3 p.m.?"
Despite being a relatively new technology, voice assistants are quickly becoming more localized. Many voice assistants can understand accents and vocabulary not just in Hindi but also in other regional languages, helping overcome literacy barriers.
This is an important step toward encouraging voice adoption — by 2021, it's estimated that 72% of internet users in India will prefer to use a language other than English, and voice will help bridge that language gap by allowing users to interact in a way that is familiar to them.2 On average, Google Assistant queries are 200 times more conversational and 40 times more action-oriented ("Ok Google: Turn on the lights in the living room") compared to using Search.3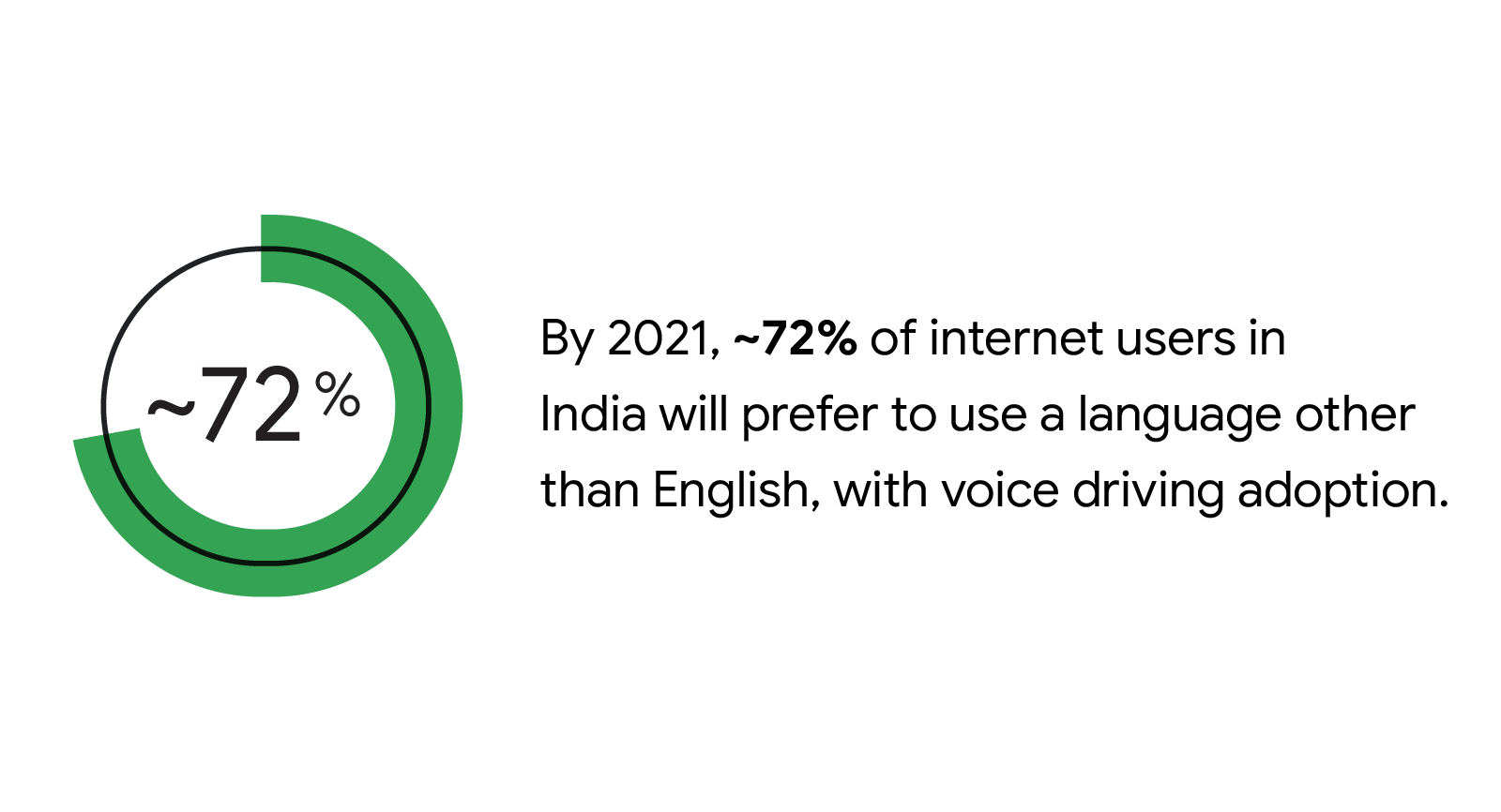 Not only are people asking detailed questions, but because the majority of Indians are multilingual, they find voice three times faster than typing.4 During the 2019 cricket season, Google Assistant received over 100 million cricket queries as people asked for news and live score updates.5 This means people of all ages and geographies can engage with voice-enabled technology more easily because it mimics normal conversation.
Voice technology is becoming more prevalent
An ecosystem has begun to develop around voice technology, with brands, developers, agencies, and startups investing in ways to provide greater functionality and usability. Brands across all categories such as consumer packaged goods, durables, food tech, e-commerce, and even retail have started to experiment with voice technology, finding ways to solve user needs.
When Gaana, India's largest music streaming service, wanted to expand its audience to users from rural India, the brand added voice search functionality to its app as a way to overcome literacy barriers among new internet users. Within a year of launch, 24% of all Gaana users were using voice to play their favorite songs.
App developers and technology agencies have also warmed up to voice, helping brands design voice-first user experiences for their products. There are currently over 1 million actions that users can ask on Google Assistant, such as, "When can I see the International Space Station next?" and "Play Gaana Antakshari (a popular music game)" as well as commands for controlling smart devices and ways to improve health and wellness.
The ways people are using voice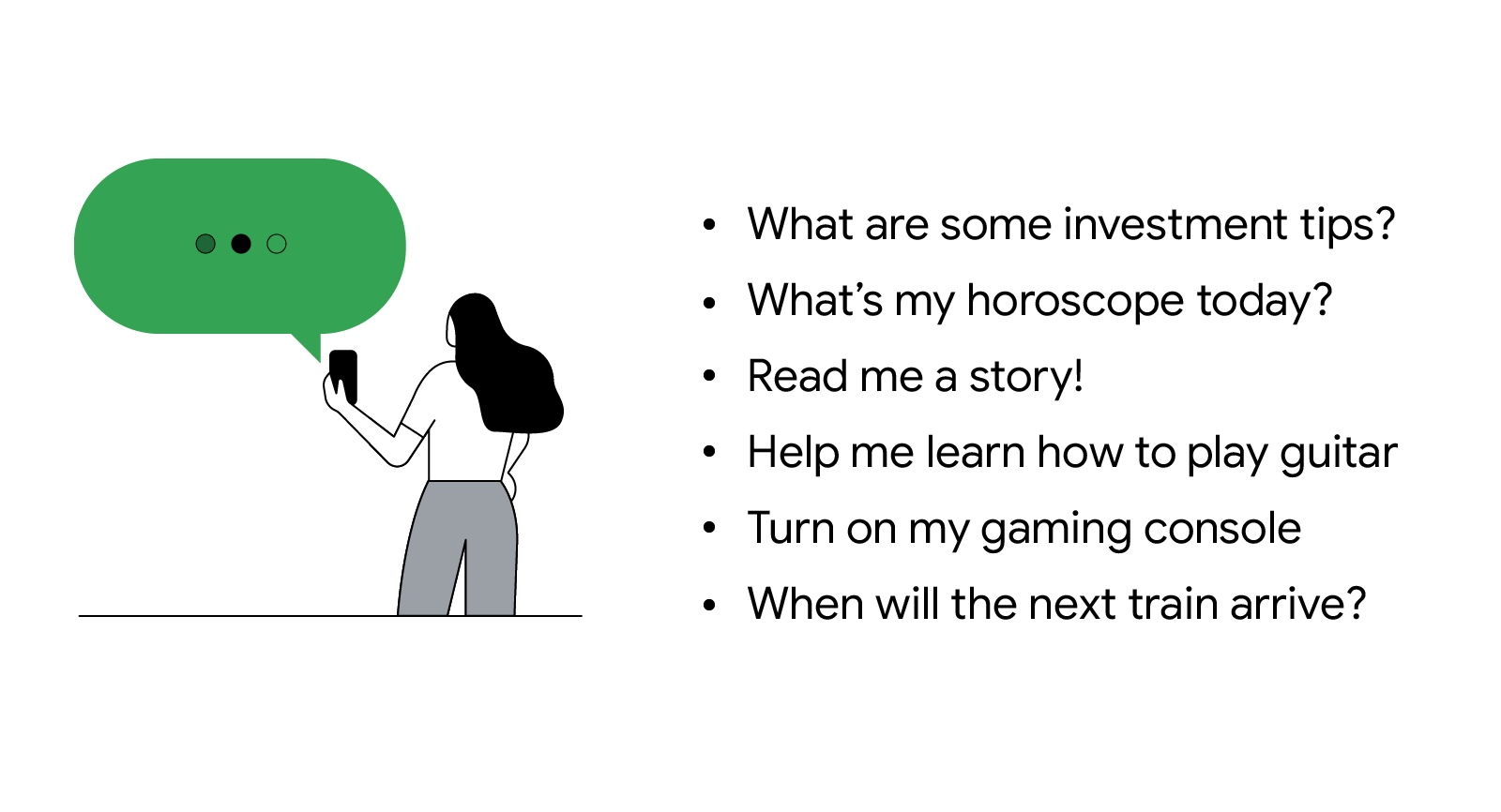 We see similar traction with startups adopting artificial intelligence (AI), machine learning, and augmented reality to solve a host of user issues using voice. Mobile app Vokal provides answers to common questions posted by consumers in their own language. Reverie Technologies has developed an Indic voice suite called Gopal to help businesses engage with non-English customers in 12 Indian languages. Dhiyo, an AI-powered voice platform for job seekers, enables blue-collar workers to create their résumés by simply speaking into their smartphone.
With adoption and implementation moving at the speed of sound, the time to build and market for voice is now. By creating an ecosystem of devices and service providers, brands can build meaningful experiences with users that allow them to interact in a way that is natural and familiar to them. By adopting voice, brands can encourage new users to their platform and see higher engagement at scale while offering a better, more intuitive user experience.
Things to keep in mind when building for voice:
Don't look at voice as simply an "add-on" novelty. Identify the key user needs, problems, or preferences that voice can solve for your product. This could be a way to help users navigate an app or add convenience to the way they interact with your brand.
Think mobile-first when designing and implementing voice. India is a mobile-dominated market, and most people use their smartphone to search, discover, and be entertained.
Partner with an agency or platform that understands your objectives and aligns with your passion and purpose for implementing voice features.
Invest time in educating consumers about new voice features as you would any other new product or service. As technology evolves, education will help encourage adoption.