Spurred by affordable data and smartphones, India is coming online at an unprecedented pace. It's estimated that by 2020, more than 650M people in India—double the population of the United States—will be connected to the internet.1 As more and more people in India discover the internet and its applications, it's fast weaving into the fabric of everyday life—and a significant portion of the online population is turning to search to look for information and to find answers.
Spanning 11 verticals, the annual Year in Search India report delves into consumer behaviors to uncover what's top of mind for them and the implications this has for marketers. Here are the top five emerging trends:
Non-metros emerged as superstars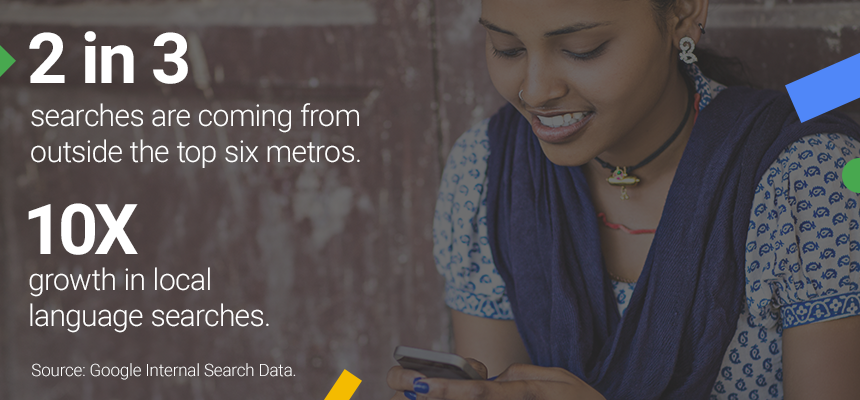 Non-metros are catching up quickly with metros when it comes to internet usage in India. The three key pillars of voice, vernacular, and video are getting stronger, and consumers are searching in their preferred languages more than ever before. In almost every vertical, search query growth rates are far higher in non-metros. And while Hindi is still the dominant language, Tamil, Marathi, and Bengali are quickly gaining prominence online. 
Not just a marketing channel, digital now drives revenue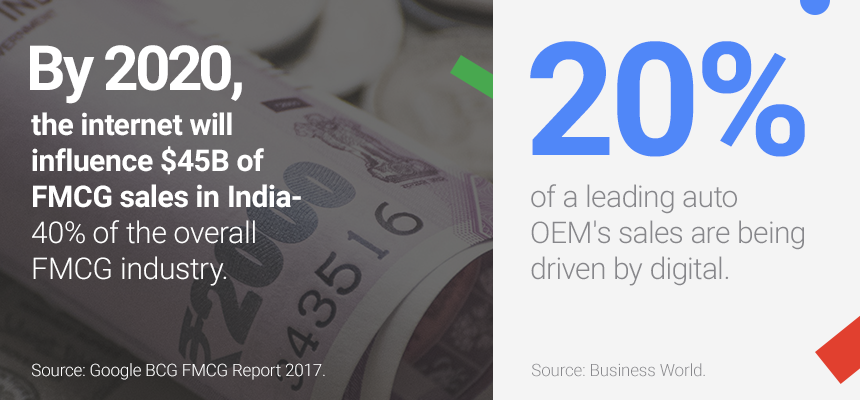 In 2017, the term "digital" underwent a major paradigm shift, moving from a marketing support function to a business platform in its own right. In categories like auto and banking, financial services, and insurance (BFSI), there was even a direct correlation between online research and offline purchase: 20% of sales in a leading auto original equipment manufacturer (OEM) were driven by digital. In fast-moving consumer goods (FMCG) and banking, consumers relied on digital throughout their purchase journeys, consulting search to discover products and educate themselves before converting online. 
Somewhere between e-commerce and e-payments, online shopping exploded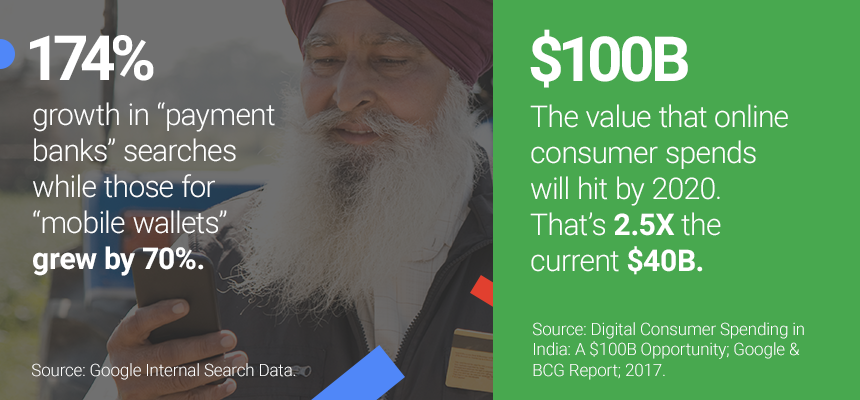 Driven by growth spurts in e-commerce, travel, financial services, and digital media, online consumer spend is expected to grow by 2.5X to $100B by 2020.2 What's more, the number of consumers who spend online will grow by 2-3X to reach an astounding 180-200M by 2020.3 Telco-owned mobile wallet services saw a 70% growth in searches2—all these numbers point to a robust e-commerce ecosystem.
Online and offline are merging to create a seamless journey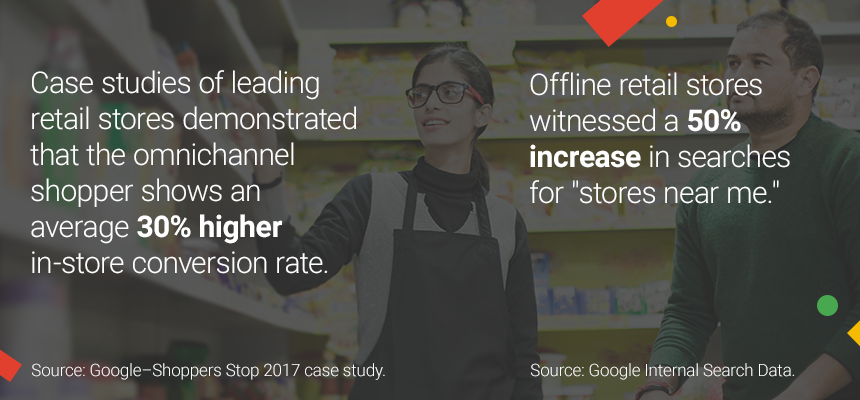 The lines between digital and physical consumer experiences blurred further as consumers continued to straddle both worlds. Case in point: a 50% increase for "stores near me" clearly indicated that online searches for stores has become an integral part of the shopping experience.3 Similarly, consumer electronics saw an 80% growth in queries for "stores near me," while telcos enjoyed a 92% increase in queries for "physical stores."2 In the auto industry, a staggering 79% of car buyers who watched an online video took action after watching it,4 reinforcing once again that what happens online can directly impact what happens next offline.
Machine learning and artificial intelligence are upping the ante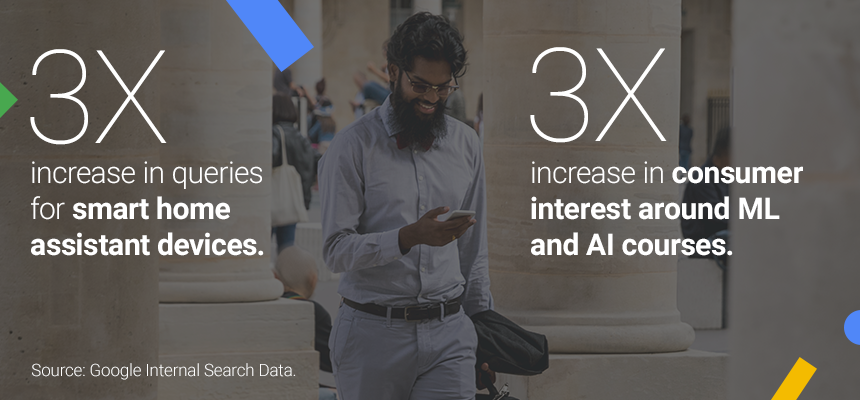 Across categories, industries are beginning to embrace the benefits of machine learning (ML) and artificial intelligence (AI). In auto, potential car buyers began adopting the 360-degree video and virtual reality as a replacement for test drives, while insurance players turned to AI-fueled chatbots to answer user questions efficiently and at scale. At the same time, ML continues to influence video content consumption patterns, and as a topic in itself it has witnessed a 3X upward swing in interest for AI- and ML-related courses.
Download the report
New technologies have rendered boundless opportunities for marketers. Year in Search: India offers an in-depth dive into what people searched for and what that means for marketers. To find insights and potential opportunities in your vertical, download it now.