In India, the use of local languages has been a key driver of a brand's cultural relevance, salience, and consumer resonance. In a vast and diverse market like India, appealing to the non-English-speaking majority of the country's population can deepen connections with new consumers and help deploy language-first digital brand campaigns at scale. Here are three examples of how brands have benefited from advertising with non-English languages.
India has over 500 million internet users and boasts over 450 million smartphone users. It's also a country with over 100 major languages and about 1,600 dialects.
As more Indians go online to shop, play games, and connect with friends, the need for content in languages other than English is amplified. Though English is currently the main language used for business online, there is an increasing preference for Indic-language content. By next year, India's Hindi internet user base is set to outgrow the country's online English-language users and, along with Marathi and Bengali users, will account for 75% of Indians browsing online.1
Driving this growth are the 90% of new internet users who prefer to access content in a language familiar to them. The rising popularity of online local-language usage and the uptick in Indic video content have helped push an internet boom.
This growing prevalence of Indic languages over English is a message for advertisers to start diversifying their advertising content to include local languages to grow their reach and drive engagement with the Indian online consumer.
Featured Quotes
"Internet usage has gone far beyond English speakers, and so must brand communications. It's critical for marketers to speak to the next 100 million internet users in a language closest to their hearts. It's respectful, thoughtful, and the most powerful way to connect."
1. Lean into local languages to reach new audiences
Around 70% of current Indian internet users prefer Indic languages over English.2 Brands that are already accommodating these local-language speakers are reaching more customers than they were previously, giving them a whole new captive audience to engage with.
Policy Bazaar, one of India's largest digital insurance marketplaces, wanted to expand its reach into areas of India where there is a preference for non-English-language communications.
Using Google Trends, Policy Bazaar identified relevant Hindi keywords such as हेल्थ इन्शुरन्स (health insurance), जीवन बीमा प्लान (life insurance plan), and सबसे सस्ता टर्म प्लान (cheapest term plan), and tailored creative messaging around search interest for these terms.
To ensure wider coverage, the brand also translated and transliterated keywords from their top English campaigns. However, Policy Bazaar did not own a website or landing page in these local languages to lead new customers to the brand. They chose to experiment with Call Extensions on Search to connect non-English speakers directly to their call centers.
The experiment was so successful that Policy Bazaar set up a Hindi landing page to support scaled Indic language ads and provide an online resource for users who prefer communicating in Hindi.
By crossing the language barrier, Policy Bazaar's cost per lead was 18% lower, leading to a 4% increase in incremental leads, an 11% increase in clicks through local-language keywords in comparison to the English version of the ads, and a 3X growth in Hindi SEM traffic over the next six months.

2. People are more likely to respond to ads in their mother tongue
Adapting brand messaging is not just about reaching new users. It also provides an opportunity to build more meaningful relationships with customers and drive stronger conversions.
Rummy is a popular card game played throughout South India, where languages including Tamil, Malayalam, and Kannada are widely spoken. Games24x7's RummyCircle, a site where rummy fans can play competitively, set out to explore how adopting local-language advertising could help with business growth. Keen to build more meaningful relationships with its customers, and understanding the potential of local-language ads, the brand ran a test to see if more contextual ads would lead to stronger business outcomes.
Instead of just focusing on English advertising, RummyCircle served separate local-language messaging in different states to provide a more familiar experience to each market's internet users.
As a result, local-language advertising now drives 27% of RummyCircle's paying users. When compared to the previous English-language campaigns, these increased conversions led to a 22% lower cost per acquisition for Telugu creative ads and a 36% lower cost per acquisition for Hindi ads. The brand also saw 1,000 incremental monthly conversions from YouTube.

3. Sometimes it's easier to scale up with local languages
Adopting region-specific language can also make your advertising dollar go further by reaching newer, lower CPA audiences and providing relevant, engaging content to more efficiently drive conversions.
Kotak 811 is a new instant bank savings account offered by Kotak Mahindra Bank that allows users to open a savings account via their app or online. The brand was seeking to improve the cost efficiency of accounts being opened by increasing the number of new accounts while maintaining their cost per account opening.
To cast their net wider and connect with the growing Hindi-speaking internet user base, Kotak Mahindra initiated a pre-post experiment Discovery campaign and followed audience targeting (such as custom intent and remarketing) and creative best practices (like text-free images) to deliver quality conversions at a lower cost.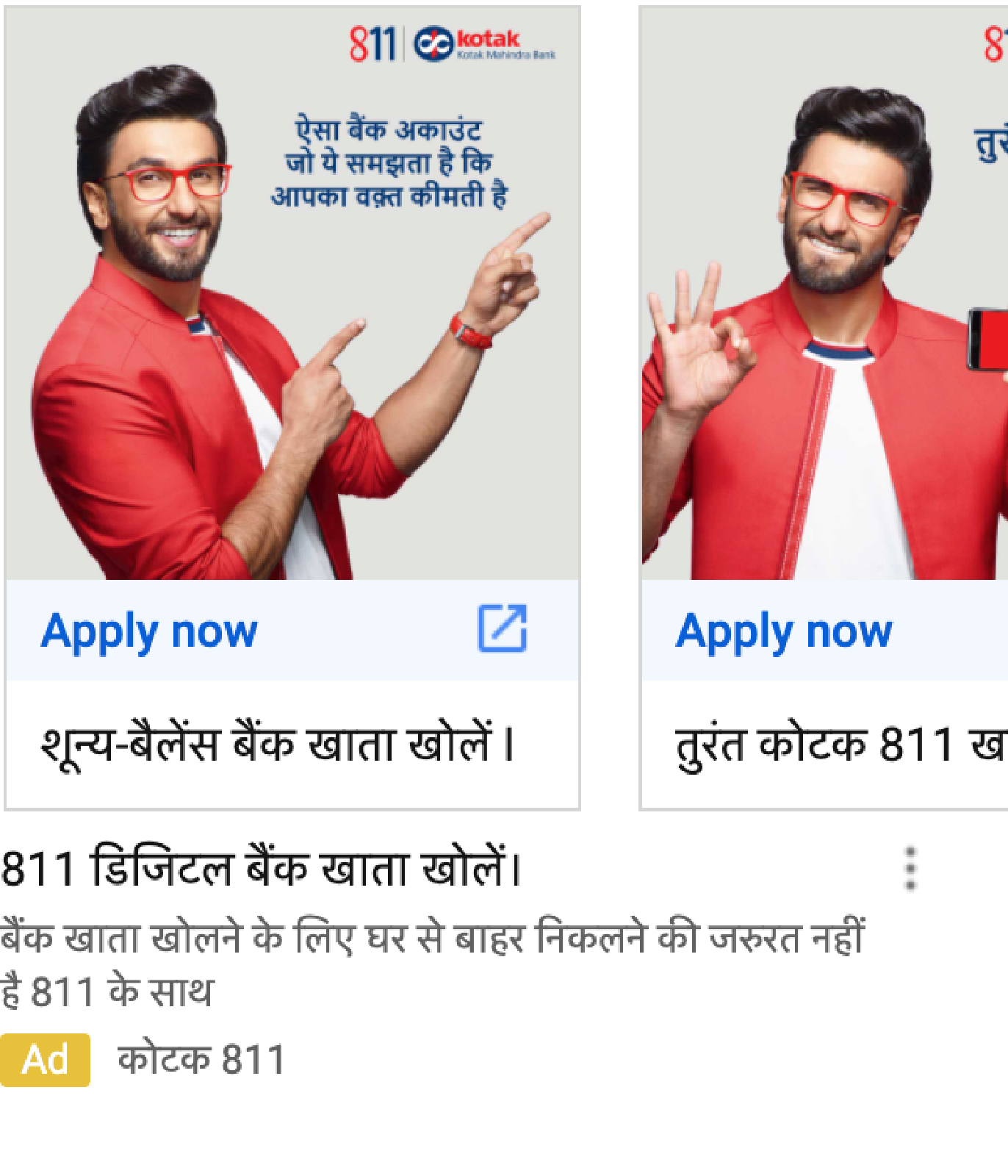 This local-language targeting drove a 22% incremental conversion rate for the brand while achieving a 13% lower cost per account opened than previous campaigns. Kotak Mahindra even extended this learning of local-language campaigns by exploring activations on search networks as well.
Tell me more: Five takeaways for marketers
Using Indic-language ads can help you better connect with the diverse Indian internet user landscape and find new audiences through experimentation with communication and targeting strategies.
Ensure advertising content is contextualized based on languages and regions to improve consumer engagement and ensure better ROI.
Use Google Trends data to explore where search interest for your category and brand are coming from, and identify key areas of user interest.
Many internet users in India think in their local language but type in English. Go beyond simple translations and spend time transliterating search queries to create inclusive, impactful campaigns.
Invest in creating local-language landing pages and assets to provide new users with a familiar online experience in their native language.