Brands are no strangers to change and crisis management. But it would be safe to say that the current scenario is a first for us all. We are collectively grappling with this constantly evolving situation and what it means for us, both as humans and marketers.
In a country like India with over half a billion netizens and one of the world's youngest internet populations, digital has become the source of an endless stream of information as Indians decide what to watch, read, learn, and buy. Whether it's looking for essentials, managing routines when homebound, or even keeping up to date with the news and entertainment, digital dependence has seen a significant increase. And while deciphering what people really want has always been a tough undertaking for marketers, they are now faced with the added challenge of understanding consumer behaviors and needs in the midst of these tough times.
Even the most agile and nimble advertisers who are accustomed to evolving strategies and changing directions in real time are looking for answers to the question, "How do we meet this unprecedented moment?"
With Google's "What is India searching for?" report, we try to uncover the latest insights for brands that can help marketers understand what's top of mind for their users and its potential implication for their businesses. The top five emerging trends this year are as follows:
1. Always-on: Lifeline, not a distraction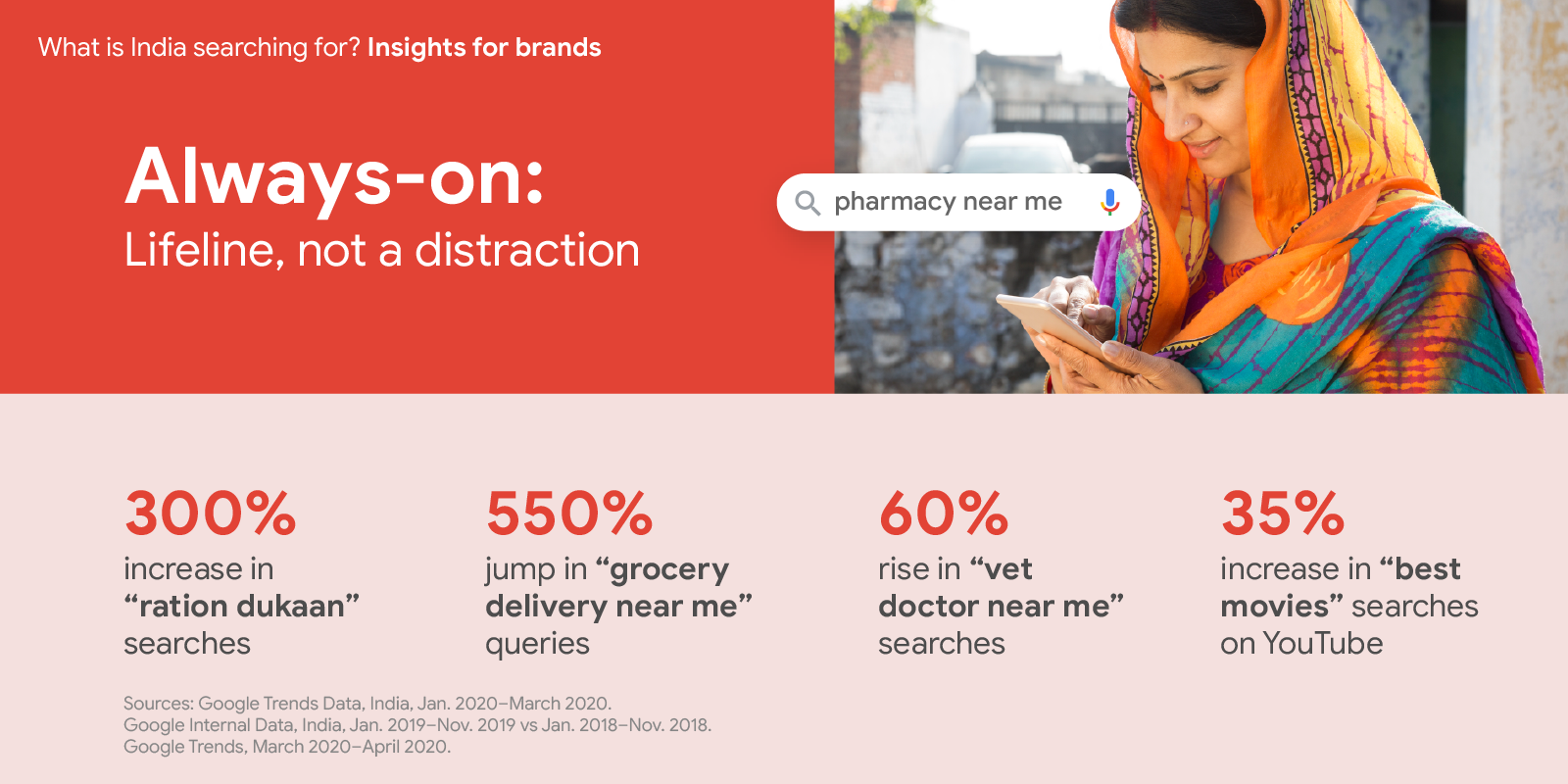 A single, powerful reality sits at the heart of consumer behavior: the exploration cycle. It is greatly defined by "always-on search," an established user habit aided by an endless stream of information. However, like all aspects of life, recent events have had a significant impact on this cycle as consumers are holding back on most forms of discretionary spending. The silver lining here has been the exponential increase in online activity, with the time spent on smartphones rising to about four hours per day per person in the third week of the COVID-19 disruption1.
Indians are using this time to research and satiate their desires with the help of digital. With the closure of major retail stores, there has been a surge in searches for essentials and brands providing home delivery. Interestingly, "near me" searches have seen a massive uptick since March 2020. Queries like "pharmacy near me" (+58%), "grocery delivery near me" (+550%), "ration dukaan" (+300%), and "vet doctor near me" (+60%) have become increasingly common.
"Best" searches, which have consistently seen high growth in India, continue to see a sharp rise despite the current scenario. While 2019 saw a significant jump in queries like "best headset" (+140%), "best/top 2W insurance" (+116%), and "best mattress" (+150%), "best" searches in 2020 have adjusted to the idea of limited mobility. They include queries like "best movies" (+35%) on YouTube and "Best trading platforms" (+45%).
As brands make sense of the exploration cycle in today's context, searches across categories are highlighting the importance of showing up in consumers' moments of needs instead of prioritizing an omnipresent approach. It is imperative for companies to hold a seamless dialogue with potential shoppers from the time they discover them online to when they make a purchase and beyond.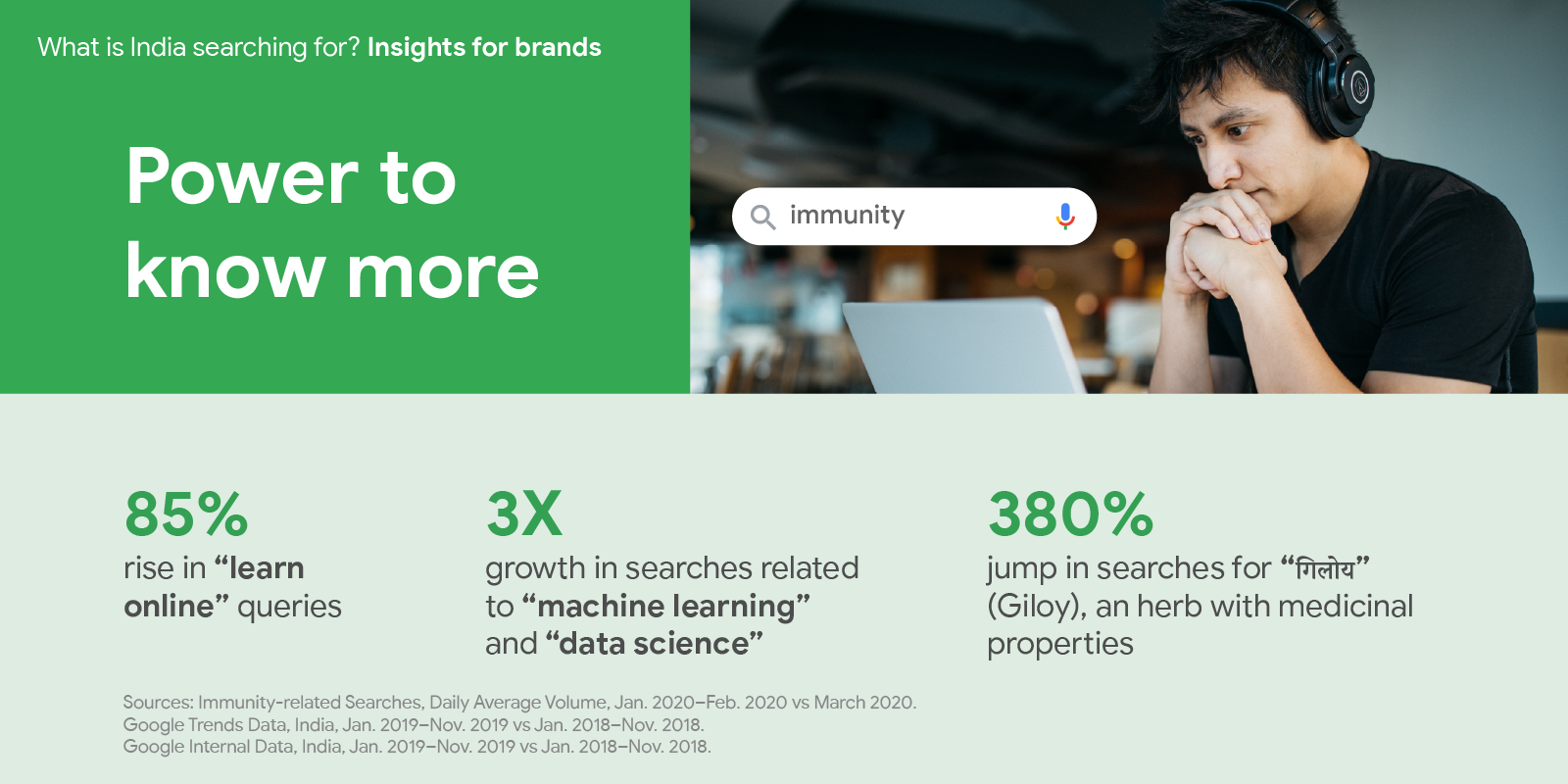 From due diligence to understanding how things work, Indians are coming online to enrich their knowledge base, enhance their skill levels, and seek validation for their purchasing decisions. They have a strong desire for transparent, useful, and timely information.
This need to know more has led to explosive growth in the consumption of lifestyle and edutainment content, especially on video, which accounts for 70% of India's total data usage. Millions of Indians are empowering and upskilling themselves online. This trend is being driven by both day-to-day questions like "gym at home" (+93%) and "5 minute recipes" (+56%) as well as searches related to advanced skill sets like "machine learning" (3X) and "data science" (3X). With a majority of users being homebound, there has also been high growth in queries like "learn online" (+85%), "teach online" (+148%), and "at-home learning" (78%).
Looking to stay updated, Indians are also constantly seeking the truth and greater transparency from the brands and institutions they engage with — 1 out of every 2 consumers want to know how brands are responding to the events of the last few months. They also want to know "how things are made" and are curious about the ingredients used in the products they choose. As health and wellbeing become high priorities, queries in this category have recently pivoted toward "immunity" (+500%). Searches for vitamin C, which grew by 40% in 2019, have surged by over 150% in recent weeks, as have queries for herbs with medicinal properties like "गिलोय" (Giloy) (+380%) and Ayurvedic home remedies like "काढ़ा" (Kadha) (+90%).
This drive for knowledge among consumers shows that when unforeseen circumstances affect our communities, people seek helpful advice and accurate information. With a wealth of content available online, brands must look at ways to position themselves as helpful experts and inspire consumers to take actions.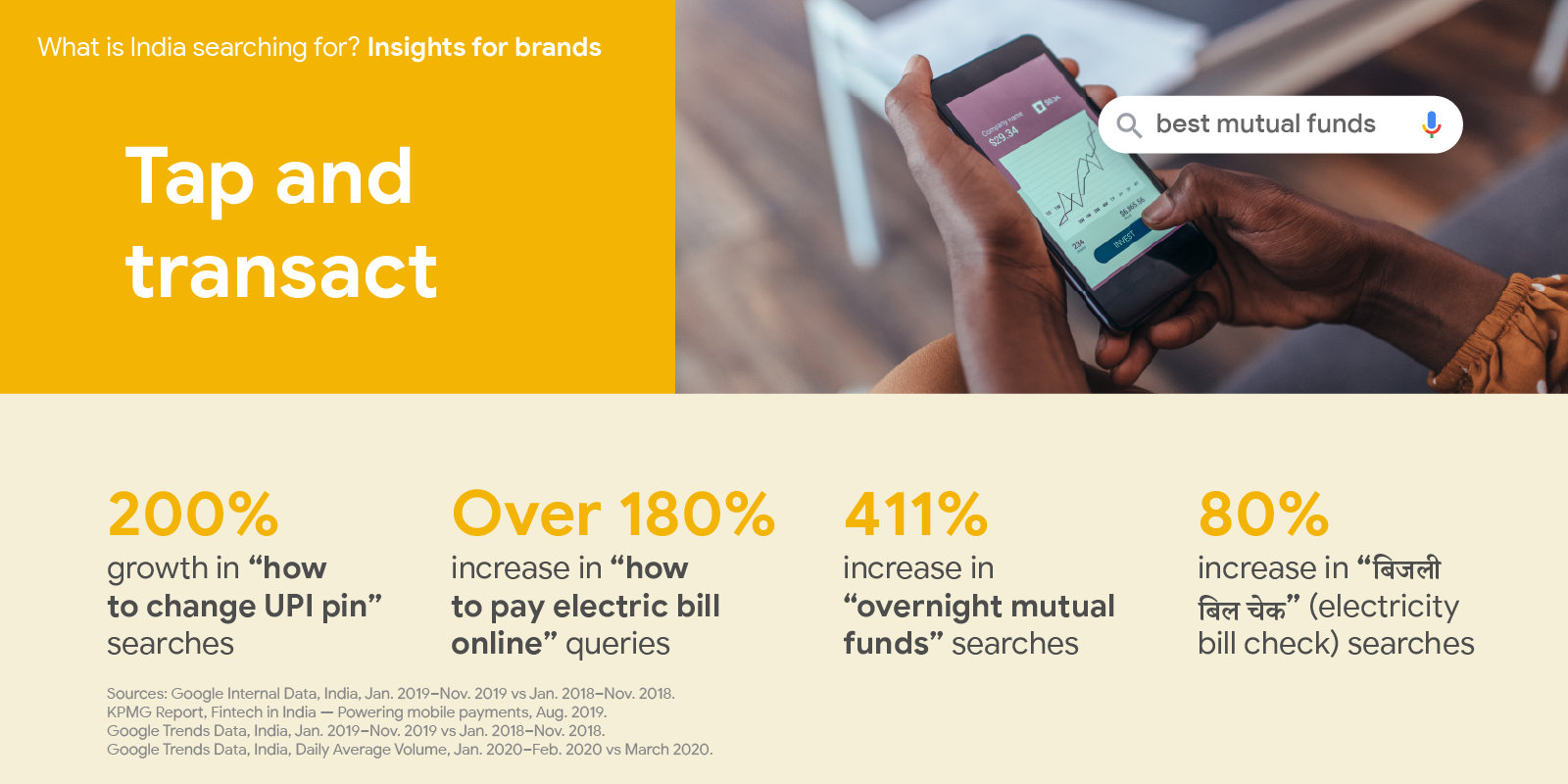 In a country that's home to the world's second largest unbanked population, digital has been at the forefront of enabling financial inclusivity. There is a growing curiosity about cashless transactions and mobile payments. As a result, searches like "QR code payment" (+66%), "how to change UPI pin" (+200%), and "how to pay electric bill online" (+180%) have seen significant growth.
With social distancing becoming the norm and cash transactions taking a backseat, queries like "How to pay electric bill online" (+180%) and "बिजली बिल चेक" (electricity bill check) (+80%) are seeing an uptick. These searches illustrate how more and more Indians are relying on digital to take care of their routine payments. The growth of searches like "overnight mutual funds" (411%) and "mutual funds to invest now" (249%) also shows that many consumers are now relying on online resources to take care of their long- and short-term financial goals.
The scale and diversity of cashless payment adoption in India is vast, showing that an increasing number of consumers are reposing their faith in digital transactions. For brands in India, the challenge lies in effectively adapting their businesses according to this new reality. They must work toward understanding how users can further embrace and build trust with these new-age payment systems.
4. Anything, anywhere, anytime — on-demand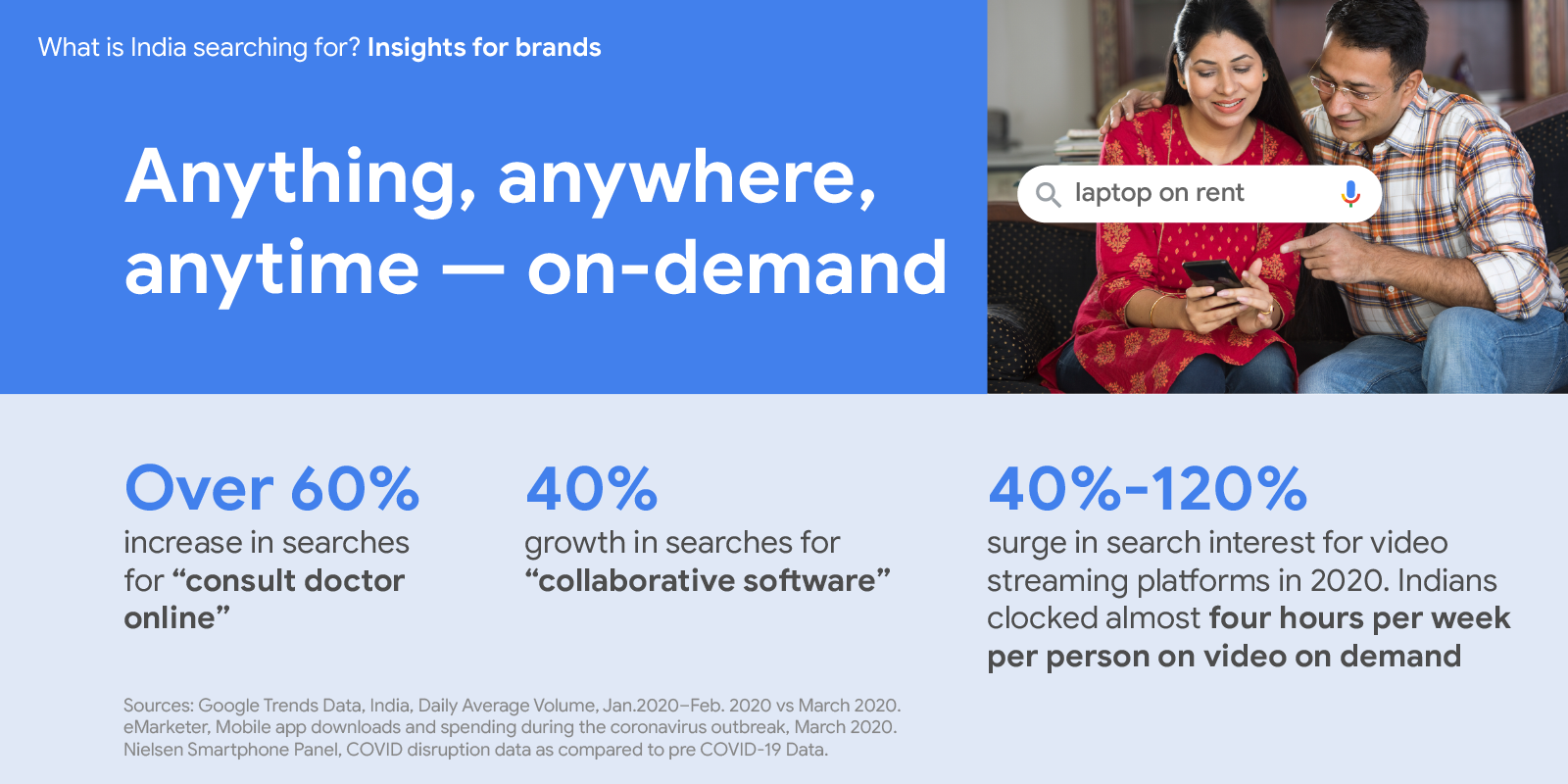 Indians, especially the young, are increasingly seeking to move toward a hassle-free and convenient lifestyle with the help of on-demand services. This changing mindset is driven by a very simple logic: "If I can get a cab or pizza on demand, then why not everything else?"
Throughout last year, this trend expanded beyond digital content to more niche categories like food, appliances, and medical essentials. This new development is evidenced by the growth in searches for "consult doctor online" (+60%), "collaborative software" (+40%), and "free video dating" (+70%). The demand for such near-instant gratification has, in fact, led a lot of traditional businesses to pivot to digital to meet people's evolving needs.
A core element of on-demand gratification has been video. Indians are using the latest in streaming and video conferencing technology to consult with doctors and therapists, go on online dates, and host virtual streaming parties. In 2020, search interest for overall video streaming platforms surged between 40% to 120% as Indians clocked almost four hours per week per person on video on demand.
As consumer needs evolve, more brands have the opportunity to embrace digital and fully understand their consumers' lifestyles, fulfill their real-time needs, and consequently reimagine their relationship with them to offer on-demand gratification.
5. Optimize, personalize, and humanize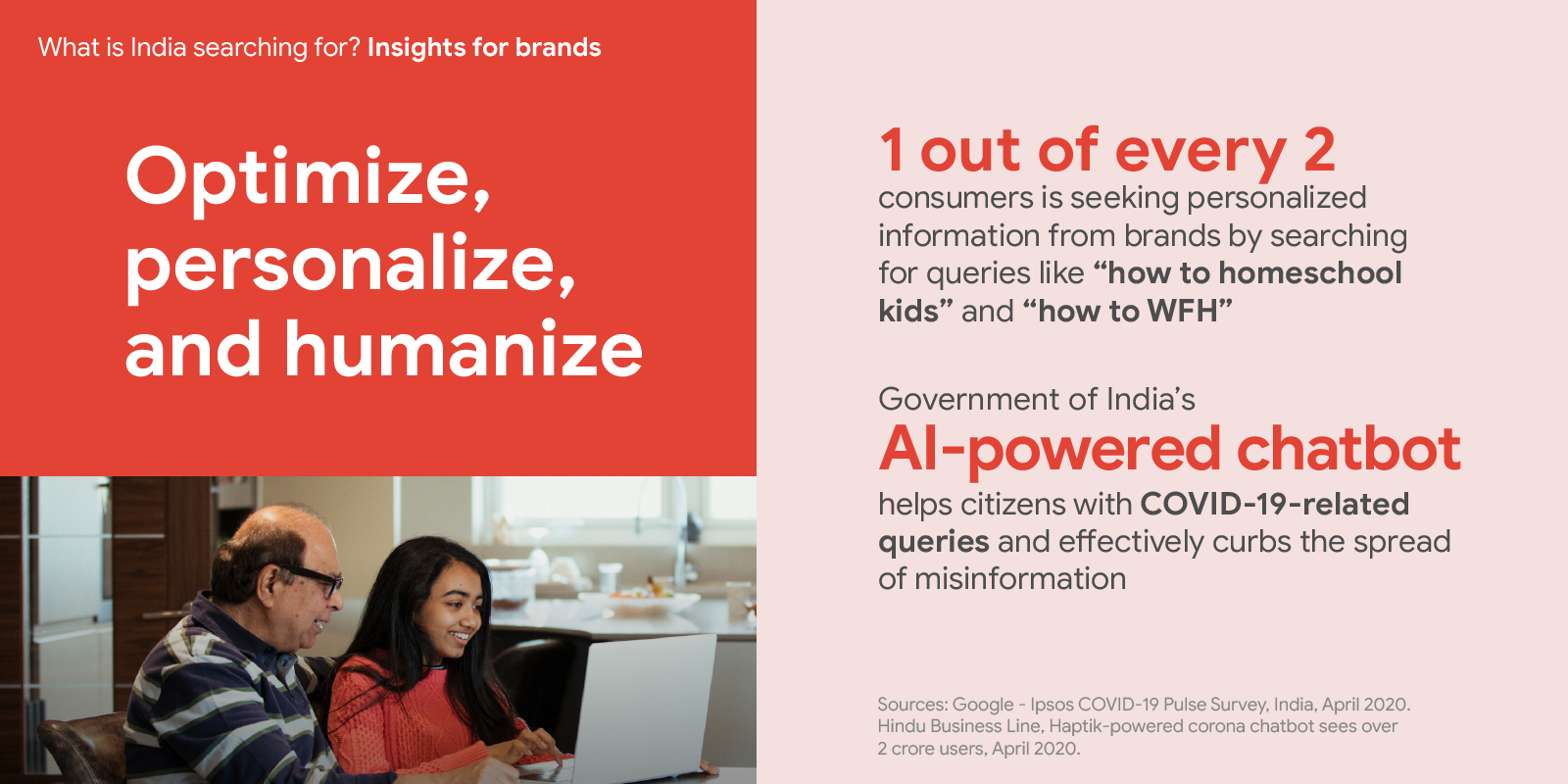 Despite the changing attitudes in consumer behavior in 2020, the desire for personalized offerings among Indians continues to stay strong. Users want multi-moment brands that understand their likes, dislikes, and interests based on their online footprints. They want them to be available at almost every step of their digital journey.
The interest for custom goods has seen a slight dip in the recent past, but the demand for personalization at scale is here to stay. In fact, 1 out of every 2 consumers is seeking personalized information from brands by searching for queries like "how to homeschool kids" and "how to WFH."
For most organizations, backend operations and customer redressal systems have taken a hit in the wake of COVID-19. This could prove to be an opportune time for brands to lean on AI and ML to fulfill redundant and recursive tasks. A new and effective example of this approach is the Government of India's recently launched AI-powered chatbot. This application helps citizens with COVID-19-related queries and effectively curbs the spread of misinformation.
For brands looking to grapple with the challenges of these highly unusual times, sustained online, data-fueled optimization and personalization may prove to be one of the most effective tools at their disposal. They must keep people first, analyze their digital footprints, and learn from first-party data. Not only will this help them provide helpful advisories, but also allow them to uniquely engage with diverse consumers, at scale.