"Personal and premium" — that's the new mantra in India's beauty and personal care industry, which is expected to reach US$14 billion by 2024.1 Affordable data and widespread mobile access have brought millions of Indian consumers online from all corners of the country, and online sales contribution from the beauty category is expected to reach 10% by 2024 – up from 4% in 2019.2
As a result, beauty brands have a plethora of opportunities to get on shoppers' shortlists when they're discovering and comparing products online. To help brands deliver more relevant, personalized solutions, we conducted new research with Kantar to understand how Indian beauty consumers are using different platforms and channels, and what they're expecting from today's brands. After surveying more than 1,700 consumers, here are a few of the insights we uncovered:
1. The consumer purchase journey is much more personalized and fragmented than ever
How Indian beauty shoppers use online resources
It's no longer a straight line from the first discovery to final purchase. Between finding, comparing, buying, and applying new beauty products, shoppers must navigate a plethora of online touchpoints for advice, ideas, and inspiration.
At the same time, consumer journeys are now very individual. Expectations for personalization have also become more complex and revolve around search interests such as gender, skin type, life stage, and time of day.
2. Be online or be overlooked
Whether they were exploring new products or looking up reviews and recommendations, most beauty consumers in our study (91%) conducted online research at some point.3
Through online search, social media, TV ads, and offline recommendations, shoppers are influenced by a variety of channels along the purchase journey. However, two touchpoints in particular are especially crucial to beauty consumers — Search and YouTube.
The digital touchpoints and its role in the consumer journey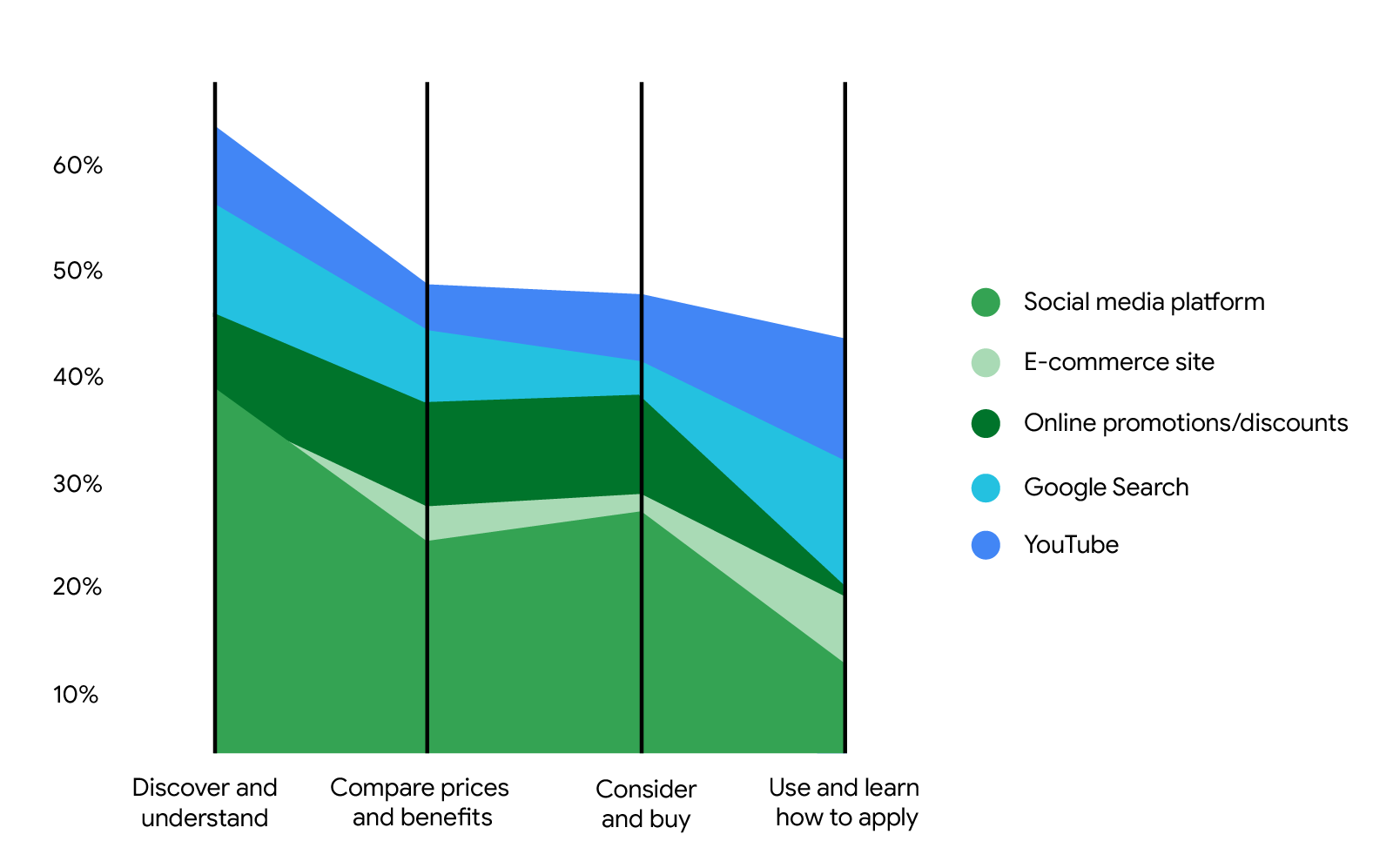 3. Search is the new shopping aisle
With so many different options at their fingertips, consumers are looking for help finding just the right fit for their needs. Over half (58%) of beauty consumers prefer using online search for information or recommendations.4 Search is also used as a way to connect consumers with retailers, with 29% saying they visited a beauty retailer as a result of a search on Google, as well as a product recommendation platform, with 35% purchasing a beauty product after searching online.5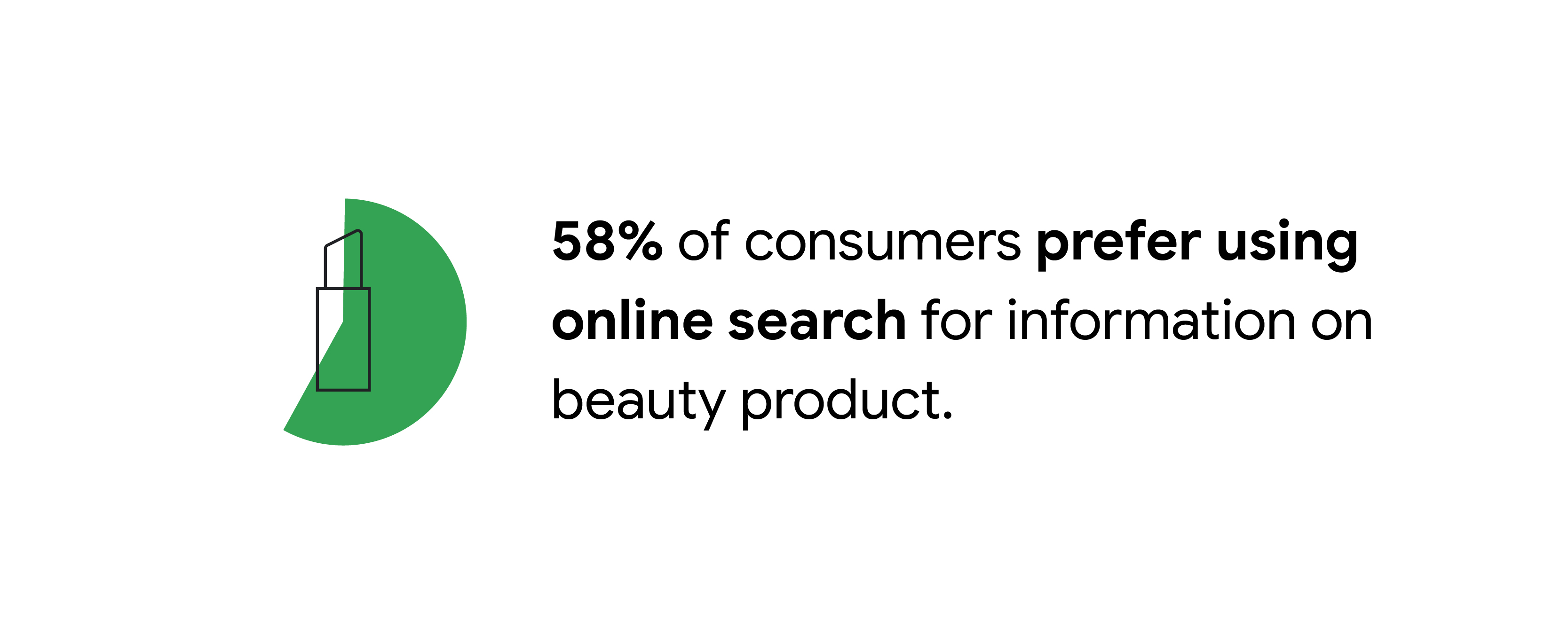 4. Offline action starts with online research
Although 76% of hair care and makeup purchases are planned (just 24% are spontaneous) and most are made offline, shoppers still double-check their decisions online before visiting a store.6
Why beauty consumers prefer online resources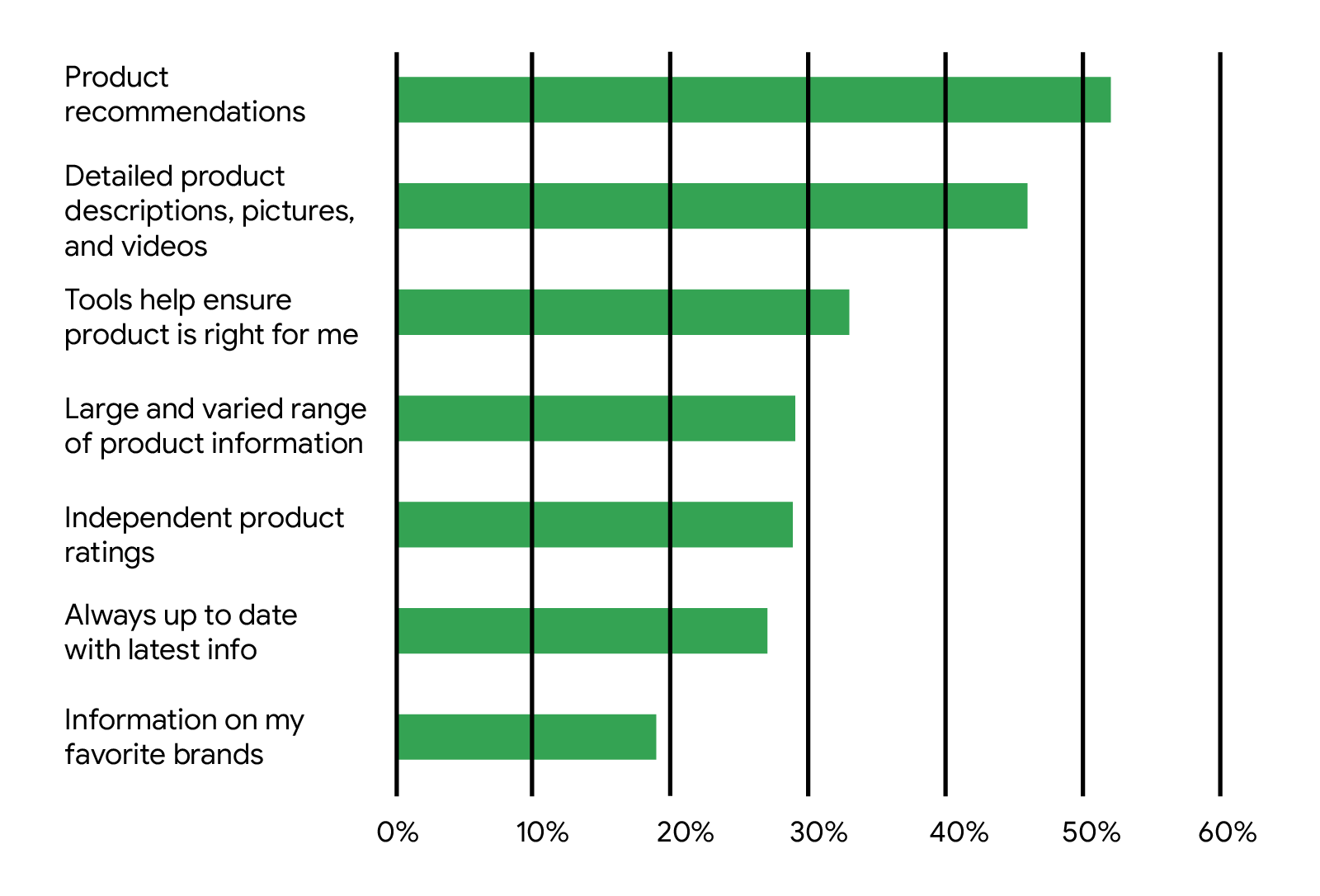 5. Online video is the new beauty counter
Rather than make the trip to a department store, more people are using video reviews, tutorials, and online advice to inform their purchases — and 81% of consumers engage with at least one beauty influencer on YouTube.7
In fact, both men and women in India purchase an average of six skincare and personal care products every month, and typically engage with the same number of offline (2.3) and online (3.1) touchpoints during their research.8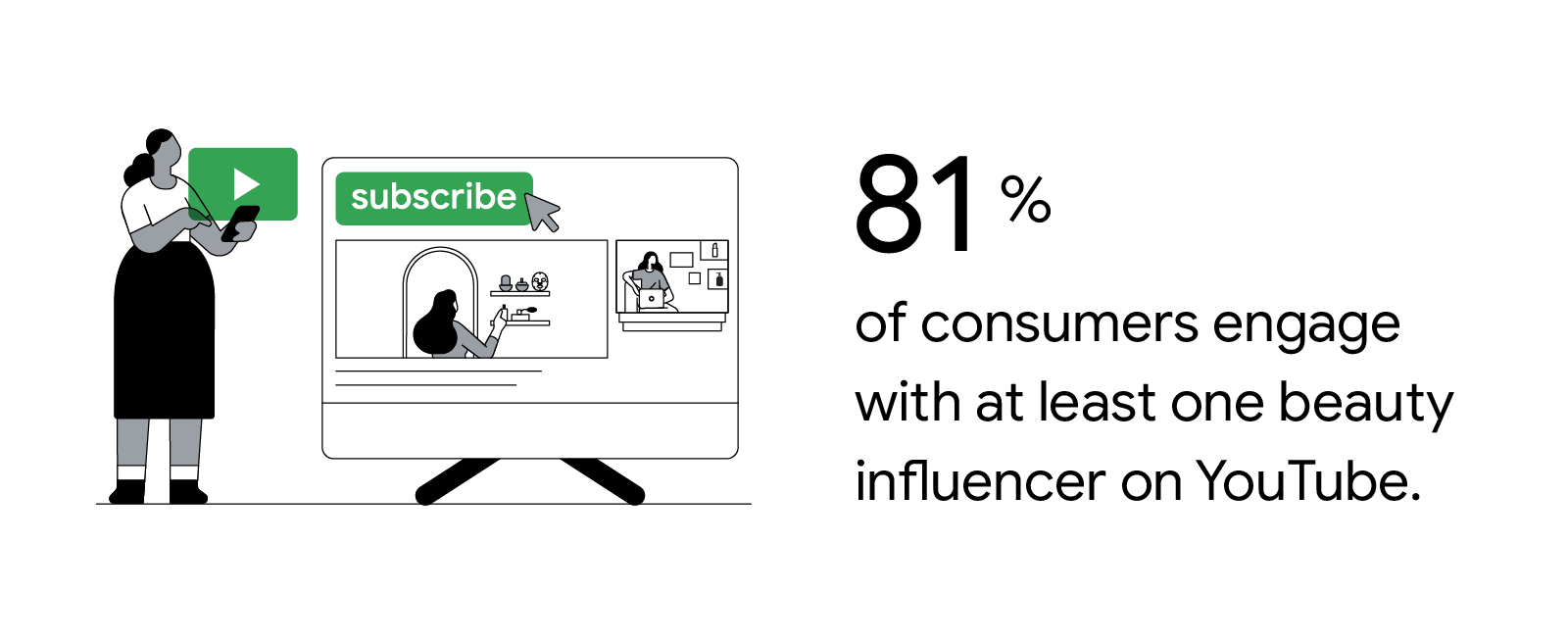 6. Consumer loyalty can change
When comparing their options, most people are willing to try out a new brand if they find a better fit. Just 33% of consumers are loyal to one brand while they're shopping (26% in metro cities compared with 40% in rural areas).9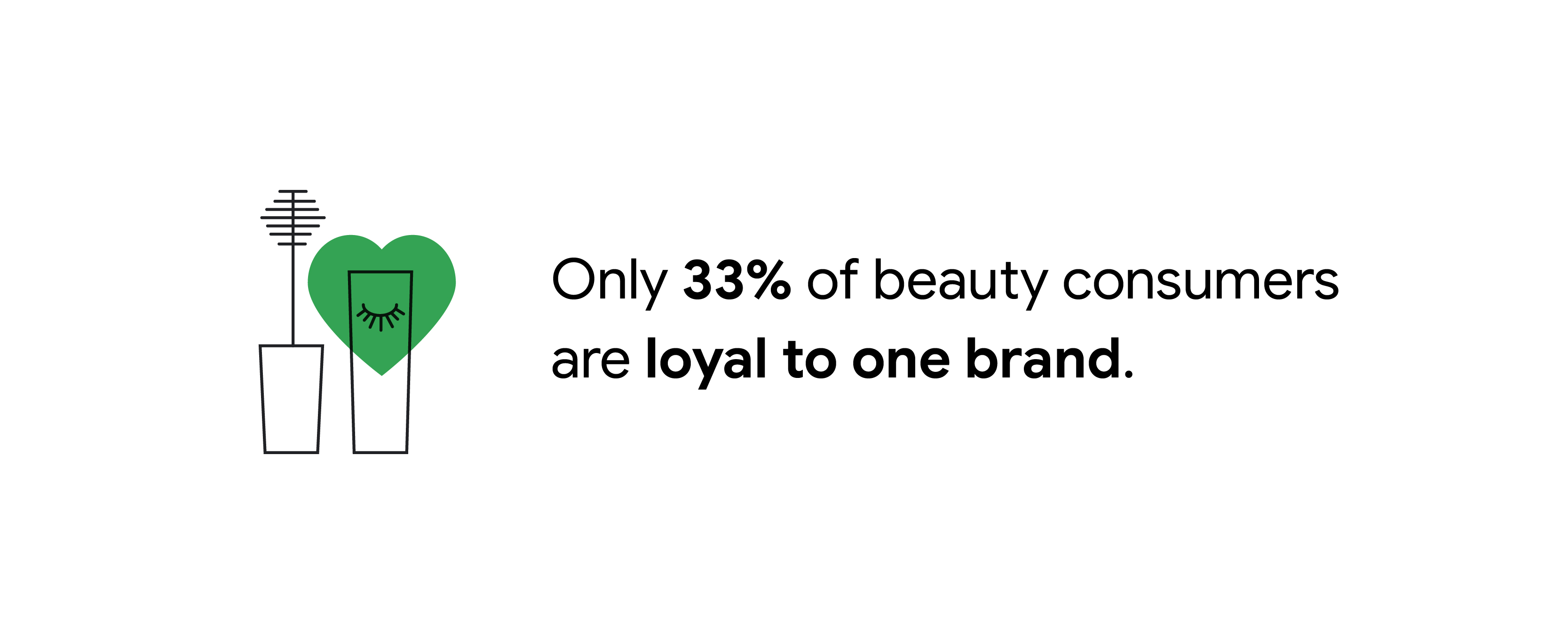 7. Beauty shopping is a visual experience
When it comes to obtaining a complete view of a new product, online video and social media take precedence over offline touchpoints. Most beauty consumers rely on social media (50%+), online video (50%+), and online search (40%+) for research, compared with only 29% who prefer in-store discovery.10
Which of the following sources were helpful for your search?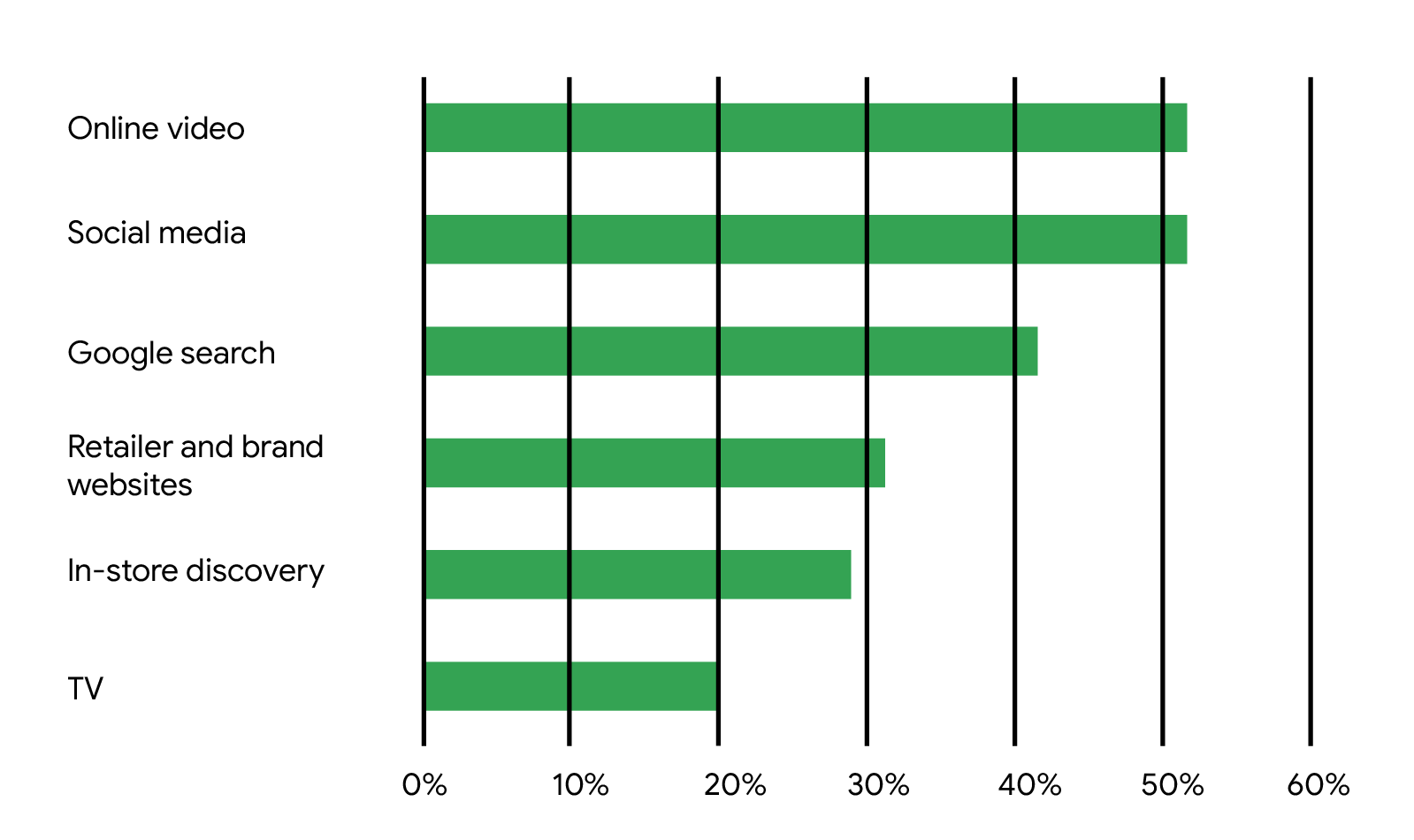 8. Build trust with consumers by partnering with creators
After friends and family, more consumers are turning to authentic, relatable voices online for recommendations. One-third of new product purchases in our study were impacted by a beauty influencer.11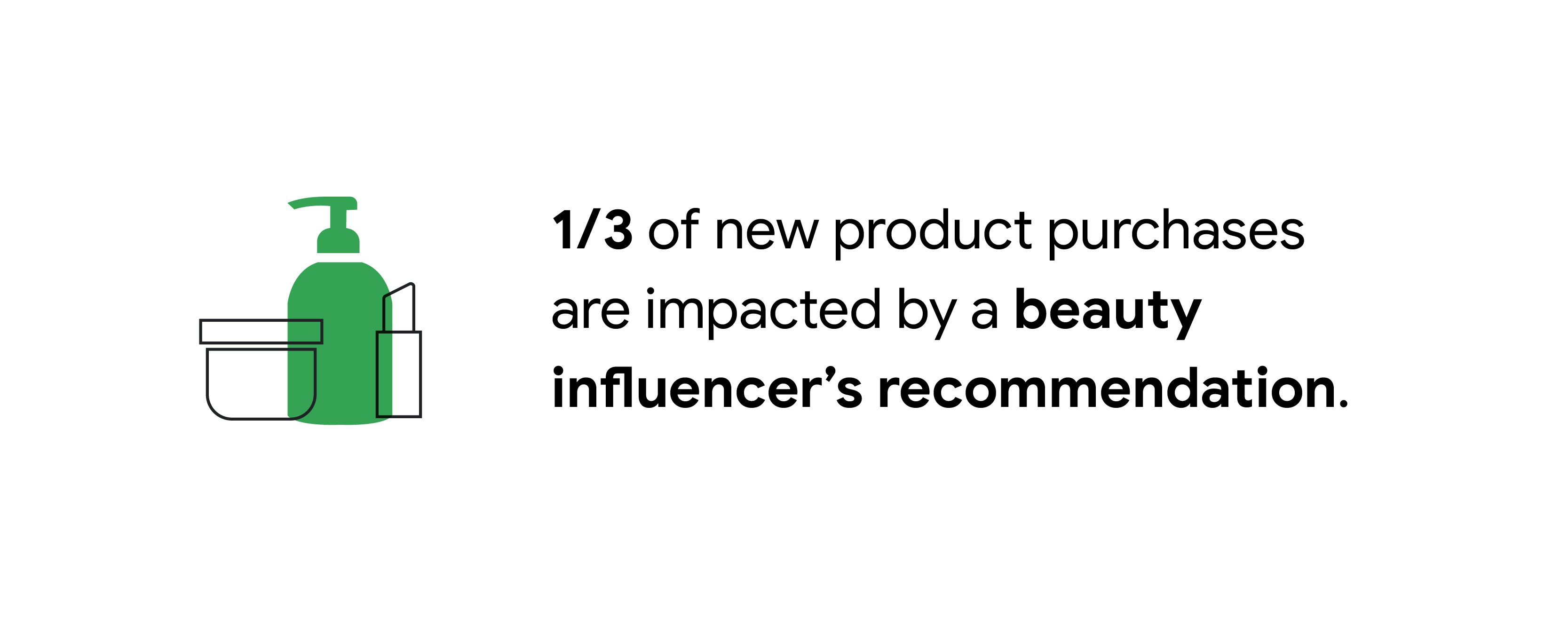 9. Online shoppers carry bigger baskets
Even though in-store shopping is the norm, online shoppers spend an average of 1.4X more than offline shoppers each month.12
Average beauty category purchases each month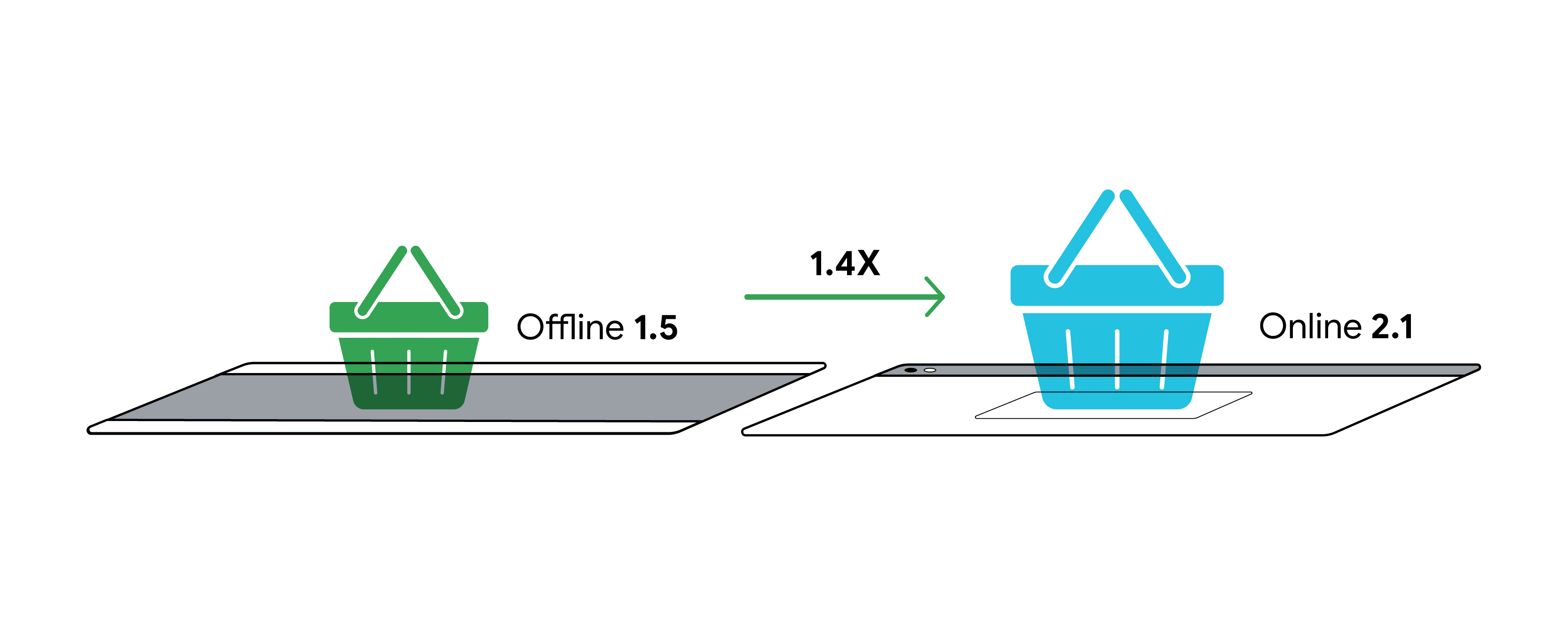 10. Technology can transform the shopping experience
Beauty consumers are eager to get even more up close and personal with new products. Well over half of Indian consumers said they're interested in using virtual reality (67%) and augmented reality (64%) to engage with beauty products, and 69% are keen on using voice assistants.13
How beauty consumers want to engage with new tech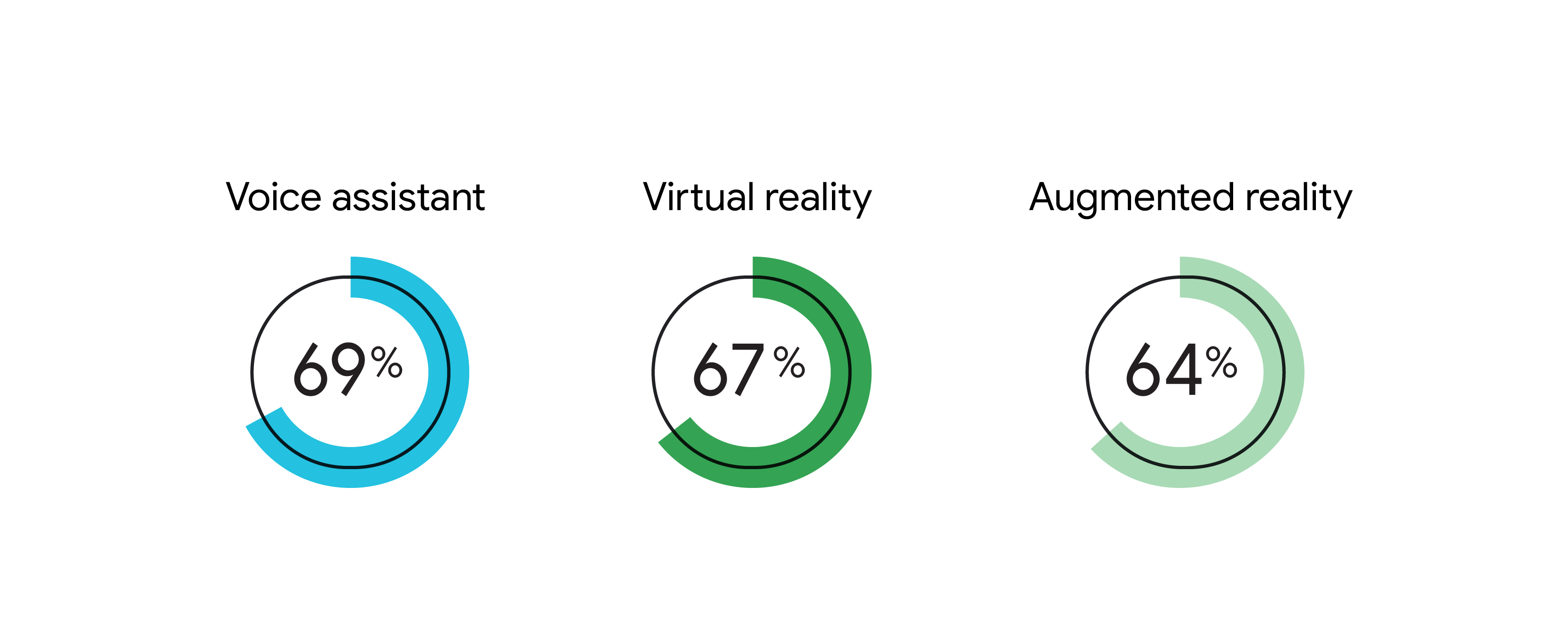 Plan digital-first to get on beauty shoppers' shortlists
India's beauty marketers have an unprecedented opportunity to reach a fast-growing, dynamic audience. Here's how to use the digital tools, technology, and insights at your disposal to offer beauty mavens the personal touch they crave:
Keep an eye on trending products and ingredients that show up across a variety of online channels to help shoppers where and when they need it.
Think beyond just metro cities. Indian channels like BeerBiceps are offering men grooming tips catered to their individual styles and even producing Hindi content to reach a wider audience.
Invest in building your online digital presence beyond traditional media channels, and establish consumer loyalty by providing easy access to information about your products using online videos.
Make sure your high-quality video content is discoverable across multiple platforms — especially where consumers are more leaned-in and engaged.
Consider partnering with creators that shoppers look to for advice and recommendations. Online influencers like Komal Pandey and Shruti Arjun Anand have gained loyal followings by sharing makeup tutorials, new trends, and skincare routines.
Online purchases in India are quickly gaining steam. Investing in a fast, smooth, and secure online checkout process can make all the difference.
Consider how your brand can help reduce friction along the purchase journey with technology to deliver more personal, interactive, and relevant shopping experiences.
You can also watch the presentation from our report launch event here.
Methodology
Google partnered with Kantar in Q3 2019 to interview Indian consumers who purchased skincare, makeup, or hair care products over the past month. The online interviews were conducted in large towns — Delhi and Bangalore. Offline interviews were conducted in smaller cities — Patna, Indore, Jalandhar, and Mangalore. Each respondent was only interviewed for one category, and all qualitative interviews were conducted in person.