When the world stopped traveling internationally during COVID-19, the travel industry took a back seat to wait until pandemic restrictions eased. With flights grounded and borders closed, airlines, travel agents, and MICE (meetings, incentives, conferences, and exhibitions) organizers kept a close eye on travel regulations as well as shifts in consumer priorities toward health and safety.
As countries slowly begin to moderate restrictions on movement, we set out to explore how consumer sentiment for travel is starting to show signs of recovery across APAC.
Strong and growing pent-up demand for travel
In recent consumer surveys, we found that 1 in 2 people in APAC are eager or very eager to travel now. The findings from this study align with travel search interest where, in just three months, APAC has recovered around 50% of its pre-COVID-19 levels.1
This shows positive signs that people are interested in testing the waters of future travel and are looking for information on how and when they could be jetting off on their next vacation while still keeping the health situation in mind. That means as countries start opening up, people will be eager to get out, and travel businesses must be ready to meet these potential customers with useful information that will help them plan.
New fragmentation + new demands = new strategies
However, the region's travel recovery is fragmented, with countries currently in three different phases of recovery:
New normal: Government restrictions have eased; signs of sustained travel demand.
Transition: Government restrictions on movement; localized travel demand is starting to increase.
Early reopening/ lockdown: Restricted movements imposed.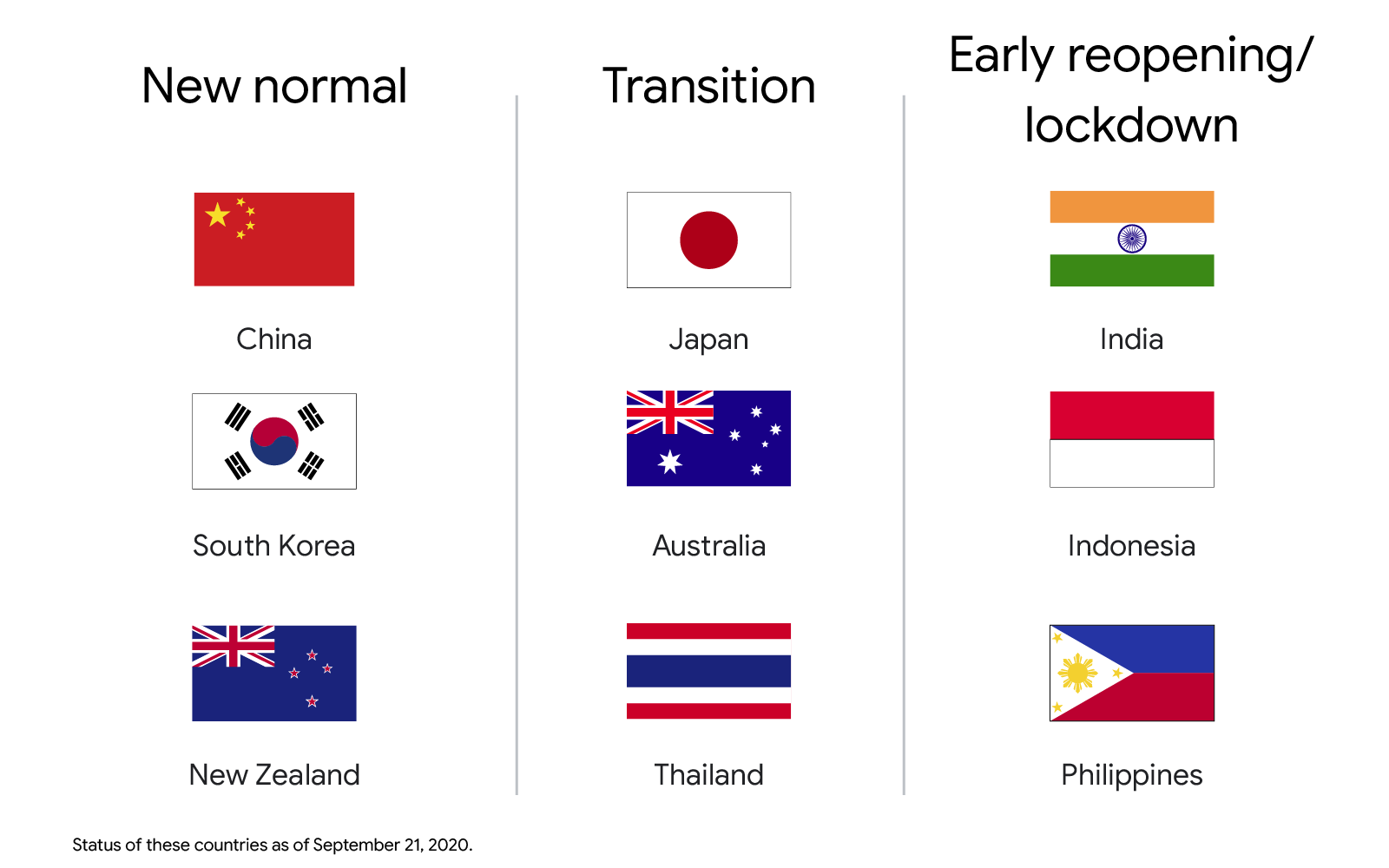 There's no one-size-fits-all approach for marketers looking to reignite travelers' wanderlust. Instead, each market requires a tailored itinerary to suit regulations, restrictions, and shifting traveler sentiment.
To help, Google and Kantar conducted research in China, which is leading APAC when it comes to travel recovery. In China, we saw 115 million domestic trips during the Labour Day holidays, just one month after restrictions were eased. Domestic flight bookings also recovered by 98% for the month of August.
We uncovered three key learnings to help you plan your APAC travel recovery itinerary and guide you along the journey as you connect and engage with your new travel audience.
1. Fuel digital interest: Customers crave helpful information online
As the excitement of potential travel begins to grow, our survey highlights consumers turning to online travel agents (OTAs) as a way to book travel plans. According to our survey, 6 out of 10 consumers in China now plan to book more regularly with online travel agents compared to pre-COVID-19.2 That's now double the growth of direct channels, such as airline and hotel apps or websites.
This is due in part to OTAs moving quickly to evolve their online presence to adapt to new consumer needs. However, all travel companies can capture this growth by providing useful services, such as relaying safety and travel information across their owned channels, offering flexible bookings and price guarantees for travelers who are keen to book early, and driving engagement and introducing innovative marketing activations such as live streams to keep their brand top-of-mind.
Case study: How Trip.com Group has adapted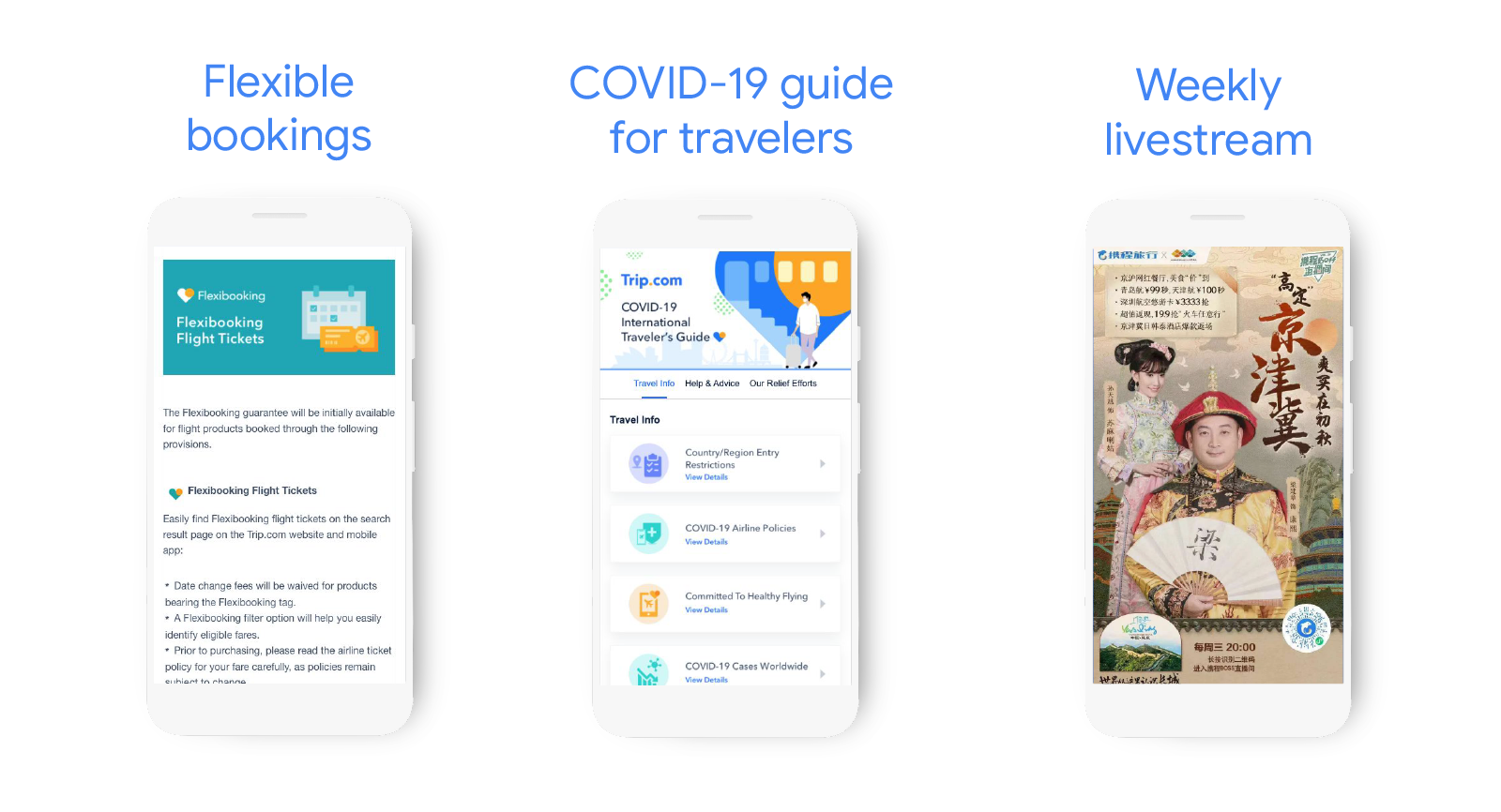 Quick tip: On top of providing flexible bookings and relevant information, don't waste any opportunity to reengage customers who have interacted with you previously. Show why these customers should be thinking about you for their next travel purchase — you can do so by providing timely and personalized offerings.
2. Be relevant in COVID: Safety is the new brand, but perception of safety differs by country
According to our consumer surveys, travelers ranked cleanliness and hygiene among their top three considerations, well ahead of travel brand reputation or loyalty programs. But our research highlights what people perceive as "safe" tends to vary between countries, which impacts the booking choices that consumers make in each market.
Booking considerations among APAC travelers

We see evidence of this difference in choices from our research. In China, 40% of people prefer hotels versus 9% who would book a vacation rental post COVID-19.3 However, the opposite trend is seen in New Zealand, where we've seen domestic bookings on Airbnb recovering faster to pre-COVID-19 levels than for hotels.
Our research suggests a key driver in the difference in choices is the perception of what is regarded as safe in each country. In China, approximately 48% of travelers view hotels as having better health protection measures versus only 12% who thought vacation rentals had better health measures.4
However, consumer interviews in New Zealand highlighted that travelers in the country preferred vacation rentals because they allow travelers to stay away from crowded city areas, and they also have facilities such as kitchens, which helps reduce contact with other travelers during their holiday.
This implies that travel companies will need to go beyond knowing the general considerations to understand how each consumer is interpreting these booking considerations and tailor the way they reach out to them.
Quick tip: Understanding data will help travel companies keep up with changing traveler sentiment and preference. Marketers need to establish a strong data analytics infrastructure to activate this data in tailored marketing activities or to generate business insights.
3. New way of doing business: The need to reignite MICE travel
While excitement for leisure travel is building, we're seeing some uncertainties surrounding the desire for business travel, particularly within the MICE segment.
Our research in China shows that the majority of travelers (53%) are still willing to travel for client meetings during COVID, but only 39% are keen to travel for MICE events.5 With MICE remaining critical for travel businesses in the region, there is an opportunity for travel businesses to collectively play a huge role in positively shifting consumer sentiment.
Instilling customer confidence is key to reigniting demand within MICE. Some hotel companies such as Marriott International in China have started to introduce enhanced hygiene protocols for business conferences to encourage bookings. We've also seen governments take an active role in attempting to reignite demand, with the Singapore government recently piloting an initiative to resume events for up to 250 attendees starting in October.
Hotels in China have introduced safety programs for business conferences to encourage bookings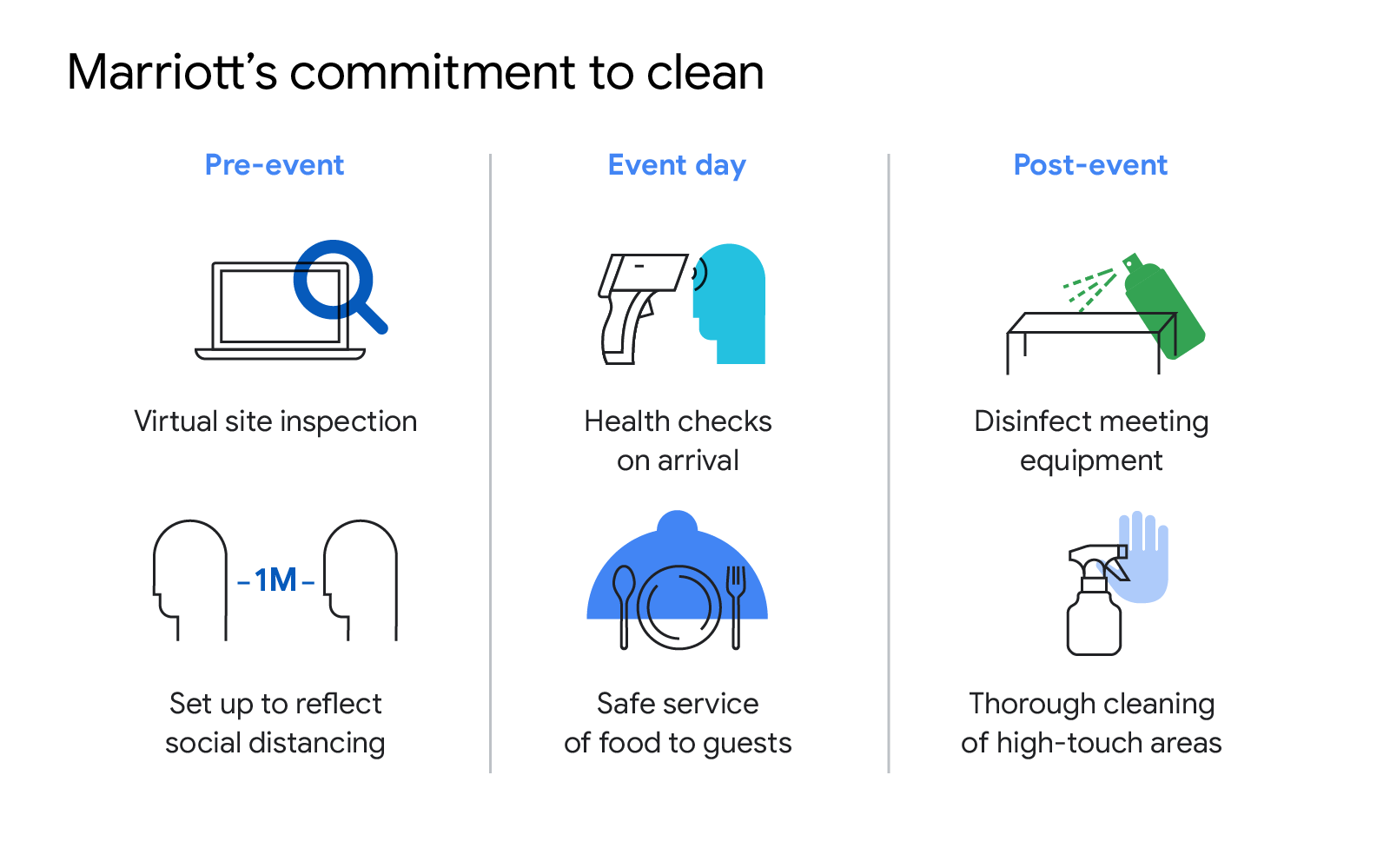 Quick tip: While business traveler sentiment is uncertain, travel companies should positively shift the sentiment by highlighting safety measures such as enforcement of social distancing for MICE events.
The recovery itinerary for marketers:
The latest travel trends can change overnight, so be prepared: Consumer preferences and behavior will respond quickly to changes in regulations, and we've seen this happen across the globe.
Leverage data, and be customer-centric with your messaging: Invest in data infrastructure to understand the changing mindsets of travelers to help create custom messaging and personalized experiences — both for online travel audiences as well as MICE events.
Highlight safety as a core part of your value proposition: Instill confidence in consumers by communicating cleanliness and safety as part of your brand messaging and as a means to differentiate your offering.