Given the diversity of APAC, prospective travelers in different countries exhibit significant differences in behavior across the dreaming, planning, and booking stages of their travel planning journeys. We surveyed consumers in India, Japan, and Australia to uncover these differences and their impact on travel marketers.
Picture a newly-married couple in Bengaluru dreaming of their honeymoon, a busy mother in Tokyo planning a family vacation, or a young professional in Sydney looking to book a spa trip over the long weekend — they all approach travel differently. For instance, while consumers in some countries are increasingly turning to apps to conduct research, others display a preference for mobile web to research the perfect getaway. The bottom line is, consumer behavior varies greatly from person to person and country to country.
APAC boasts one of the largest and most diverse travel markets in the world: By 2020, it will account for more than 40% of global online travel sales, surpassing North America and Western Europe. This presents a big opportunity for travel brands looking to introduce themselves or grow their presence in the region. But with so many markets and unique consumer behaviors, brands need to consider how to customize their campaigns and prioritize their budgets and resources.
To help travel brands improve their campaign strategies across APAC, we partnered with Ipsos to learn more about consumer travel planning journeys in three of the region's largest travel markets: India, Japan, and Australia. Below are three crucial insights we found — and what they mean for marketers:
1. Brand awareness varies from country to country
Most travel planning journeys truly begin when a prospective traveler moves from dreaming about their trip to actually planning it. While seasoned travelers may be more aware of certain brands, first-timers and deal-seekers will likely explore their options via online travel agencies (OTAs), also known as aggregators.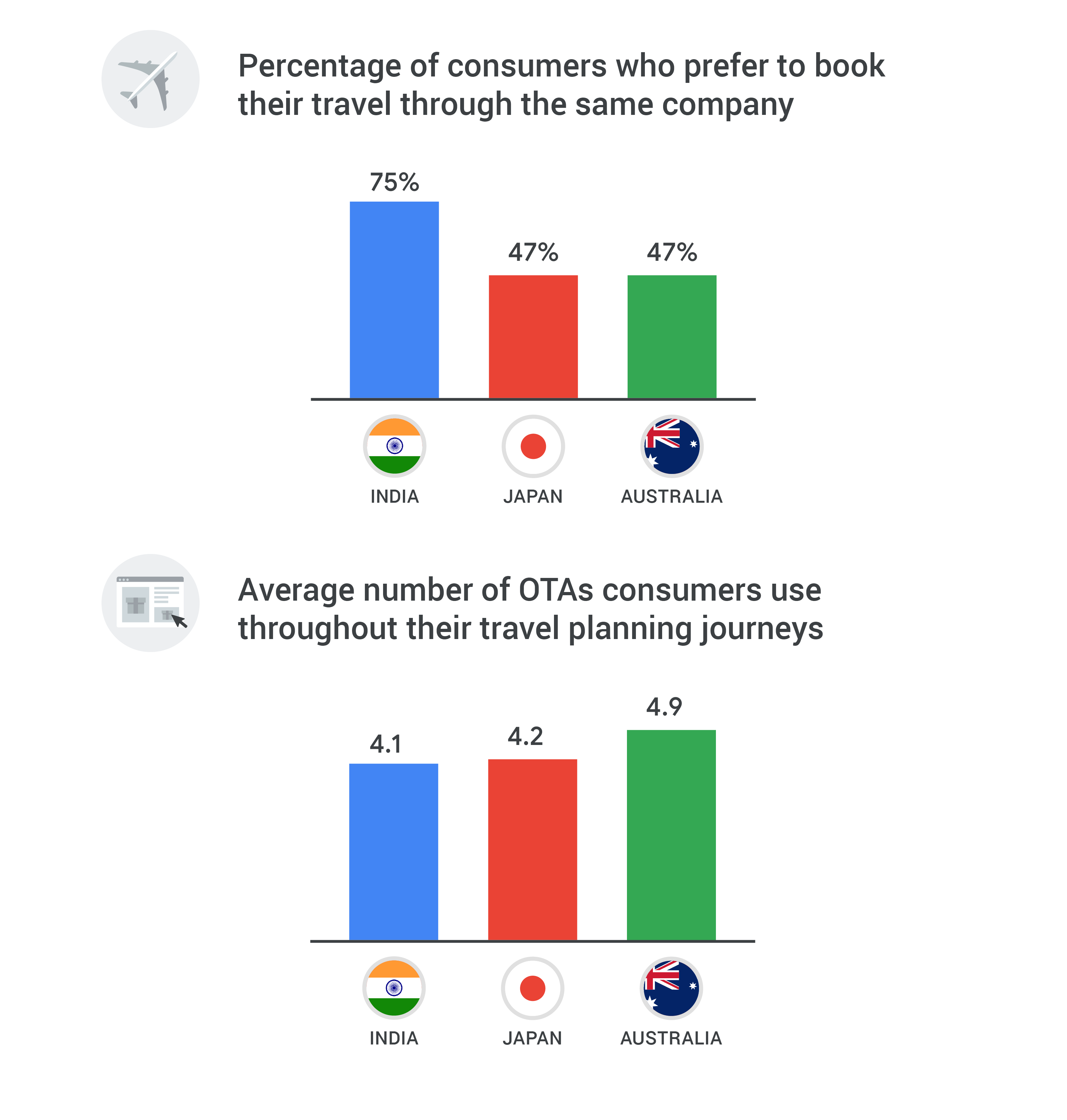 Consumers in India are the most brand-conscious, with 75% of them looking to book all of their travel through the same company. Indian consumers also use an average of 4.1 brands throughout their travel planning journeys, the lowest of all three countries. Consumers in Japan and Australia are less brand loyal, with 47% of them preferring to book from the same travel company. Japanese consumers use 4.2 OTAs on average, while Aussies use 4.9.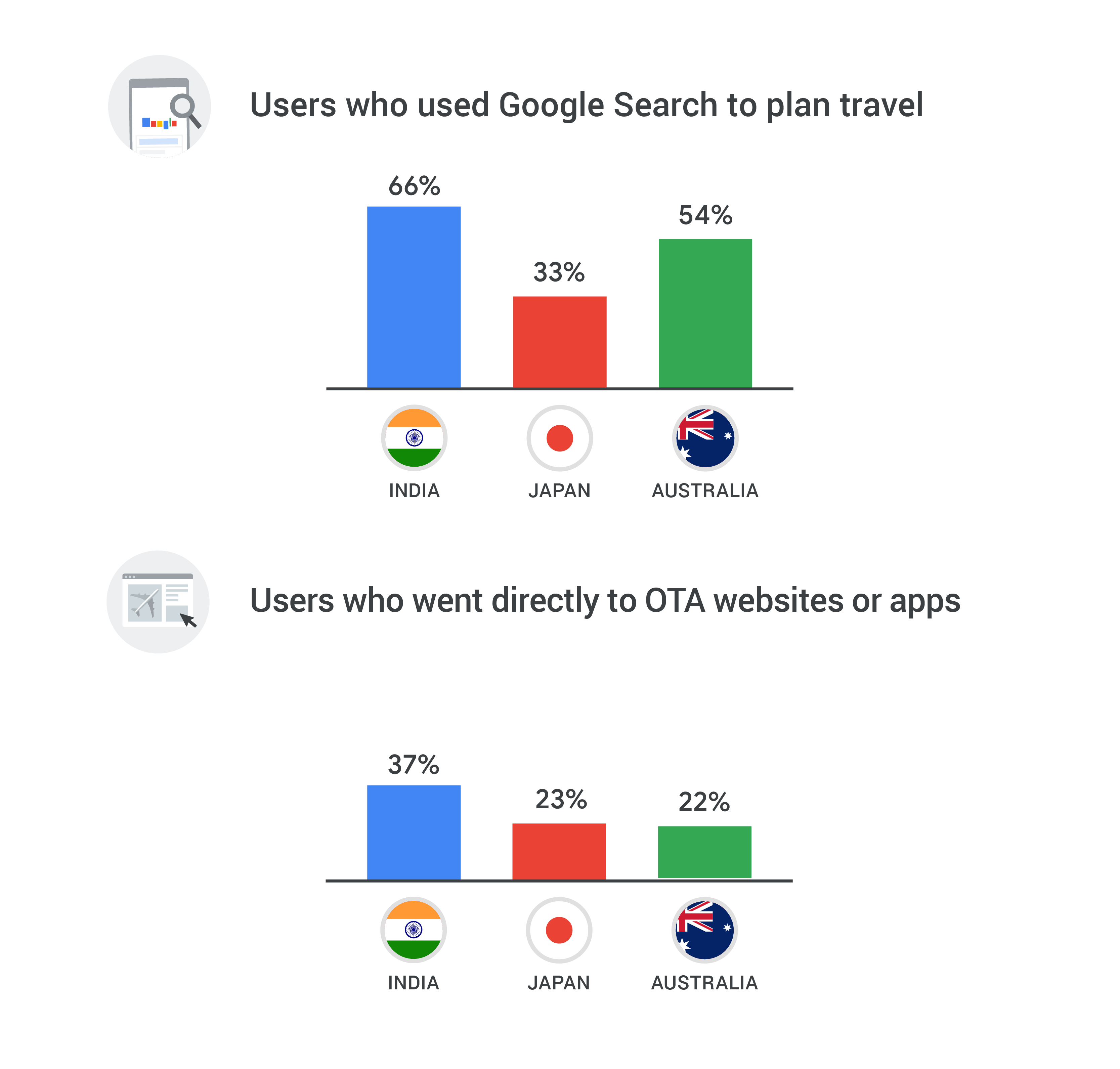 Marketer takeaway: It's critical for travel brands looking to grow their presence in APAC to prioritize building awareness in more brand-conscious countries, which means being present across the right channels as consumers conduct research during the planning stage. In India and Australia, Google Search is the most popular channel for research, with 66% of Indians and 54% of Aussies using it. While Indians use Google Search to find travel reviews and OTAs, Aussies use it primarily to find direct supplier websites. YouTube is another popular channel in India, with 45% of consumers turning to the platform during the planning stage. It is less common for consumers to visit OTA websites or apps directly.
As consumers in certain countries get more selective about the brands they consider or go directly to, it is critical for travel marketers to prioritize and invest in building strong brand awareness in these countries.
2. Mobile experience preferences differ by country
In countries like India, Japan, and Australia, consumers rely on their smartphones throughout their travel planning journeys. Travel apps are most popular in India, with 57% of consumers using them during the dreaming stage, 48% using them during the planning stage, and about 70% using them to book trips. While 47% of Indians also use mobile web during their dreaming and planning stages, only about 20% of them use it for booking.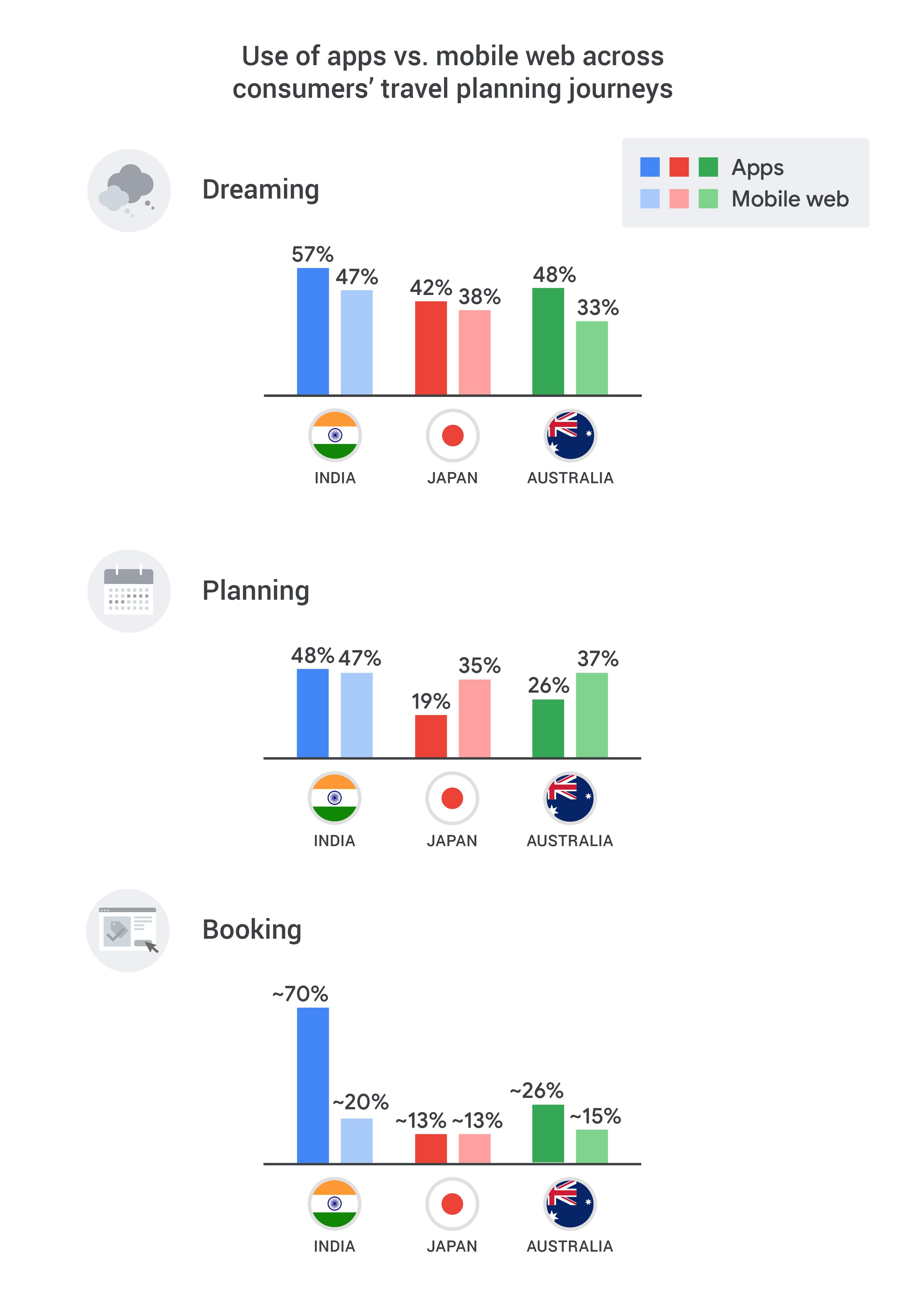 Although about 40% of Japanese consumers use apps and mobile web equally as they dream about their destinations, mobile web (35%) is more popular than apps (19%) during the planning stage. Aussies also use both apps (37%) and mobile web (48%) during their dreaming stages. However, more of them turn to mobile web to plan (37%), compared to apps (26%).
Marketer takeaway: Because consumers in India, Japan, and Australia use apps and mobile web differently as they dream, plan, and book trips, marketers should tailor their strategies to the consumers' preferences. In India, this means focusing on App campaigns to encourage app downloads, while in Australia and Japan, it means using Accelerated Mobile Pages or Progressive Web Apps to improve consumers' web experiences.
3. Different countries spend varying amounts of time in each travel stage
The average length of consumers' travel planning journeys differ from country to country. Indians have the shortest travel planning journeys among all three countries, spending only 0.6 months dreaming, 0.7 months planning, and 0.8 months booking their trips. In fact, about 70% of Indians book their trips less than four weeks in advance.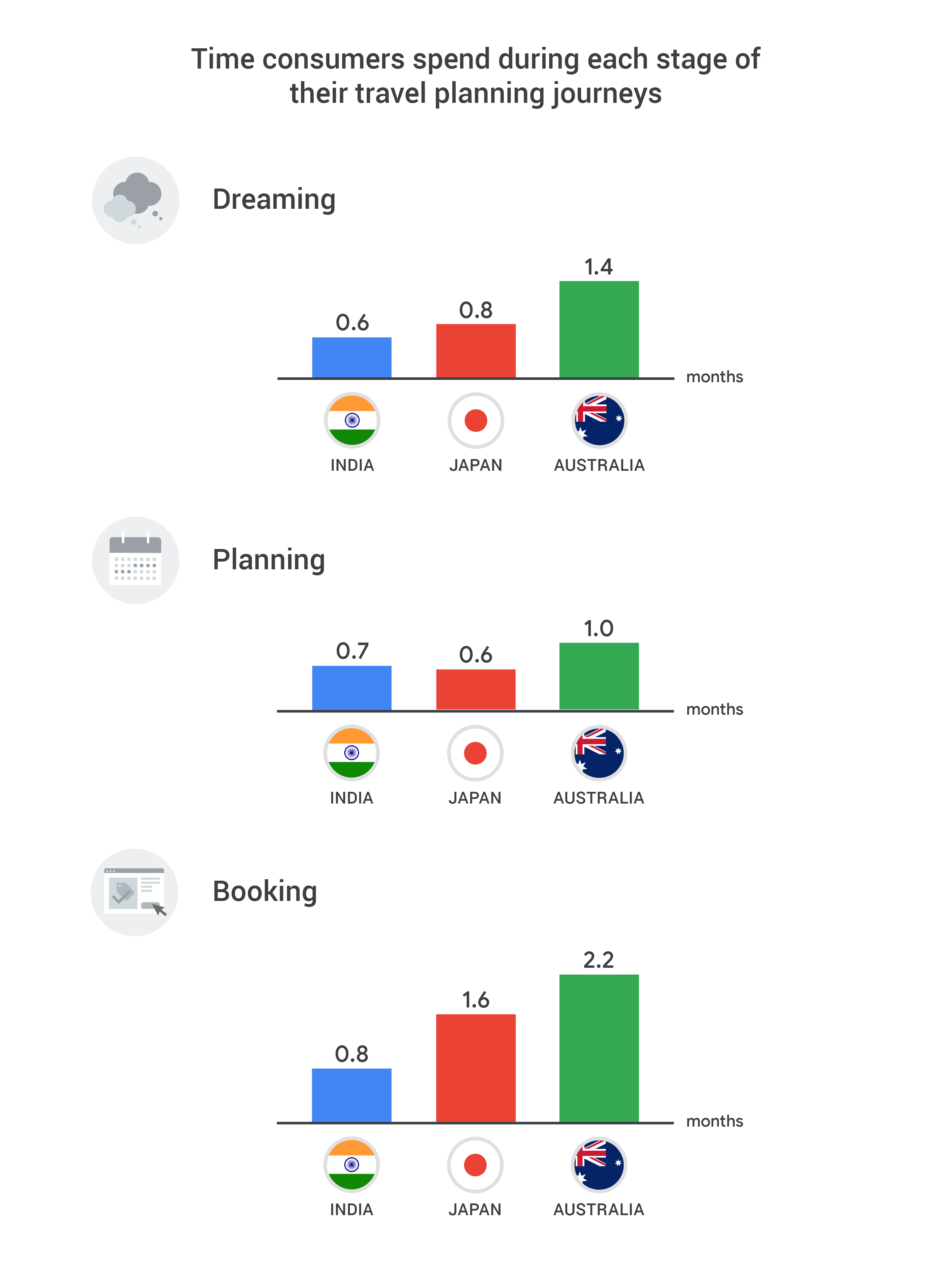 Once they've selected a destination or narrowed it down to a few possibilities, Japanese consumers are eager to start planning: At least 70% of Japanese consumers spend less than two weeks planning before making the decision to book their trips. But the booking stage is longer in Japan, with 50% of travelers taking over a month to pull the trigger. Aussies have the longest travel planning journeys, spending 1.4 months dreaming, 1 month planning, and 2.2 months booking their trips.

Marketer takeaway: In countries like Australia with prolonged travel planning journeys, marketers must go beyond building brand awareness to ensure that travelers are engaged across the entire travel planning journey. In India and Japan, brands need to increase ad frequency and use remarketing solutions to reach prospective travelers during the short window when they make purchase decisions.
How travel brands can succeed in APAC
The consumer behavior recorded in India, Japan, and Australia represents much of the APAC travel market. All three countries are home to consumers with different travel planning journeys and therefore require different marketing strategies. Simply being present isn't enough — travel brands looking to successfully establish themselves or grow their presence in the region should start by using country-specific insights to make sure they're present across the right channels, cater to consumers' preferred mobile experiences, and reach them at the right time based on their travel planning journeys. Tailoring digital campaigns to meet local consumers' growing expectations is key to succeeding as a regional or global brand in APAC.
Methodology
Google partnered with Ipsos to delve into how and why consumers choose certain service providers, platforms, and devices. In January 2019, offline face-to-face qualitative interviews were conducted with travel decision makers in Sydney (15 interviews) and Tokyo (15 interviews) as well as Ahmedabad, Bengaluru, and Delhi (15 interviews). This was followed by a quantitative phase with travel decision makers across Australia (n=1055), Japan (n=1017), and India (n=1007). Respondents who answered the survey were smartphone users who had bought travel services/travel products in the past three months.